The goal of Dronethusiast.com has always been this: to be the premiere source for drone information on the web. We believe that our readers can always tell when something's been written by an expert and when it's been written by someone who's never flown a drone in their life. It's important to us that every member of our team have a strong background not only in writing, but in building and piloting the machines we hold dear.
And it all starts with our owner and resident Drone Expert, Mike Plambeck. As a writer and entrepreneur from the heart of Nebraska, Mike has been working in online publishing for almost 10 years. During that time, he – like the rest of us – found himself fascinated by the growing industry of consumer drones. From DJI's first Phantoms to the mighty Mavic 2, Mike has flown just about every type of drone there is – and he understands everything that goes on under the plastic surface of consumer UAV technology.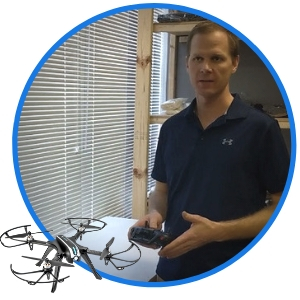 With its lenient flight regulations and wide open spaces, Nebraska was the perfect place to start learning about UAVs. When starting out, Mike certainly had his fair share of crashes around the lakes, rivers, and rocks of the state. But in the 5 years since those early days he's become an expert pilot. He even worked for a drone manufacturer for a time, helping to build some of the drones we know and love today.
Now, Mike has chosen to combine his passion for drones with his skills as a publisher to turn Dronethusiast into a site you can trust. Our articles are written by pilots with firsthand drone experience and a strong understanding of the state of the modern market. We review the latest drones and write multiple articles a week detailing the advance of drone technology across the world. We have experience with regulatory legislation as well as the technical side of FPV, GPS, obstacle avoidance sensors, and the photography systems that make modern drone systems such a joy to own.
Though he no longer writes as many of the reviews himself, Mike looks over every piece of content we write to make sure our articles are true to the Dronethusiast experience. He also makes sure that our outside information is thoroughly sourced and held to the highest standards of accuracy, as described in our editorial guidelines.
When not working on the site or flying quadcopters for fun, Mike likes to spend time with his two children and his wife, Marissa.