Aerial Photography Beverly Hills California – Find a Drone Photography Near You

California is a highly populated states and there are a lot of aerial photography companies located in Beverly Hills. These comapnies have many opportunities to impress clients with their portfolios of work.
These aerial photography comapnies use state of the art equipment with excellent cameras and gimble systems which allow them to capture the most stunning footage for a wide array of industries. Some commercial businesses that can benefit from an aerial photographer are real estate, construction, sports, weddings, and other events.
If you're considering hiring an aerial photographer in Beverly Hills, don't hesistate. The possibilities for what can be created are endless and these professionals are more than happy to help.
Finding Aerial Video Companies in Beverly Hills

Klikarts
Website: klikarts.com
Phone: (818) 416-7547
E-mail: erick@klikarts.com
Klikarts is an aerial photo and video company located in Los Angeles area, with a FAA certified pilot and fully insured Drones.
They specialize in real estate and commercial drone videos, which are the best and most economical way to show unique features of a property or business.
Aerial Photography Companies in Beverly Hills, California
Real Estate Aerial Photography Beverly Hills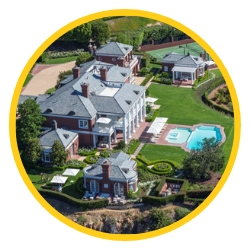 Real estate aerial photography is quickly becoming the most common and effective way for real estate agents to market their properties and drive sales to their business.
Aerial photography is now easier than ever with UAV and aerial technology because real estate aerial photographers are able to use many different tools and techniques like aerial drone photography and videography. Stunning imagery and high-quality video all all help create interest in a real estate agent's properties and help their sales grow
Plus, real estate developers can use these tools towards effective advertising as well and at a much quicker pace. It takes only a fraction of the time to capture footage and share the advertisements. Drones are able to record photos and videos from places that humans can't and it is much less costly than renting a helicoptor for an aerial point of view of properties.
Want to Learn Drone Aerial Photography?
At Dronethusiast we partner with one of the best Drone Aerial Photography training companies – Drone Launch. If you want to learn how to do quality aerial photography we suggest you sign up for their extremely high quality course and get to work training! You'll also get $50 off the course because you're a Dronethusiat reader!
With the advancements in technology, aerial photography has taken a new dimension. It is important that you may understand what aerial photography Los Angeles California has to offer. You can find Drone photography with a lot of ease as guided in the article.
Aerial Construction Photography Beverly Hills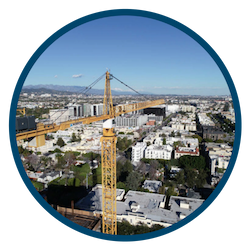 The use of drones and aerial technology in the construction inudstry is quickly growing. Contractors and developers are finding many benefits to using drone photography and other tools to help grow their business.
Beverly Hills aerial construction photographers are able to have detailed records of properties from the foundation, to the laying of stone, up until the finished products. Even in the early stages, photography can help a contractor guide the construction process.
One major aspect of owning a construction company is inspections to make sure buildings are safe and up to code. Drones make this part of the process easier by making it safer, quicker, and more cost efficient as they can easily capture footage in hard to reach places and help uncover any potential issues. Contractors can fly the drone and watch the footage safely from the ground.
You now have some great insight for finding an aerial video There are many companies out there and you will want to make sure you are getting the highest quality work for the best price. Finding an amazing company will leave you with a team of people you can count on for years to create the best aerial photo and video work for your needs.
The fact that you can get a lot of services from one company helps you to build trust on them as they reciprocate. In the event that you may lose some of the captions, the company will be in a better position to retrieve the photos from their old files.
It is also easy to have your aerial videos from the earlier shot photos. Relying on one aerial photography company allows you to enjoy reasonable loyalty discounts. In some cases, the company can offer to make documentation for your real estate and other properties for marketing reasons, especially during the festive seasons. With all these benefits, it is important if you will consider working with an aerial photography company that offers all the services.
13600 Marina Pointe Dr. Apt 1901 Marina Del Rey CA – Unbranded from Erick Amirkhanian on Vimeo.