Updated:
We get a lot of comments here at Dronethusiast of people who are looking for cheap remote control drones. Before you upgrade to a professional level drone that captures amazing footage and performs professional maneuvers, it can be a good idea to practice with one of these budget drones that did not cost you nearly as much.
Now that we're into the last few months of the year, many consumers are searching for the affordable remote control drones, and the offerings as of late are much more plentiful then they were just a year or two ago. We've recently changed our strategy when it comes to analyzing drones for Dronethusiast. We used to recommend drones based primarily on their attributes and pricing, but we've had a ton of feedback showing us that the Company you choose to buy your drone from is the most important consideration when you're shopping for a quadcopter.
The thing about affordable drones is that there are a TON of products on that market that are really similar and it's really hard to distiguish between them. That's why we've decided to start promoting drones according to how we evaluate the company selling them. We try to stick with companies that you can TRUST will support you before and after the sale. We reserve the top spots in our list for companies like Altair, and DJI, who we have experience with and know you can trust.
Our top recommendations are from a small company out of Nebraska called Altair Aerial. We like to recommend their products because they give the best customer service of any quadcopter company. The last thing you want to do when you're having trouble learning your new drone is call someone in China, and with Altair that never happens!
THE BEST LOW COST DRONES FOR 2019
#1 Budget Drone
818 Hornet
Camera:

720p HD camera

Range:

150 Meters

Time:

15 Minutes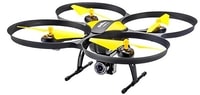 Indoor Drone
Altair AA108
Camera:

720P Realtime FPV

Range:

100 Meters

Time:

9 Minutes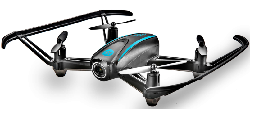 Best Deal $119
Blackhawk Drone
Camera:

Compatible with GoPro

Range:

300 Meters

Time:

15Minutes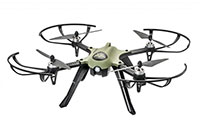 Cheap FPV Drone
Hubsan X4 Quadcopter
Camera:

720P HD Real time Video Camera

Range:

50 – 100 Meters

Time:

7 Minutes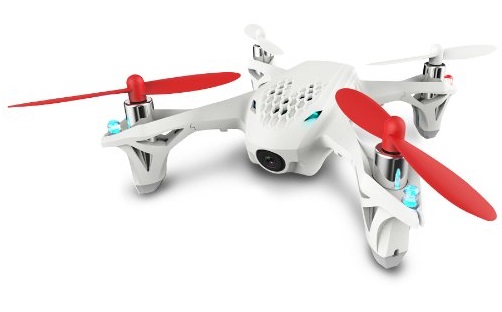 Cheap Mini Drone
FQ FQ777-124
Camera:

M7 1000TVL camera

Range:

50 Meters

Time:

5-6 Minutes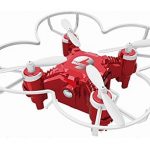 Table of Contents
Remote Control Drones on a Shoestring
When shopping for a drone you're going to want to think about these things:
1. Camera – does it have one and what quality is it?
2. Company – Who is the company behind the product, are they going to stand behind it, are they from the USA or China?
3. Range – How far does the drone travel, you can expect from 100 meters to 500 meters when considering a budget style drone.
4. Battery Life – How long will the drone stay up in the air? You can expect 8 to 17 minutes.
5. Ease of Use – Is it going to be easy to use for a beginner drone pilot or will they struggle? Know who you're shopping for and pick the right choice.
6. After Sale Service – Read reviews, will the company you're purchasing from provide any after sale support? Do they have a youtube channel with helpful videos?
Best Budget Drones
#1 818 Hornet Plus Drone – Long Flight (15 mins)
Click here to See it On Amazon! or you can get fast and free shipping from the manufacturer's website at AltairAerial.com.
This is a fantastic choice for a cheap FPV quadcopter that won't break the bank but which nonetheless comes with a wide array of video features. The A818 Plus is an updated version of the U818a that's especially good for new pilots, and sold by Altair Aerial, a company that provides top tier customer service. This version of the drone has a new shape that balances the weight evenly, allowing for an incredibly stable hover (further improved by the new inclusion of a hovering mode feature.) It also has longer landing gear and thicker prop guards, which means that it's very durable. This is something that's incredibly important for new pilots and often overlooked – you're all but guaranteed to crash the aircraft a few times when you're learning how to fly it, so it's important to choose a drone that can take a hit or two.
But one of the best features of the A818 Plus is the extra-long battery life – up to 15 minutes off a single battery. Sure – that may not sound too impressive to fans of the DJI line, but for less than $200 it's practically unheard of. It's a really great feature and shows why the A818 Plus deserves such a high spot on this list.
Additionally this quad is made by Altair Aerial, a company that provides fantastic customer service, you can read more about them at their website.
Check out this video that Altair produced about the 818 Hornet:

Read our full review of the 818 Hornet here.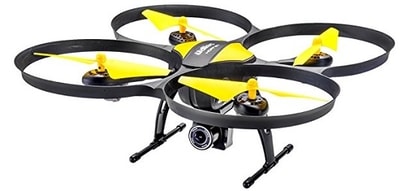 Click To See Best Price
Here's some quick features and specs for the Altair 818 Hornet Drone:
• Altitude Hold
• 1 Touch Take off and Landing
• 15 Minute Flight
• 720p HD Wide-Angle camera (good video quadcopter)
• Customer Flight Route Mode
• Headless Mode for Novice Pilots (super easy to use)
• Long landing gear and stable cover shape make the drone more stable and more easy-to-use
• FlyingSee App by UDI RC – For FPV flight in Realtime
#2 Altair Aerial AA108 Drone – Budget Indoor Drone
Click here to See it On Amazon! or you can get fast and free shipping from the manufacturer's website at AltairAerial.com.
The Altair Aerial AA108 is a drone that covers all the bases and comes in at a great sub $119.00 price tag. This drone is very easy to fly due to the Altitude Hold and Headless mode functions, which are great for people on a budget and kids. If you're looking for a multirotor that is an easy way to get started as a drone pilot, this is the drone for you.
The AA108 is made with high durability manufacturing, meaning it's not going to break easily if you have an accident. It's also very stable in the air and you can switch between three flight modes, 1 for new pilots, 2 intermediate and 3 for advanced flyers. For the $129.00 price you're also getting great value because of the long 10 minute flight and 100 meter range. It really is a very solid drone for all ages.
The Altair company is based in Lincoln, NE. We actually did a full review of this drone and you can read about it here. The founder Matt Cookson and I spoke on the phone and he explained his plan to offer excellent customer service as one of the primary perks for the Altair quad copter. It seems like they're doing a good job because when I called their customer service number he was the one who actually answered the phone, not some rep over in China!
They even have an Altair Video Tutorials page that helps you get started. Email Altair Inc at help@altairaerial.com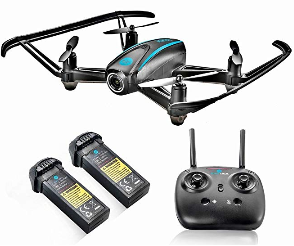 Click to See Best Price
The Altair Aerial offers:
• Altitude Hold
• 1 Touch Take off and Landing
• 8 Minute Flight Time
• Has a range of up to 300
• Uses a 6-axis gyro stability for maneuverability and ultimate wind resistance
• Headless Mode for Novice Pilots (super easy to use)
• 3 Flight Skill levels, you can easily transition between them
• FlyingSee App by UDI RC – For FPV flight in Realtime

Alltogether the Altaier Aerial AA108 is the best affordable quadcopter you can buy at this price point. It checks all the boxes as far as tech specs and flight time goes, and with an added bonus of having an American based headquarters and customer service.

#4 The Blackhawk Drone
Click here to See it On Amazon! or you can get fast and free shipping from the manufacturer's website at AltairAerial.com.
If you've been looking for a drone that knocks it out of the park when it comes to durability and speed, you really need to check out the affordable Altair Aerial Blackhawk. We're big fans of other offerings from Altair Aerial and the Blackhawk is their most advanced quadcopter yet. This drone is super fast, has a flight time of up to 15 minutes, and it can go a long way for a drone in this price range (300 Meters).
Customers looking to move up from the Altair Aerial AA108 and 818 Hornet will love this heavy duty drone for its stability and speed. The Blackhawk doesn't utilize altitude hold which unlocks the potential for extreme control! The ability to go vertical and descend super fast will give you that racing feel while you're flying! While a camera does not come with the Blackhawk, it is equipped to handle a GoPro or similar video quad copter camera when you're ready to capture the action.
Here are some quick features of the Altair Aerial Blackhawk:
• Heavy duty and stable
• 15 minute flight
• Range up to 300 meters
• Action camera slot for GoPro or similar camera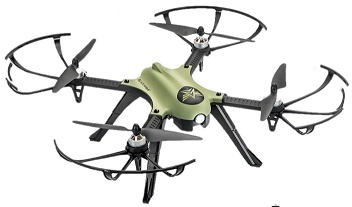 Click for Best Price
#5 The Hubsan X4 H107L – 4 channel 2.4ghz RC Quadcopter
Click here to see the best price.
This is a fun palm-sized affordable drone that you can have a blast with indoors or out. This very popular remote control drone is often considered one of the best.
This drone comes with a USB connector to charge it, and it is ready to fly out of the box with everything needed except the batteries for the remote controller. This one is known to be fast and agile, and picking up extra batteries right away is a great idea to get a bit more flight out of it. Generally in the "Toy quad" category, this is actually pretty stable for the price, and fun to fly all-around.
Here are some basic specs on this model, to let you know a bit about it before you buy: this is a pretty reliable quad for the price.
• Durable one piece main frame
• Precision 6-axis gyro
• Ready to fly out of the box
• 4-channel 2.4Ghz remote control
• High-capacity LIPO battery
• Durable one piece main frame
• Precision 6-axis gyro
• Motor type: brushed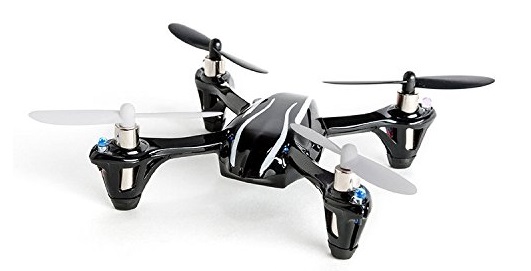 Click to See Best Price at Amazon.com
#6 The Holy Stone HS170 Predator Rc
Click here to see the best price.
This is a sleek and powerful option for affordable quadcopters: many customers are calling it one of the best low priced drones for the price. This one is actually fairly fast and is a real blast to fly around at top speed.
The HS170 Predator's remote control uses a pretty standard Xbox-style format, and the drone itself can fly for around 8 minutes on one charge. You can fly more than one of these at once because of the built in anti-interference system, and there are 6 aa batteries required. One word of caution is that there are more than 1 reviews stating that it just stopped working suddenly: when this happens with any electronics product, it is hard to say if it will happen in large numbers or not.
Think you might be interested in getting this RC drone cheap? Here are some stats on the HS170 that will allow you to decide whether or not you want to purchase.

• Headless security system enables any level of players to fly
• GHz technology is present for anti-interference
• Craft has 6-Axis Gyro stabilization system
• Has about 6-8 minutes flight time, and 60-80 minutes flying time
• No FAA registration required for this drone
• Headless mode brings more confidence to new pilots
• Colorful LED lights make it very easy to identify front and back
• Drone has 3 different speed modes for new pilots on up to advanced pilots
• Item weight is around 14 ounces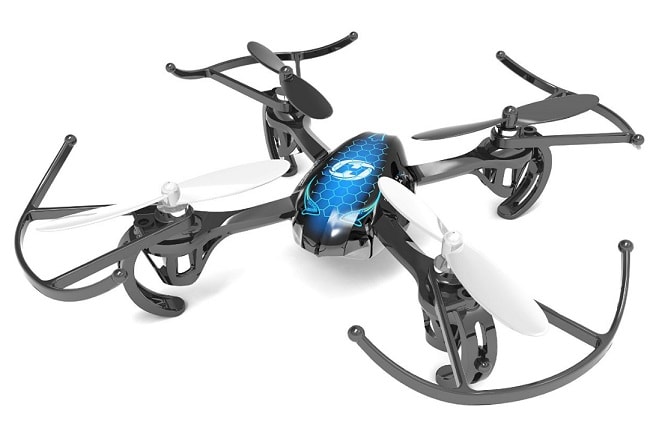 Click to See Best Price at Amazon.com
#7 The Yizhan Golden X4 4CH 2.4G 6 Axis RC drone
Click here to see the best price.
This is another entry in the cheap quadcopter category. This model has throw-in-the-air startup capabilities, and a pretty cool searching light for flying in the dark. When it arrives it's ready to fly after a full charge and getting the batteries ready, and the flight time is around 7 minutes after an hour-long charge.
Of the 3 flight modes offered, the highest is pretty challenging for the lower-priced multirotor category, and while it looks pretty large in the photos, still is situated in the much smaller side of this group. The Hubsan X4 is quite possibly one of the most popular remote control drones on the market, and this is one of the models that is compared quite closely to it.
Here are some of the technical specs on the Golden X4, which is priced incredibly low on Amazon, and is a great starter drone to get anyone accustomed to the fun of flying.
• Controlled by a 2.4GHz frequency, long-distance control
• Can fly for around 6-7 minutes after charging for approx. 1 hour
• Model number: X4
• Control Range: 100m
• Batter: 3.7V 350MAh Li-Po variety
• Transmitter battery uses 6 AA batteries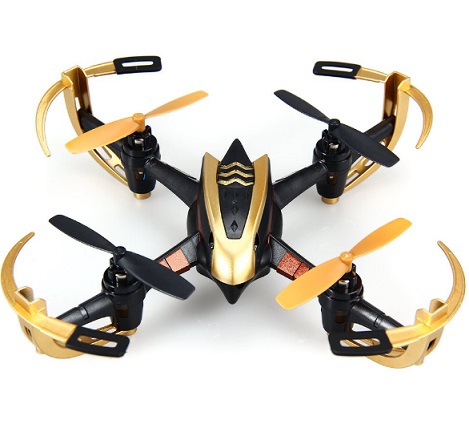 Click Here to See Best Price!
Cheap Photo And Video Drones
As consumers look for options for the best camera drone under $100, 2019 looks to be a pretty good year. Some manufacturers have taken cues from DJI as to how users may want the remote control to look, and some have went off on their own tangents a bit as far as sleek, game-controller looking designs.
Cheap quadcopters with cameras are a great way to get used to traversing over different types of land, and using the features that allow you to see what higher-grade models offer. Here's some of the best, cheapest FPV quadcopters around!
#8 Holy Stone F181C With HD Camera
You don't always have to invest in an expensive quadcopter if you're looking for an affordable remote control drone with camera. This one is actually one of many that give the professional video drones a run for their money. The camera is already a wonder in itself, never mind all of the great features and specs that come with it.
Right off the bat, you get One Key 360-Degree 4-Way Flips, Continuous Roll, Altitude Hold, One Key Return to Home, One Key Engine Start, One Key Landing and even the Headless Security System for features. All of the included features make it easy for someone who's entirely new to the world to drones to get the hang of the more complicated features at their own pace.
The Altitude Hold feature is actually an upgraded version from the same model, yet it's an inexpensive budget drone with an HD camera, that will make you feel like you're investing in a super high-quality quadcopter without paying a fortune.
Here are some of the features and specs that the Holy Stone F181C With Camera has to offer:
• It uses a 720p camera with 1280x720p video resolution

• Has a total of 4 different speed control modes for new pilots and experts alike

• You're able to choose from Left and Right Hand Operation modes in accordance with your preference

• Uses a 2.4GHz transmission frequency

• Includes a controllable LED light

• Uses a 6-axis gyro stabilization system

• Takes a 3.7V 750mAh LiPo battery

• Has a maximum transmission range of between 50 to 100 meters

• Requires 4 1.5V AA batteries that are not included

• Comes with a 4GB Micro SD card and a bonus battery

• Has a maximum flight time of between 7 to 10 minutes

Unfortunately, this is not an FPV quadcopter and cannot be connected with your smartphone or other smart device, but it's still an awesome drone with an HD camera!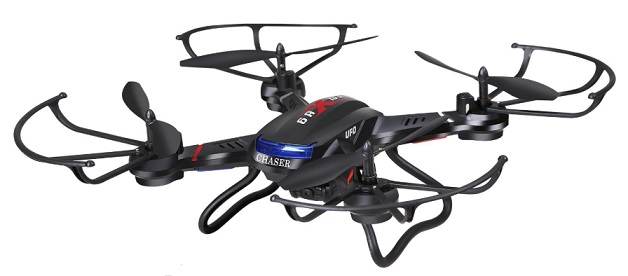 Click Here to See Best Price!
#9 The UDI U818A HD+Quadcopter
This cheap FPV drone is a great choice for the budget drone with camera category: It has features such as a return home function, HD camera, and the standard 6-axis gyro stability that helps many cheap drones fly with ease.
At this time, this is NOT a remote control drone that requires FAA registration, and there are also 2 lipo batteries included as a bonus. The charging time is around 90-120 minutes, and the flight duration is 7-9 minutes.
Here are some of the technical features of the UDI U818A: This inexpensive quadcopter is a bit wider and bulkier than some, but still a very popular choice due to its durability and ease of handling.
• Has a forward-facing camera
• Control distance of around 30 M
• Weight: 1 pound
• 4 GB micro-SD card is removable
• 4-channel, 2.4GHz transmitter has LCD screen that displays full flight status
• 2 Joysticks will move the copter in any direction
• Instant 360-degree roll button for stunts
• Movie resolution is now upgraded to 280* 720 at 30 frames per second
• Low battery alarm broadcasts from transmitter
• Very easy to start and stop recording with one-touch video button
• Frequency: 2.4 GHz

Known as a very light remote control drone, this quadcopter may start to drift with winds that are even in the 7 MPH range. Begin the video recorder before you take off to make things more simple, and enjoy flying one of the best drone options out there.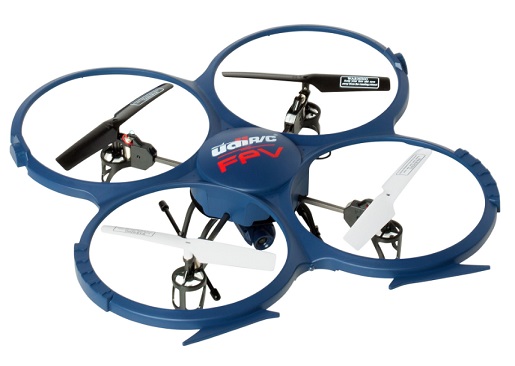 Click Here to See Best Price!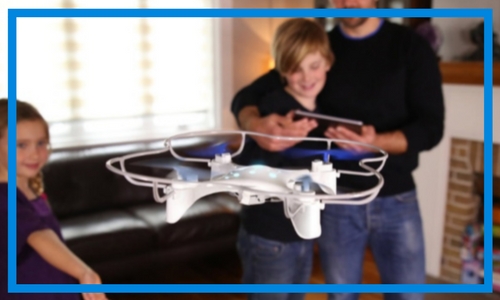 If you have children or nieces and nephews that seem interested in electronics and engineering, this is one of the coolest things you could ever present as a gift. When you do learn to use a low cost drone with a camera, your skill set could grow as you graduate into more advanced drones, and you could pursue careers such as pipeline surveying and delivery. There are also many other great affordable hobby toys such as remote control cars and boats. Check out Dronehtusiast's pick for the best RC car for the money and our other reccommendations.
Let Dronethusiast guide you if you're looking for a kids quadcopters as well, read our drones for kids guide!
#10 The X5C RC Drone with Camera
This is a great way of taking pictures outside from above in 720p video, and enjoying the high-resolution pictures you can glean of landscapes, real estate, seasons changing, and any other sites that strike your interest.
This is a good contender for a best value quad copter because it definitely does not have to be registered with the FAA, and it even has a microphone too. You definitely will want to start in the first flight mode, as this will allow you a bit of leeway to get used to its movement.
It does not have a "return to home" function, but for the price, has a decent camera, and high ranking reviews from many users. The transmitter will warn you of low battery, and the weight of this inexpensive drone is around 3.8 ounces. Here are some of the key features that will allow you to make the best purchasing decision:
• Headless mode is great for new users, and reduces possibility of crashing while learning
• HD video camera is a forward-facing stationary 2MP HD video camera on this quad
• Comes with 2GB micro SD card
• 6-axis gyro stability, which is great for wind resistance and maneuverability
• Execute 360 degree flips and tricks with push of one button
• FAA registration is not required
• Strong and powerful motors enable longer and more efficient flight
• 2 long-life included batteries can be swapped or charged in place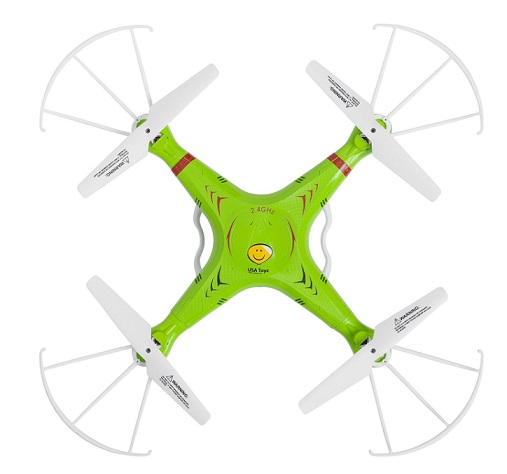 Click Here to See Best Price!s
The DBPOWER MJX X400W FPV Drone With WiFi Camera
This is a fun drone in the this category that is in the higher end of the low-priced element. What's pretty cool about this one is that it is where you begin to be introduced to the awesome things you can do with a partner app, and see what the inexpensive drone sees on the mobile device of your choice.
With a 3D Split Screen Display, you can use the VR headset to see the world in a completely modern way, and this just adds to the excitement you get from this device. This best budget quadcopter does not need to be registered with the FAA, and its weight is under 1.6 lbs. It has been said to be able to take a beating during many reviews, and has a pretty awesome white underwater-stealth looking appearance.

Here are some of the specs and feature on the MJX X400W, so you can make a decision regarding whether or not it will be your next drone.
• Weight: 112 G
• Battery: 3.7 V 750 mAh Li-po battery
• Charging time: about 120 minutes
• Flying time: 8-9 minutes
• Control Distance: About 100 meters
• Support Mobile Device: Ios/ Android System
• Has headless mode for easier control
• Transmitter Battery: 3x AA Battery
• Comes with 4 spare propeller blades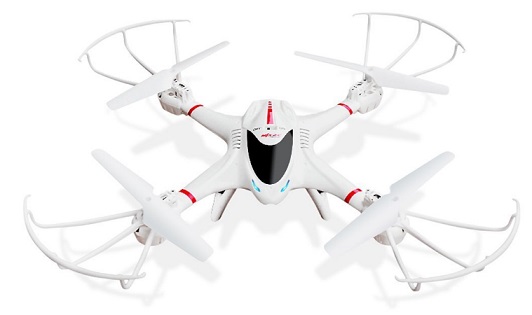 Click Here to See Best Price!
The H6 Quadcopter RC Helicopter
This is a very cool drone under $100 that is equipped with a camera, and does a great job of being wind resistant for a drone in this price point. We always like to see quadcopters in the inexpensive category be able to hand launch in the air, and this is one that is deemed definitely pretty easy to fly.
This is a pretty compact-sized remote control drone, sitting at 5.25" by 5.25". There are crash guards installed, and it records to SD card, so the video is not really able to be viewed during flight. This may prevent many pilots from wanting it, but it is still known for it's sturdy handling, and is a good model to learn the basics of flight with.

Here are some specifications of the H6 quadcopter, so you can decide if it is one you want to add to your collection.
• Has a 720 p HD camera: this records to SD card for later viewing
• Very high wind resistant: high stability designed for indoor and outdoor flight
• Easy controls allow nearly anyone a simple flight
• Equipped with 2.4Ghz spread spectrum technology
• Compact in size at 5.25" by 5.25"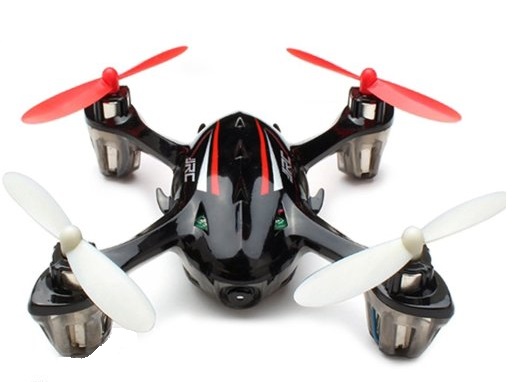 Click Here to See Best Price!
The U28W FPV Best Value Drone with altitude hold and HD camera
This is an example of a ready to fly quad that you can purchase in the lower priced category that is a great one to use with a tablet or smartphone. Absolutely one of best drones that still has many of the latest features that you see on higher-end models.
Having an altitude hold function is one of the things about this one that makes it very easy to fly: new pilots can use this to their advantage, and not have to fret about the drone continuously dipping up and down. It also has features such as one-touch takeoff and landing, and you can even program a custom route to have it follow. These features alone are usually found on models that are much higher-end, and this is why we have no choice but to heartily recommend this one.

Here are some specs and features on the U28W FPV Drone, so you can use these to your benefit when making a decision.
• Wide-angle Camera captures pristine video and photos in 720p HD
• Custom Route Mode: traces the desired flight path to help user ease off controls
• Has capability for FPV and VR headset compatibility
• One Touch takeoff and landing feature
• You can trace custom route mode
• Come with 4 spare propellers
• 2.4Ghz controller
• Comes with micro SD card reader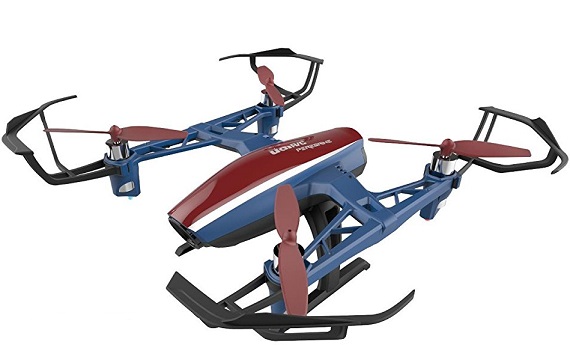 Click Here to See Best Price!
JJRC H11WH
Not only are you getting a 2.0MP HD camera, but you're also getting the full 720p FPV experience along with it. It comes with a bountiful amount of features and a wide variety of specs that we think you'll find are all incredibly impressive.
This low cost quadcopter with HD camera features FPV, Altitude Hold, One Key to Reset, One Key Return to Home, Ascend and Descend, Left and Right Side-Fly, 360-Degree Roll and Emergency Stop. The overall high-quality construction and design is one that is dressed to impress and go the extra mile.
Here are the features and the specs that make the JJRC H11WH what it is:
• It's made of high-quality materials with rubber painted coated fuselage
• Uses a 6-axis gyro stabilization system
• Has a maximum flight time of up to 7 minutes
• Takes a 1100mAh LiPo battery and 3 AAA batteries, all are not included
• Has a maximum transmission range of up to 60 meters
• Uses a 2.4GHz transmission frequency with up to 4 channels
• Has a controllable LED light
• Uses a 2.0MP HD camera with 720p FPV

It's a little unclear as to whether or not the 1100mAh LiPo is actually included or not, one section says that it is while another says it's not, but picking up one, even if it's an extra if it's actually included, is never a bad idea!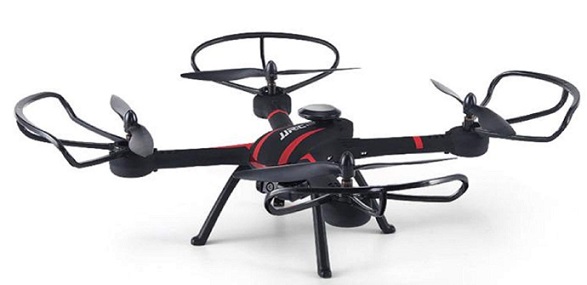 Click Here to See Best Price!
Cheap FPV Drones
The race has been on for the past year to find the ultimate FPV quad under $100: many pilots know how awesome and feature-filled drones such as the Dji Phantom 4 are, but they are in a completely different price range. For these types of drones, the craft is driven or piloted remotely from a first-person perspective, and video is fed to a video monitor, tablet, or goggles.
When consumer drones first began popular about 3 years ago, there were next to no options in this category. Low cost FPV drones were not necessarily the rage, because many brands were just beginning to release drones in the under 100$ category that had just 8 minute flight time, but no camera. Here are a few that we recommend, that will get you into the swing of gleaning video, but not break the bank.
The Hubsan X4 Quadcopter with FPV Camera Toy
This is a drone at a very reasonable price that does a great job of offering FPV technology. It is lightweight, and offers the standard 7 minute flight time with around 45 min. charging time. We like how the transmitter has a built-in 4.3" screen, and that alone for this price almost softens the blow of the quad rotor only having a 480p camera.
Make sure you install the rotor shield, as this will help you greatly when it comes to crashes. Some users claim that the way the drone handles and sturdiness for its size are great for the price, but the video is not even worth glancing at. Still, its a solid product from a well-trusted brand that allows you the ability to do some great maneuvers, and not spend a fortune.

Here are some specs on the Hubsan X4 Quad: we think this is an all-around great drone, and that almost anyone would be interested in purchasing it.
• Control Distance: 50-100 Meters, with live video distance around 100 meters
• Latest 6-axis flight control system with adjustable gyro sensitivity
• Very lightweight airframe with nice durability
• FPV flight option allows for viewing while you are in flight
• Video from flight records to SD card
• Radio Band: 2.4Ghz
• Item weight: 7 oz.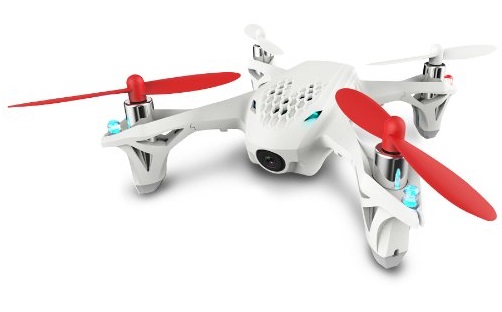 Click Here to See Best Price!
Syma Toys X5C-1
This is an upgraded version of the original X5C-1, which has a sleek, sophisticated look that's made better by the awesome HD camera. This inexpensive remote control drone with HD camera has the right specs, the perfect amount of features, and a look that will have anyone who sees it asking questions and looking to learn more about it.
Because it's an upgraded version, it has new, enhanced Anti-Collision and Anti-Fall Performance features. It also able to perform aerial rolls and automatic stabilization due to the enhanced, upgraded gyro stabilization system.
Here are the impressive features and specs of the Syma Toys X5C-1:
• Has a maximum flight time of between 6 to 8 minutes
• Uses a 2.4GHz transmission frequency with up to 4 channels
• Features an upgraded 6-axis gyro stabilization system
• Takes a 3.7V 500mAh LiPo battery
• Has a protective circle made of highly elastic plastic that prevents the blades from wearing out or taking damage
• Uses an onboard HD camera

The upgraded version is an enhanced masterpiece that you can't go wrong with investing in.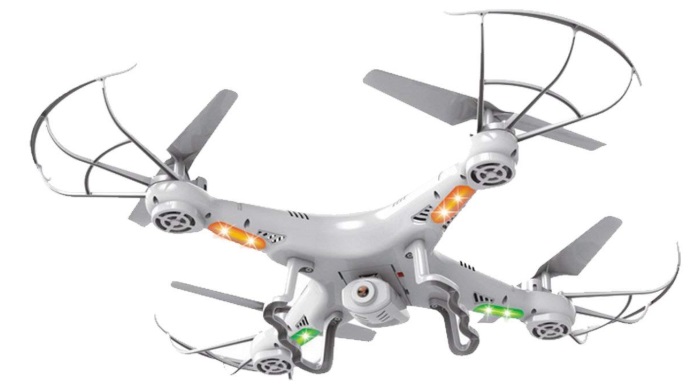 Click Here to See Best Price!
U818A Wifi FPV Quadcopter Drone
This is an FPV drone with a bit of a different look: The quadcopters have circular guards above them, and it does give the budget drone an entirely unique appearance. It has features such as headless mode, and you can capture 720p video with the built-in camera.
You can mount your smart device on top of the controller, and this drone is also VR headset compatible. The 4 GB of micro SD storage is a definite bonus, and this drone's weight will make it a bit more stable in wind. If you are ok with the look, (which probably can grow on any pilot), this is a pretty good example of what's available in the inexpensive drones category for FPV.

Hear are some stats on the U818A: this is a pretty awesome drone, and the features such as custom flight mode will render it selling itself easy to many pilots.
• FPV with VR headset compatibility allows for streaming directly from your Apple or Android device
• Custom Flight Mode allows you to map your desired path on the app screen, and then the drone will fly without any pilot assistance!
• Headless mode allows you to bypass multiple adjustments before takeoff, and is great for new pilots
• Second battery and power bank are included to heighten flight time
• 4GB Micro SD card for Extra Storage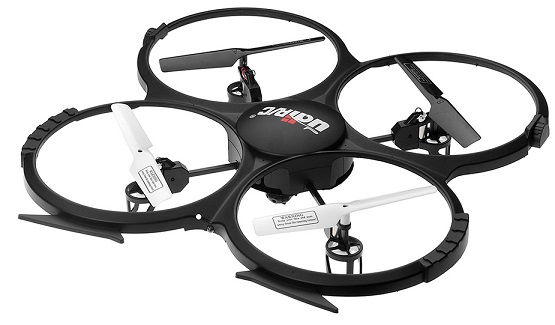 Click Here to See Best Price!
The Focus FPV
This drone gets a few extra points for one thing in our book: it has a very unique controller design. Instead of having the typical flattened-out bottom end, it is rounded further out than usual, and there is still the ability to watch 5.8 Ghz FPV right on the controller's screen.
The drone itself has a pretty interesting shape: the frame has four jutted-out supporters for the props that make it kind of resemble a spider or watercraft. It comes with an extra battery, and functions such as return home allow you to retrieve the drone without fear of loss. The camera even has a fish eye lens, and this is a pretty sturdy craft.

Here are some specs on the Focus FPV drone: this is another one that has completely strayed from trying to imitate the looks of the Dji product line, and the results are actually pretty striking.
• FPV with live video feed, through 5.8 Ghz display mode
• Return home function brings the quad home with the push of a button
• Headless mode eliminates the need to adjust aircraft before taking off, and makes flight easier for newbies
• FAA registration not required due to weight
• LED lights allow for enjoyment of stunts even at night
• Very Durable construction includes protective rotor guards and soft landing pods for added longevity of device
• Controller has a built-in LCD screen for easy viewing
• Weight is 2.4 lbs.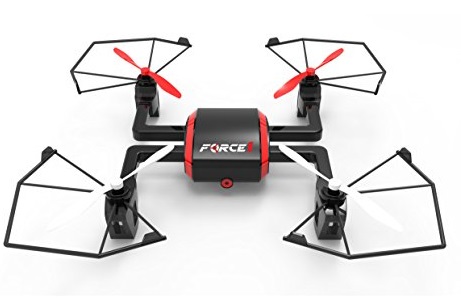 Click Here to See Best Price!
The U818A Wifi FPV with Altitude Hold, HD live Camera, Remote Control, and VR Headset
This has a few upper-end features that make it differ just slightly from the U818A defined earlier in this article. The drone is pretty much the same model, but this package includes a power bank along with the extra battery, which is quintessential for charging on the go.
You still get features such as altitude hold, custom route mode, and a bonus VR headset included. If you were a fan of the slightly different design and appearance of the U818A, you can simply just consider this package an upgrade. You still are capturing 720 p aerial photos, and there are great features such as one button take off, one button landing, and custom route mode.

Here are some specs on the U818A Wifi FPV Drone: you'll enjoy taking this one up in the skies for surveying, learning how to do stunts, and much more.
• Altitude Hold makes this an easy one for new pilots to start with: helps stabilize the drone for aerial photography while in flight
• Custom Route Mode allows the pilot to trace the desired flight path on the mobile app screen, and the drone will follow along the path without assistance
• FPV with VR headset compatibility makes watching live video a cinch, and the bonus VR headset is included
• Captures HD aerial photos and videos in crips 720p with built in 2MP camera
• With this package, you get a bonus second battery and power bank, to quadruple your flight time
• One-button take-off and landing allows the drone to fly down slowly, landing gently on the ground before motors kill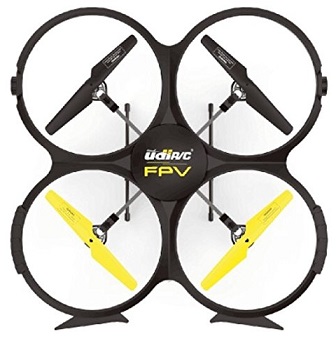 Click Here to See Best Price!
The Force 1 U45 Blue Jay WiFi FPV Quadcopter Drone
This is a neat and fun to use number that is cloaked in black, with a cool looking black and blue transmitter that mounts a smartphone on top for viewing. This drone has a lot of the same functions as the one we just reviewed, but the look is honestly quite a bit more modern.
You still get to enjoy features such as 360 flips and tricks, 6-axis gyro for stability, wind resistance, and easy maneuverability. This drone also comes with a 4 GB ScanDisk Micro SD Card, and the camera is manually adjustable for the ability to capture the best picture possible. The controller design and overall packaging of this number make it one of the best we've seen in this price category, and we applaud the modern design.

Here are some stats about this drone that allow you to have a good idea about what it is capable of.
• Has FPV with VR headset Compatibility: you can watch live video feel of your flight from Iphone or Android smart device
• Altitude Hold Function allows for ease of use when new users want to fly, and makes control simple
• One Touch Takeoff and Landing: the machine automatically hovers at a set altitude after take off and before landing, making it easy to control and maneuver, and helps with the issue of a potentially lost drone
• Custom Route Mode: traces the desired flight path on the mobile app screen, and the drone will take this path without assistance
• You can capture 720p HD aerial photos and videos with 2 MP camera, and sync it directly to the controller
• Comes with 4 spare propellers
• Uses 2.4 Ghz controller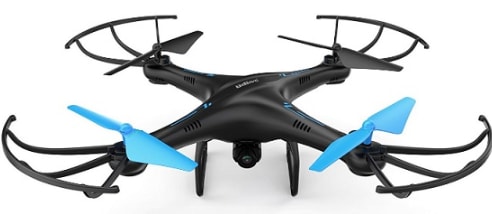 Click Here to See Best Price!
Best Cheap Smaller Drones
A cheap mini quad can be a super fun way to get kids interested in engineering, have fun indoors during the winter months, and learn the controls before you take charge of a much bigger drone. Finding a cheap micro drone on the market will take you a bit of research, and reading reviews beyond this one can help you analyze if there are some that just don't cut it in terms of how well they are built.
The fun you can have with a cheap quadcopter is endless: some of our other features have spotlighted how you can play numerous pranks, scare and surprise those around you, and sneak up on unsuspecting family members on the couch. One of the most fun things about them is that you get a peek at a smaller version of quads that rule the skies can do, and you get to learn your maneuvers to build up your skills before purchasing a larger one.
Looking for a small rc car to pair with your micro drone? Read our Best Small RC Cars Reviews article!
Eachine X6 2.4G 4CH 6 Axis RC Hexacopter
Read reviews and show for the Eachine X6 Here
This hexacopter has a 2MP camera with a micro SD slot, and is known for having a bit longer of a flight time than others in the good drones category, at about 11 minutes in the air. It's a little bit bigger than many common nanoquads on the market, and the look is not one that has an exposed-board feel: the arms light up to give it a unique flair.
The prop guards serve their purpose very well: we took this little guy up to about 30 feet in the air where we encountered a tree limb, and it fell down to the ground but still was able to fly again right away. The controller may seem a bit small to some, but it has a snugness to it that some of the rectangular models do not, and will seem a bit like a bit smaller of a Super Nintendo remote version.

Here are some of the technical specs of the Eachine X6; check them out and see if this is going to be the cheapest drone with camera that you add to your collection this week.

• Battery: 3.7V
• Frequency: 2.4GHz
• Flight time: 10-12 minutes
• Unit has 2MP camera
• Battery charge time: 40 minutes
• 6-axis gyro for improved stability and handling
• Control range: 100m

The transmitter uses the same battery as the quad, so some pilots appreciate the fact that you get both, others like just buying disposable batteries for the controller and using the rechargeables for this cheap good drone. Because of the extended flight time and cool shape, many pilots out there will be making this purchase this summer.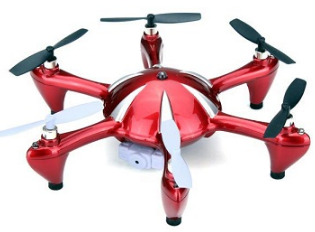 Click Here to See Best Price!
FQ FQ777-124 Pocket Drone
This drone is absolutely of the tiniest type you can imagine, and it is literally one of the cheapest drone options on the market. Having the one-touch return is awesome for such a little machine, because even if you are trying to navigate indoors, there's a lot that can happen in even the most open of quarters.
Since the designers knew that all ages and skill levels may be using this drone, the rotor protector is a big plus, and helps bystanders not get stung suddenly by it as well. There are pretty cool LED lights on this tiny quadcopters, and the fact that it has landing skids bodes well for it because its just the kind of small starter drone that WILL be abused heavily sooner or later.

Here are some of the specs on the FQ-FQ777 that will help you decide on whether or not you want to make it your latest carry-on addition for fun.
• 4GHz frequency
• 6-axis Gyro
• Size is 7 X 7 X 2.7cm
• Weight: .46 ounces
• Charging time: 20 mins
• Control distance: 50 meters
• Batteries for the quad are 3.7 V 100 MAH and are included
• Batteries for Transmitter are 4x AA batteries and are not included

One thing that's great about this drone is that it's really only double the price of what some retailers would sell for just a high-quality USB charging device. It's really all about pure fun in a small package, and is perfect for those in cold climates that want something to fly around a gym or basement.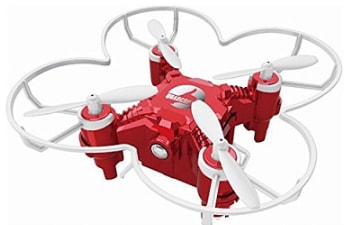 Click Here to See Best Price!
The Hover-Way 6-axis 2.4 Ghz Aerial Micro Drone
This is one of the smallest that exists on the market, and will be a bundle of fun for you and the entire family. You get about a 6 minute flight time with a 35 minute recharging time, and there is sync-lock technology that allows you to fly more than one of these little numbers at a time in the same room.
You do receive replacement blades with the kit, which you may put to use immediately, since it can take just a bit to get used to the way that these handle. This would be a fun one for an experienced pilot to use that just wanted to blow some steam off indoors, or a great first purchase for someone who wants to really get into drones full-force during the future.

Here are some specs and features of the Hover-way 6-axis micro drone: scanning over these can let you know if you want to purchase this incredibly fun little quad during 2019.
• Can perform 360-degree aerial stunts, flips and barrels in both directions, 6-axis gyro stability and trim adjustments allow you to customize your flight
• 5 or 6 minute flight time is achieved after around a 35-minute charging time
• Sync-lock technology allows you to fly more than one at once in the same room, which will be tons of fun for the whole family
• Remote requires two aaa batteries, which are not included
• Item weight is 4.8 ounces
• Battery is Lithium ion, which is included and rechargeable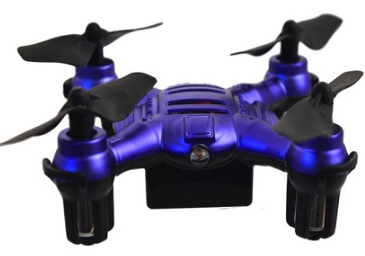 Click Here to See Best Price!
JJRC H20C
With WiFi FPV, a 2MP HD camera, and a price that's more than a bargain, you can't go wrong investing in this affordable drone with an HD camera. Though the price isn't a large one, the HD camera has impressive specs.
It features One Key Return to Home, 3D Flips & Rolls, Hover, WiFi FPV and Headless Mode. Compared to the others on our list, the amount of features it has a little short, but fear not – it comes with impressive specs that make it an awesome little drone.
Here are the features and the specs of the JJRC H20C:
• Uses a 2.4GHz transmission frequency with up to 4 channels
• Takes a 3.7V 380mAh LiPo battery
• Weighs less than a pound
• Has a maximum flight time of up to 5 minutes
• Uses a 2.0MP HD camera
• Has a maximum transmission range of up to 60 meters
• Uses a 6-axis gyro stabilization system
• Has automatic LED lighting
• Uses 6 propellers

This hidden gem is one that shouldn't be ignored if you're looking for a simple drone with HD camera. This little pocket drone is a lot more powerful than you'd think.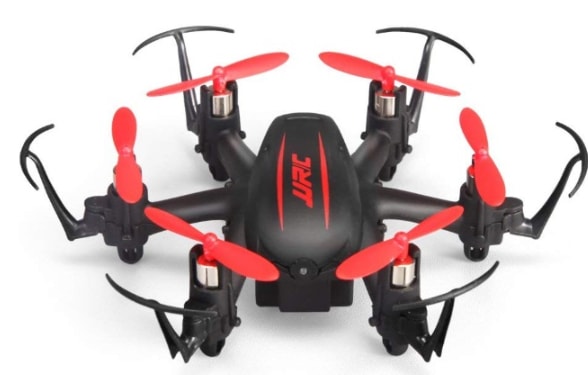 Click Here to See Best Price!
Sky Viper m500
Nano drones are great for indoor and outdoor flight, especially if they come with an onboard HD camera and have a great price to go with it. Though there are a few nano drones that don't fare that well in outdoor environments, especially if it's a windy day, this one is still able to hold it down and fly perfectly.
It features One Touch Stunts, One Touch Flips, Auto Flight, Auto Hover and Auto Land. It has a total size of less than 2", minus the blades, and weighs less than 9 ounces – no FAA registration required!
Here are the specs and features that make the Sky Viper m500 what it is:
• Uses a 6-axis gyro stabilization
• Has a number of flight sensitivity modes
• Includes a durable body and removable blade guards

Interestingly enough, it was nominated for Toy of the Year during 2016, which proves how much of a quality inexpensive drone with camera it is.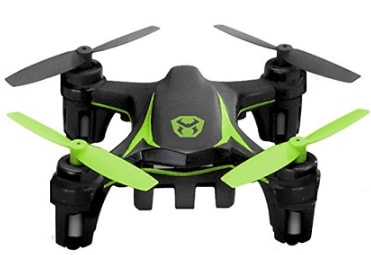 Click Here to See Best Price!
The Hubsan H111 Q4 Nano Drone Quadcopter
This is a very small bundle of fun. This is a blue and white smaller model that we rank high for it's toughness in design: for the size, it may be about the most durable on the market. There is also a built-in gyroscope for stability, and the flight time is right at 5 minutes.
It is 4-channel, very user-friendly quad with a stealth appearance, that is most likely the sturdiest micro quad on the market. The crash guard will help make sure that you won't have any misfortune, and extra propellers and motor are pretty easy to find in case you need replacements.

Here are some stats and notable features on this little bundle of power that you can check out if you are considering immediate purchase for hours of fun.
• Features 360 degree flips/rolls for fun with stunts
• USB charger is included
• Controller is 2.4Ghz
• USB charger and 4 spare blades are included
• Consists of very tough 1-piece frame, and built-in gyroscope for stability
• Measures approx. 2" by 2", charge time is 20 minutes, flight time is 5 minutes
• Shipping weight: .3 ounces
• Does not require FAA registration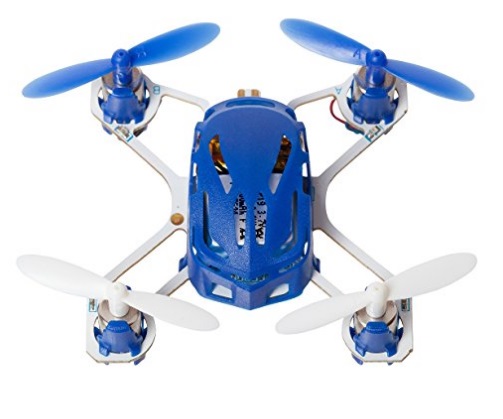 Click To Shop or Read Reviews
Find out more about drone technology in these great guides by Dronethusiast, check out our beginner drones guide as well as our guide to drones with cameras.
FAQ's For Low Cost Drones
What are drones?
A drone is any flying vehicle that is not controlled by an onboard pilot. Their use has grown exponentially over the last few years, and many have enjoyed the hobby they have discovered including those that have begun taking their love of drones to RC boating! This rapidly expanding hobby has many options available at cheap prices as well as some remote control boats for kids.
What are quadcopters?
The quadcopter is a type of drone that has four propellers. This is by far the most common type of drone, and many people think the two terms are interchangable, but it is also possible to find cheap hexacopters (6 propellers), octocopters (8 propellers), and other kinds of drones for sale.
Is it possible to find cheap drones for sale?
You can absolutely find good drones and quadcopters for a low price. Though the most popular prosumer models can still cost over a thousand dollars, thanks to the recent explosion of the market you can find some of the best budget drones for sale at prices as low as 50-150 USD.
Is it possible to find a cheap video drone?
One of the most exciting thing about the modern budget drone market is that higher-quality photo and video cameras have become small enough and inexpensive enough to find in low price drones. We have lots of cheap video drones and FPV quadcopters listed for sale above, so if you're looking for an inexpensive drone that still comes with a great camera, you're in luck.
What kinds of low priced drones are on the market?
Anyone who is on the hunt for the best value priced drone they can find will be glad to see that there are numerous options for low price quadcopters.
Micro drones are one common example of an affordable drone. Many inexpensive drones are designed to be flown indoors and used around the house, as their small size means that they can completely blow away in strong winds.
In the slightly more expensive category, you can find cheap video drones that have 720p or even 1080p photo and video cameras, which give you some good practice hours for image gathering from above.
What is the cheapest drone?
You may be able to find a few that get a bit lower than this, but the JJRC 2.4ghz RC Quadcopter pictured here is just $9.95. It is a very tiny quad that gives you about 5 minutes of flight time, and has a control distance of about 30m.
Where can I find an RC drone cheap?
The best prices on remote control drones are usually found on Amazon, but some drone manufacturers sell directly from their own website. They may offer special benefits if you do so, like free shipping and handling.
Where are cheap drones manufactured?
The majority of the quadcopter options you locate on websites such as Ebay and Amazon are manufactured in Taiwan, and China. Hubsan, which is one of the manufacturers who have a pretty broad range of drones, are made in China. However, if buying semi-locally is important to you, Altair Aerial is an American company known for making cheap FPV drones based in Lincoln, Nebraska.
What are the return policies on drones?
Return policies on these drone options out there tend to seem strict, but you simply need to abide by protocol, and act quickly. One good plan is to purchase buying protection plans directly from the manufacturer, since many of the retailers such as Wal-mart and Best Buy only provide options such as a 15-day return window, even if the equipment is damaged.
What happens if I buy an inexpensive drone and it breaks?
Some portals such as Tmart.com will allow you to return products for up to 180 days: what the manufacturer is going to check for most commonly is if the damage was caused in any way by the user. Generally speaking, if you order a product from Amazon.com, they will take returns within 30 days, and will ship a replacement item if you receive one that is damaged or defective. Sometimes it's just the transmitter or batteries, and sometimes it may be the drone itself.
Further Reading
Best Remote Control Cars – Dronethusiast.com
Best Remote Control Trucks – Dronethusiast.com
Other Interesting articles in "
Reviews

"