Aerial Photography Near Me

Want to Learn Drone Aerial Photography?
At Dronethusiast we partner with one of the best Drone Aerial Photography training companies – Drone Launch. If you want to learn how to do quality aerial photography we suggest you sign up for their extremely high quality course and get to work training! You'll also get $50 off the course because you're a Dronethusiat reader!
#1 Recommended Aerial Photography Company Near You
If you're seeking an aerial photographer near you we recommend Droners.io. This service is free for you to use and will guarantee you find a professional drone photographer for your needs, at the best price.
You can use Droners.io for all types of Drone Photography, especially Real Estate, Weddings, Professional Inspections and Business Drone video making.
Simply follow these instructions:
1. Click here to go to Droners.io.
2. Click "Post a Job"

3. Fill in the information required to post your job.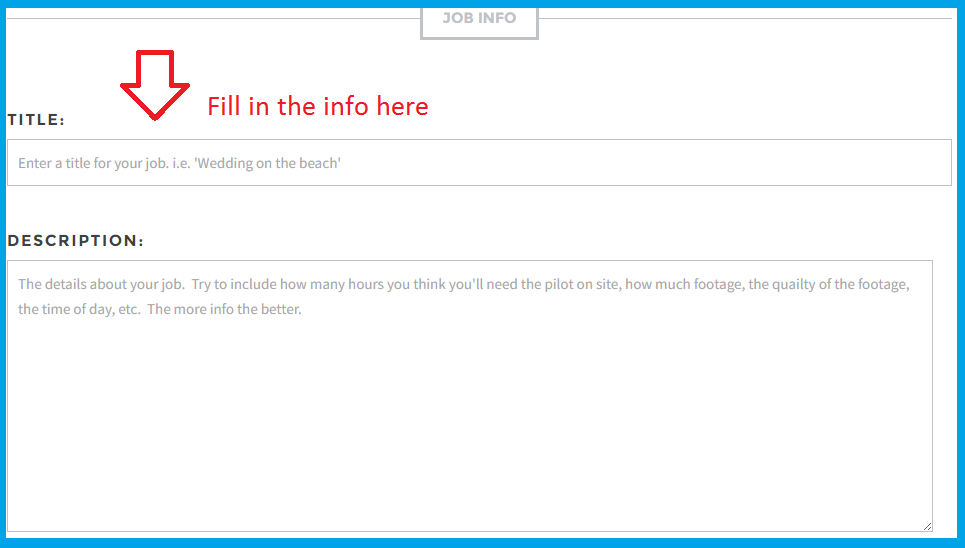 4. Connect with drone photographers in your area that will bid for your job, you're going to get a professional photographer at a great price. You can request that they send you examples of their work, or you can check out their online portfolio to make sure they have the experience needed to complete your job.

From a high school yearbook to various brochures and campaigns, aerial pictures are an excellent choice for many different types of presentations and materials. For any business, building, or specialized group, there is nothing quite as effective as giving the audience a sweeping view from above.
Aerial photographs can convey the entire scope of a property, or demonstrate numerous advantages of a location by clearly portraying any access routes and nearby developments that increase value.
For the family member or friend that has perhaps spent their entire life building a business, a perfect gift for their office could be a detailed portrait taken from the skies above.
Here are some different types of aerial photography near me for business, and some insight into the advantages that they offer the user.
Things have been changing pretty fast, and the years to come will provide even more additional ways that these will provide value to those that want to save time in the process.
Drone Building Inspection
To properly maintain a building, it is necessary to do very regular and visual inspections of the outside. Even in instances where buildings are only a few stories high, it can prove difficult to see parts of the exterior.
Using a drone for building inspection is just a fraction of the cost that is needed to do a survey or a full-blown inspection using a harness and line near the top of a building.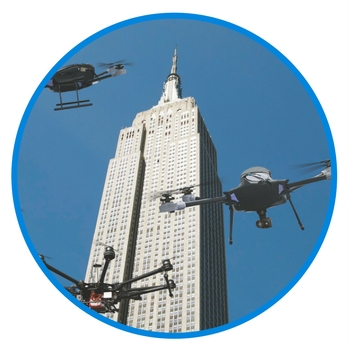 When you are using a drone, you will be able to detect defects that a naked eye cannot always see, which proves to be very useful when you are collecting data.
Some heavier-duty models can be equipped with thermal imaging and infrared cameras, which are very useful when detecting losses of heat, and other data valuable to maintaining a sold structure.
Insurance issues are some of the most important that you'll encounter during a building inspection: In Canada, you must be insured for up to $100,000 for any drone that is flown for commercial purposes.
If you are using software such as DroneDeploy, an operator with just a bit of training can fly a very small drone equipped with a camera right over a building to capture stellar imagery.
You can use this type of footage to make a high-resolution map, or even a very useful 3-D model of the building for display as well as inspection.
Using a 4K video camera is the best for detail, as it will allow you to zoom in and examine any structural issues in the greatest detail possible.
If you are a building owner that typically hires someone to repel off of the roof or use a cherry picker to elevate someone to take photos, the drone is a much safer option.
There is a large ability that drones have to keep workers safe, as you are not hoisting people high up in the air, and ultimately dealing with less liability in the human realm.
Drones are simply an excellent real-time option for inspecting buildings: You as the owner of the building can see in real time exactly what is going on with a property, instead of relying on someone else's secondhand description.
Drone Aerial Construction Photography Near Me
For buildings that do not yet exist, combining aerial photographs captured by drone is a great way for developers to show how a new development will fit into an overall environment.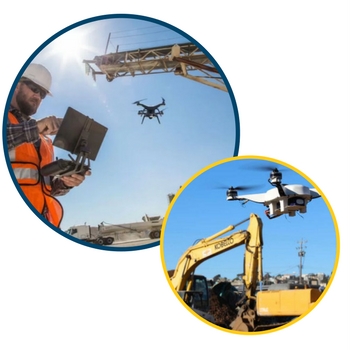 This has been a large success within the realm of stadium development: it has been successfully used to portray just what a new building would feel exactly like when erected in a certain location.
One of the best things that drone photography offers in the construction realm is honestly what many project manager's dreams are: the ability to save money.
Contractors and entire teams can now inspect a roof, chimney, or overhead pylon in a fraction of the time that it would have taken with the use of pricey scaffolding.
Companies that deal with cellphone and radio towers benefit greatly from the use of drones as well. Many times a drone can be used to take pictures of a tower after storming or other acts of nature, to see if a worker needs to be sent up at all.
Doing this live is a great asset to a project manager: with the use of a drone, you can quickly rule out unnecessary manpower, and allocate it to more important projects.
When using drones for a construction business, they are also great tools to collect real-time data such as air quality, temperature in higher altitudes, and track overall progress from above.
Many construction firms benefit by using monitoring of an entire job site for a specified period of time, then incorporating drone images into daily progress reports.
What this ultimately does is enable the project manager to detect change, and help identify issues such as improper sequencing that ultimately lead to massive delays in performance.
It can be small things like where equipment is placed that is not in use, or how many workers are allocated for an area as it gets more and more built up.
Professionals who work in the transportation infrastructure category are learning just how helpful tools like drones can be to them as well. There are nearly 600,000 bridges in the United States, and half of those require inspection each year.
Around one-fourth of those could use a form of drone, and high-resolution imaging could help check out bridges in many different ways for wear and tear or structural issues.
Photogrammetry is a technique which uses photography to extract environmental measures. This is achieved by different types of overlapping imagery, where the same feature can be seen from more than one perspective.
By using this element, it's possible to calculate distance, and volume measurements. These outputs can be used to create 3D images for projects that involve rendering buildings.
Drone Real Estate Photography Near Me
One thing that any real estate agent will tell you that is very worthwhile is a perspective that doesn't compare to any others.
It was about exactly three years ago that Larry Malvin was written about for being the first in Chicago to use drones for real estate photography, and many, many more have followed his lead.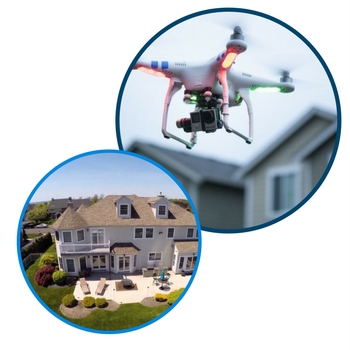 What really happened with the real estate market when it collided with drone photography is that agents now had the ability to tell a story which a much more powerful device.
While it is true that photographs can properly emulate a great story, the ways in which drones provide sight lines and depict sprawling properties are truly one of a kind.
A valuable quality that really shines through in real estate photography when it comes to drones is that they can get much closer than an object such as a helicopter, and the simplest of moves can really bring out the awesome touch as far as the look of the property.
Just having the drone move up slowly and backward at the same time can provide an amazing shot of a large or sprawling property, and the motion involved can really get a very emotional response quickly, which definitely makes someone want to buy.
When attempting to get the best real estate drone footage for your project, there are always a few words of caution about production companies.
One big issue for you to look at is if the company you are choosing to work for you uses its own in-house pilots, or if they subcontract to yet another party.
If they are doing the subcontract option, this is when you have to ask if those individuals are insured and bonded, in case of any unexpected accidents.
Some of the best experts in the trade have been quoted as saying that the marketing boost a drone video gives a property could mean the difference between a multi-million dollar sale, and the home spending many more months on the market.
It's not just because the buyer sees the content and is so excited about the high-tech aspect, it is because the shots you can get with a drone while entering the property are so unique, that it really makes the viewer feel as if they are coming up on an oasis of sorts.
While some in the industry feel that drones for real estate are a bit gimmicky, they may honestly just be a little on the jealous side: drones are just a tool, and not the overriding component of what can close a house sale.
Coastal properties have been said to be the types that benefit most from drone photography, but the trend has definitely taken many by storm in the industry.
If the property in question is near to any parks, open areas, or near any areas that have an open expanse, space will be portrayed in a welcoming and visceral light by a drone.
If the marketed property is in a very urban area, don't despair! Hovering above with an HD camera does a great job of showing the beauty of congestion, and many creative types are excited to be a part of a "hive" that includes them as a busy yet integral part of the constantly moving machine.
Real estate drone photography is one of the most exciting areas there is concerning eyes in the sky: as long as there are no shortage of many different kinds of properties on the market, the footage generated will always be way above average.