Altair Aerial AA300 Review | GPS Drone for Beginners

I'm always extremely excited when I get to try a brand new drone for the first time, especially when it's from a brand that I know and love. Altair Aerial has recently released a new GPS drone called the AA300. GPS drones are next level and some of my favorite drones to fly, but I will admit I did have some concerns that Altair was selling a GPS drone at such an affordable price. Would it really work as well as it claimed?
When I took it out of the box and flew it for the first time, I was delighted. It was flying like any professional-grade drone on the market and I couldn't wait to explore more of the AA300's features.
Ready to purchase? Click here to check the best price available on Amazon.com, or you can find more information on the Altair Aerial website by clicking here!
Altair Aerial is known for its affordable, beginner-friendly drones. I have reviewed a lot of their drones in the past that you may have seen and they keep releasing new and exciting models. Keep reading to learn more about this new GPS drone and my honest thoughts of the AA300.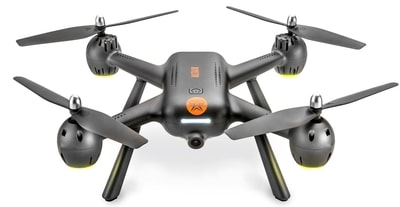 Click To Shop or Read Reviews
Check out this video from Altair Aerial about the AA300:
Getting started with the AA300
When I opened the AA300 I was somewhat disappointed to see that it was not completely assembled like some of Altair's other drones. However, I realized that the only assembly required was adding the drone's legs to the body, which was easy to do. Also, I had to install the battery into the drone and controller too before I was ready to fly. The battery comes partially charged so I was able to get a little bit of flight time right out of the box.
Here's everything that comes in the package of the AA300.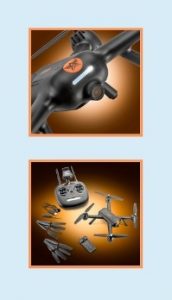 The AA300 Includes:
– 1 x AA300 Drone
– 4 x Undercarriage
– 1 x Remote Control Transmitter
– 1 x Phone Mount
– 1 x Built-in 1080p HD Camera
– 1 x Li-ion Batteries
– 1 x Spare Parts Pack
– 1 x Insturction Manual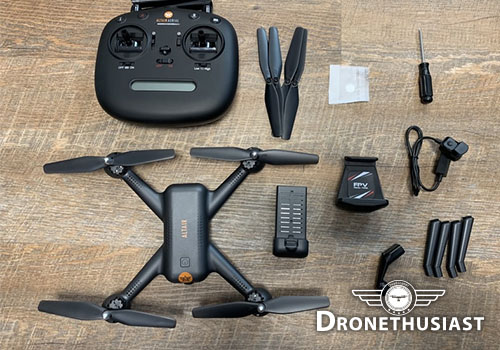 After I had all of the batteries installed I turned on the drone and had to callibrate it. Callibration is common when it comes to GPS drones, even with more porfessional and expensive drones. I find it to be somewhat of a tedious process but this is what gives you the benefits of a smooth flight. I do want to say that you do have to go through the callibration every time you turn it on before you begin flying.
I was glad to see that Altair provides how-to videos to make this process a little easier. I watched them throughourly and learned a lot about the AA300 and callibrating it.
You can watch the videos here: https://altairaerial.com/pages/aa300-videos
I also watched these videos to learn how to replace the propellers if I needed. Like most Altair drones, the four propellers have two labeled "A" and two labeled "B". This helps you know which propeller goes where. The video was very informational on how to screw them in and out and I was glad that it was so easy when I tried it myself. Here are what the propeller labels look like.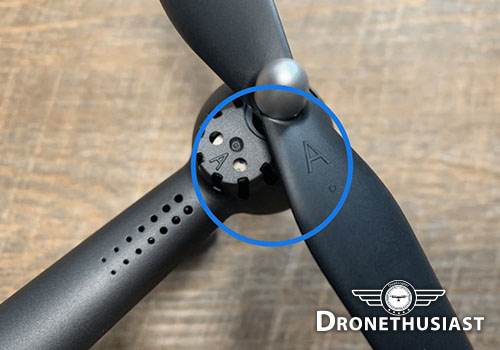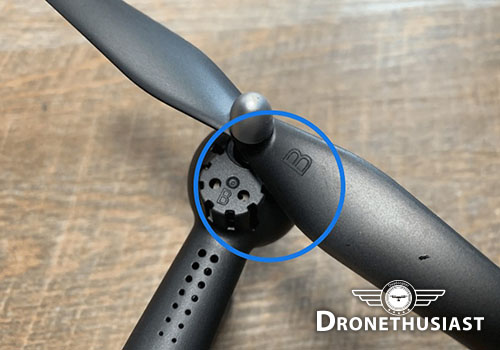 Flying the AA300
Listed below are the specs:
– Built-in 1080p HD camera
– GPS Flight Mode
– Altitude Hold
– One-Touch Takeoff & Landing
– 3 Return-to-home Functions
– Follow-me Mode
– Total flight time of approximately 12 minutes
– Flight Range of 150 meters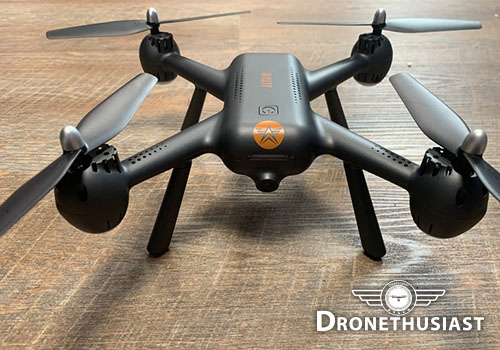 GPS Flight Mode
I love the added functionality of GPS drones and was excited to see that the AA300 came with GPS flight features. The great thing about the AA300's GPS flight mode is it helps you control your drone by accurately positioning itself and hovering in the air.
I tested out the GPS flight mode for myself and loved how easy it was to control. I believe this would be good for any beginner because they don't have to worry about losing control of their drone as they start learning how to fly. The drone will be able to stabilize itself. One thing I do want to warn new pilots about is that the AA300 does struggle somewhat in stronger winds. Be sure to keep an eye out on the weather so you don't have a hard time flying your drone. You will want calm skies to best learn on the AA300.
Since I have been flying drones for a while now, I also wanted to see what the AA300 had to offer for more expeirenced pilots. I was glad to see that you can challenge yourself a bit by flying without the GPS and switching the drone into gesture mode. In gesture mode, the aircraft will maintain it's altitude but it will be up to you to use the controls for positioning and hovering. I personally enjoy flying in both GPS and gesture mode, depending on the type of mood I'm in. Both of the modes on the AA300 work great and while an experienced pilot will be able to maneuver through gesture mode easily, I would not recommend it for beginners until they get some practice with the controls.
Return to Home Functions
The AA300 comes with return-to-home functions. I love when drones have this feature because it helps me add a ton of control while I'm flying. I have seen many drones that include Return-to-home functions and wanted to see how the AA300's matched up. After I had a GPS signal, I flew the drone for about a minute then pushed the return-to-home button on the controller. The drone landed in the same spot it took off from with ease, which I was really impressed with.
One great thing about the return to home functions on the AA300 is they will automatically activate if your drone loses connection or if your battery is dying. I saw this in action as I accidentally turned my controller off for a brief moment. The AA300 didn't lose control when this happened and was able to land itself.
I feel that beginner pilots will appreciate these features the most as it helps you get used to drone flying the best. And as you begin to grow your flying skills, you will be able to fly your drone and practice as long as you like without worrying about your drone crashing when the battery dies.
Other drone features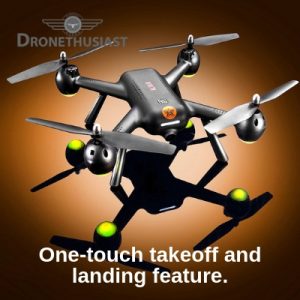 There are some other great flight features that I really took notice to while flying the AA300. One feature that I liked was the one-touch takeoff and landing button. When I first started flying drones, taking off and landing were some of the trickiest skills to learn. However, with one-touch takeoff and landing, it makes it much easier. I set the drone down on the ground and pushed the takeoff button and the drone flew into the air with ease. Likewise, it did the same thing when I wanted to land. I think that any new pilot will find this button useful as they learn and perfect their flying skills.
Another awesome feature on the AA300 is follow-me mode. This is one of my favorite features that I've used and basically what it does is allow you to walk around on the ground and have the drone follow your path. I tested the mode out on the AA300 and while it struggled a little bit due to the wind, I did enjoy watching it follow me around and the first person view I got from using my phone.
The controller is large, but it's easy to use and the buttons are easy to understand. Plus, the phone mount as easy ot slide right into the top of controller and was secure throughout my entire flight. If you're a younger pilot, or just have smaller hands you may feel overwhelmed by the larger controller, but it is easy to get the hang of with a little practice.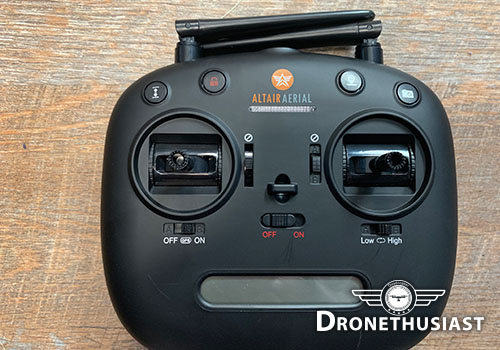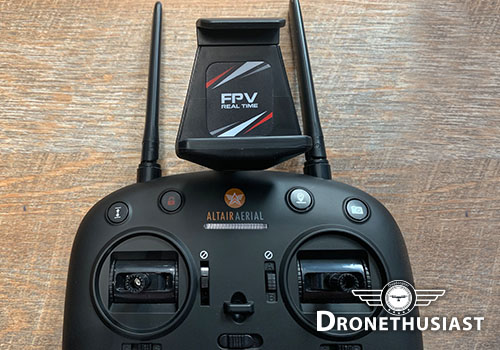 Finally, the box says that you can get about 12 minutes of flying time when you fly the AA300. I personally like flying for a little bit longer than this so I was a little dissapointed, but I do think that is a good amount of time for beginners to practice without becoming overwhelmed. If you are like me and have a little more experience flying drones you may enjoy a drone with a longer battery life, or consider purchasing a second battery. One thing I liked about the battery was that it was small, but unfortunately it takes about 2.5 to completely charge it which I was a little bummed about.
Final Thoughts – Should You Buy the AA300 Drone?
I enjoyed testing out this compact GPS drone from Altair Aerial. To me, it's perfect for anyone who is interested in starting out with flying drones who maybe has never flown one before. Plus, I love that it's so affordable. At only $169.80 you really can't beat the price, especially with all of the amazing features that are included with the AA300.

The GPS features make it perfect for those who are just learning to fly and you won't ever have to worry about losing control of your drone with return-to-home functions and one-touch take-off and landing.

The drone is great to grow with too as you can set more advanced modes as you improve on your skills each time you fly. This is what makes it great for experienced pilots too. If you want a fun drone to fly that's simple and not too challenging, the AA300 is perfect. Travelers will love it too as it's smaller size makes it ideal for transportation.

My main concern is that the AA300 doesn't hold up the best in stronger winds and the flight time is rather short. To avoid you damaging your drone or losing it, I recommend you only fly on days where there is little to no wind.

Other than that, this really is a great budget-friendly drone. I think beginners and experienced pilots will be able to find something they love about the AA300, just like I did!

The Altair Aerial AA300 is currently available on Amazon and retails for $169.80. The product ships out of Lincoln to the United States, as well as internationally to Australia, UK & Canada for $9.99 Shipping.

Click To Shop or Read Reviews

Check out the Altair Aerial AA300 Website or facebook page.

Read more reviews about the Altair AA300 Drone.

https://www.adayinmotherhood.com/altair-aerial-aa300-review/
https://www.aeroflydrones.com/altair-aa300-gps-drone-smart-camera-drone/
https://rchobbyreview.com/altair-aa300-review/
https://www.edrones.review/altair-aerial-aa300-review/
Other Interesting articles in "
Reviews

"