Altair Aerial Falcon Drone Review | An Awesome New Drone For Kids

Drones are a great way to pass the time and can be used for both recreational and professional purpose. I was super excited when Altair Aerial released the Falcon. Dronethusiast has many reviews of their products so it's always nice to come back and review new items that they've released.
Ready to purchase? Click Here to check the best price available on Amazon.com, or you can find more information on the Altair Aerial website by clicking here
Today I will be taking a deep-dive into Altair Aerial's new Falcon drone. Altair is known for its high-quality and affordable drones that they offer and I wanted to test out and see just what the Altair Aerial Falcon is capable of. One thing I was especially excited for with this drone is that Altair Aerial has rolled out a new feature unique to their brand. An Autonomous Hovering & Positioning System. I will be getting more into detail about this feature later, but for now, let's get started by unboxing the drone.
Take a look at this video from Altair Aerial about the Altair Falcon:

Unboxing the Altair Aerial Falcon Drone
Straight away, when I first opened the box, I saw that the drone comes preassembled with an all-black design and compact size. The fact that it comes assembled in the box is great because it means you can get to flying much faster. You will want to make sure your batteries are charged and insert them into your controller and drone. Then it will be time to calibrate it, and you can start flying.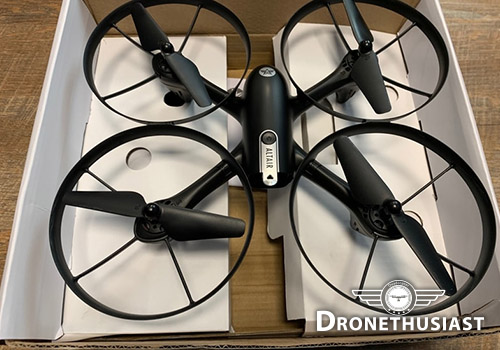 The Falcon Drone Includes:
– 1 x Fully Assembled Drone
– 2 x Li-ion batteries
– 1 x Charging Cable
– 1 x User Manual
– 1 x Spare Parts Pack
– 1 x Phone Mount
– 1 x Transmitter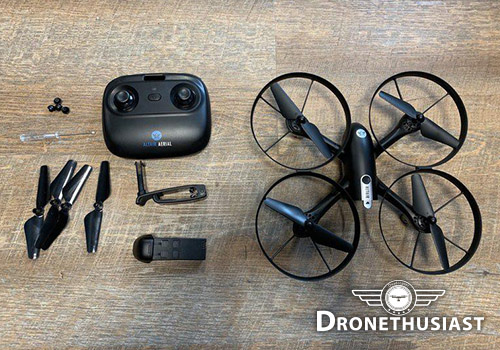 After I took all of the parts out of the box, I needed to insert batteries into the controller. The controller takes 4 AA batteries which are not included with the drone. I needed to use a screwdriver to screw off the cap to put the batteries into the controller, so be sure you have one on hand if you buy this drone. It was easy for me to install the drone's battery, which I was happy about. There is an open cavity in the front of the drone and all you have to do is insert the battery from there. One thing that I really loved about the Falcon that you don't get with many other drones is that it comes with 2 batteries. This means double the flying time for you which in my opinion, leads to that much more fun!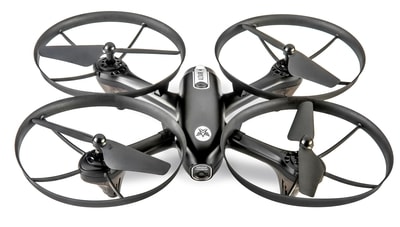 Click Here to See Best Price!
Flying the Falcon
Before I started flying the Altair Falcon, I wanted to read the user manual carefully so I could learn more about everything that comes with the Falcon drone. I highly recommend that any pilot read through the manuals before they begin flying. You can tell how much effort goes into Altair Aerial's manuals because they are super easy to read and understand. I enjoyed how straightforward the manual is because it made me feel knowledgable and comfortable to get flying. With that being said, let's talk about what it was like getting the Falcon in the air.
Something interesting about the Falcon is it has AHP – autonomoous hover & positioning, which I haven't seen on any other drones I've flown. Here's a video from the founder of Altair explaining AHP.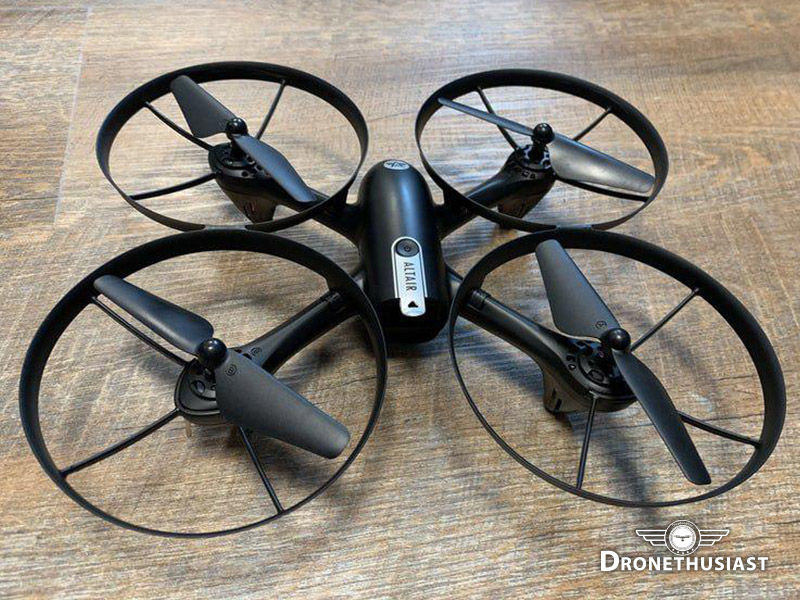 Listed below are the specs
– Autonomous Hovering & Positioning System
– Can be controlled up to 50 meters
– 8-10 minutes of flying time
– 3 flight speed modes
– Can fly heights up to 15 meters
– Weighs 147 grams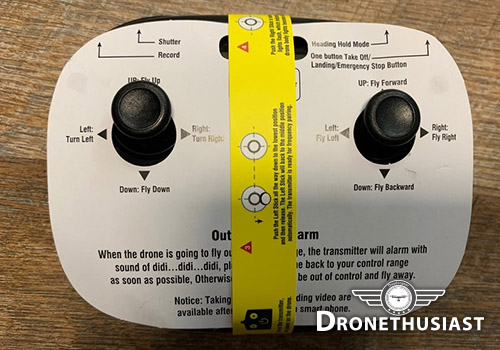 Using the Controller
If you're worried about using the autonomous hovering system or the flight modes, there's no need. The Falcon actually comes with detailed instructions, right on the controller. It labels what every button does and how to use it. This is a really helpful aspect in my opnion. To me it shows that Altair Aerial goes above and beyond for its customers, especially beginners.
Let's get into these unique flight modes.
Autonomous Hovering & Positioning System
I was excited about this autonomous hovering & positioning system that's unique to Altair. Since this is a seemingly advanced feature on an extremely affordable drone, I wanted to test just how well it worked and if it would be useful to beginner pilots. As I began flying the drone, it stayed in a hovering position fairly well.
Now, Altair claims that with this system, the drone will stay hovering in its position even if the pilot took their hands off the controller.
I decided to test this out for myself and take my own hands off the controller to see if it really did stay hovering. And wow, was I impressed! Flying the Falcon was so easy. I was able to remain in control during the entire fligh. One thing I noticed was that I could put the drone in full throttle going on direction and then take my hands off the control sticks and the drone would hover in the same spot I left it. I think this is such a cool feature, and I started thinking of how easy it would be for kids to fly this drone, and love it. If you're ever unsure of what to do just let go and the drone will hover in place. The autonomous hovering & and positioning system is a standout feature in my opinion, and I couldn't wait to see what else the Falcon could do.
Flight Modes
When drones have multiple flight modes, I personally am always impressed. This means that they can be used by a range of pilots with different skill levels. The Falcon comes with three different flight modes that offer a range of different speeds for all types of pilots. It's very easy to toggle between these flight modes as well. You just have to press down on the right stick of the controller and listen for beeps.
I wanted to try out each of these modes myself to see their differences in speed. One beep indicates that you're in the slowest mode. This speed is slow, and incredibly easy to control. I think any child would really enjoy flying at this nice and easy speed without feeling overwhelemed. If you press the stick again, you will hear two beeps. This means you're in an intermediate mode with a little faster speed. Flying in this mode was really enjoyable for me.
The second speed is an intermediate speed. While I do have experience flying drones, I am not an expert by any means. However, I felt comfortable at this intermediate speed. To me it's a perfect in-between setting that isn't too slow, and isn't too fast.
Finally, if you press the stick a third time there will be three beeps and you're in the most advanced mode. The third mode is the fastest mode and boy does it pick up some serious speed. It was fun for me to try out but I would definietly only recommend using this mode if you're a more seasoned drone pilot.
Flying Without the Propeller Guards
As you saw above, the drone comes preassembled with propeller guards. These add a great deal of durability and for me, they add peace of mind when flying because they help protect your drone from becoming damaged.
However, if you are a more experienced pilot and feel comfortable flying you can remove these propeller guards if you'd like. And it's pretty easy too. There are four latches by each propeller that you just gently pull the guards out of.
And here's what the Falcon without the propeller's guards. As you can see, it looks much smaller so be sure to keep a close eye on it when flying.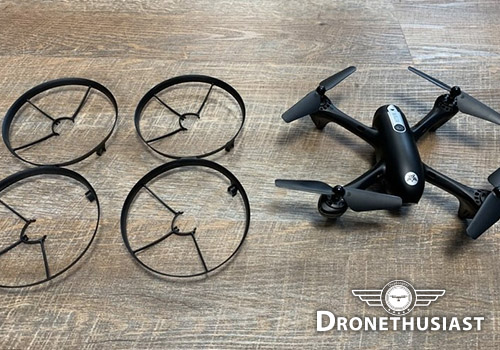 If you decide that you do prefer flying with the propeller guards, they are easy to reattach as well. Just find those for latches again, and firmly stick the propeller guards back in. One is for the left side of the drone, and the other if for the right side. You should hear a small click when it's back in place.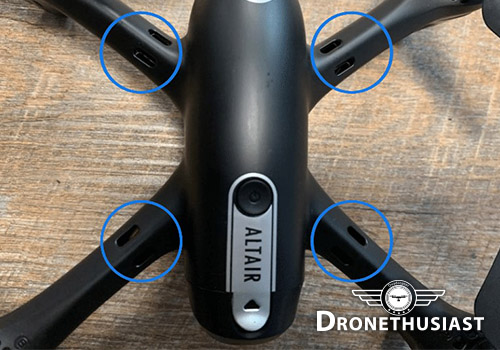 Flight Time and Range
Flight time and range are a huge part of flying a drone, and I always pay close attention to these when I'm testing drones. You want to make sure that whichever drone you purchase can give you ample flying time and can fly around large areas. I was really excited when I saw that the Falcon comes with two batteries. One battery on the Falcon gives you about 8-10 minutes of flying time, but with both batteries you get about 20 minutes. This is comporable to the average amount of flying time you get on more professional grade drones, which I really love becuase you don't have to recharge as often.
When I took the Falcon out to fly for the first time, I never really approached the 50 meter flight range. With a drone this small I found it hard to know which way was forward when it approached a little over half that distance. This really isn't a long range drone, but it's really a lot of fun to fly in a small space. More expensive drones can fly much further, but 50 meters is an impressive range for what you're paying for. This range is good for beginners as well who may not be confident flying as far of distances just yet.
When I was flying the Falcon I really took the flight time and range into consideration. While a professional drone pilot may find these features limiting, I just knew that a small flight range and average flight time would be perfect for kids for a couple of reasons. One, with the Altair Falcon only being able to fly around 50 meters, it would never fly out of sight from a younger pilot and they would be able to easily stay in control at all times. Second, a 10-20 minute flight time would give a child ample practice time to really learn how to fly but not so long that they would lose focus. It made me want to take my drone over to my nephew's house so he could get a hand at trying to fly!
Charging the Battery
I've already mentioned how I really appreciate that the Falcon comes with two batteries, but I think it's important to note how to charge them. It's not difficult by any means, you just have to plug the USB port into a computer or charging block and the battery has a port on the side to plug in the other end of the cable.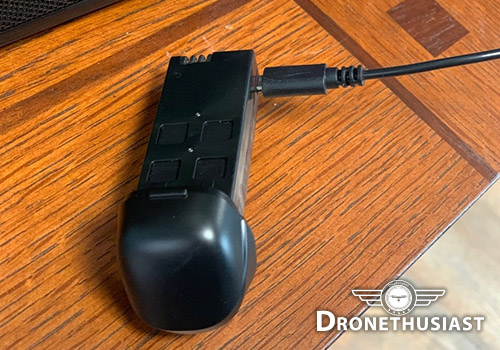 You should always be near your battery when it's charging, and never leave it plugged in overnight. This can ruin it's battery health.
Final thoughts on the Falcon – Should you buy it?
Once again, I was impressed with this new drone from Altair. The Falcon drone comes at an incredibly affordable price costing only $129.80. With all the features you receive with the Falcon, you really are receiving a great deal paying less than $200!
My favorite feature is, of course, the autonomous hovering & positioning system that Altair has rolled out with this new drone. I believe it will be great for any beginner or child who may be somewhat overwhelmed with learning how to fly. There is an outstanding amount of control that comes with flying this drone which is why it's so perfect for any new pilot. Plus, both the drone and controller come at a perfect size which again is why I think kids will really enjoy it. With the Falcon, they don't have to use a large overwhelming controller or an intimidating sized drone. The Falcon controller can easily fit in their hands and the drone itself is small too.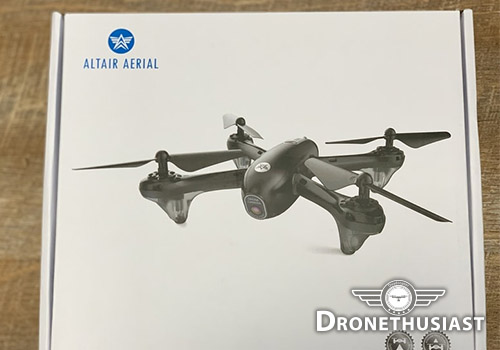 Overall, this drone is great for pilots of all skill levels but I can definitely see that it's catered to kid pilots or someone who is just learning. I could see how a more experienced pilot could get bored with this drone as it's not the most challenging. However, if you do have experience flying drones and are just looking for a new and affordable drone to add to your collection, I think you'll really enjoy the Altair Aerial Falcon.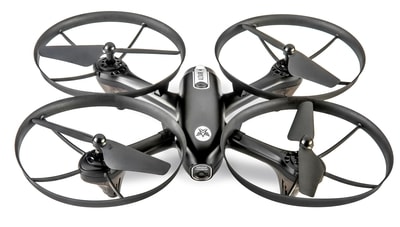 Click Here to See Best Price!
You can't beat its price or Altair Aerial's amazing customer service. Altair Aerial is located in the United States and makes themselves readily available to customers. I had a question about charging the drone battery and spoke directly to the owner of the company who was happy to help me. If you have any questions you can email help@altairaerial.com at anytime and a real person will respond to help you through any questions you have. This is just another thing that makes the Altair Aerial Falcon worth trying.
Check out the Altair Aerial Website or Facebook page.
Other Interesting articles in "
Reviews

"