Altair Aerial is a drone company that's completely stormed the gates recently. At this time of writing, they currently have two drones, the AA108 and the U818Plus, but today we're going to focus on the U818Plus.
Altair Aerial is a small company born and based out of Lincoln, Nebraska. One of the best things about this company is that they handle their own customer service and overall inquiries. Think about it, how many times have you called other companies about your drone and have only spoken to grumpy interns through call centers?
With all of this in mind, it's time to shift our focus to the Altair U818Plus drone and start the show.
FAQ About Altair U818Plus Drone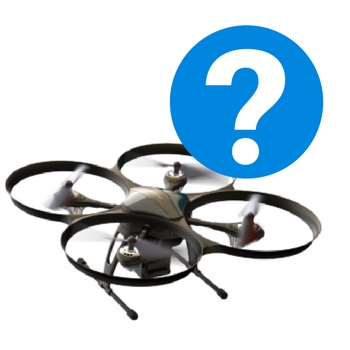 If you don't see your question listed below in the FAQ section listed below, get in touch with us and we'll gladly help you out!
Is the Altair U818Plus a beginner drone?
It certainly can be! The Altair U818Plus has multiple flight skill levels, beginner level included, so it's definitely a drone that beginners can fly and benefit overall from. The various flight levels start from beginner and go up to 3, which is for more experienced fliers, so you're actually learning how to hone and perfect your flight skills as you go.
How good is the Altair U818Plus camera?
So far so good! It's a 720p HD camera with real-time video transmission in FPV through your smartphone.
Which features does the Altair U818Plus have?
The Altair U818Plus has tons of awesome features. It has Headless Mode, Altitude Hold, 1-Button Takeoff, 1-Button Landing, and it even has Custom Route Mode if you're using a smartphone for the transmitter aside from the physical transmitter.
The Altair U818Plus Drone Review
For starters, the Altair U818Plus drone comes with a 720p HD rubber-damping camera. For those who don't know, rubber damper cameras ensure that there is next to no, if any at all, shaking or blurring in both videos and still photos taken with the drone.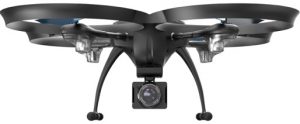 You can use your smartphone as a transmitter to gain access to Custom Route Mode, which allows you to draw out a flight map for the drone using your finger and your touchscreen.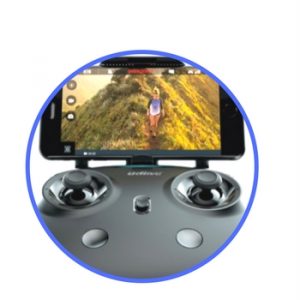 When you use your smartphone, you also gain access to a real-time video transmission in 720p HD with FPV capabilities, as well. The 120-degree, wide-angle camera works much better with your smartphone connected and a real-time transmission going.
Because it boasts 3 different flight skill levels, pretty much anyone can fly the Altair U818Plus. It starts at 1 for kids and beginners, 2 for mid-level experienced fliers, and finishes off at 3, which is suited for those who have either built their way up through the previous skill levels, or for those who are advanced in flight experience.
With these ranges in mind, it's a fantastic drone to choose if you're starting from scratch and want a drone that will level up with you in terms of skill. For example, if your kid wants their first drone, the Altair U818Plus can gradually be increased in difficulty once they master each flight skill level.
It comes with a ton of features aside from Custom Route Mode, as well. You automatically get Headless Mode, Altitude Hold, 1-Button Takeoff, 1-Button Landing, Emergency Landing, Low Battery Alarm, and Out of Range Alarm.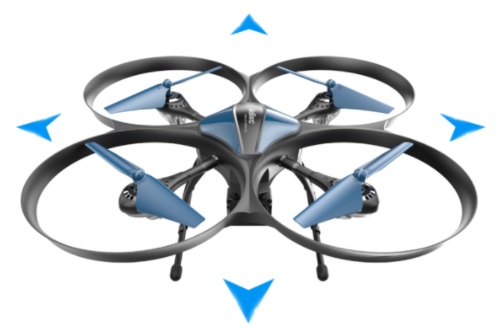 Having both a low battery alarm and an out of range alarm is an absolute must for all drone users. These features are your bread and butter when it comes to not having to keep track of how low your battery is getting and how far out you're going. Thankfully, the Altair U818Plus will let you know during either instance!
Because it's just a relatively smaller size and isn't heavy, you can safely fly it indoors without having to worry about damaging your walls, furniture, or hitting other people. As long as you're flying safely and not fooling around too much, flying inside is completely possible and actually very easy to do.
A single battery will last you for up to 15 minutes of flight time whereas most beginner drones in this category struggle to last for between 60 to 8 minutes.
Overall, the biggest go that the Altair U818Plus has to offer, in our opinion, would most certainly have to be the camera. It gets a leg up on the competition for certain if you look at all of the aspects it has. 720p HD photos and videos, real-time video transmission, and FPV capabilities.
The biggest con, however, is that there isn't much to go off on right now. By that we mean it's still a relatively new drone on the market, so stay tuned for more information. We'll update this post as we know more in the, hopefully, near future!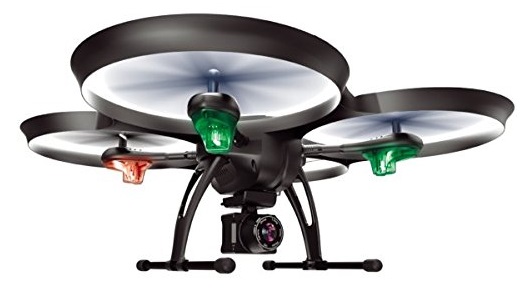 Click To Shop or Read Reviews
The Altair Aerial U818Plus Drone
The Altair U818Plus drone has some serious potential here, so our hopes are just as high as yours. As we said previously, we'll update this post when we know more about the overall quality, if anything is added, etc.