Altair Aerial AA108 Easy-To-Fly Drone Review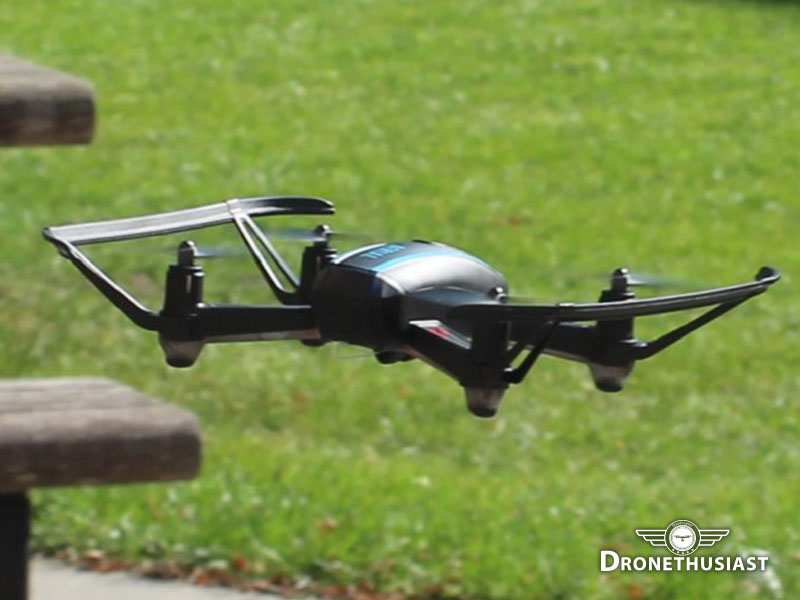 If you don't want to read the entire review, here's a quick overview:
The Altair Aerial AA108 is a fantastic drone for beginners as well as advanced fliers, the adjustable 3 skill levels of flight controls makes for an enjoyable experience for any drone pilot. It has all the latest advancements, headless mode, altitude hold, one button take off and landing and more. Plus it comes with an extra battery for double the flight time! They even have an Altair Video Tutorials page that helps you get started.
See it on Amazon USA or Canada, UK, Australia & Other International Shoppers click here, see their International Shipping rates here. Check out Altair Aerial's Video for the AA108 below.
Hello, fellow dronethusiasts! My name is I Coleman. I've been a tech  and game reviewer for years, but I have almost no hands-on experience with drones, which is why Matt thought I would be perfect to review Altair Aerial's new AA108 Camera Drone. Altair claims their new product is "the perfect all-skill-levels drone" and is focused on providing an experience specifically for first-time users like me. Plus, this little company that could is located right here in Lincoln, Nebraska – my own hometown.
How do their claims hold up? As it turns out, impressively well. Let's dive right in:
Getting Started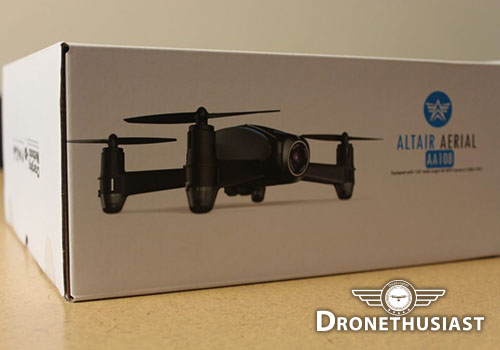 The AA108 showed up in a stylish white-and blue box that was easy to open and take apart.

In the Box:
1 x Altair Aerial AA108 Drone Fully Assembled with 4 Propellers
2 x Batteries – 3.7v LiPo
1 x USB Charging Cable
4 x Extra Propellers
1 x Propeller Installation kit & screwdriver
4 x Extra rubber foot guards
1 x Direction book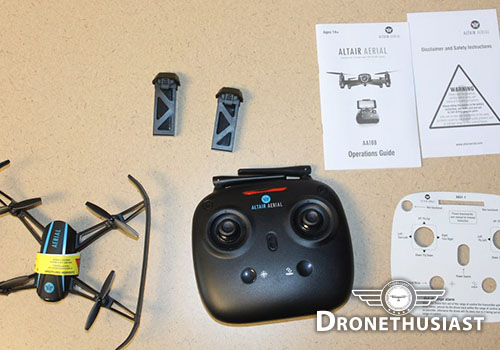 AA108 Video
Check out this Great Altair AA108 Review Video by Blue Collar Reviews
The direction book was very easy to understand and nicely indexed so that I could find help with specific issues (something which a surprising number of manufacturers forget.) Despite my initial fears about putting together a piece of equipment I knew nothing about, I had everything set up in about 10 minutes. Even setting up the mobile app (Flyingsee by UDI Rc) on my phone was ridiculously easy – all I had to do was download the app, turn on the drone, connect to it on Wi-fi, and push one button, and suddenly I was in full control of both the drone and its 720p HD Camera. Pretty cool stuff.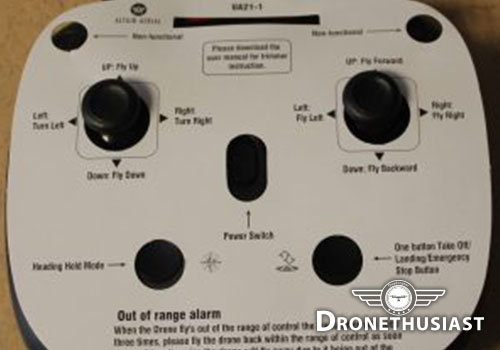 One small detail that I really appreciated was the little cardboard insert that came on top of the transmitter (pictured). It acts as a sort of quick reference for which button does what, and because it's nice and big and can be put over the device during use, it's much more convenient than the direction book and makes it basically impossible to forget what you're doing. It's one of many small details that makes the AA108 such a forgiving device for newcomers.
Taking Flight
The AA108 is designed to work both indoors and outdoors, but despite its small size, there's only so much fun to be had with flying it down the tiny hallway of my tinier apartment. Frankly, the fact that it was even possible to do so without flying it straight into the wall is a testament to how well the drone controls even in tight spaces.
Once we relocated to the University of Nebraska-Lincoln's Green Space, it was time to see what the drone could really do. Although Altair Aerial's focus is to reach out to beginners like myself, it also promised "advanced" control modes, and since I didn't fancy destroying my cool new toy, I was joined by my friend Ryan. Ryan is a longtime drone aficionado with several years of experience in building his own quadcopters, and he would provide a critical counterpoint to my "two left thumbs" style of piloting.
What really stood out to us throughout our time with the drone was the sheer amount of variety the AA108 offers. Ryan was able to take off and land manually using the joysticks, and enjoyed the novelty of flying in first-person using the app. Conversely, I greatly enjoyed the 1-touch takeoff and landing button and stuck to the sticks – as a lifelong gamer, twin-stick controls feel much more natural than a touchscreen.
Ryan commented on the drone's quick yaw and liked to show off in the highest of three speed settings, spinning and twirling like a flying ace. Me? I started in Headless mode (or, as Altair calls it, "Heading Hold Mode.") In this flight mode, the front of the drone is always set to the side facing away from you, which means that you don't have to worry about correcting for right or left if the wind spins the drone. It felt like a natural way to learn the controls, and let me ease into spinning myself at the "beginner" speed setting, which was fast enough to feel fun but slow enough to be forgiving of my many minor miscalculations.
Altair claims that the drone has 8-10 minutes of flight time, which is pretty standard for a lightweight toy-sized vehicle of this type. On four different flights, each with a fully charged battery, we averaged 8 minutes and 37 seconds in the air, which is exactly what we'd hoped for. The AA108 comes with two batteries right out of the box, which means that you get a solid 15-20 minutes of flight time overall if you charge both – not bad at all!
When the drone's low on battery, the controller starts beeping slowly. Ryan pointed out that this was actually a fairly unique feature – the most high-end drone he owns indicates low battery with lights blinking on the drone, which is invisible in the daytime and often hard to make out even at night. Having the battery indicator be a part of the transmitter seems obvious, but good on Altair for realizing that so much of the industry is doing it wrong.
When the drone runs out of battery, assuming you haven't already landed it, it will carefully land itself using the same pre-programmed landing feature that the 1-touch button activates. This, too, is a really good feature for beginners and experienced users alike, assuring that your drone won't suddenly crash itself if you forget to land it manually. It's one of many "idiot-proof" features the AA108 comes smartly packaged with, and it's here that the product really sets itself apart:
When Mistakes Are Made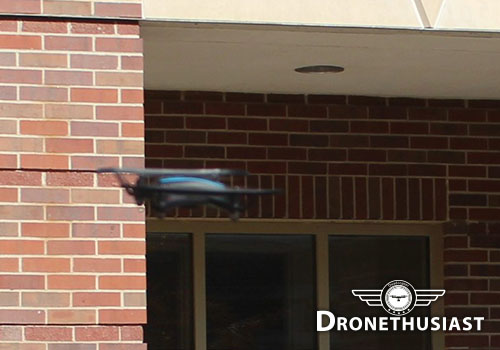 Convenient controls, slow speeds – these are the sorts of things that get talked about when we say a drone's for beginners. But there's a far more important issue that often gets glossed over – how the copter deals with situations where things go wrong. And yes, this is the part where I admit that I crashed the $129 drone and its fancy-pants camera directly into a brick wall. Twice. And then Ryan flew it into a tree, just for good measure.
The good news is that the AA108 took it like a champ. To be fair, none of the crashes were particularly dramatic (we weren't playing bumper cars, here) – but the first hit in particular was hard enough that I expected some kind of scoring at least. Nothing. The prop guards did their job well, and they weren't even slightly bent out of shape. That's some seriously high-quality craftsmanship, right there.
Still, I wondered what would happen if something really terrible had happened. After all, the box recommends the AA108 for "ages fourteen and up," and I know enough about fourteen-year-olds to know that someone, at some point, is going to break their Christmas present on its first trip out of the box. And while I may be new to the scene, I know from the horror stories of my various drone-flying friends that customer service in this industry can regularly be a nightmare, especially with Chinese companies like Holy Stone whose call center representatives can barely speak English.
So I decided to call Altair Aerial myself and see what their customer service was like. My call was answered immediately, and imagine my surprise when the man at the other end of the line introduced himself as one of the company's founders. This man – Matt Cookson – assured us that all customer service calls and E-mails go directly to him and his co-founder, and that they take care of every customer interaction personally – in his own words, "We don't have a call center." As someone who's worked in customer service myself, I couldn't help but be impressed – these guys are truly taking "Nebraska Nice" to the next level, and I tip my hat to the both of them.
But that's not the only time we were impressed by the AA108's ability to deal with "failure states." Right out of the box (pre-crashing), Ryan noticed that the drone had a tendency to pull to the right, even in an almost-windless humid August afternoon. Fortunately, all we had to do was consult the Directions booklet (seriously, I know I'm spending a lot of time on the stupid book, but thank god for proper indexing and natural-language instructions) and we were quickly able to figure out how to adjust the drone's tilt using the buttons on the back of the transmitter. The whole issue was solved in a matter of minutes.
The controller also has an out-of-range alarm and an emergency stop function that halts the drone dead in its tracks by stopping all four propellers. For obvious reasons, we didn't want to test either of these (the risk of breaking something was far too great), but based on everything else we've seen, there's no reason to assume anything but the best from Altair.
Sample Drone Footage
The Verdict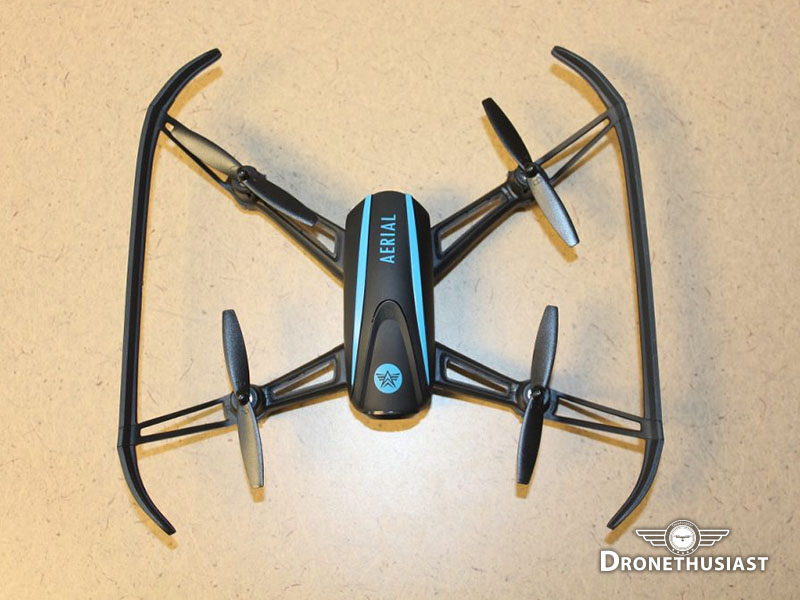 This really is an incredible little piece of tech. I was expecting a pretty good drone for beginners, but by the end of our time with it Ryan was asking me if he'd be able to borrow it after the shoot. The drone itself was fast, fun, and handled like a dream, but what really won us over were all the little touches – the first-person view (FPV), the battery loss features, the surprising resilience of the prop guards. It's clear that the AA108 is a labor of love from people who know what they're doing, not just another piece of commercial hardware. I can especially see this being a great tool for parents with kids, or advanced fliers who want to get their friends into quadcopters – it has a little something for everybody.

Altair Aerial also has a great article on their site altairaerial.com (here) that talks about how the AA108 and the newer 818 Hornet are great for kids!

The Altair Aerial AA108 is currently available on Amazon and retails for $129.80. The product ships out of Lincoln to the United States, as well as internationally to Australia, UK & Canada for $9.99 Shipping.

Click To Shop or Read Reviews

Check out the Altair Aerial AA108 Website or facebook page.
Further Reading
Drones Under $200 by Dronethusiast
Other Interesting articles in "
Reviews

"