Table of Contents
Quick Review: Click here to Jump to Top 3 List
If you've yet to hear about fishing drones, prepare to get overly excited. These drones have taken both recreational fishing as a hobby and the commercial industry of fishing to an entirely new level.
These drones take payloads to the extreme, using them to drop bait, hold a line, you name it. A lot of fishermen are using fishing drones to scope out the water and see where the best spots to fish are, which is very similar to how drones are used in agriculture these days.
People have actually caught fish using a drone designed for this purpose, so we had to dig deep and find the best ones to review further! Fishing drones make it possible to see where the fish are, drop the bait in certain areas, hold a line, and even give you the opportunity to fish in areas you'd never be able to do so in.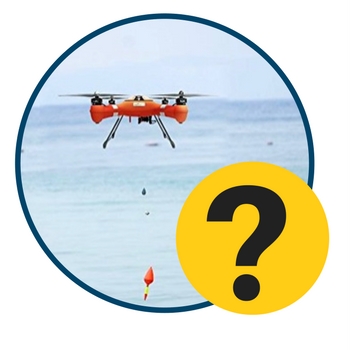 FAQ About Fishing Drones
If you don't see your question listed below in our FAQ section, feel free to get in touch with us and we'll help you out!
What types of loads can fishing drones carry?
Fishing drones can carry fishing line, bait, nets, you name it. Keep in mind, however, that the payload you attach to your drone will drain the battery quicker and will affect how the drone flies, so be careful with the load you use and how much weight you're putting on.
Is drone fishing legal?
The legality of drone fishing in your state and local area all depends on the state and local laws in effect where you live. This includes fishing licenses, as well. To be sure that you are always within the law, whether you're using a fishing drone or a regular drone in general, check with your local law enforcement before you take off.
How to use a drone for fishing?
Using a fishing drone or using a regular drone for fishing is actually quite easy! There are very few drones specifically made and designed for fishing, but if you have your hands on one currently, you probably already know how to use it and how fishing works.
Otherwise, you'll have to consider a few things. For example, do you want to use an add-on, such as a bait cache? There's also a very simple way to turn your regular drone into a fishing drone with some fishing line.
Simply attach some line, some bait, and go fishing using the Hover function, if applicable, on your drone.
Be careful, though, if you hook a fish that's too heavy for the drone to handle, you could risk losing it forever. This is why specific fishing drones are better to use, but you can use a regular drone as long as you're careful.
The Best Fishing Drones
Some of the drones you're about to see on our list may surprise you, because you probably wouldn't think they'd be able to be used for fishing.
DJI Inspire 2
Read reviews and show for the Original DJI Inspire 2
Back To Top
This Inspire 2 by DJI comes with the Zenmuse X4S and will run you up to $3600. Unfortunately, this price may be too high for some just looking at it, but we know once you know the kind of punch this drone bundle packs, you'll be itching to get your hands on it!
Listed below are the specs and features:
– Features Advanced Obstacle Sensing, CineCore 2.0 image processing, Auto Return to Home, and Follow Me
– Uses a dual battery design onboard to extend your flight time to the maximum
– Supports recording in both CinemaDNG and Apple ProRes
– Fully compatible with 5.2K gimbal cameras
– Total flight time of up to 27 minutes
– Able to hit 50 mph within 4 seconds and reach a maximum speed of up to 67 mph
– Capable of capturing cinema-type footage through recording in H.264, H.265, and other high bit rates
– Comes with an FPV camera stabilized using a 2-axis system
The biggest pro that the Inspire 2 by DJI has to offer in the case of this bundle, is the fact that you're getting an advanced drone with fishing qualities and a lot of extras, too! Even though a 16GB MicroSD card is included, you also get a Sandisk Ultra 64GB MicroSD card, and SPC cleaning kit, and a microfiber cleaning cloth on top of it all.
The biggest con, however, is that it can be a very complicated setup for beginners or those who have never had a "big rig" before. If you're completely new, or even relatively new, to more advanced drones, we don't recommend this package deal.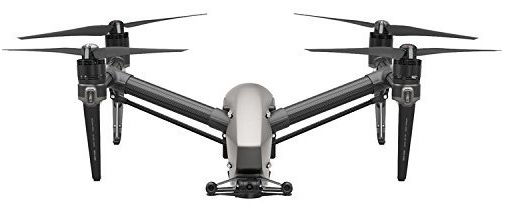 Click To Shop or Read Reviews
Swellpro Waterproof Splash Drone 3
Read reviews and show for the Swellpro Waterproof
Back To Top
The Waterproof Splash Drone 3 by Swellpro is the ultimate winner where fishing drones are concerned. Sure, you could use a regular drone with some modifications, but for $1700 the greatest fishing drone ever made can make your day a whole lot easier. It's also the world's first modular, all-weather, waterproof drone!
Listed below are the specs and features:
– Has a 4K HD waterproof camera
– Uses a 2-axis gimbal system
– Able to land on water without sinking thanks to the durable, waterproof motor and frame
– The 620kv motors pair with the 1242 carbon fiber propellers for the best efficiency and power performance currently out on the market
– Includes the all-in-one S3 controller that has a 5" LDC screen for a live video feed
– Features Follow Me, Position Hold, Auto Return to Home, Waypoints, Tap to Fly, Auto Land, and more
– Has an amphibious UAV platform that can be switched out with different modules for any type of job you can think of, especially fishing
– Has a payload capacity of 1kg
– Uses both GPS and GLONASS
– Can land and float on both salt water and fresh water
– Able to fly in the rain, snow, sleet, and all other types of weather
– Total flight time of up to 16 minutes
The biggest pro that the Waterproof Splash 3 by Swellpro has to offer is definitely the changeable modules. You can have a life-saving equipment delivery module switched out for a long fishing line or even a bait dropping module.
The biggest con, however, is that the device for releasing the payload is sold separately and not with the drone, so you'll if you don't want to purchase it you'll have limited options. Although, you'll still be able to use the fishing line module.

Click To Shop or Read Reviews
Yuneec Typhoon H Pro
Read reviews and show for the Yuneec Typhoon H
Back To Top
The Typhoon H Pro by Yuneec will run you about $1000, but we assure you, it's definitely worth its weight in gold. It has some incredible specs that make it a worthy competitor in our review.
Listed below are the specs and features:
– Uses Intel RealSense technology that creates a 3D map for the purpose of providing positional data when GPS is minimal and aiding in overall obstacle avoidance
– Includes the CGO3+ gimbal-stabilized camera that supports 4K video and 12MP still photos
– Uses retractable landing gear when in flight and retractable arms to ensure minimal damage in the case of a crash or a collision
– Comes with the ST16 Personal Ground Station controller with a built-in transmitter and receiver to ensure that it's an all-in-one device with a 7" display screen
– Uses 2.4 GHz transmission for joystick operation and 5.8 GHz transmission for the livelink video
The biggest pro that the Typhoon H Pro by Yuneec has to offer is no doubt the Intel RealSense technology. The 3D map is incredibly useful to have on your side for fishing, giving you an edge with where the best catches are.
The biggest con, however, is that it's not for newbies. Even intermediate users will have some difficulty. If you are a newbie, though, be prepared to sit with it for hours, maybe even days, until you can figure it all out thoroughly.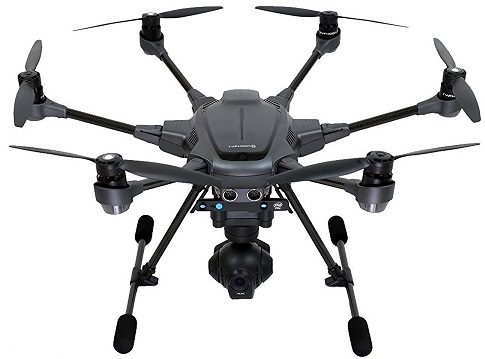 Click To Shop or Read Reviews
3DR Solo
Read reviews and show for the 3DR Solo
Back To Top
The Solo by 3DR is one of the best budget fishing drones for sale you can get your hands on. It has features that are great for the sport, able to handle payload properly, and offers so much more.
Listed below are the specs and features:
– Features Auto Takeoff, Auto Land, One-Key Photos and Recordings, One-Key Flight Pause, Smart Shots, Orbit, Cable Cam, Follow Me, Selfie, and more
– Includes a high-quality HDMI input port in the controller for a quick connection to any screen of your choice, be it your laptop, smartphone, tablet, etc
– Offers wireless HD video streaming from a connected GoPro straight to your smartphone or other mobile device
– Has a transmission range of up to half a mile
– Uses LiDAR technology to ensure that indoor flight is both safe and fully possible
– Total flight time of between 15 to 20 minutes depending on whether or not you use the gimbal and a GoPro
– Compatible with GoPro models Hero 3+ and Hero 4
– Weighs 3.3 pounds with a total size of 18"x18"x10"
The biggest pro that the Solo by 3DR has to offer would definitely be the price and what you're receiving. It's a fantastic fishing drone for what you're paying for.
The biggest con, however, is that it does not come with a gimbal. If you want to have one with the drone, you will need to purchase one separately. This is most likely the case because it does not come with a camera, which you will also need to supply on your own.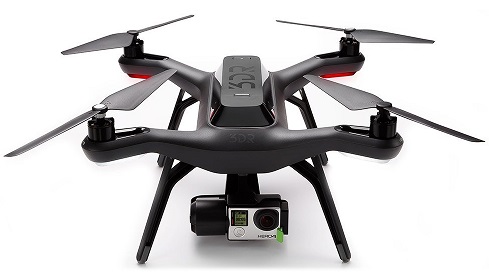 Click To Shop or Read Reviews
The Best Drones for Fishing
Who knew that fishing with drones would be so easy? These drones are great news for fishing as a hobby or as an industry, so take your favorite pick and get ready to spend the day on the water!

Mike is an online entrepreneur and digital marketing specialist who also loves flying drones. He has owned and managed Dronethusiast since 2015 and enjoys writing reviews and analyzing different topics in the fast moving Drone technology space. Along with the editorial team at Dronethusiast Mike spends hundreds of hours each year analyzing and studying different drones and their tech specs to help consumers find the best products for their needs. Contact Mike by using the Dronethusiast.com Contact page or reach out at mike@dronethusiast.com.