Best Hexacopter – Hexacopter Reviews & Analysis [Updated 2020]

Updated:
When it comes to photography, there is a lot happening in the world right now, and options such as the DJI Phantom are gaining quite a bit of steam in the world of quadcopters. But what's been happening for those on the hunt for the best hexacopter for aerial photography?
Even though quadcopters are known overall for having a longer flight time, the hexacopter has the ability to take absolutely stunning pictures, and is better overall for gathering images. Since there are six different motors and propellers, we wanted to give you an update on looking for the best hexacopter for aerial photography.
The hexacopter is really built for the extra weight you will take on when carrying a camera, and there are all sorts of advancements in technology that allow for getting better footage due to the ability to reduce the many vibrations you'll encounter in the sky. When you are checking stats to locate your best hexacopter for video, you'll also see that they may not fit into small places as well as a quad, but the stability and durability are key very positive elements.
If you are on the hunt for a best hexacopter for gopro, there are all sorts of things to consider. Units with retractable landing gear and very different arm designs all help with the need to use a gopro, and this guide will leave you eager to hit the skies to grab some world-class footage.
DJI S900 Spreading Wings Hexacopter
Read reviews and show for the Original DJI S900 Spreading Wings
This is pretty much one of the Cadillac models of a best hexacopter with a camera, made out of very lightweight materials such as carbon fiber,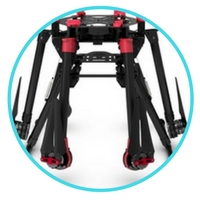 and with new and improved motors. The highly-improved power distribution system sees to it that cables do not come loose during a flight, and you can remove the upper centerboard to allow you to better install the flight controller, main controller, and IMU.
This is the best hexacopter for gopro replacement of the DJI Spreading Wings S800 evo, with a weight of around 3.2 ounces. It comes with fully-retractable landing gear, and is the all-around best choice for those who want a reliable hexacopter to shot with.
A proven brand that is known for agility and reliability, it works with the Zenmuse Z15, GH3, GH4, and BMPCC as far as gimbles are concerned. It's amazing that the lighter arms are actually stronger, and this is where you get into capturing some very intense and dazzling footage.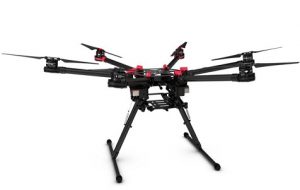 Click To Shop or Read Reviews
Tarot 680PRO HexaCopter Folding Frame 3K Carbon (KIT)
Read reviews and show for the Original Tarot 680PRO
This is a top choice for a best hexacopter kit for many reasons.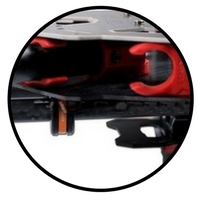 It captures 1080p video, has a no-distortion camera lens, and is a selection that offers you everything you need to fly right in the box. It has around a 30-minute flight time, and is positioned at the place in the drone chain where you can really start capturing HD images for things such as action sports and real estate.
The smart mode is a great feature for pilots that are not that experienced, and the return home function helps you find your way back if lost on your search for footage. You an use U.S. GPS and Glonass for accuracy and reliability, and added within the all-inclusive setup is a high-definition camera with 3-axis stabilization gimbal as a unit.
The camera captures 1080p/60fps video, and 16 MP still photos. You can stream the video you're getting right to the ST-10 controller from up to 600 meters away, and if you have other multiple devices for your crew, can reach them from up to 120 meters. Not needing a separate smart device is going to be the name of the game for those who purchase this one, a best hexacopter kit because of the fact that it comes with everything you need to rock and roll.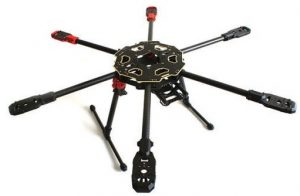 Click To Shop or Read Reviews
Hobbypower DIY F550 Hexacopter Frame Kit
Read reviews and shop for the Hobbypower DIY F550 Hexacopter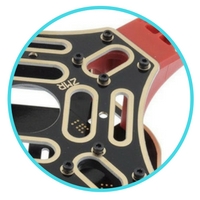 Some pilots prefer to build their own drones from scratch, as they feel like it gives them more control over their vehicle. If you're such a person, you're in luck, because the Hobbypower F550 is the very best DIY hexacopter frame kit for sale. It doesn't come with a camera, but it does have a mount that can carry a camera rig for serious aerial photography or recreational use.
The Hobbypower F550 is a popular machine with excellent stability features and a flight time of around 30 minutes. It arrives completely disassembled, but comes with an ESC, brushless motor, flight controller, and GPS module. The GPS provides "smart mode", a great feature for pilots that are not that experienced, as well as a return-to-home function that helps your drone find its way back to the place it took off from. The battery and charger are sadly sold seperately.
So if you're a DIY drone enthusiast, you'll find a lot to love with this kit. It comes at a very reasonable price considering that it's actually something you could use for commercial applications (provided you have a license to do so.) Note that you will need super glue for some of the components, and that according to some of the reviews the colors of the pieces you get in your mailbox may not match the photos on the Amazon page.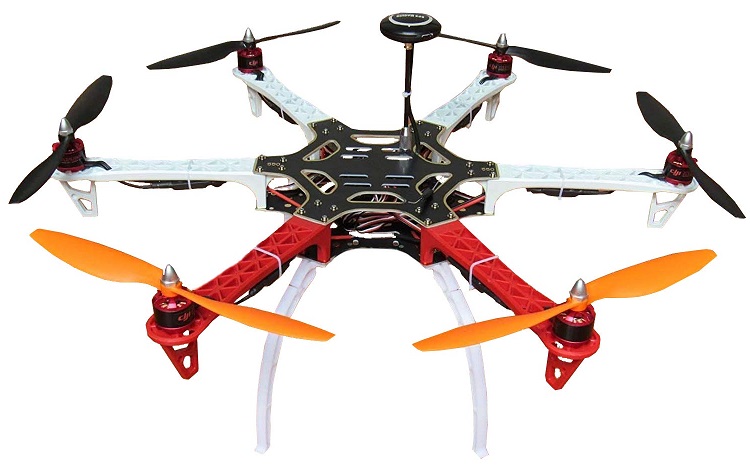 Click To Shop or Read Reviews
Yuneec Typhoon H Pro
Read reviews and shop for the Yuneec Typhoon H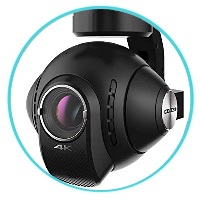 Many hexacopters are designed to be used with an existing camera – a GoPro for smaller drones, a professional rig for larger models like the DJI Matrice. What makes the Yuneec Typhoon H Pro special, then, is that it already comes with a 4K Ultra HD camera built right into the drone.
It costs about $1500 USD, which puts it on the higher end of consumer drones, but makes it about mid-range for powerful hexacopters. For that price you get 8 controller channels, 25 minutes of flight time, GPS stabilized flight control, an 800 meter range, and an extremely high-quality video camera that particularly excels at slow motion footage.
Yuneec is a great company and one of the few drone manufacturers who are currently holding their own against DJI. The Typhoon is their most popular drone line, and the H Pro is the latest and greatest model in said line. So if you're looking for that special hexacopter that works in nearly all situations, this is without question an excellent choice to buy.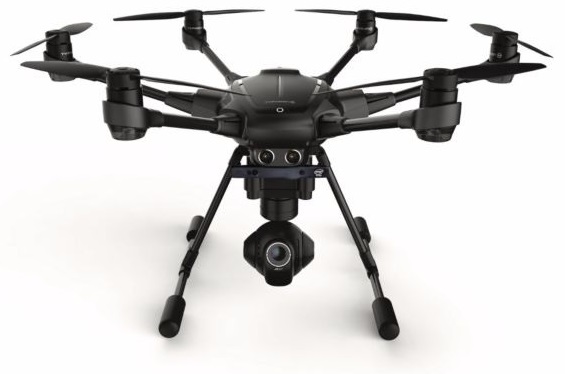 Click To Shop or Read Reviews
MJX X600 X-SERIES 2.4GHz 4 Channel 6 Axis RC Remote Control Hexacopter UFO Drone
Read reviews and show for the Original MJX X600 X-Series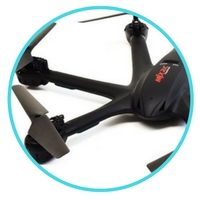 This is a black stealth-looking hexacopter that has around a 9-minute flight duration, and many standard features that help your flying such as One Key Return, and 6-axis gyro. The charge time is the standard 100-120 minutes, and flies on a 2.4G frequency as well.
It weighs around 1.1 KG, so you may want to really be conscious if you are in the area of any high winds! Pilots have claimed that it climbs and moves overall very quickly, and is pleasantly solid for the price.
All you have to do for use is attach the blade guards, and you are ready to fly. You have to pick if and what type of camera you want to add, but this is one of the best for the money, when you are just learning how to fly around in open spaces and use exciting features. It has been known to really be able to get away from people, and therefore is not ranked as much of a beginner's choice, but these elements can also simply make it more fun to try your hand at.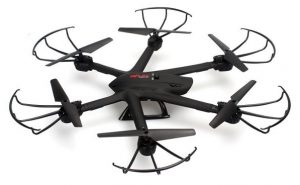 Click To Shop or Read Reviews
MOTA Pro Live-5000 FPV Drone
Read reviews and shop for the MOTA Pro Live-5000 FPV Drone
Looking for a unique hexacopter that won't break the bank? If so, we highly recommend the MOTA Pro Live-5000 FPV Drone.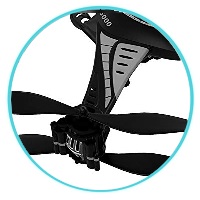 It comes with many features that are great for beginners and experienced pilots alike. These include one-touch takeoff and landing, high definition live stream function in FPV, and mobile integration that lets you control the drone with a smartphone or tablet. The drone is also quite small and is designed to be optimized for aerial surveillance or inspection, easily fitting into any hard-to-reach place.
Obviously the "cool factor" here is the Y-Axis design, in which the six propellers are stacked in three groups of two rather than being spread out like the other hexacopters on this list. This design is more efficient, which increases the flight time the drone gets off a single battery charge. The Y-Axis gives it a slim profile design that helps keep the size down without sacrificing quality.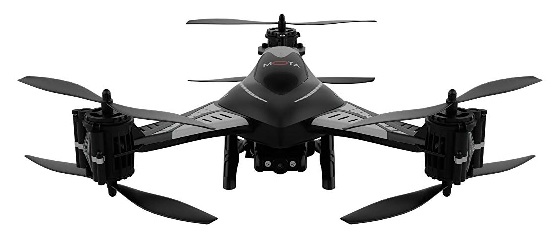 Click To Shop or Read Reviews
Yuneec YUNH920US Drone Tornado H920
Read reviews and shop for the Yuneec YUNH920US Drone Tornado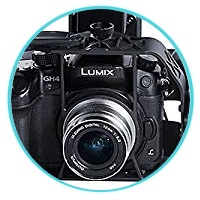 Yuneec is currently the best-known name in hexacopters, so it's no surprise that two of their products made our best-of list. The YUNH920US Drone Tornado is their latest model, which is more expensive than the Typhoon H Pro and therefore less popular. However, it's actually superior to its more famous cousin in several key areas.
Firstly, this slick and nearly futuristic-looking device has a very light carbon fiber frame with heavy durability, and strong power motors that enable the copter to fly longer and more efficiently. The 24-minute flight time is superior to most other models on this list, and the distance for flight control is a staggering 4000 meters (about 2.5 miles).
The H920 also has a ton of safety features and several GPS-enabled flight modes, including Waypoints, Orbit Me, Follow/Watch Me, Point of Interest, Journey, Smart, Curve Cable Cam, Angle and Home Modes. The included camera takes 16 Megapixel still images and 4K quality video at 30 frames per second. It's also optimized for a Panasonic GH4 camera (not included) for professional cinema photography.
So if you're a very experienced aerial photographer who's found that the DJI models leave you cold, this is an excellent alternative at a slightly reduced price.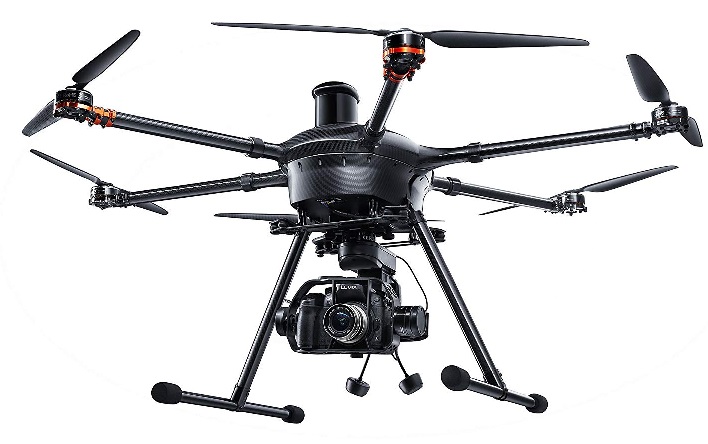 Click To Shop or Read Reviews
FAQ About Hexacopter Frames And Drones
What does "hexacopter" mean?
A hexacopter is an aircraft with 6 propellers. The term most commonly refers to consumer- and commercial-grade drones that fit this description, which is the subject of the article you're currently reading. Hexacopters are less common than quadcopters (drones with four propellers) but a little more common than octocopters (drones with eight propellers.)
How much does a hexacopter cost?
The price of a hexacopter can vary a great deal. A beginner hexacopter will cost about $100 to $400 USD. A professional grade hexacopter designed for heavy lifting or professional camerawork will cost $1000 to $6,000 USD in most cases.
Why should I buy a hexacopter drone?
Because of the extra power afforded by the extra propellers, hexacopters can carry more weight than a traditional quadcopter. Among other applications, this is ideal for lugging around a heavy camera rig.
Finding Hexacopter Drones
We hope this article has helped you pick one of the best hexacopter drones for sale. Whether you're looking for something expensive or something cheap, something advanced or something that works for beginners, a hexacopter with camera or a hexacopter that lets you attach your own, there's something for everyone!
Other Interesting articles in "
Reviews

"