Packing & Transporting in Style – Best Cases & Backpacks For DJI Phantom 4


As the drone industry literally explodes with new offerings, add-ons and technology, more and more people are wanting to become pilots, and are also purchasing carry-ons and packing equipment. After polishing up a bit on their technique, they may be ready to hit the road with their rig, and have landed a few clients. Before you jump right in your car and head for the destination, you will want something extra-great to transport your equipment with. This is our post on the best Phantom 4 case.
After even just a few days of toting the drone around in its box, you are going to realize that a well-built carrying case for the phantom 4 is going to be essential. No matter what your preferred method of transportation is, this is a piece of equipment that requires an excellent medium to carry it, and many different ways that the user can feel it is safe.
Just as any storm chaser, news gathering individual, or engineering photographer knows, the way in which you store your prize device will have a great effect on your ease of use and enjoyment of the drone.
Looking for a great case for a different make or model of drone? Click here!
Best Case For Phantom 4
Here are some Phantom 4 backpacks that we wanted to review to give all users of the Phantom 4 a perfect chance to feel as if they have the means to get their device from point A to B, while making sure that it stays secure and stationary.
Topbest Toshare Series Traveling Phantom 4 Backpack Case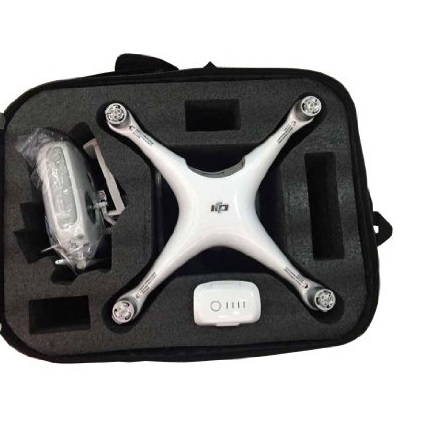 Click To Shop or Read Reviews

This carrying backpack for DJI Phantom 4 is made of foam and nylon, with a size of 48cm and 35cm, and a very, very lightweight feel that users are raving about. It only weighs about .5 kg, and has ample room for the Phantom 4 and remote control inside.

The top part of this DJI Phantom 4 backpack is padded, and there are very smooth rounded corners and nylon piping along the edges of the bag. The case measures 18 by 14 by 9 inches, and on the face of the bag, the pocket is an 11 by 18-inch zippered pocket. The top of this case also has a 9 inch long, 1-inch wide nylon webbing loop that is ideal for hanging or dragging.

Serving the purpose of protecting the Phantom 4 well, the foam cutouts here fit the charger, any extra flight batteries, connection cables, and the propeller blades fit perfectly in the front zippered compartment. The foam also has openings cut for the controller and phone holder, 3 batteries, a charger, and even extra blades. The organization of this pack more than satisfies many users, and its lightweight design allows it to score high among many. This represents one of the best choices for a Phantom 4 case.

Case Club Waterproof DJI Phantom 4 Wheeled Case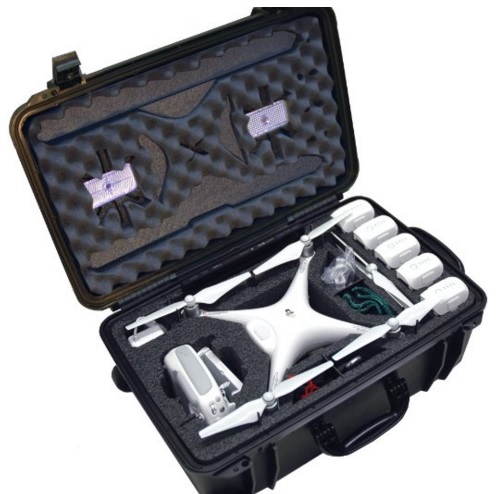 Click To Shop or Read Reviews

This is the best Phantom 4 case for those that definitely want their goods protected at all costs, and it snugly fits the DJI Phantom 4 with many of its accessories. It has a lifetime warranty, and is completely water and dust-proof. Inside you can tote the drone, tablet, 5 extra batteries, controller, extra propellers, silica gel canisters, and memory cards.

This case is fully airline approved, and checks through the security gate with ease. The foam is closed cell, and military grade polyethylene for easy cleaning. It was designed by very avid fliers with engineering backgrounds, and nearly every inch of space is used to safely pack your favorite flying machine.

Also optimized for very humid environments, you can dry out the canisters in an oven if they ever happen to get very saturated. The long pocket right next to the P4 drone is where you can store propellers, and the two accessory pockets on the right and bottom have plastic dividers that you can remove if needed. A softer egg-crate foam pad in the bottom supports the gimbal and camera; this is a very solid case that could be the best phantom 4 case out there, period.

Camera Vault DJI Phantom 4 Travel Case-Black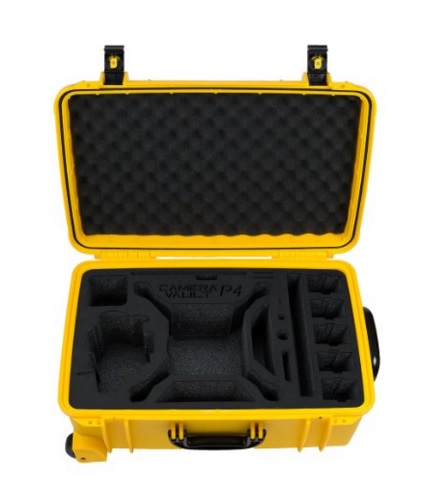 Click To Shop or Read Reviews

This is a case that is highly-regarded for holding the DJI Phantom 4 in transit with propellers on, and also the 5 batteries not placed within the drone. There is a lifetime warranty on the seahorse case, and inside you can hold a 10″ tablet, transmitter, charger, accessories, SD cards, and Polar Pro filters.

The product dimensions are 24.1 x 16.6 x 11″, and the item weight is 15.7 pounds. Although not billed exclusively as such, it is definitely a waterproof case. The batteries are known to sit a bit deep, just due to the way the case is cut, but one definite plus is being able to close this case in its entirety while the propellers are still on the drone.

Users that were toting a Google Nexus 7, P4, 4 extra propellers, the charger, remote control, SD card holder, and 3 batteries along with USB cables, the DJI tablet cover hood, and a microfiber cloth still have empty slots, and report safe and snug travels with the entire unit. This is all-around a bit heavy of a case, and so the wheel feature really helps with that element when you are out in the field or struggling to get from A to B. This is the optimum choice for a DJI P4 Case.
Best Backpack For Phantom 4
Manfrotto Phantom Backpack for DJI Quadcopter Drones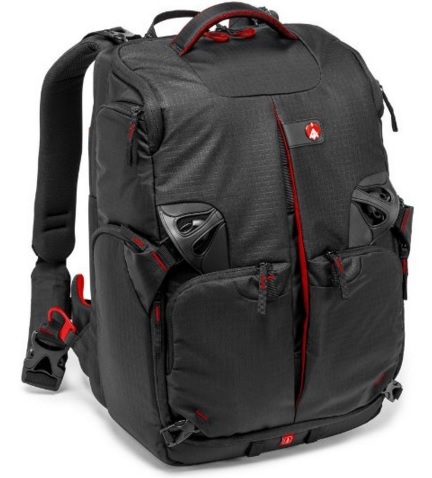 Click To Shop or Read Reviews

Another addition to the Phantom 4 backpack club for drone toting, this offering has custom designed dividers that have the option to be specially fitted for the DJI drones and accessories. A unique coating applied to the fabric makes it resistant to moisture, and the Manfrotto's CPS has been engineered and laboratory tested to guarantee that the highest level of protection and shock resistance for your DJI P4 is present when it really counts.

There is a separate compartment for laptop transport, and the fold-out protector creates a safe barrier between the very dry and safe inside of the bag and the outside, which may be soggy after braving the elements. The Camera Protection system has been specifically engineered and laboratory tested to guarantee the very highest level of protection and resistance to various shocks where it really makes a difference, and this is truly a tool for professionals that are constantly roving on their location carrying the DJI P4.

A nature photographer that reviewed this unit really enjoyed carrying his drone in pack instead of hard case, and the fact that all of the equipment fit in the bag. This Phantom 4 case also comes with an attachment to fasten a tripod right off the back, and the dividers are very well-padded and constructed. Comfortable for even the longest of hikes, this is a sturdy and solid purchase for any brand new drone owner. This is a solid addition to our list reviewing the best Phantom 4 case.

We hope this article was a great means for you to locate the best Phantom 4 case for your liking, and figure out which is the best one for you to store your most prized possession in. Lugging this piece of equipment around should be an easy task, and we wanted to present you with the best Phantom 4 case options that would fit your new-found beauty within the best confines possible!
Other Interesting articles in "
DJI Phantom 4

"