The Best Propellers for DJI Mavic Pro – OEM DJI & More!

If you love taking images and capturing video from a bird-eye view, then you should definitely consider investing in a drone. These devices help you capture images that you would have otherwise never been able to. They fly for long distances and can be controlled using a controller that comes equipped with an LCD screen that provides you with basic controller information.
In this article, we shall take a closer look at what makes the Mavic model is great option for anyone looking to invest in a durable and quality drone. We shall also look at best propellers for DJI Mavic. These Mavic propellers will ensure that you have a fantastic shooting experience each and every time you take your handy little device for a run. Let's get to it.
About DJI-Mavic Pro Drone
DJI Mavic is a small and very powerful drone that offers a perfect shooting solution for climbers, hikers, skater, skiers and other outdoor sports fanatic. It is incredibly lightweight and compact. A user is able to fit it in any backpack for easier portability. Its compact size hides a high degree of complexity that makes it one of the most sophisticated flying cameras out there.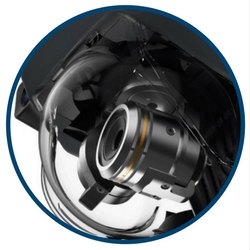 The device comes with 24 high performing computing cores, all new transmission system with a 4.3 mi (7 km) range, 5 vision sensors, and a 4 K camera.
The Mavic is a great option for beginners, intermediates, as well as professional drone flyers. This model has a 3-axis stabilized gimbals that offers you smooth videos and raw and sharp JPEG photos thanks to its 12 MP camera.
Even if your shooting needs are to just go to a park and have a look from above or you want to snap cool images of the forest from a bird's eye perspective, it will do just that for you. It is incredibly easy to deploy and fly, thanks to its ever-on propellers. Finally, due to its compact size, it is very easy to maneuver it around. Let us take a more in depth look at what makes it a must have drone.
DJI Mavic has a smaller field of view, meaning that images shot using this model always look narrower. However, the images are clear and sharp, even in low light conditions. It has the capabilities to go up to ISO 3200. It is fitted with an auto-focus lens that is able to focus on distant and close objects (depending on what you wish to film).
This feature provides additional depth of field for your shots and additional usability. A user is able to set focus to infinity if they plan to shoot an object much further from them.
It has a super compact and small controller that comes with an LCD screen for basic flight information. DJI-Mavic charges through a micro USB and from a full charge, you will get up to 7km of flight distance.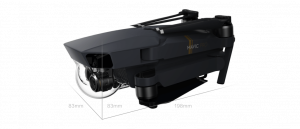 • Dimensions 11.4 x 7.1 x 9.4 in.
• Weight 1.6 Pounds.
• Transmission system 4.3 mi (7 KM) Range.
• 4 Vision Sensor.
• 4 K Camera stabilized by a 3-axis mechanical gimbals.
• Full HD 1080p Video Streaming.
• Max Flight Time 27 min.
Click To Shop or Read Reviews
Best propeller for DJI-Mavic drone
If you want the best Mavic experience possible, then you should invest in getting the best propellers for DJI-Mavic. There are tons of propellers available on current market. They range from different sizes, prices, materials used, etc. Some are made from carbon fiber materials while others are made with plastic.
When it comes to buying the best Mavic propellers for your drone, it is up to you to decide what you are looking for and your budget. It is always good to have a second set of props around. In case of any crash, you might unbalance your machine and then your filming or photography will suffer. For best results, here are a few props we believe are best for above mentioned drone model.
DJI Mavic Propeller Quick-Released Folding Propellers, Black
This item comes inclusive of a set of two 8330 props in a box. They are made specifically for a DJI-Mavic. They lock on to its motor by using a spring-loaded camlock system. Made by DJI, they work incredibly well for the model. They are available in black color and come with a quick-release folding mechanism that makes them compact for storage and wide enough to cover great grounds during flying time.
They measure in at 2 x 0.3 x 2 inches and weigh just 0.03 pounds. This item is very sleek and has a great finish that is eye catching. You will be able to achieve maximum performance from your drone once you assemble them on.
This product is highly durable and ensures that your drone flies with less resistance in order to achieve maximum efficiency. Because they are made by DJI, specifically for Mavic, they are lighter for more maneuverability.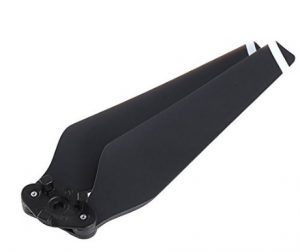 Click To Shop or Read Reviews
DJI 8330 Quick Release Folding Mavic Propellers
As mentioned earlier, it is always best to have a set of props as backup just in case you crash or you want to experience better performance from your machine. 8330 Quick Release attachment as easy to install and provide higher tension that is great when flying.
This product will ensure that your drone has a smoother, quieter, and more responsive flight. Their folding design makes them compact – this means that you will be able to easy carry them to and from (highly portable).
If you have ever crashed your drone, then you know how important it is to have a set of props readily available for use. You should always keep at least two sets on hand. When planning to stock your device's crash kit, this bundle will come in handy.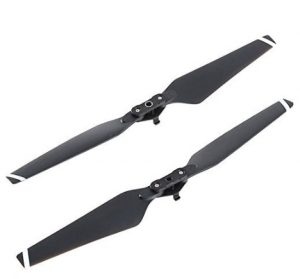 Click To Shop or Read Reviews
AerialTEK – Mavic Pro Upgraded Propellers Quick Release Foldable Propellers
Unlike above mentioned props, this item is made from durable and long lasting carbon fiber material. It is incredibly sleek and has a very modern finish. Its upgraded hardened plastic material is durable and practically indestructible.
AerialTEK is incredibly lightweight which makes it easy to maneuver. It comes in a super stylish finish that is eye catching and unique. Set your drone apart from other by equipping it with a unique set of props that no one else has.
AerialTEK model has a special clear coat aerodynamic coating that makes flying your drone swifter and smoother. You will be able to achieve maximum performance and efficiency once you assemble these props onto your DJIMavic.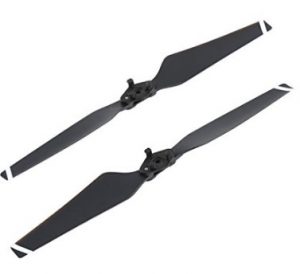 Click To Shop or Read Reviews
FSL Quick Release Propeller Guard Bumper Protectors for DJI Mavic Pro Drone
Available in gray and gold colors, FSL prop guards are a perfect option for DJIMavic. For those unfamiliar with what prop guards, are; they are items used to protect (or guard) your props in case of any accidents.
With FSL guards, you will no longer have to worry about breaking your props when you accidentally crash into trees, walls, and just about any other obstacles. Your model's props will be well protected in case of accidental bumps as well.
This product is lightweight and will protect your propellers from breakage, ensuring they last as long as possible. Finally, you will be amazed by how easy and simple it is to mount and un-mount them. You do not need to use any tools when it comes to assembly. Simply slide then into place and let them take it from there.
FSL prop guard is affordable and durable. It does not interfere with your prop's performance as well; its only purpose is to protect your machine from damage caused by tree bumps, walls, and protect your drone from hurting people if it accidentally bumps into someone.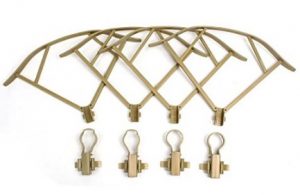 Click To Shop or Read Reviews
Conclusion
If you want your drone to provide you with best performance, it is best to invest in high performing pros that will ensure you have best Mavic experience possible. The above mentioned propellers are highly durable and affordable. Aside from just props, our list also includes prop-guards that ensure your flying machine is safe from bumps and accidental crashes.
Getting good replacement mavic propellers is very important if you want to have a shooting experience like never before. Good propellers ensure that you have a smooth and soft flying experience. You will also be able to maneuver your machine more easily. Also, it never hurts to have a spare pair in case of any accidents or crashes.
From upgraded props to prop-guards, our list has all the best propellers for DJI Mavic Pro. If you have any questions regarding any mentioned Mavic propellers, do not hesitate to comment below and we shall get back to you as soon as possible.
Other Interesting articles in "
Reviews

"