5 Best Quadcopters with Camera and GPS – [Updated 2021] Full Review

Updated:
Do you want to buy a new quad? Are you looking for the best features for the improved performance and durable result? You are on this page means you are looking for the best drone possible within your budget. You will find a plenty options to choose from including racing drones, toy drones, sports quadcopters, photography drones, and racing drones. You just need to understand your requirements to get the right one within your price. If you want the best one, you should go with Quadcopters with camera and GPS.
Quadcopters are considered perfect as it comes many improved features to offer you unique experience while capturing the photographs and enjoying the beauties of nature. Quadcopters normally come with an H or X shaped frame and these are lifted by 4 rotors. Besides, they use two rotating counter clockwise, two rotating clockwise, and two sets of identical propellers. Quadcopters are also appreciated for the safety and maneuverability.
But before buying quadcopters, you need to focus on some important factors including GPS sensors, controllers, camera, and skill level. Quadcopters with GPS and camera will offer you a plenty of aerial options. It will be very effective in the difficult weather conditions. The camera and GPS are essential for 3D mapping, aerial photogrammetry, and multispectral imaging. For your help, following are the reviews of six best quadcopters with camera.
Best Quadcopters with Camera and GPS
The Outlaw SE Drone
See the best price on Amazon.com or get Fast & Free Shipping from their Website at Altairaerial.com
The Outlaw SE is an excellent budget range quadcopter with camera features that you're going to seriously enjoy. We love the Outlaw SE because it's sold by Altair Aerial a company that we like to recommend to all our drone friends because of their great customer service.
Check out this video from Altair or you can read our full review here!
At nearly 20 minutes it has the longest flying time and longest battery life of any of the company's offerings but is also great for beginners. The maximum transmission range of this drone with long flight time is 600 meters, which is very impressive. It comes with all the ease-of-use features Altair's known for, including heading hold mode and one-touch takeoff and landing. There's also a very high quality 1080p camera which you can control directly from the remote transmitter. Video transmission range is 500+ meters.
Altair put together several fantastic how-to videos for the Outlaw SE (click here). If you run into any problems check these out or I've found that they are very responsive at help@altairaerial.com.
But the real selling point here is the innovative new GPS features. These include a very useful return-to-home functionality, but also include a new GPS Flight Mode, in which the drone will keep itself stable in mid-air. This makes it very easy to fly and to line up the perfect shot. The Outlaw SE even has a cool follow-me mode which, when enabled, will have the drone follow you as you move on the ground.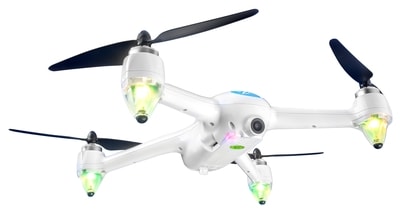 Click Here to See Best Price!
The AA300 – Affordable Camera Drone with GPS
See the best price on Amazon.com or get Fast & Free Shipping from their Website at Altairaerial.com
You may be wanting a great camera drone with GPS but aren't sure you want to spend hundreds of dollars. If this is you, you'll love the AA300 which is an affordable camera and GPS drone. It's less than $200 and comes with some amazing features.
You will love the 1080p HD camera that is built-in to the AA300. It will give you fantastic high-quality, aerial photos and videos. Plus, you never have to worry about your photos coming out blurry because the AA300's altitude hold ensures that the drone stays stable and in place at all times.
The GPS features on this drone are also pretty impressive. GPS flight mode makes flying this drone a lot easier, so beginners will be able to fly this drone with no issues. Other GPS features include one-touch takeoff and landing as well as return-to-home functions, which will bring your drone back to its starting point with the push of a button.
It comes as no suprise to me that Altair also produced some step-by-step how-to videos for the AA300 as well. Take a look at the AA300 videos (click here) if you run into any problems or I've found that they are very responsive at help@altairaerial.com.
The high-quality camera added control from the GPS features, and low cost are all what makes the AA300 one of our favorite choices.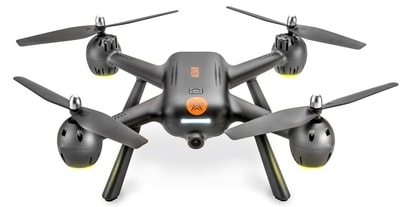 Click Here to See Best Price!
DJI Mavic 2 Pro
If money is no object and you're wondering which quadcopter has the best GPS and camera, the DJI Mavic 2 is your quad of choice. This long lasting drone battery can keep the drone in flight for 31 minutes, making the Mavic 2 Zoom and Pro editions the drone with longest battery life.
It also has an impressive range of up to 8 miles and the best obstacle avoidance system on the market.
Unfortunately, because of its nature as an advanced professional camera drone, it can be a bit difficult to handle if you don't know what you're doing. Always make sure you run a couple of test flights to get your feet dug into the sand.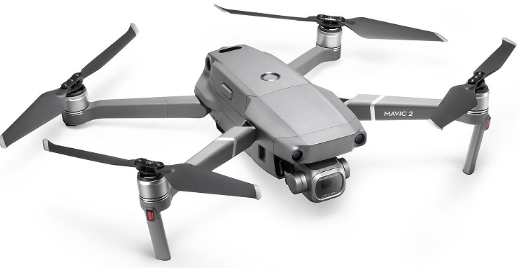 Click Here to See Best Price!
DJI Mavic Pro
Read reviews and show for the DJI Mavic Pro
The Mavic Pro 1 is on the cheap end of DJI products…which means it still costs more than $900. Still, it's more than worth the cost of admission thanks to a huge range of incredible high-end features. These include dual connectivity with GPS and GLOSNASS, which means you'll never lose a signal outdoors. It also includes a 4K stabilized camera that takes video at 30 FPS and some pretty good collision avoidance (which you can read more about here.) Most publications would consider this the best quadcopter drone with camera and GPS – and if you don't mind breaking the bank and care primarily about the number of features a quadcopter has, they're probably right.
Key features:
• Features ActiveTrack and TapFly among other smart features
• True 4K recording
• New OcuSync transmission system
• Product dimensions – 11.4 by 7.1 by 9.4 inches
• Weighs 1.6 pounds
• 24 high performance computing cores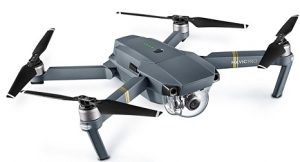 Click Here to See Best Price!
Upair One Drone
Read reviews and show for the UPair One
If you're looking for an advanced drone for the long distance flights
and best photography and recording, look no further than the Upair One Drone. It's easy to use and features very smooth video and audio recordings in 2.7K Ultra HD. Unfortunately, the battery only lasts 19 minutes, which is good for a beginner drone but pretty low for the high-end models the UPair is trying to compete with. Nonetheless, if you're looking for a good balance between the Mavic Pro and the F100, go with the UPair One.
Key features:
• It has 2.7K UHD video recording and camera.
• It has intelligent 5400mA rechargeable battery that is capable of flying up to 19 minutes.
• It has three RTC modes.
• It has flight mode switch.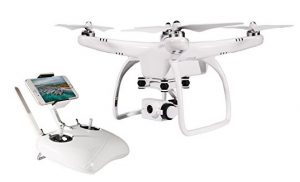 Click Here to See Best Price!
Yuneec Typhoon H
Read reviews and show for the Typhoon H
The Yuneec Typhoon H is another excellent high-end quad with a GPS and a camera. The Typhoon's main feature is a 4K camera mounted on a 3-axis gimbal, but where it really sets itself apart is its ability to take slow-motion footage in 120 FPS. And on the GPS side, it uses a Scout X4 from Walkera Technology that allows for extremely accurate GPS position holding. A great high-end drone that's also surprisingly beginner-friendly.
Key features:
2 hours approximate charge time
Weighs 12 pounds
25 minutes of flight time
3-axis gimbal
8 channels
Plastic
4K wide-angle camera with a full 360 degrees of motion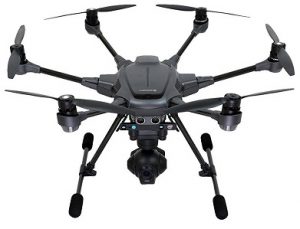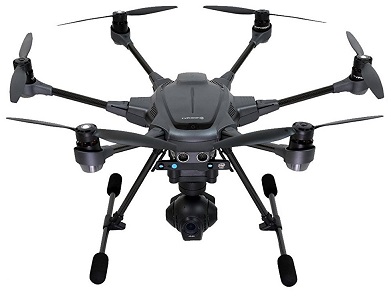 Click Here to See Best Price!
Drones with camera and GPS FAQ
Why should you buy a quad copter with camera and GPS?
If you want the best quality pictures and real videos, you can consider this option to enjoy the nature irrespective of weather conditions. You will not have any difficulty to capture anything with this facility in any weather condition.
What will be the limited time to fly a drone?
That will depend on the model you are buying. If you are looking for the longer flights you can consider something that comes with extra batteries to offer longer flights.
Is there any restriction to fly drones?
Yes, you cannot fly the drone above 400 feet high. Besides, you are restricted to fly quad copters near the national parks, public events, over a stadium, and within five miles of an airport.
All the above information might help you to buy the best quadcopters with camera and GPS. You should go through features to ensure that you are buying the right product to enjoy the flying more for a long time.
Further Reading
Best drones with GPS by Dronethusiast
Other Interesting articles in "
Reviews

"