Best RC Gliders & RC Sailplanes – Reviews & Analysis [Updated 2020]

Updated:
For anyone unfamiliar with what RC Gliders are, then you have definitely come to the right place. In this review, we shall take an in depth look at what these devices are, what they can and cannot do, and we shall also take a closer look into why RC Gliders are becoming increasingly popular. Finally, we shall look at three of the best Radio Controlled gliders on the current market. Our picks are based on performance, features included, durability, and price. Without further ado, let us dive into it.

Table of Contents
What is an RC Glider?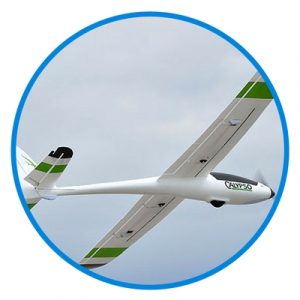 Simply put, Radio-controlled gliders are remote controlled aircrafts that have the ability to sustain continuous flight by exploiting lift produced by slopes and thermals. These devices are available in a variety of designs; with some being constructed from wood, plastic, and other polymer foams. Depending on manufacturers, RC gliders tend to vary greatly in weight, size, and length. Gliders, also referred to as sail-planes challenge RC pilots to work only with natural elements alone – a pilot will need to read the wind and respond by using only his/ her steering controls.

The main point is for you to learn how to use slopes, thermals, and breeze for lift – in other words, the air itself is your main power source.

What do RC Gliders do?
Back To Top

Unlike battery powered flying devices, gliders do not come with a limited flight length. This is one of the main reasons why they are so popular. In favorable conditions, a pilot will be able to keep their model afloat all day long from just a single launch. These models provide a user with hours of countless fun.

Since you will have access to a device that requires you to concentrate and block other distractions out (if you do not want to crash), radio-controlled gliders are said to be highly relaxing and therapeutic. When compared with other machines that use a motor to operate, you will be amazed by just how quiet RC's are.
There are two ways for a glider to gain or retain altitude once airborne. They are:
Thermal Soaring – This is created by certain areas of warm air rising from the earth. When land heats up due to warmth of the sun, air above it begins to warm. When this warm air heats, it begins to rise and allows cooler air to move in to replace it. This results in warm air heating and rising up, giving you access to a continuous current of rising air. As long as warm air is rising at a faster rate that your device sinks while in flight, your glider will be able to sustain continuous lift.
Slope Soaring – Slope lift is generated when a breeze hits the face of a cliff or a sloping land. When a breeze hits a vertical surface, there is no place for it to go but up. As long as this rising breeze is greater than sink rate of your model, your craft will remain afloat.

FAQs about RC Gliders
What's the difference between glider and a plane?
Simply put, gliders use only natural elements to operate while planes require wings and an engine to provide you with similar performance.

What's the difference between radio control and remote control?
Radio control uses radio frequencies to control a device whereas remote control uses items such as Infrared, a TV remote, or just about anything else with a wire. In other words, all radio-controlled crafts are also remote controlled but not all remote-controlled items are radio controlled.

Can I fly a glider anywhere?
It all depends on where you intend to fly it. Some areas have strict rules that prohibit flying in public areas. Before taking your craft out for a spin, you should always confirm whether flying a RC model craft is allowed or prohibited. You should also be wary of any possible frequency interferences that could cause you to lose control of your aircraft as it might have disastrous consequences, especially if you are flying in public areas.

What does "channel" mean in RC talk?
"Channel" has two meanings: One, it generally refers to number of channels a specific model has. It can also be used to refer to frequency channel that your aircraft system operates on.

Do I need insurance to fly?
It is not mandatory but we would recommend that you do so just in case of any unforeseen accidents/ incidents.

Which model would you recommend for a beginner?
Look out for models with high wings, flat or semi-symmetrical wing section, and noticeable dihedral. Such models will provide you with much needed stability during your flight sessions. When you are more experienced, you can opt for devices manufactured specifically for expert pilots such as a Stealth Fighter or a Fokker Triplane.

Where can I buy my aircraft from?
We would recommend that you purchase from reputable and well known stores such as Amazon.com.

RC Gliders Product Reviews
Back To Top

Have you been looking for quality models that are affordable and durable? Below, we have compiled a list of best RC gliders ideal for users from beginner level all the way to pro.

Dromida Twin Explorer Review
Read Reviews About Dromida Twin Explorer

Dromida Twin Explorer is an electric powered aircraft that comes inclusive of key features that will take your riding skills to the next level. This product is ideal for first time users. All you need is a simple hand launch to get it airborne. Dromida Twin Explorer is inclusive of dual motors that will be ready for takeoff after a quick charging of its battery using a USB cable.

Performance

For a model that is priced under $40, Dromida Twin Explorer will provide a user with approximately 30 minutes of unfiltered fun. This model has a very wide flying range – to achieve unmatched performance, we would recommend that you fly it on a large open field that has no obstacles. You will be able to make it dive, climb, turn, glide, accelerate, and glide without any resistance. For maximum performance, try cutting its throttle to less than half after you achieve a reasonable flying height. Dromida Twin Explorer is incredibly durable and will be able to survive crashes unlike other models in the same price range.


Tech Specifications: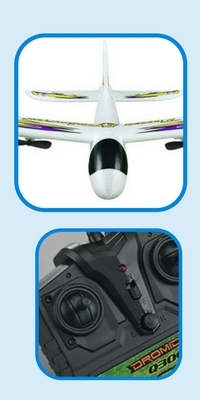 • Comes fully assembled
• Includes dual-motors that provide better performance
• Easily launched by hand
• Quality radio system inclusive of a USB charge port
• Removable 1S Lithium Polymer battery
• USB Lithium Polymer battery charger
• Inclusive of AA batteries
Pros
• Virtually indestructible regardless of how rough a crash was
• Affordable
• Incredibly easy to use even for first timers
• Inclusive of dual-motors that make easier for a user to maneuver it
• Glides incredibly well
• Provides a user with ample flight time
Cons
• Past users have complained that its propellers tend to fall off regularly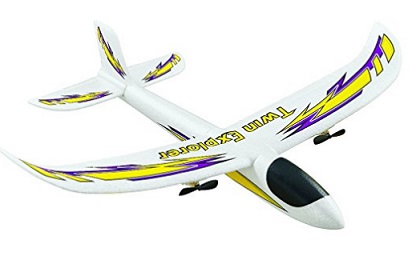 Click To Shop or Read Reviews

Dromida Twin Explorer is a great product to consider, especially for beginners. It will provide you with good value for your money as it is long lasting, easy to use, and will provide you and your loved ones with tons of fun. Ever used a Dromida Twin Explorer before? What was your experience? We would love to hear from you so do leave us a comment below.

E-flite U2980 UMX Radian BNF Airplane Review
Read Reviews About E-flite U2980 UMX
Back To Top

E-flite U2980 UMX Radian BNF comes inclusive of 3-channel control that allow for easy flying. This model has a contoured spinner with folding propeller that makes it compact and easy to store. E-flite has a molded foam construction that is lightweight yet long lasting.

Performance

E-flite U2980 UMX Radian BNF is amazing small and compact and weighs practically nothing. This should not worry you though as it holds up pretty well. It comes with an AS3X stabilizer that ensures your device does not get tossed around by strong winds. You will be impressed by just how well it glides and thermals. E-flite U2980 UMX Radian BNF has responsive and tight controls that allow you to fly under just about ant wind conditions. For better performance, we would recommend that you replace your 25C stock batteries with 30C batteries as w=they perform better in heavier winds.


Tech Specifications: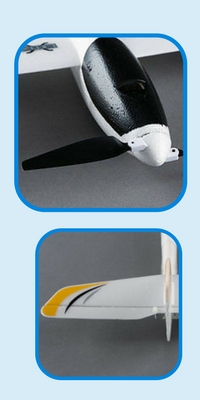 • Lightweight
• Molded-foam construction
• 3-channel control
• Contoured spinner with folding propeller
• One piece removable wing with carbon fiber support-flite
• USB Li-Po charger
• 1S Li-Po battery
• DSMX-compatible transmitter
Pros
• Incredibly compact
• Lightweight
• Durable
• Can withstand strong winds without getting tossed around
• Affordable
• You can get approximately 8 flying minutes even if you are constantly on throttle
Cons
• Be careful with its tail section as it is a bit weaker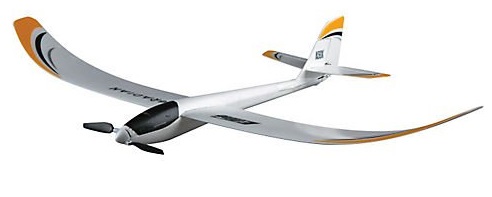 Click To Shop or Read Reviews

E-flite U2980 UMX Radian BNF is a simple aircraft that flies incredibly well. Thanks to its small size, you will be able to easily carry with you wherever you do. The built-in AS3X system really adds to its stability, allowing your tiny craft to conquer some very strong winds. For longer flying time, we would recommend that you purchase extra batteries and carry them with you during your outing sessions.

Flyzone Calypso Brushless Glider Review
Read Reviews About Flyzone Calypso
Back To Top

Flyzone Calypso Brushless is a beautifully crafted model that comes with a sailplane kit inclusive of a glider, brushless motor, 18A ESC, tactic 4-channel radio, 4 micro servos, Li- Po battery, AA transmitter batteries, and a propeller. This model is perfect for beginners to experienced pilots.

Performance

Flyzone Calypso Brushless is a 2-meter sailplane that has the ability to fly straight up when in full throttle. It provides a user with long and very stable glides. Assembly takes approximately 10 minutes – Flyzone Calypso Brushless is a good option for anyone starting up in rc glider flights. Due to its lightweight, we would recommend that you do a couple of flights with little winds. This way, you will have a better understanding of how to maneuver it in stronger winds without crashing.


Tech Specifications: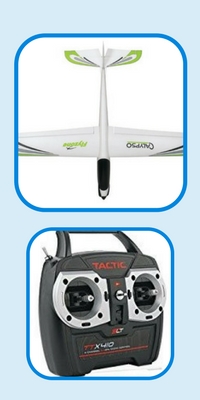 • Two-piece wing that assembles quickly and detaches easily for transport
• 11.1V 1300mAh 15C LiPo battery
• Balancing LiPo charger
• Independent aileron servos for mixing potential
• 28- 30- 1300kV brushless out runner motor
• 4-channel 2.4Hz SLT radio with wireless trainer features, digital trims, and servo reversing among others
Pros
• Flies extremely well
• Has good aerodynamics and visual
• Highly durable
• Easy to assemble and fly
• Has a solid construction
Cons
• It is a bit expensive for anyone working on a tight budget


Click To Shop or Read Reviews

Flyzone Calypso Brushless is extremely fun to fly. It has more than enough power to tackle strong winds without topping over. Its sailplane kit comes inclusive of everything you need to start gliding.

Final Verdict About RC Gliders
Back To Top

Our RC glider review contains vital information that one needs to learn when venturing off into this unknown territory. We have compiled a list of frequently asked questions, our top three best Radio-controller gliders on the current market, and in depth look at what these devices are and what they have to offer. Have you ever used an Rc glider plane before? We would love to hear of your experience so do leave us a comment below.
Other Interesting articles in "
Reviews

"