RC Rock Crawler Black Friday & Cyber Monday Deals 2019
Updated:
Black Friday and Cyber Monday are just a few short weeks away, my friends! In just 3 weeks we'll be seeing some of the best deals and discounts available on your favorite RC Rock Crawler products.
This year, Black Friday is on November 29, 2019 and Cyber Monday will be on December 2, 2019.
Bookmark this page today to stay up to date on all the best deals for 2019!
Jump to
BEST RC ROCK CRAWLER BLACK FRIDAY & CYBER MONDAY DEALS 2019
#1 JEEP KIT DEAL
Axial SCX10 Jeep Kit
Range:

80 Meters

Battery:

Sold Separately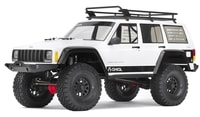 Table of Contents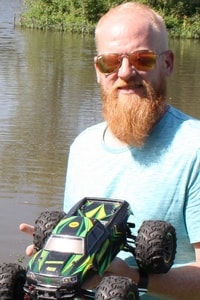 This year we are tracking all the best deals for Black Friday and Cyber Monday right here! If you're looking for a RC Rock Crawler as a gift or for yourself, you are going to want to keep an eye on this page over the next month as we bring you the best deals and discounts in 2019.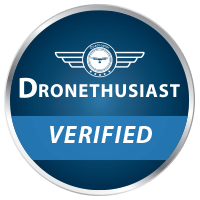 For our reviews, we've decided to focus our attention on company reputation. A lot of RC products will give you similar specs as far as speed, power, and battery life are concerned, but what about customer service? How well does a company take care of you after the purchase? When you give a gift this year, make sure it comes from a company that is willing to take care of any questions that you may have.
Also, you can trust that all of us at Dronethusiast stand behind our reviews 100%! Everyone on our editorial staff has a passion for high-quality RC products that bring joy to our lives. If you have a comment or question about this article, please let me know at justin@dronethusiast.com, or you can leave a comment below!
Here are our top picks for RC rock crawlers in 2019.
1
Power Pro 4x4 Rock Crawler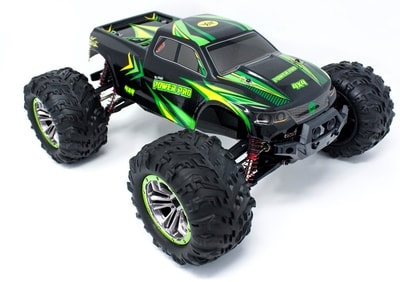 RANGE

80 Meters

BATTERY

15 Minutes
Click here to See it On Amazon! or you can get fast and free shipping from the manufacturer's website at AltairAerial.com.
The best overall rock crawler for Black Friday and Cyber Monday this year is the Power Pro 4x4 Rock Crawler from Altair. This truck has some amazing features and is affordable too. This year, Altair is running "Black November" deals! All November you'll be able to pick up this RC Rock Crawler at a discounted price!
This is the best choice because it comes with all the essentials for rock crawling. This includes 4-wheel drive and 4-wheel independent suspension which means the wheels can move on their own through rocks and other obstacles without getting stuck.
The Power Pro also has a durable plastic shell to help it withstand any crashes or flips that may happen. Luckily, this RC rock crawler has two speeds modes and for rock crawling, it's definitely best to drive in the slower speed mode to have control over your truck and help it climb through the rocks.
Experienced hobbyists and beginners will both love the Power Pro 4x4. The best thing is that Altair is known for their amazing customer service so if you have any questions or need help getting started with your rock crawler, they will be there to help you through it all. In fact, you can check out their step-by-step instructional videos on their website.
2
SZJJX Off-Road RC Truck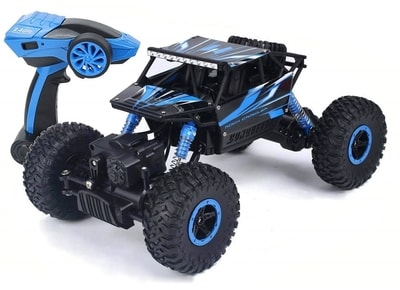 RANGE

60 Minutes

BATTERY

15 Minutes
If you have a kid who loves being outside and has been asking for an RC truck, the SZJJX Off Roader is the best RC rock crawler toy for kids. Be sure to check back to see this truck on sale for Black Friday and Cyber Monday.
This is great for kids because it comes pre-assembled and is extremely easy to use. It's also made of durable materials such as plastic and PVC to help it withstand large obstacles and even crashes.
One of the great things about this RC rock crawler is that it comes with two rechargeable batteries which you don't often see in off-roading RC truck toys. These two batteries give drivers nearly 20 minutes of driving which is great for giving kids a chance to explore outside with their SZJJX truck.
3
Axial SCX10 Jeep Cherokee Kit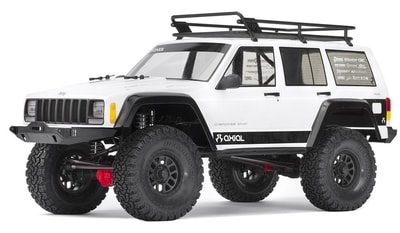 RANGE

80 Minutes

BATTERY

Sold Separately
If you want to rock crawl with an RC Jeep model consider the Axial SCZ10 Jeep Cherokee Kit. This is our top choice for a jeep kit for rock crawling and you'll find it on sale for Black Friday and Cyber Monday.
This truck comes unassembled, and takes about 3 hours to complete, but part of the fun is putting it together to create a 1/10 scale sized Jeep Cherokee. The great thing about this kit is that it comes completely ready to customize with your favorite parts to give you a personalized rock crawling experience.
The transmission is what sets it apart and makes the Axial SCZ10 great for rock crawling. It's a metal gear transmission that includes a full set of ball bearings which make it durable and strong for crawling through rocks and difficult terrains.
You will need to buy your own LiPo battery for this RC rock crawler so consider picking one of these up on Black Friday or Cyber Monday as well. This will be apart of your assembly process when you're putting together your Axial SCZ10.
4
REMOKING Military Truck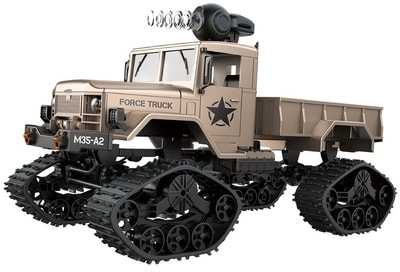 RANGE

50 Meters

BATTERY

20 Minutes
This military RC rock crawling truck is a great choice for getting outdoors and exploring and even comes with tracks to help your drive across tough terrains. Consider adding it to your Black Friday and Cyber Monday shopping list.
There is also a camera included with this RC truck that you can attach to capture your adventures from a first-person point of view. The bed of the truck is open as well and it can bear up to 1lb of extra weight.
It's easy to control as well, making it a great toy for kids or any beginner hobbyist interested in doing some off-roading. Included is a rechargeable battery that gives drivers up to 20 minutes of driving time which is great for a toy of this size.
Along with this, we think drivers will really enjoy the 50 meter control distance which really allows them to explore but will also help them remain in control of their RC truck the entire time.
5
Traxxas 1/10 Scale TRX-4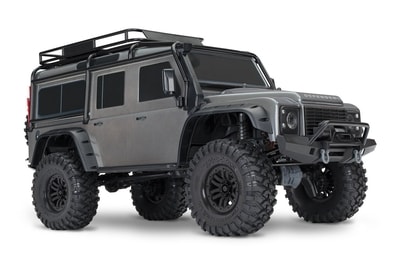 RANGE

100+ Meters

BATTERY

Sold Separately
Traxxas is no doubt one of the best known brands for all things RC. The TRX-4 is a great choice for an RC rock crawler if you have the budget. While it is the most expensive RC truck on our list, you will be able to save some money on it this Black Friday or Cyber Monday.
This truck is highly detailed and models a Land Rover. It even includes a spare tire in case one goes flat or needs repairing. Just like an actual life-size truck.
It is also made of waterproof electronics so you can drive through water, mud, and other weather conditions as well. Plus, there is a high-quality transmission system which makes it durable and able to withstand all obstacles.
One setback is that the batteries for the truck must be bought separately which can be a bummer when you're already spending money on the RC truck itself. However, for Black Friday and Cyber Monday you may be able to bundle and save to get everything you need at a decent price.
6
RC Chargers Ford F-150 RC Truck with Camera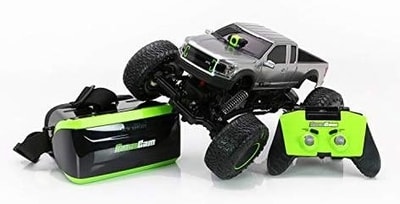 RANGE

25 Meters

BATTERY

15 Minutes
Get a unique experience with the RC Ford F-150 RC rock crawler. This RC truck comes with a camera to let you capture all your outdoor adventures and it will be on sale during Black Friday and Cyber Monday.
This is a great choice for rock crawling because it has a 100 foot range which really lets drivers explore around them. Plus, this truck comes with a VR headset and you can use the camera to feel like you're actually inside the truck driving through rocks and tricky terrain.
This RC Ford truck has 4-wheel drive and a super-flex suspension which helps it to easily drive across any terrain you may come across. It's a great toy for kids who love RC toys and want to get outside more.
Batteries are not included but the manufacturer does sell a few options for LiPo batteries separately so you can bundle them together with a truck for a great gift this holiday season.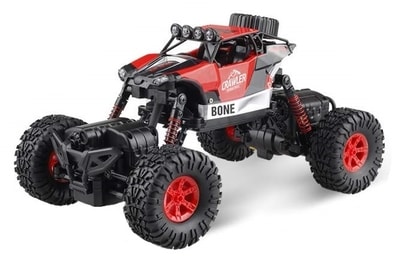 RANGE

60 Meters

BATTERY

15 Minutes
This is a large-scale RC Rock Crawler that is one of the best for exploring all there is outdoors. It's one of the most affordable options on this list too and may be on sale this Black Friday and Cyber Monday.
It has 4-wheel drive, a great motor, and the capability to climb slopes up to 60 degrees. It can drive across all kinds of terrains and rocks and is even waterproof so feel free to drive it through puddles and mud. Its independent suspension system helps it easily drive through obstacles too.
The Gizmovine RC truck has one of the longest control ranges at 200 feet which is ideal for explorers to get the most out of their rock crawler toy as well as the truck's rechargeable battery that provides about 15 minutes of driving time. If you want a longer battery life, consider picking up an extra battery or two.
What To Look For When Shopping For An RC Rock Crawler
If you've never bought an RC rock crawler before it can be confusing to navigate through all the options to decide which truck is best. Here are our top tips for what to look for when shopping for an RC Rock Crawler this Black Friday and Cyber Monday.
4-Wheel Drive & Suspension
An RC rock crawler with 4-wheel drive and 4-wheel independent suspension will be best for rock crawling purposes. It allows the wheels to move on their own so they can better maneuver through rocks and obstacles.
Do You Want Speed or Power?
Speed is another thing to consider when looking at RC rock crawlers. While most trucks have great speed capabilities, look for options that have multiple speed modes. It is generally better to move slowly through rocks and other obstacles so you can have better control over the RC truck.
Stick to Your Budget
RC rock crawler trucks fall into a wide variety of price ranges. Consider setting a budget ahead of time so you know what kind of trucks to look for. If you are shopping for a toy for a child, a cheaper RC truck may be better and a little simpler to use. On the other hand, an extreme hobbyist may enjoy a more expensive model.
Invest in Batteries
If you are driving an RC rock crawler it will most likely be outdoors and away from home. Because of this, you will want a battery that lasts you a while. Try looking for battery lives that are at least 10 minutes or longer and consider buying extra batteries to give you more time to explore and drive your RC truck.
You can find more Black Friday Shopping tips here!