DJI Tello Quadcopter Drone [Updated 2020]

Updated:
Drones are normally quite a sizable investment. Sure, you get the cheap toy drones for a reasonable price but most of them are just that, toys. If you want something that has decent flight time, plenty of features and from a top drone company like DJI, you going to fork over some serious money.
But wait! Not anymore.
What if I told you that the DJI is backing a new drone, the Tello, is a feature-rich, compact and highly capable $99 drone. That's right, a DJI backed drone for under $100?! Amazing!
Ok, it actually a joint venture between DJI and Ryze but with leading drone manufacturer DJI backing it and the rising talents at Ryze, it is a great partnership.
Looking for a cheap DJI drone for Christmas? Read about the best Xmas drones here.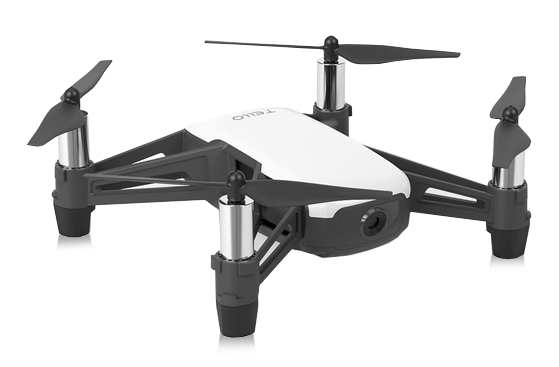 Click To Shop or Read Reviews
It gets even better
Don't for one second think that just because you are paying such a rock bottom price that you will have to compromise on features or quality. The DJI Tello will impress you and it gives you a lot of bang for your buck.
Flying has never been easier
One of the first things that stand out about the Tello drone is that they have made it super easy to fly. If you have never flown a drone before you are quite safe with the Tello and you will pick it up quickly. For more confident and experienced pilots, there are plenty of advanced features that will keep you entertained.
Looking at the Tello, it is a compact quadcopter that looks remarkably similar to the outstanding and extremely popular DJI Spark. The similarities don't end there but more on that later. Let's get to know more about the features.
DJI Tello Flight Time Impresses
We have come to expect a flight time of 5 to 7 minutes on entry-level drones. Fortunately, with the Tello drone, you can get a lot more out of it and you will enjoy a flight time of around 13 minutes. That compares well with drones like the Spark that cost significantly more.
5MP Camera and HD Video
The camera is also remarkably good for a drone in this price range. The Tello features a 5MP camera with an 82.6-degree field of view and shoots 720p video at 30 frames per second. The Tello also has electronic image stabilization (EIS) for less blur and improved footage on the move. The advanced 14-core Intel processor ensures excellent footage.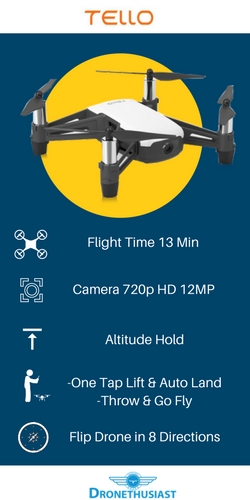 As if that is not enough
To make the camera even more effective, the Tello drone has EZ Shots. This makes shooting easier and more fun with modes like Up & Away, Circle and 360. The drone will stream to your phone or tablet or even a VR headset. You can expect an astounding fpv experience with the Tello drone.
DJI Tello Features Pressure Sensor Altitude Hold
Something often lacking in the less expensive drones is altitude hold. Fortunately, the Tello has this handy feature. Whether you are simply flying or shooting footage, altitude hold frees you up to focus on other aspects without having to think about controlling the altitude. This is useful for all pilots but of particular value to beginners as it is one less thing to think about when operating the drone.
The Tello drone features a pressure sensor that will calculate the altitude as you fly for accurate information.
One Touch Take Off and Landing
Another nifty feature that makes the Tell Quadcopter so easy to fly is one tap Lift off and Auto land. This just makes it such a breeze to fly and operate. Another very cool one is Throw and Go which is literally what it says it is. Simply throw the drone and start flying.
Throw and Go: Throw It – It Goes
For safety, the drone will alert you when the battery is low and you can take the necessary action to prevent an accident. This low battery protection is great if you are distracted and do not notice the battery level had become critical. The failsafe protection will cause the drone to land safely if the connection is lost.
DJI Tello Tricks – 8D Flips
Small drones are known for their agility but you rarely see one as nimble as the Tello. With a simple swipe on the controller, you can flip the drone in any one of 8 directions with the greatest of ease and safety.
Bounce Mode
This allows the Tello to bounce up and down repeatedly from your hand or any other surface with a range of 1.6 and 3.9 feet. The feature is safe as sensors will detect the distance to the surface.
Vision positioning system
This allows you to easily and accurately hover perfectly over your selected target.
Tello Specs
The specs on this tough lightweight are: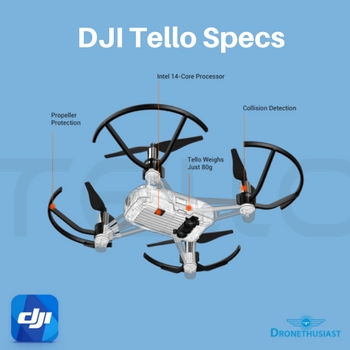 Size: 3.86 x 3.64 x 1.61 inches (9.80 x 9.25 x 4.10 cm)
Weight 80gr including battery
Fly time 13 minutes
Battery 3.8V 1100mAh
Range 100m
Antennae Dual system for smart switching
Camera 5MP
Video 720p at 30 fps with EIS
FOV 82.6º
Develop and learn
The manufacturers have created even more flexibility and enjoyment into the drone by including Scratch, an MIT-created coding system. This will allow you to develop and create new features and applications using Tello SDK (Software Development Kit).
Controller
The Tello drone is controlled from a tablet or smartphone but plans are underway to create a dedicated controller as well.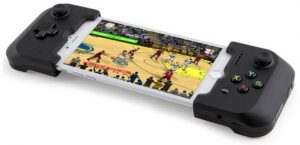 The DJI Trello vs the DJI Spark
At more than 4 times the price, you obviously get a lot more out of the spark than the Tello but, depending on your requirements, the differences are not major.
Appearance wise they are very similar with Tello measuring 98 x 92.5 x 41 mm and weighs only 80 grams vs 143 x 143 x 55 mm and 300 grams on the Spark.
I know what you are thinking
The spark has a superior camera with 12MP stills and 1080p video but you can still get great footage on the Tello for most applications. The Spark has a 2-axis gimbal while the Tello relies on EIS.
Although the Tello does have some sensors the Spark has a proper obstacle avoidance technology.
Range is one area where the Spark significantly outperforms with a range of 2000m compared to 100m on the Tello.
While some of these differences are quite substantial, if you compare the price it is understandable. If you need the superior camera and obstacle avoidance, and have the budget, by all means go for the Spark. If you need to save a fair amount of money and choose the Tello, you are unlikely to be disappointed. In terms of value for money, for a $99 drone, you cannot beat the DJI Tello.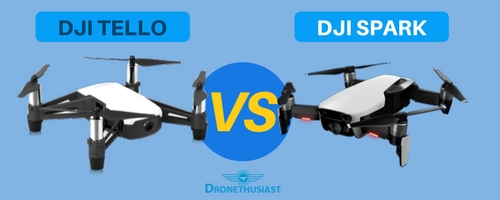 Final Thoughts on the DJI Tello
I do not believe you can call the DJI Tello a toy drone as it is so much more than that. It is simply a very well built, extremely well priced done that will provide excellent entertainment and fun. Once again, DJI are sure to shake up the market with their latest offering.
Other Interesting articles in "
Reviews

"