Smartphone Controlled Drones – Best Smartphone Drones [Updated 2020]

When drones got their start, they were all radio controlled, just like the RC cars we used to play with when we were young. But in the modern age, smartphones are taking over every aspect of our lives, including the world of quadcopters. This has led to the rise of smartphone controlled drones, a type of UAV which a lot of younger pilots prefer and which can sometimes be cheaper due to their not coming with a controller. Today we'll be looking at the 7 best smartphone controlled drones for sale, giving you information about how to use a smartphone to control a drone, and helping you find and purchase the drone option that works best for you.
QUICK OVERVIEW: THE BEST SMARTPHONE CONTROLLED DRONES
Best Beginner Phone Drone
Altair #AA108
Camera:

720P

Range:

80-100 Meters

Time:

9-10 Minutes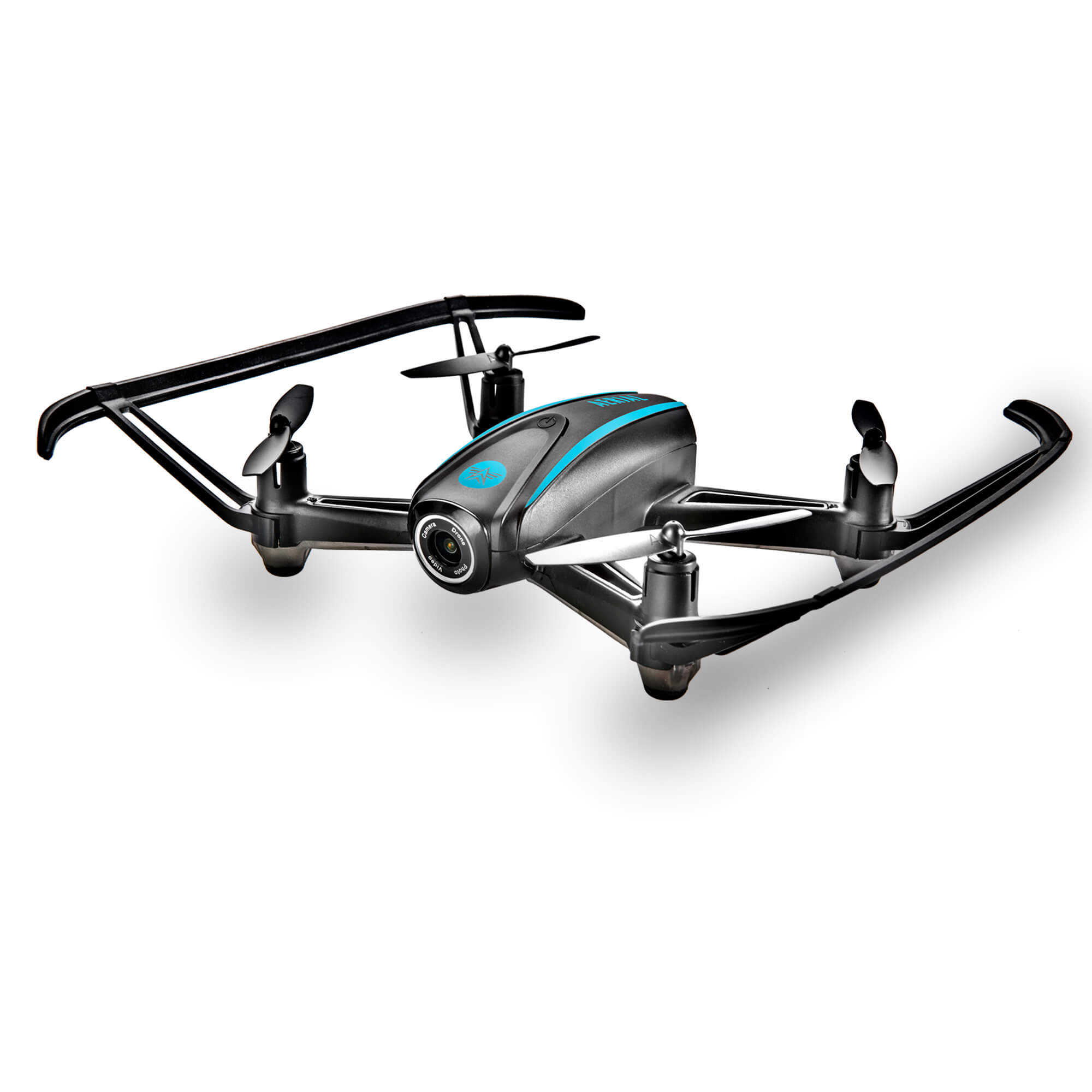 Best Hobby Phone Drone
Altair 818 Hornet
Camera:

720P

Range:

150 Meters

Time:

15 Minutes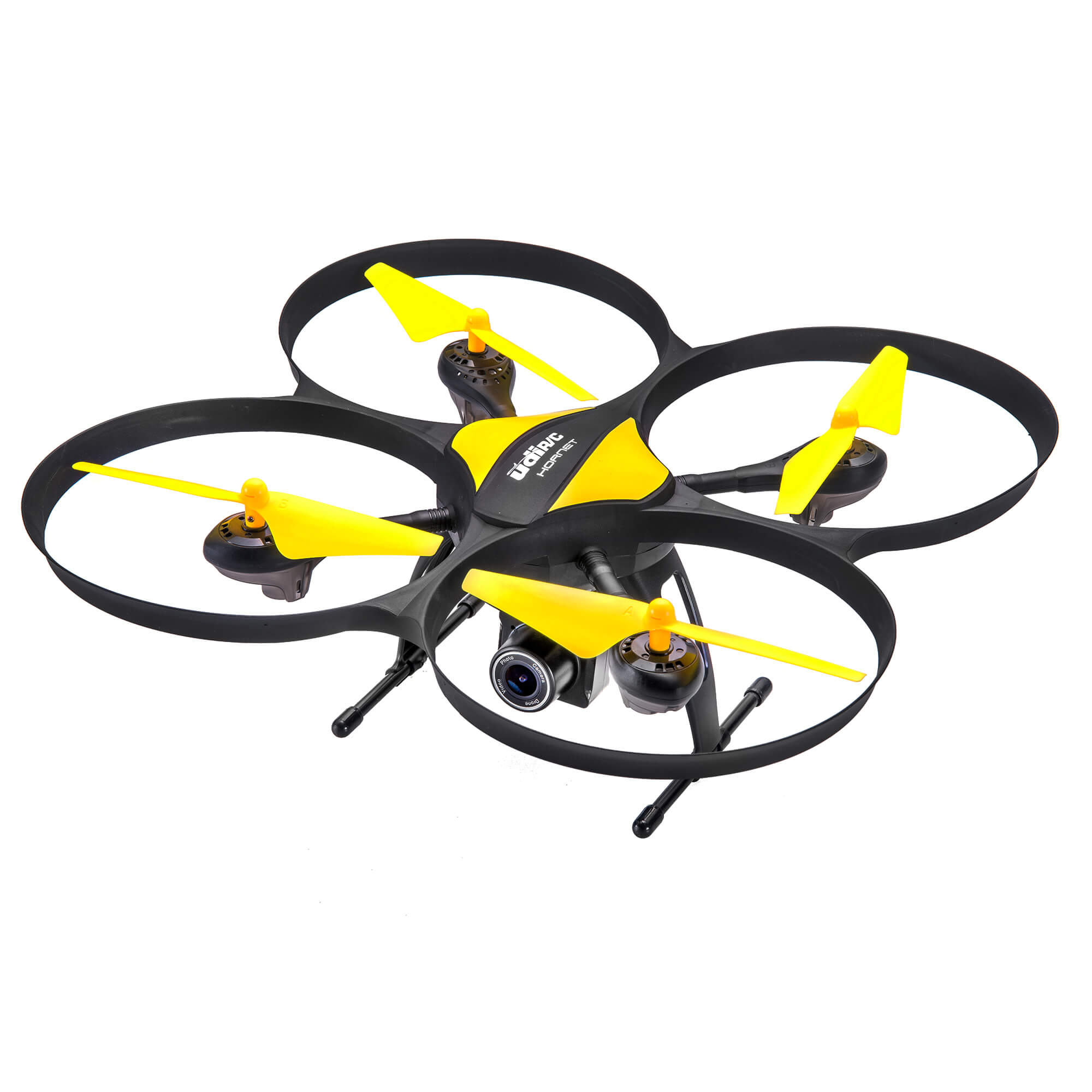 Best Pro Phone Drone
DJI Phantom 4 Quadcopter
Camera:

1080p

Range:

Up to 6000 Meters

Time:

28 Minutes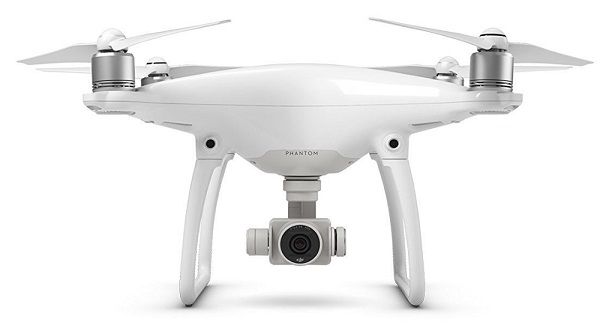 Best Partially Smartphone Controlled Drones
These drones can be controlled by a smartphone or with a traditional radio transmitter. In some cases, you may want to use both in tandem for the best experience.
Altair Aerial AA108 – Best Beginner Smartphone Drone
Get free shipping and amazing customer service by purchasing at Altairaerial.com (click here). Or get the best price on Amazon!
If you're just getting started with smartphone controlled drones, you can't do better than Altair Aerial's AA108. This small, portable and durable drone has three speed settings and a number of beginner friendly features that make it a cinch to fly no matter what your level of experience is. Plus, it's cheap at only $110 USD (at time of writing.)
If you want, you can control this drone using just your smartphone via the free FlyingSee app. The smartphone is also used for one of the AA108's best qualities – a built-in HD camera that can take pictures, film video, and stream first person footage directly to your phone so that you can see everything the drone sees. This is an excellent feature and truly makes this a great beginner phone controlled drone.
Features and specs: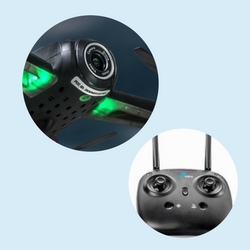 • 10 minute battery life
• 720p HD camera
• 3 speed levels
• Headless mode (great beginner feature!)
• Altitude hold mode
• Real Time First Person View
• 100 meter range
• 4 channels
Pros:
Extremely easy to use
HD camera that streams to your phone
Cheaply priced
Cons:
Short per-battery flight time
Handles poorly in wind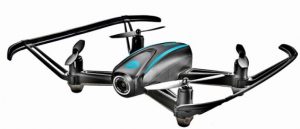 Click To Shop or Read Reviews
AA818 Hornet – Best Hobbyist Smartphone Drone
Get free shipping and amazing customer service by purchasing at Altairaerial.com (click here). Or get the best price on Amazon!
This Altair Aerial offering is a great step up once you feel like you're a little too advanced for the AA108. It has a lot of the features that made that drone great, but with a few upgrades. The most important of these is that it gets 15 minutes of flight time off of a single battery, a feature which is common in $300-$500 drones but nearly unheard-of in a product that costs only $150 at time of writing.
Like the AA108, the Hornet can be entirely smartphone controlled, entirely radio controlled, or a mix of both. The camera functions will require you to use a smartphone or mobile device.
Features and specs: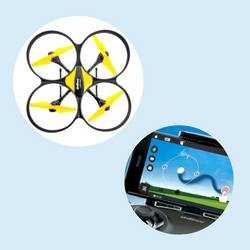 • 15 minutes of battery life
• 720p HD camera
• Stable shape with extra-long landing gear
• Headless mode (great beginner feature!)
• Altitude hold mode
• Customer flight route mode
• Real Time First Person View
• 150 meter range
• High quality 720p camera
Pros:
Long range
Long flight time
Cheaply priced
Cons: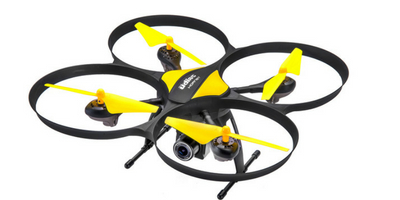 Click To Shop or Read Reviews
DJI Phantom 4 Pro – Best Professional Smartphone Drone
What is there to say about the DJI Phantom 4 that hasn't already been said? This extremely powerful high-end drone is a popular favorite, and it's not hard to see why. The drone stabilizes itself automatically, dodges obstacles automatically, and captures incredibly high quality footage at incredibly long range with a built-in 4K camera. If you want to become a professional aerial photographer, this is the drone for you.
Like the other DJI offerings that we'll talk about later, the Phantom 4 Pro has a number of additional features that are only available through the DJI Go app, which can be run on a smartphone or tablet on Android or iOS. These additional features let you edit the photos your Phantom 4 takes in real time and gives you detailed flight information while you're in the air. This information includes battery level, altitude, distance, speed, etc.
Features and specs: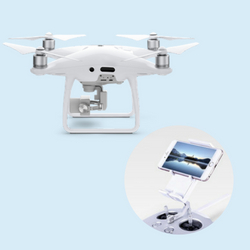 • 23 minute flight time
• GPS for stabilization
• 4K camera
• Weighs 14 pounds
• 350 mm wingspan
• 3-axis gimbal
• 8 channels
Pros:
• Front and back obstacle detection
• Extremely high quality camera
• Long-distance control
Cons:
• Very expensive (over $1000 USD in most areas)
• Not good for beginners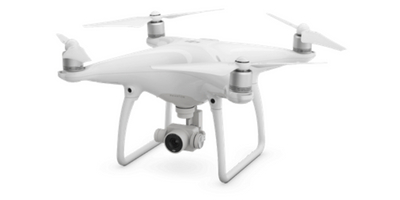 Click To Shop or Read Reviews
DJI Mavic Pro
Okay, so we all love the Phantom 4. But DJI has a line of portable drones as well, of which the Mavic Pro is our favorite here at Dronethusiast. This drone is tiny and can be folded even tinier for extreme portability, has an even better camera than the Phantom 4, and has an extremely long flight time and range. It doesn't have a lot of fancy features beyond that, but let's be honest – it doesn't need them.
The Mavic Pro can be controlled with a very precise radio controller or with a less precise but much more intuitive smartphone app. The phone app also has additional features and is available on every device other than Windows Phones (which is to say, every device that actually matters.)
Features and specs: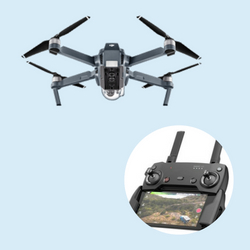 • 27 minute flight time
• Plastic and magnesium body
• super HD camera with Cinema 4K support
• 3-axis gimbal
• 20 channels
• Weighs 1.6 pounds
• 300mm diagonal, but folds into 198mm
Pros:
Extremely portable
Professional grade camera
Cons:
Expensive
Has very rudimentary obstacle avoidance when compared to the Phantom 4 or the Spark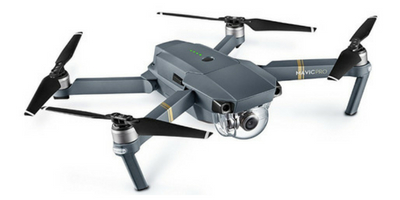 Click To Shop or Read Reviews
Yuneec Typhoon H
Looking for something outside of the DJI line? The Yuneec Typhoon H is an extremely underappreciated drone with many of the features of the Phantom and a slightly lower price. 4K camera? Got it. 2 kilometer flight range? Got it. Collision prevention? Got that too.
The Typhoon H is mostly controlled with a radio transmitter but has an app that let you control a number of high-tech additional features including Orbit Me, Point of Interest, Journey Mode, and Curve Cable Cam. Those sound like nonsense words to the first-time flier, but they actually make the drone a lot easier to use.
Features and specs: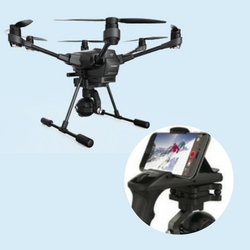 • 20-23 minute flight time
• 2 kilometer flight range
• Ultrasonic collision prevention, 6 rotor safety, and 5 rotor fail-safe
• 4K UHD camera with 12 MP still photos
• GPS stabilization
• Weighs 12 pounds
• Lots of high-tech features including Orbit Me, Point of Interest, Journey Mode, Curve Cable Cam, Auto Takeoff/Land
Pros:
• Slightly cheaper than comparable DJI products
• Professional grade camera
Cons:
• Still expensive
• Heavy and unwieldy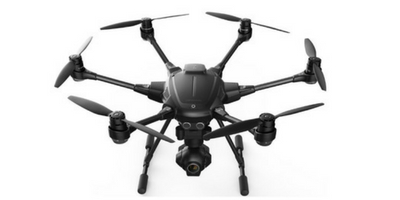 Click To Shop or Read Reviews
Best Exclusively Smartphone Controlled Drones
In the modern age, some drones are 100 percent smartphone controlled. Since this is still fairly new technology, a lot of exclusively phone-controlled drones are pretty imprecise and annoying, but there's two great products that stand out from the crowd.
DJI Spark
Yep, it's another DJI product. The Spark isn't quite as good as the DJI Mavic Pro, but the differences are pretty minor unless you're a professional photographer, and the lack of a conventional controller means it's significantly cheaper (though you can buy a more expensive package that has a dedicated transmitter.)
The drone itself is entirely smartphone controlled using an iOS or Android device, and it comes with a lot of smart features that are built right into the app. TapFly and ActiveTrack are probably the best of the many features included with the Spark – they can be used to tell the Spark to follow a path you draw or follow a specific person/object you designate, allowing for a hands-free drone experience! If you want one of the most high-tech phone drones on the market, the Spark is an excellent choice.
Features and specs: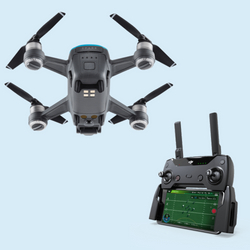 • 15 minute flight time
• 2 kilometer flight range
• 1080p HD camera
• 2-axis stabilized gimbal
• Intelligent flight modes
Pros:
• Lots of high-tech features
• Cheaper than most other DJI products
Cons:
• Doesn't fold up
• Worse camera than the DJI Pro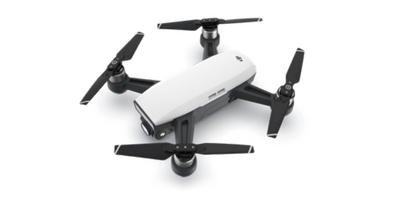 Click To Shop or Read Reviews
Parrot AR 2.0
The Parrot AR 2.0 is a good beginner smartphone controlled drone that's entirely phone controlled – in fact, once you've installed the FreeFlight app your phone will be able to detect the drone automatically! Since the AR was designed with app controls in mind, FreeFlight has a lot of very convenient features other drone apps lack, like being able to arrange the buttons on your screen however you like.
The drone itself isn't bad for its price range, though the range is quite short (as tends to be the case with WiFi quadcopters.) It has a decent flight time and a 720p camera that streams FPV video. If you want something comparable to the AA108 but are willing to pay a little extra for a purely smartphone controlled drone, then this is the choice for you!
Features and specs: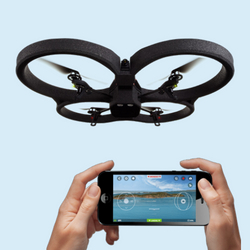 • 10-12 minute flight time
• 50 meter flight range
• Weighs 4 pounds
• Wingspan is 731 mm
• 6-axis gyro
• 4 channels
• Plastic body
Pros:
• Instantly recognized by smartphones
• Good for beginners
Cons:
• Very short flight range
• Strong winds drain the battery very quickly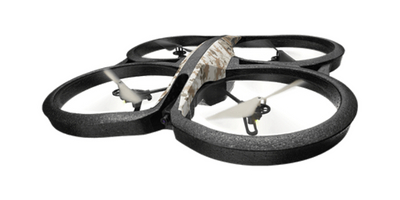 Click To Shop or Read Reviews
FAQ About Smartphone Controlled Drones
Are there Android smartphone drones?
Yes there are! iOS devices might have once had a monopoly on a lot of things, but drones have never been one of them. Having said that, some users have reported that DJI drones perform slightly better with Apple devices.
How do you control a drone with a smartphone?
This varies slightly from drone to drone, but usually you control it with buttons on the screen similar to how you might control a game app. For partially smartphone controlled drones, the app might only have a few specific features instead of full control. If you have more specific questions, consult the manual for your drone.
What is the best smartphone controlled drone?
That depends on what you're looking for, and that's why we've written out a whole bunch of smartphone drone reviews above this FAQ! But if you're really looking for just one recommendation, the AA818 Hornet is a very good option that anyone can enjoy regardless of skill level.
How do I connect my smartphone to my drone?
Usually, you'll need to install an application (FlyingSee for Altair Aerial products, DJI Go for DJI drones, etc.) and then connect to the drone as though it were a WiFi networks. This process varies slightly drone-to-drone however, so we highly recommend you consult the manual for the specific product you end up buying.
Conclusion
We hope you've learned a bit about smartphone controlled drones today, and we hope we've helped you make a purchase and find the phone drone that's right for you. If you have another drone you think belongs on the list or a question we didn't cover, let us know in the comments so we can keep this article up-to-date with new information.
Other Interesting articles in "
Reviews

"