SwellPro Drone Review [2019] SwellPro Splash Drone 3 Review


Drones have always been popular hobby items that people use while doing their favorite leisure activities. The SwellPro Splash Drone 3 is a new and innovative waterproof drone that you can take along with you for any water activities. There are many features in this drone that make it great for fishing and having on the water. New drone technologies such as this are paving the way for future innovation of hobby drones.
If you love spending most of your days on the water and want to improve your drone flying skills, keep reading to see if the Splash Drone 3 is right for you.
Getting Started with your SwellPro Splash Drone 3: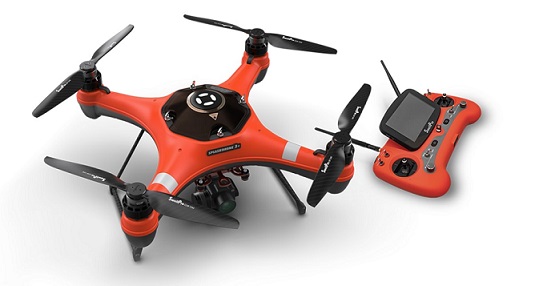 The Splash Drone 3 is the most recent SwellPro model and there is a lot to enjoy with this drone. It comes mostly assembled so you just have to charge the battery before you take flight
Here's what you get when you buy the Swellpro Splash Drone 3:
In the Box:
Splash Drone Aircraft
FPV Remote Controller
2 pairs of propellers
Balance Charger
5200 mAH LiHV Drone Battery
Radio Battery
Landing gear
User Manual
Carry case
Some major components of this drone that allow you to use it to its full potential are sold separately which only adds to the cost of an already expensive drone. The 3-axis gimbal, 4K camera module, payload release module, and ground station module are all sold separately on this drone.
SwellPRO Drone Review: Flying the SwellPro Splash Drone
Features & Specs: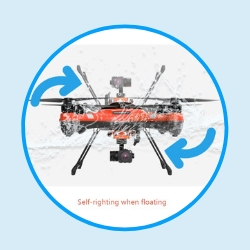 4K HD Waterproof Camera
GPS and GLONASS systems
Durable, waterproof motor and frame
Multiple Intelligent flight modes- Follow Me, Position HOld, Auto Return to Home, Waypoints, Tap to Fly, Autoland, more
Flies in all types of weather
16 minute flight time
Pros & Cons:
-The durable, waterproof frame makes for easy flying
-Multiple intelligent flight modes make for exciting flight experiences
-3 Axis Gimbal, 4K Camera Module, Payload Release Module, and Ground Station Module are all sold separately
-This drone will definitely be an investment and purchasing the additional items and modules will make for an expensive purchase.

SwellPro's enhanced waterproof model:
The Splash Drone 3 is made from durable 3mm reinforced ABS to ensure a perfect waterproof seal. The design is complete with floating capabilities and can be used in all weather conditions including rain and snow. All of the parts in this drone are corrosion resistant and designed to be used in marine environments. SwellPro is known for making high-quality waterproof drones and is one of the only places you can purchase one.
Take this drone with you anywhere. The Splash Drone 3 will thrive on lakes, oceans, and rivers. If you love to spend your days on the waters, you will have a lot of fun exploring with this drone. Likewise, if you enjoy taking to the snowy mountains this drone will be a blast in the frigid temperatures.
Stable flying with the SwellPro S3:
The new S3 flight controller comes with new sensors that allow for greater sensitivity and accuracy than most other drones. You will be able to fly safely and smoothly with more confidence in the water and in rain or snow. This controller is always checking for errors and offers redundancy to improve flight stability.
Another feature that is great for stable and easy flying is the dual-mode GPS. This locks onto 24 satellites from the GPS and GLONASS systems for improved accuracy and speed of positioning.
There are also many intelligent flight modes that allow for safe and stable flying. Most flight modes reduce manual input from the pilot making it even easier to fly. Follow Me mode makes for the drone to constantly follow and turn towards you as you move. Mission planning is a unique feature that allows you to select waypoints on a map and the Splash Drone 3 will execute the path.
There are also multiple protection features in Splash Drone 3. If the signal is lost, the drone will return to its starting point and land gently. You can also touch the Return to Home button and have your drone land safely. Also, if the battery voltage reaches warning levels you will be notified. The S3 will autoland itself as well if the battery is almost completely drained.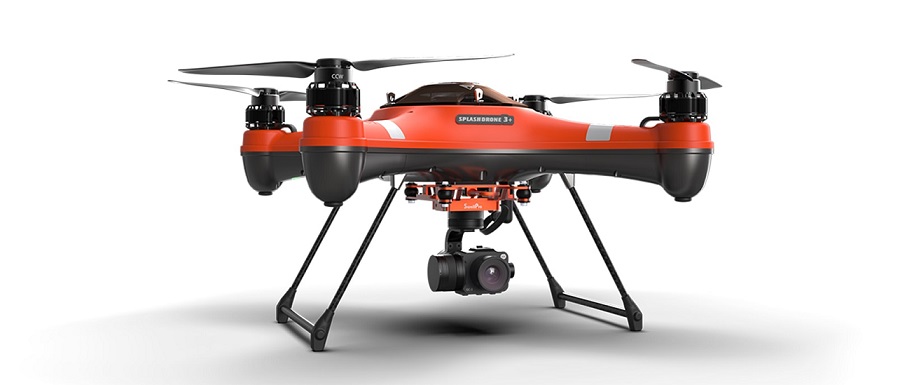 Click To Shop or Read Reviews
Our final thought on the SwellPro Splash Drone 3:
This is the best drone for you to take out on the waters with you. It's expensive being priced at $1,119 and expensive add-ons, but the quality of this drone makes it worth its price. The durable waterproof frame and amazing flight modes will make you want to buy this drone.
The only setback with this drone is that you have to buy a lot of extra accessories to use this drone to its full potential. However, if you can afford to make the purchase it's highly recommended for an outstanding drone experience.
If you love spending your days on the beach, near the river, at the lake, or in the mountains this is a great drone for anyone with an adventurous spirit who loves to explore. It's great for fishing, photos and videos, and can be fun to use while boating.
Other Interesting articles in "
Reviews

"