All about RC Tanks – Top 3 Best RC Tanks 2019



In this post, we shall take a look at why RC tanks are becoming increasingly popular, types of RC tanks, and answer some frequently asked questions. Finally, we shall look at top 3 RC Tanks on the current market.

Table of Contents
All about RC Tanks

RC tanks are becoming increasingly popular with each passing day. These fun devices allow a user to enact a war setting right from the comforts of their home. RC Tanks are not only easy to use but they provide hours of uninterrupted fun for the whole family. These devices are especially popular with males of eleven years looking for a thrilling playtime with their friends. However, RC Tank's are also loved by just about anyone from the ages of eleven to even sixty years!

There are all sorts of tanks available on the current market. Some have the capabilities of spitting smoke, others come inclusive of cannon fire sounds, engine running sounds and much more, and others have the ability to shoot Air soft BB's to their opponents. There are three categories to pick from: infrared battle tanks, air soft tanks, and model tanks – this will depend on what sort of features you are looking for.

FAQs about RC Tanks

Are RC Tanks dangerous?

When used in a constructive way, RC tanks are not dangerous at all. If you are using an Air soft tank model, always ensure that your Air soft BB's are stored safely to ensure that no incidents happen in your home. Also, always store your device in a closet after use to avoid small accidents such as tripping or worse.

Do RC Tanks need oil?

Some RC tanks are able to shoot and smoke. If you happen to purchase a model that smokes, then you will need to add smoke oil. Keep in mind that your unit will only start smoking after the smoke chamber warms up. However, there are some people who prefer to keep their machines well oiled. You can clean out your system with oil once in a while to ensure that all parts work well.

Do they work all terrain?

Some models are designed to tackle all terrain; be it soil, tiles, carpets, etc while others function better on smooth surfaces. Before making a purchase, we would recommend that you inquire about what sort of terrain that specific model can tackle.

When applicable, how many Air soft BB's should I add?

Never overfill your chamber as it might cause your system to jam up. Load a maximum of 15 BB's at a time.

What should I do if my Air soft tank is not shooting?

First thing you should do is try switching it off and then back on. If it still does not work, check to see whether there is a BB stuck in its chamber – if there is, use a compressed air canister to dislodge it.
RC Tanks Reviews

How do I pick best RC model tanks?
When it comes to choosing best RC tanks; it all depends on your intentions – are you looking for a machine that will allow you to roam around and shoot targets or are you interested in nothing more than just battle?

Do I need sound and realistic features?
Some people prefer when their models are as realistic as possible. Tanks that have the ability to smoke, make sounds when they shoot, have a recoil barrel are more appealing to RC drivers who want to have a full experience. Many people are under the belief that they need to pay more to get access to such features. On the contrary; nowadays, most tanks are equipped with pretty great features and you no longer have to pay a ton of money to get a smoking, rotating, and firing tanks.

Overall, the final decision as to which type of features you should look out for depends on you and your needs. Here, we have compiled a list of our top 3 best RC tanks on the current market. Let us take a closer look:

Top 3 Best RC Tanks 2019 Review
1. A-Parts I SPY Rc Tank Toys WiFi RC Car
Read Reviews About I Spy RC Tank

A-Parts I SPY is an awesome model that can be controlled from just about anywhere in the world. This model is controllable from far distances via your iPhone or iPad. Keep in mind that this is not a race car; it is a tank that can climb over almost any obstacle standing on its way. A-Parts I SPY features an incredible camera that has impeccable clarity. A-Parts I SPY has an easy to control remote that will respond to all your requests.

Its WiFi is controlled by IOS or android system. This means that your tank will adhere to your navigation instructions and stream real-time video back to your handset as long as there is a WiFi connection. This model comes inclusive of a hidden monitor that allows you to see and hear everything at home even when you are outside or at work. For anyone looking for a great present for their sons or even their husbands, you cannot go wrong with A-Parts I SPY. Let us take a closer look into its features.

Features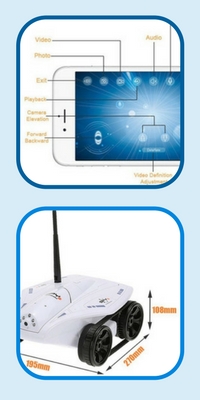 – Comes inclusive of audio transmission and real-time video transmission
– WiFi connection that is controlled by IOS or android systems
– Incredibly easy to use and navigate
– Comes with a high quality 0.3MP camera that is able to stream live video and take photos
– Has a hidden monitor that allows a user to view and hear everything at home.
Pros
– Easy to use
– Affordable
– Highly durable
– Takes quality images and video
– Can be navigated from far away
– Allows you to talk to your family even when you are at work or abroad
– Great voice system
– Strong enough to climb up inclines
Cons
– A-Parts I SPY's speed is a bit low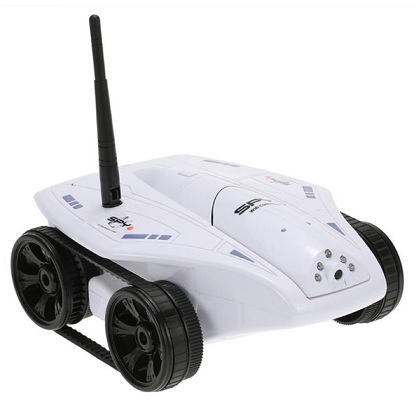 Click To Shop or Read Reviews
All in all, A-Parts I SPY is a great present to buy for your son or even for your husband. Regardless of age, it's a fun toy to play with, thanks to its many features that ensure you get a great riding experience each time. Also, it is highly affordable and can be purchased for a low cost of $118 – if you are looking for cheap rc tanks, then A-Parts I SPY should definitely be on your list.

2. iPlay RC Battling Tanks
Read Reviews About iPlay RC Battling Tanks
Back To Top

iPlay package comes in a set of two full size infrared rc battle tanks. The set of two is quite convenient as it allows you and your child/ spouse to battle against each other with infrared power. These tanks are controlled by a transmitter that allows a user to rotate their gun and fire cannon. Once you fire on your target, the tank roars and sends infrared beam signal attacking your opponent. When your laser hits, their tank becomes destroyed (not destroyed in the sensible term; destroyed in the sense that it will indicated flashing lights of you having hit your target). Every time you get hit, you lose a life full size of up to 30 cm in length! What better way to brush up on your firing skills than by having a fun game with your battle tanks?

Features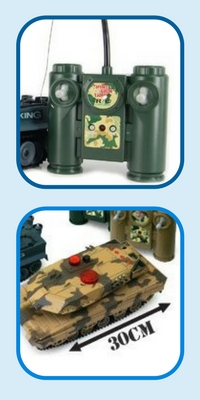 – Universal spin
– Barrel moves up and down 30 degrees
– Turret turns 320 degrees
– Comes with an automatic demonstration function and infrared combat functions
– 2 IR battle tanks
– 2x infrared laser battle tanks
– 2x full function controllers
– 2x rechargeable 4.8 Ni-CD battery
– 2x A/C wall charger and instructions
Pros
– Incredible sound effects for ignition, engine, cannon fire, machine gun fire, and impact
– Provides hours of fun for your entire family
– Long lasting
– Affordable
– Can climb up inclines with ease
– Awesome startup motor sound
– Tires are non-slip and will offer incredible grip
– Cannon recoil action
Cons
– Since both tanks are not of same height, one person always has an added advantage of winning over the other
– They do not function well if you are playing with them on top of a carpet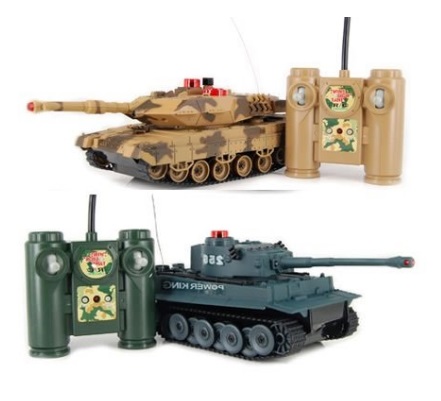 Click To Shop or Read Reviews
Overall, this is a great investment if you are looking for a product that will deliver value for your money. These tanks make realistic sounds of engine running, cannon fire and machine gun fire. If you aim just right and hit your opponent, that tank will emit simulations of being hit. What better way is there to play with your kids/ grand kids than having a war game marathon?

3. BlueFit German Tiger I Panzer Tank with Remote Control
Read Reviews About Tiger I Panzer Tank

BlueFit German Tiger I Panzer is a good option for anyone looking for a cheap rc tank. Priced at approximately $20, this tank is able to run for 15 uninterrupted minutes from just one hour of charge. It is extremely compact and easy to transport with you wherever you go. BlueFit German Tiger I Panzer can traverse through tiles and carpets as well. Even pet hairs don't seem to bother it. BlueFit German Tiger I Panzer moves pretty fast. Even with supercharger turned off, you will be impressed by how effortlessly it shifts.
BlueFit German Tiger I Panzer comes with a super speed button on the controller that adds to your tank's overall speed. Your turrets will turn 360 degrees in one direction; its barrel also raises and lowers as the turret turns. When you engage your fire button, you will be rewarded with sounds of a cannon firing and BlueFit German Tiger I Panzer's entire tank body recoils backwards. Impressive!
Features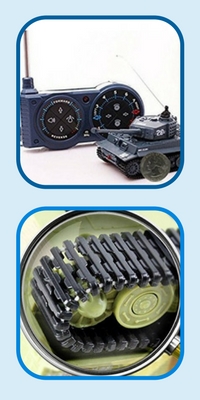 – Has a built-in rechargeable 3.7V 110mAh battery
– Remote controller can also charge your tank
– Can run for 15 minutes from just 1 hour charge time
– Turret rotates 360 degrees
– Can drive backwards with light
– Comes inclusive with sound
Pros
– Can forward, turn left or right
– Charging time is fairly quick
– Well made
– Easy control
– Engine and cannon sounds
– Best overall budget RC tank
Cons
– Tanks does not drive straight at times
– Drives a bit too fast – that is if you are looking for a model that has the ability to drive very slow
– A bit too small for adults to fully enjoy the experience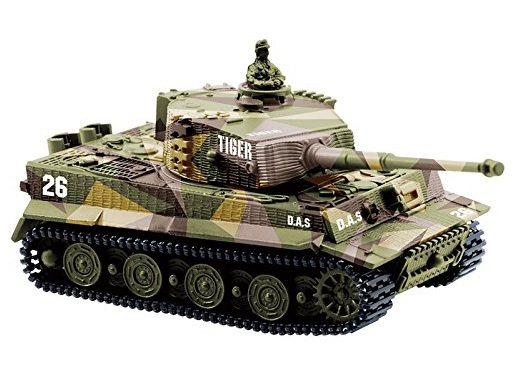 Click To Shop or Read Reviews
BlueFit German Tiger I Panzer is a tank that will not disappoint. Simply plug it in to charge for one hour and you will be able to enjoy approximately 15 hours of fun. This compact model is able to move with lightening speed and will emit sounds of cannon fire and much more! If you have any more questions about our top 3 best rc tanks, do not hesitate to leave us a message below. Also, you can click on provided Amazon links for more information.

Final Verdict About RC Tanks
Here, we have taken an in depth look at RC tanks and why they are so popular. Our top 3 RC tanks have been selected based on affordability, features included, ease of use, and durability. For anyone looking to save a few bucks, we would recommend that you keep an eye out for rc tanks for sale. This way, you will be able to purchase cheap rc tanks that will last for a very long time. Have you ever used any of our top 3 products? How was your experience? We would love to hear from you so do leave us a message below. Also, if you have any more questions, do not hesitate to leave your queries below and we shall get back to you ASAP.