Underwater Drones [Updated Fall 2019] – Edging into an Era Of Submersibles!

Just a decade ago, we were hardly able to envision owning personal drones as toys or research devices that were able to suddenly dip underwater and still deliver stellar images, and have the ability to be carefully maneuvered by the owner or research team. But now there is new technology being developed in underwater drones that is making this all possible. Actually, some of these drones when they reach the surface of the water they can hover in the air and dive back in for unbelievable footage!
We already know how dazzling above-ground footage is, as we can see in this video of a drone flying over the snow-covered city of Budapest.
Underwater Drones For Sale
Here are (in our opinion) three of the very best underwater drones that you can purchase on Amazon. These drones all come with different pros and cons, so we recommend you look through all three and decide which one looks like it's the best for you.
Power Vision PowerRay Wizard
Read reviews and show for the PowerRay Wizard
The PowerRay Wizard – made by the Power Vision technology company – was one of the first underwater drones for sale and definitely remains one of the industry leaders. The PowerRay (which takes its name from its stingray-like shape) can take underwater video in 4K resolution or 12 Megapixel still images. It can dive down 30 meters underwater and has a 230 foot communications range.
When you buy the PowerRay, you also get a ton of accessories that will greatly enhance the experience. There's a radio transmitter, batteries and chargers, a 64GB memory card, a 210 inch tether, a pair of ZEISS VR goggles, a carrying case with wheels, and a Power Vision Fishfinder and bait drop line in case you want to use this drone for fishing.
Of course, you have to pay for this kind of quality, and our readers shouldn't be surprised to hear that this underwater drone costs $1,888 USD (at time of writing.) Still, you definitely get what you pay for with this excellent vehicle, which is without a doubt one of the best underwater drones for sale.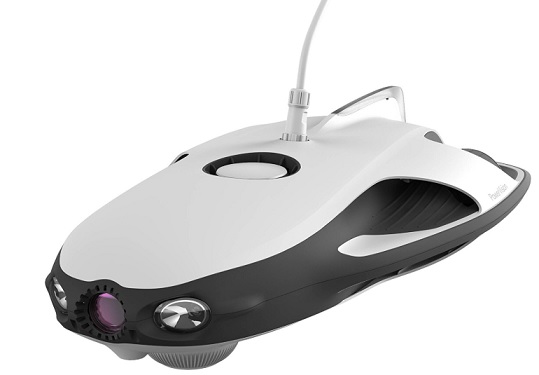 Click To Shop or Read Reviews
SilverLit SpyCam Aqua Submarine
Read reviews and show for the SilverLit Spycam
Most of our readers probably can't afford to spend almost two thousand dollars on an underwater drone, and hey – we get it. For those who want an RC underwater vehicle that won't break the bank we have the $70 SpyCam Aqua Submarine from SilverLit. This little underwater mini drone only weighs 209 grams, but the camera inside can take HD pictures at 1280 x 960 resolution. It also runs on simple AA batteries and has an operational time of 30 minutes.
Other nice features of this cheap underwater drone include a detachable feeder arm that hangs off the front of the vehicle. If you fill this feeder with fish food, it will encourage the fish to come close to the camera so that you can take some dazzling underwater drone shots. There are 2 LED spotlights on the front of the submarine that will help illuminate the footage so everything doesn't look dark and fuzzy. Plus, we just love the design of this vehicle – it looks like a real submarine, just shrunk down to a more portable size.
The one downside of this submarine is that while it's quite good for taking photos, it's not so good for video. The camera can only take low definition 640 x 480 .avi video files. Still, this is an excellent underwater drone for the price.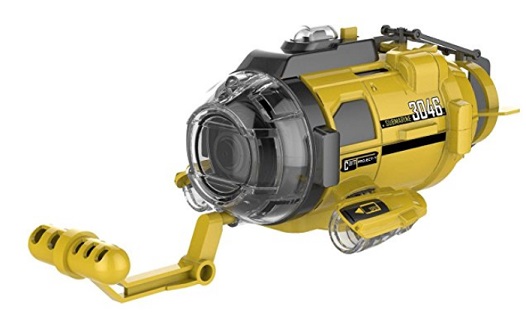 Click To Shop or Read Reviews
ROBOSEA Biki
Read reviews and show for the Robosea Biki
The ROBOSEA Biki is a good middle ground between the other two drones we've talked about, priced at a very reasonable $599 (at time of writing.) This underwater robot functions more like a traditional flying drone, complete with automated balance, obstacle avoidance, and return to base features that make it easy to steer.
This aquatic drone comes with a 4K underwater camera just like the PowerRay and has a caudal fin and weight balancing block that will give you one of the most stable underwater drone experiences available. It's controlled with a smartphone which you can also use to see the underwater video from a first-person perspective. However, you lose the live video feed once you dive below the surface because the connection is held over WiFi. You can still take video at a depth of up to 196 feet (almost 60 meters), you just won't know what it looks like until you plug the camera into your computer.
This is a really great all-around underwater drone that works well for anyone.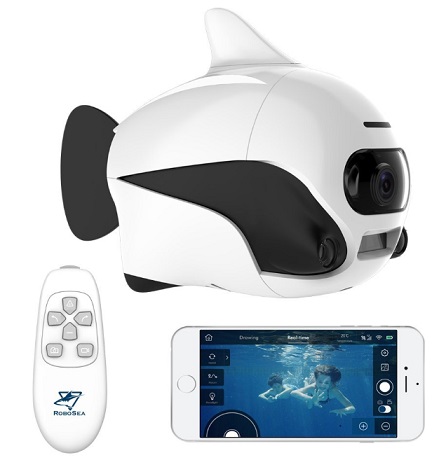 Click To Shop or Read Reviews
Underwater Drones FAQ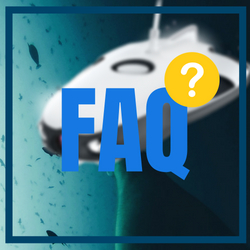 How do underwater drones work?
Consumer underwater drones work more or less like any unmanned vehicle . Water doesn't affect radio waves, so the drones can still be controlled by an ordinary radio transmitter that's being held outside of the water. They're equipped with underwater cameras and carefully waterproofed so that the internal electronics aren't damaged.
What are underwater drones used for?
The underwater drones we're talking about in this article are mostly used for underwater photography and videography. The PowerRay Wizard is good enough to be used at a professional level, and the ROBOSEA Biki has comparable photographic abilities. The much cheaper SilverLit SpyCam Aqua Submarine is recommended for amateur photographers or people who just want the fun of driving an RC vehicle underwater.
Underwater drones used by the military would most likely be used for espionage, but could be used to carry an explosive payload in a similar fashion to flying military UAVs.
What are underwater drones made of?
Underwater drones are usually made of plastic and rubber which is carefully sealed so that water cannot get into the delicate electronics inside and damage them.
Does the military use underwater drones?
Yes – the US Navy activated its first underwater drone on September 28, 2017. The service expects to have fully operational unmanned undersea units by 2020. However, the underwater drones we talk about in this article are very different from the kind of drones the military might use – these are prosumer camera drones, while the military drones are more like unmanned submarines.
Conclusion
We hope this article has taught you a little bit about underwater drones, how they work, and where you can purchase one for yourself. This is an exciting new field of drone technology that we sincerely hope continues to expand in the coming years. And if you have a favorite underwater drone of your own that we didn't mention, please tell us all about it in the comments!