The Best Drones Under $200 [2022 Reviews]

Updated:
Today we're talking about some of the best drones under $200. Do you know the best thing about having a drone? You can capture every moment of your life with it. From capturing awesome pictures to making crazy videos. The opportunities that can be had with a drone are boundless. One doesn't have to be very tech-savvy to use the device. From little kids to grandmas, everyone can use drones.
When discussing a drone in this price range the things to consider are; battery size and flight range, time of flight, camera size and style, ease of use, customer service, and how durable the products are. Let's get started and take a look at these great RC products. There are many factors to consider when buying a drone, but ultimately it will come down to what is the best drone for you and your personal preferences.
What To Consider When Buying a Drone Under 200
Drones in this price range are going to have specific features that you may not find in less expensive drones and may not have as many features as drones that cost more. Drones under $200 are great mid-range options that you can have a great experience with. While most drones in this price range will come with built-in cameras, you will probably see higher-quality cameras in more expensive drones. However, these cameras are great for grasping the basics of aerial photography and videography.
More features that you can expect from a drone under $200 are average battery lives and flight ranges. Most drones in this category will last you about 10-15 minutes. While you will find longer battery lives in drones that cost more, the good thing about drones that cost less than $200 is that manufacturers will sometimes include a free extra battery. Also, since you aren't spending as much money on your drone you may have some extra spending money to purchase an extra battery for yourself. Drones in this price range are often easier to use, too which makes them great for beginners
Dronethusiast takes you through the best drones under $200, take a look at the list below. Hopefully, this list will help you sort through the variety of drones on the market and choose the one that is best for you.
In this buying guide I'll be covering a total of 14 drones from which you can choose one, check out one of our other articles if you're looking for a cheaper drone. Read all the reviews after the table below!
Table of Contents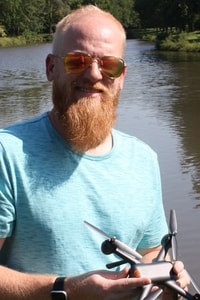 Thanks for checking out our article highlighting the Best Drones Under $200. We've taken a look at the best available drones in this category and narrowed it down to this list of 14 drones. Whether you're looking for a drone with an excellent camera, or one that is sure to impress with speed and distance, you'll find that our reviews have what you're looking for.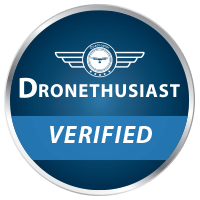 All of us at Dronethusiast want you to know that we stand behind our reviews 100%. Everyone on our editorial staff has a passion for the RC Hobby and drones in particular. If you ever have any comments or questions, please reach out to justin@dronethusiast.com or you can leave a comment for the author below in the comments section.
Our team values your input, and we take seriously our responsibility to deliver recommendations that are useful to you!
Here we're going to go over the various types of drones that you can find priced less than #200.
Best Drones under $200 With Camera
Drones are most popular for recording videos or capturing photos from long distance. Drones can have multiple type of cameras. It can have FPV or other normal type of cameras. The video resolution depends from drone to drone. Minimum 480p HD resolution is present in almost every drone. Some may have HD resolution up to 1080p. Within $200 there are some amazing drones with great camera resolution.
Best FPV Drones Under $200
FPV means first person view. Drones having FPV features are more popular than drones with normal cameras. Basically what you're seeing in life, the way you are seeing in your real life is called first person view. And it's the view we all are comfortable with. Many drones have both FPV features and a secondary camera. Having FPV helps navigating the drone. There are many FPV drones which are under $200. I'll discuss some of them in this article later on.
Best Toy Drones under 200
Toy drones are mainly the smallest drones in the market. These drones are used indoors and kids love to play with these drones. From $100 to $200 one can get a handy toy drone to play with. Some of the best toy drones under $200 will be covered later on.
So, these were our 15 best quadcopters under $200 for you. We have tried to cover every aspect of the drones so that you can choose the best drone under $200 for yourself.
Not every drone has everything. Some drone has this, other drone has that. We have also featured the best drone under 200$ here. If you are confused about which one to take then you can just go for the featured one.
As the drone market continues to expand, don't just think of drones as "aerial only" RC vehicles. There has been a big expansion lately into remote control boats and cars that are great for kids and adults. Take a look at our Remote Control Boats for Kids Reviews article and our Remote Control Cars for Kids article for more information.
You may have different requirements than others. All you need to do is look for the drone that matches your requirements. And you'll find the drone you're looking for.
Now I'll present some of the frequently asked questions that can come to your mind regarding these drones that cost less than $200.
FAQ Drones under $200
How long do I need to charge batteries?
It really depends on the specific drone company. There's no fixed time as every drone doesn't require same batteries. It can be said that the charging time can be ranged from 20 minutes to 2 hours.
What is flight time?
The amount of time a drone stays up in the air is called flight time.
What is the average flight time of every drones under $200?
Most drones can stay in the air for 10 minutes on average.
Can I continuously fly my drone without any break?
You can but you shouldn't. After each flight there should be a minimum break of 10 – 15 minutes. As the parts of the drone gets hot. Some time is required to cool it down.
What range can a drone fly on average?
Most drones can fly up to 100-150 meters. There are some advanced ones that can go more than a kilometer.
What does 6 axis gyro do in a drone?
6 axis gyro helps the drone move smoothly. It makes the movement of a drone a lot easier to people.
What does home return button do?
Sometimes drones get out of our sight. If we can't see the drone, how can we control it and fly it back to our house. For that reason many drones have home return button now.
If you press this button the drone will automatically return to your home. You don't have to do anything extra at all.
What is the purpose of headless feature?
Headless feature is an amazing thing. If we turn this on then we don't have to worry about the front of the drone to control it. The transmitter direction will be the drone's direction. If you move the throttle to the left, the drone will go left. If you move the throttle to the right, the drone will go right.
What do I need to check in a drone if I want to fly it at night?
You need to check whether the drone has LED light feature in it or not. Also you will need LCD monitor to look thoroughly in the dark.
Do drones under $200 have good cameras?
You will find plenty of great drones under $200 which has great resolution camera. Most of them has 720p resolution and some of them can even do live streaming. You just have to choose the right one.
Further Reading
Drones under $100 by Dronethusiast
Small RC Cars Reviews by Dronethusiast