Are Drones Safe for Kids?


Drones have become a popular hobby toy for adults and children alike. However, many people have questioned if drones are safe for kids to be flying. We're here to talk through any drone safety concerns you have and help you and your family learn the best drone safety tips if you should decide to purchase one.
Are drones safe?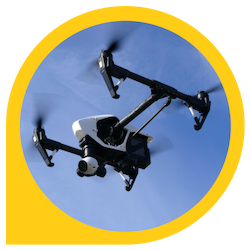 With over 150,000 commercial drone registrations in the United States alone in 2018, it's understandable that you may be wondering about safety risks with drones. There's a lot of drones flying in the air and between 2013 and 2015 there were about 912 incidents involving drones and manned aircrafts, only 28 of these incidents required an aircraft pilot to turn around.
That's a lot of numbers so we did the math and with hundreds of thousands of drones in the air that comes out to an average of 46 incidents a year. Thankfully, no incidents have lead to serious injuries and damages to homes or cars from drones are minimal and covered by most insurances.
Drone safety regulations
Since more and more drones are taking to the skies, the Federal Aviation Administration (FAA) is constantly working to regulate the drones and optimize them for the safety of pilots and the general public. Your local city and state governments probably have their own laws for flying drones as well in addition to the FAA's rules.
Here are the most important rules to know when flying a drone for fun that you and any child flying a drone should be aware of.
– Only fly your drone for hobby or recreation, NO side jobs or work allowed
– You must register your drone with the FAA on the FAA Drone Zone website.
– Drones must be flown within a visual line-of-sight
– Community-based safety guidelines must be followed
– You must fly a drone under 55 lbs. unless certified by a community-based organization
– Never fly near other aircrafts
– You must notify the airport and air traffic control tower prior to flying within 5 miles of an airport
– You must never fly near emergency response efforts
With drones becoming quite popular, safety is the question on most people's minds especially when it comes to kids flying drones. Luckily, drones are considered quite safe as long as you follow the FAA's regulations, your local city and state laws, and your drone's instruction manual.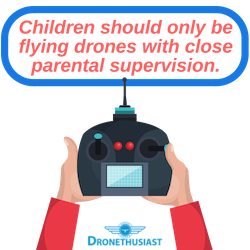 Should kids use drones?
As you can see drones of all shapes and sizes have begun filling the skies. If you're a parent, chances are you've been asked to buy a drone for you kid. However, the question that's often asked is if children should be allowed to use drones. The answer to this question is that children should only be flying drones with close parental supervision. It's recommended that only children 10 years old and older operate drones with supervision yet most top drone manufacturers say that users should be over the age of 14 to use their products.
Benefits of kids learning to fly drones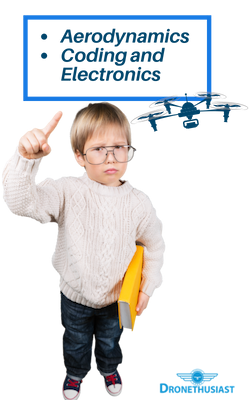 If you're concerned about your child flying a drone because of drone safety issues, it's important to know that there are many benefits of having your child learning to safely fly drones.
Drones are an excellent source of STEM enrichment. Science, technology, engineering, and mathematics are an important part of your child's education and could be where your child finds their passion. Here's how:
Aerodynamics for kids

Drones require specific aerodynamics to fly. Maneuvering a drone requires practice and can teach kids to begin to understand aerodynamics

Introduction to coding and electronics

As your child starts flying more and becomes more advanced, there is a great opportunity for them to learn to code and program drones to fly specific patterns. They will begin to become familiar with the internal electronics that make the device work.
Drone safety tips for kids
If you've decided to purchase a drone for your child, it will be important that all of you learn how to operate them safely. Let's go over the best ways for you and your kids to learn to fly drones.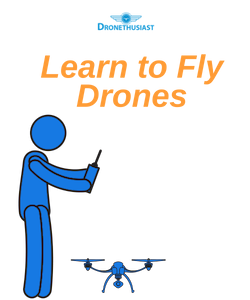 Learn to fly drones
Whichever drone you decide to purchase, it will come with a detailed instruction manual. This will be the best way for you to learn the ins and outs of your drone as you and your child begin flying.
If you want extra training, there are also drone pilot courses that you and your child can take together to learn the best and safest ways to fly drones.
Always remember the importance of adult supervision as your child begins learning to fly their drone. They should never be left alone while flying in case an accident happens. Drones are a great way for kids to learn about science and develop a hobby, but keeping them safe is the most important part of learning to fly.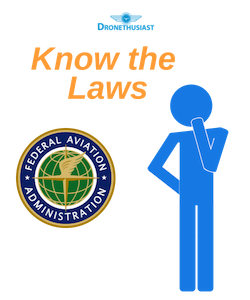 Know the laws
There are many laws and regulations that we mentioned above when it comes to flying drones. It's required that pilots both young and old are aware of these to keep them and anyone around them safe.
The regulations are set by the Federal Aviation Administration (FAA) as well as state and local government officials. Drones are still fairly new to airspace so these rules are constantly changing. The best way to stay up to date on the laws in your area is by searching Google for local laws and checking the FAA's Part 107 regulations which list all of the current rules for pilots.
Refer to our list above to get you started with learning about the rules of drones. These are just a few things to be aware of as you and your child begin learning about drones but be sure to check the list frequently to make sure you are always being as safe as possible.
Safety tips for your first flight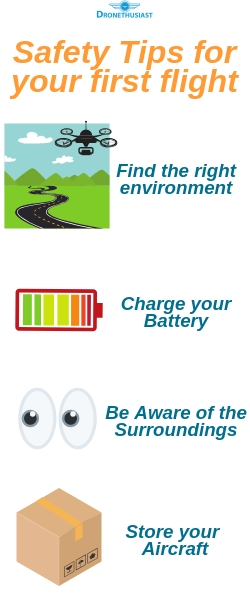 Once you and your child have taken the time to learn about your drone and learn about your local rules and regulations you can begin getting ready to take flight. Here are some of the best ways to stay safe while flying your drone.
Find the right environment
Be sure to choose to fly in an area that's open with minimal signal interference. Avoid flying in crowded public areas. Also, if it's cold, raining, snowing, it's best to wait to fly as the weather can ruin your drone and put you at risk for safety issues.
Charge your battery
Always use a fully charged battery when flying to avoid crashes. It's a good idea to keep a spare battery with you at all times just in case the one you are using dies.
Be aware of the surroundings
It's important that as you fly you are always aware of your surroundings. The most common ways people crash their drones is by not paying attention. Watch out for wildlife, poles, and other obstacles as you're flying to avoid crashes.
Store your airfcraft
Once you are done flying a drone it's important to store it properly to avoid any damage. It's best to store your drone in a dry, cool, and non-magnetic place.
Safest drones for kids
There are many drones that are marketed to children. Search online to find the safest and best option for you and your family. Drones for children aren't as large as more professional drones and are often marketed as toys. If you are just starting out with flying, a more simple model will be a good starting point. As you and your child begin to learn more about drones and flying, you can consider upgrading to a more advanced UAV.
Frequently Asked Drone Safety Questions
What age is appropriate for a drone?
It's recommended that your child waits until they are over the age of 10 to start flying drones. However, most drones are labeled for ages 8 and up. No matter when you decide to let your child learn to fly a drone, always supervise them.
What is the best drone for a kid?
Many drones that are on the market are advertised towards children and there are many different drones to choose from. Our top picks would be the Altair AA108 or the DJI Tello.
Other Interesting articles in "
Just For Kids

"