Are you planning to buy the best remote control boat for kids? There are a few factors you need to consider. Remote controlled toy boats for kids are a type of RC vehicle designed to be used by kids that are as young as two and half years. They are small enough to be operated in indoor ponds or outdoor water surfaces. The water surfaces should be calm because of the small size of the boats.
The toy boats communicate with the controller using radio waves operating at 49 or 27 Megahertz.
The best remote controlled speed boats for kids are those that operate in multiple frequencies. That enables two or more kids two play with their boats next to each other without any frequency interference. Otherwise, one kid's remote controller will intermittently control the other kid's boat.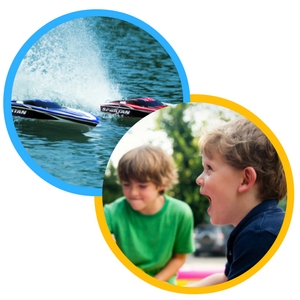 If the boats are being controlled with different frequencies, that will not happen because each boat's receiver will only be able to listen to unique control signals from its controller.
It is the frequency that determines the uniqueness of the signals for toys boats. Hobby boats use advanced circuits that can recognize control signals sent from their controllers only.
Other factors to consider when buying the toy boats for kids are their speeds, battery capacity, and ability to regain an upright position if tipped to its side. The boats are motorized and only use electricity to power their motors.
Finally, the aesthetic appearance matters because it is a toy. Most children will love those toys that look like a "bad ass." That will boost the kid's confidence in the power of the toy boat if they will be racing them.
Quick Review: Click here to Jump to Top 3 List
Frequently Asked Questions about Remote Controlled Boats
What is a remote controlled boat for kids?
A remote controlled boat for kids is a device that is designed like a mini-boat. It can float and be propelled on water as long as its relatively calm compared to the size of the toy boat. If the waves are bigger than the height of the boat, then it may not operate like regular boat does. On calm waters, they have a motion that is exactly as that of real boat.
What is the range of the remote control for the boat?
The boats have a range that is limited by the battery capacity that powers them and the range of the controller used to control them. Typically, some need to be as close as 100 feet of the controller to be able to receive the control radio signals.
How long do the batteries last in a remote controlled boat?
The batteries are able to last for between about three and five hours of continuous use. The exact duration will depend on battery capacity, speed of operation and range of the controller. A bigger capacity battery will power a boat for a longer period. It is also able to power a bigger motor.
How are the batteries recharged?
The batteries are recharged using the recharging adapters that come with the toy boats. You plug the adapter into the main's socket or a generator power distributor. You then take out the battery and plug it onto the charger.
Does someone need training to operate remote controlled toys boat for kids?
No, you do not need any training to operate the remote controlled boats. The boats come with a manual that is easy to read and the remote controller has an easy to use interface. The knobs have clearly indicated functions that make them easy to master.
Where should the boats is operated on?
The boats are best used on outdoor water surfaces such as ponds and swimming pools. The water surface has to be clam for one to enjoy operating them. If they are bigger in size which most toy boat is not, then, you can operate them in water that slightly rough. The rule of thumb is to make sure that the water waves' height is not more than the boat's height.
Can the boats be operated at night?
Yes you can operate the boat at night, but you will need to illuminate the water surface. That is the only way you will be able to enjoy the experience.
How close should two remote controlled boats is operated?
When operating the toy boats for kids, you should keep a distance from other small boats that are operating under the same frequency. That is important to avoid interference. However, if the boats are operating at the different frequencies, then you can pilot them side by side.
Do I need a license to operate a remote controlled motorized toy boat?
You do not need a license to operate the boats. The frequencies that the boats are designed to operate on are set aside for civilian use.
Is there an age limit for remote control speed boats for kids?
There is no age limit, what is required is for you to be sure that your kid will able to operate the boat. That means if your kid is even two and half year sold, they will still be able to operate the boat with ease.
What safety measures should one observe when operating remote controlled speed boats indoors?
Unlike toy chopper and planes that can easily be flown into people's faces, toys boats are much safer to operate. In fact, they are only risky to operate if the water surface is the water in the bath tub. That is because then, the boat might fly into the kid's face is the make a mistake and speed them up towards them. Overall, if the boat is not listed in the recalled list of boat models, then it is safe. Toys boats are only recalled because of poor battery design.
Are motorized boats for kids of poor quality compared to mortised boats meant for hobbyists?
Motorized boats for kids are not of poor quality when compared to those designed for hobbyists which are more expensive. The difference in prize is brought about by the advanced functionality. The advanced functionality is mostly in the ability to operate in same frequencies as those of nearby boats without interference, and the ability of their batteries to sustain them for longer periods.
Toy Boat for Kids Reviews
Let us take a look at different features, pros and cons, best remote controlled boat for kids. We will look at each toy's distinguishing features and what makes it stand out. We also look at what makes some not as good as others.
Top Race® Remote controlled Speed Boat for Lakes and Pools
This is a speed boat that is designed to be used in pools and lakes. It can withstand waves that are as high as its height. It operates at 49MHZ. It can go forward and backwards, turn right or left and flip back to its upright position.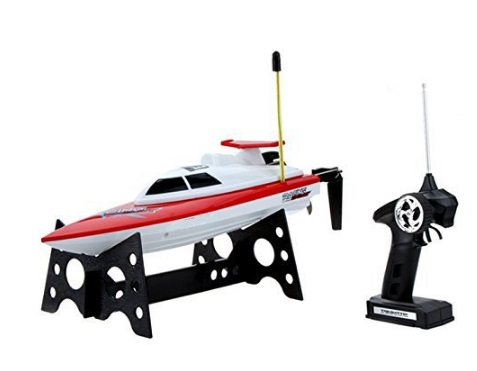 Click To Shop or Read Reviews
Specifications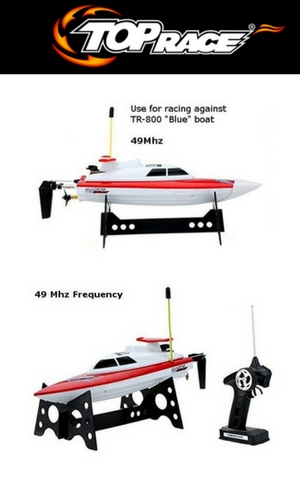 – Red and white in color
– Multi-direction operation.
– Designed for operation in Lakes and ponds
– It comes with a rechargeable battery.
– It is remote controlled.
Pros
– Easy to operate.
– Recharges faster.
– It can flip back to its upright position.
Cons
– It experiences interference if operated at the same frequency with others.
– If you want to do boat racing, you need to find a boat that operates at a different frequency.

AquaCraft Miss Seattle U-16
What's great about the AquaCraft Miss Seattle U-16 is that the factory-installed 2200kV brushless, inrunner motor and the 30A controller include low-voltage warnings and even a stutter bump. To avoid damage to the transom and to the remote control boat itself, the breakaway rudder will swing up and back into place if it collides with any underwater obstructions.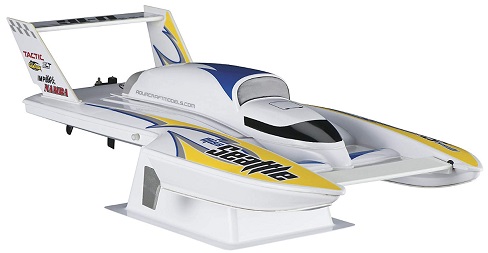 Click To Shop or Read Reviews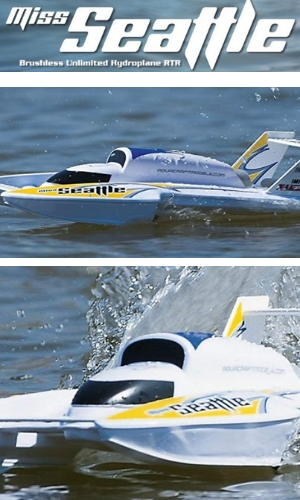 Specifications
– Blue, white and yellow in colour with applied graphics
– Remote controlled with the 30A controller
– Features low-voltage and stutter bump warnings
– Comes with the Miss Seattle, motor, stand, controller, servo, receiver, propeller, radio box tape and strut
Pros
– Comes with a stand
– Factory-finished ABS hull and canopy, already fully assembled
Cons
– Does have a somewhat steep shipping cost

 Top Race® Blue Speed Boat
This is a high speed remote controlled toy boat that has been perfect for pools, lakes, and ponds. It can make sharp turns and is equipped with an auto-flip feature. The auto-flip feature enables it to regain its upright position in case it tips over when turning.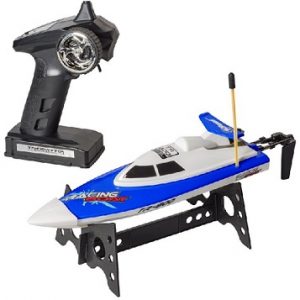 Click To Shop or Read Reviews
Specifications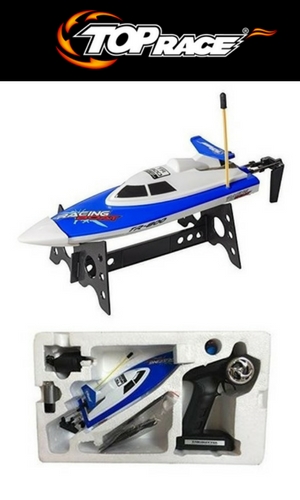 – It can go forward, backwards, and sideways.
– It has an auto-flip feature.
– Comes with a rechargeable battery
– It controlled using the 27 MHz feature.
– You have to place it water to operate it.
Pros
– Easy to operate.
– No user training required.
– Can operate with the 47MHz boat without interference.
– Comes with an auto-flip feature for self stabilization.
Cons
– Cannot be operated next to a toy boat operating at 27MHz because of interference.
– Must be used by children of ages 8+

 Kid Galaxy Amphibious Remote Controlled Truck
This toy is able to operate in muddy water, water, sand, mud, grass, and pavement. It is designed to be used on all kinds of road surfaces that that most toys can't go. It is an award winning toy that has received praises from educators and qualified professionals.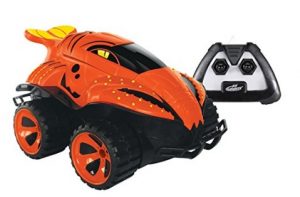 Click To Shop or Read Reviews
Specifications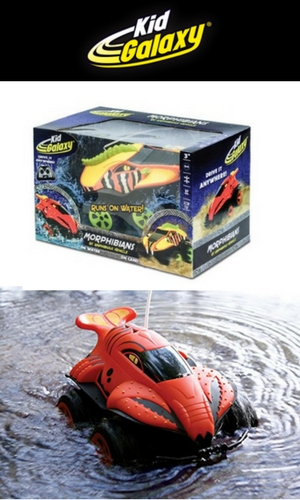 – It can go anywhere that most toys will fail.
– This toy is easy to control.
– Operates at 27 MHz.
– It has sturdy wheel that operate on most surfaces.
Pros
– This toy is easy to control.
– You can make it go forward or backward.
– Can be operated on most surfaces that you can think of.
– Handles skidding very well.
– It can be operated by children over 3 years.
Cons
You need to race it with toys that operate at the 47MHZ to avoid interference.

 Udirc Venom High Speed Electric Boat
This is a powerful high speed boat that is designed to reach speeds of up to km/h. It will splash other speeds boats out of the water with its powerful after wash. You also get a warning when the boat's battery is almost drained. The boat is made of an ABS plastic that resists tilting.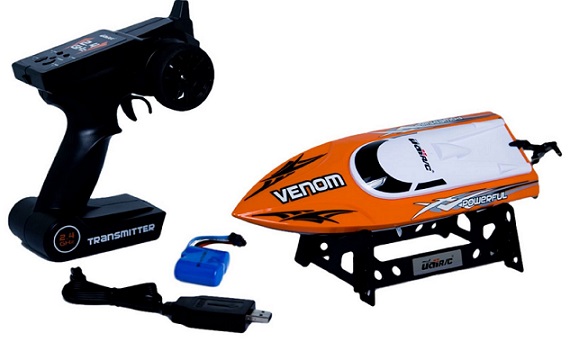 Click To Shop or Read Reviews
Specifications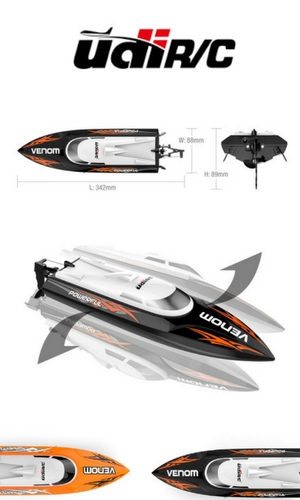 – It combines speed and functionality to deliver an entertaining experience.
– It has a battery low warning system.
– Has a powerful hull and water cooled propeller.
– It circuitry must be kept dry.
Pros
– This boat is easy to pilot.
– It maximum speed easily surpasses other boats.
– Warns you when the battery is low.
– It is exciting to operate.
Cons
– You need to keep water out of its interior.
– Water in its interior will cause a short circuit.

 SilverLit Spy Cam Aqua Submarine
The SilverLit Spy Cam Aqua Submarine is the best way to spy on your local marine life without being too invasive. The feeder arm, which you can detach if you don't want to use it, fills up with food so you can use the camera to capture close videos and images of the wonder of underwater marine life.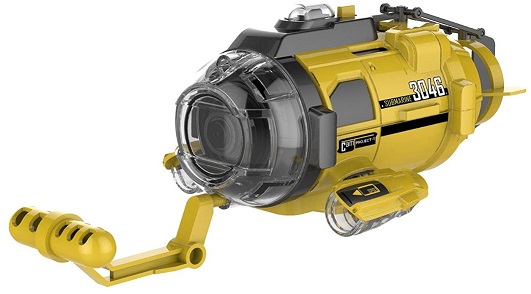 Click To Shop or Read Reviews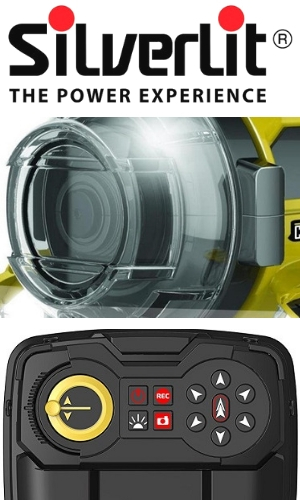 Specifications
– Uses 2 LED spotlights on the front of the submarine.
– Takes 2 AA batteries.
– 3-channel infra-red control submarine.
– Detachable feeder arm.
– Made out of plastic
– Uses a USB cable to plug into a computer to download/view images and videos
Pros
– Comes fully assembled and ready to go.
– Weighs only 1 pound.
Cons
– Does not come with the 2 AA batteries required.
– Only good for fresh water fish tanks, bath tubs, and very small lakes.

Conclusion
The best remote controlled boats for kids are those that are easy to operate, minimize frequency interference, and can easily be recharged. They should not require any maintenance because kids simply need toys they can play with and put away at the end of the day. Speed boats for kids are considered to be fun but safe compared to other toys such as helicopters or planes. We hope this guide has been helpful. And if you want to learn about other types of RC vehicles, check out this great guide to drones.
Justin is a certified Drone Enthusiast with several years experience piloting as many UAV aircraft as he can get his hands on. While shooting footage as a hobby has now become more of a full time job, Justin still enjoys the peaceful feeling of getting a birds eye view while hiking or on vacation with his family. Reach out to Justin by using the Dronethusiast Contact Page or email at dronethusiast@gmail.com.