AirWars Battle Drones [2019] – The New Way To Play

The Battle Drones toy is a perfect example of how well new technologies can be successfully and safely used within modern toys. Suitable for kids as young as eight, these Air Wars drones can be used to race, navigate obstacle courses and of course try to knock each other out of the sky. The possibilities are endless and it's certainly a toy that will grasp the interest of pretty much any kid. After all drones are very new technology, and as such very cool indeed! The company logo – Battle Drones – The New Way To Play – is absolutely correct in highlighting how these kind of toys are indeed the future.
What helps make the Battle Drones toy such a great choice is that it's not just going to be universally popular with the kids, but it's also very easy to play. The control panels are intuitive, modeled very much along the lines of a gaming console handset. However unlike video games, this toy not just encourages kids to participate in the game together, but also helps develop 'real world' hand/eye coordination as well.
Overall this product represents a brand new era of toys for kids. Just like any good toy ought to, it incorporates an educational element that is very relevant to the modern world. Plus there's the added bonus that it's amazingly good fun!
Battle Drones FAQs
What is included in the Battle Drones pack?
Absolutely everything needed to get started playing straight from the box. The kit comes complete with two drones (red and white with matching colored controllers), 10 weapons, 8 spare propellers, charging pack and two rechargeable lithium-polymer batteries. Note that the batteries supplied are charged at 50%, so it is wise to give the drones a charge before starting play.
How high can the drones fly? What is the effective range?
Surprisingly high – they have an effective range and ceiling of around 40 feet. Pro Tip – At this distance it's useful to attach a little brightly colored tape to the front to make them easier to control and navigate.
Are they easy to configure?
Yes. Each drone needs to work on a unique frequency that can be set up via the control panel. Full instructions are provided and the drone ought to operational within just a couple of minutes. This will only become a potential issue if multiple drones are being used in the same area.
Are the Air Wars Drones sturdy and safe?
Plenty of thought has gone into making the drones very sturdy indeed. They are very light yet designed from high strength plastic that is more than capable of withstanding plenty of crashes! The propellers are very low powered and will stop immediately in the unlikely event of making contact with an obstacle. Supervised use is advised if being used by very young kids, but there's little chance of these causing any damage to property.
What is the battery/charge life?
When fully charged a drone should be able to fly for around six minutes in total. The high quality batteries supplied with the unit do charge up very quickly. A green light indicates a full charge, a blinking red light suggests a charge will soon be necessary.
What kind of games can be played?
Plenty! To begin with it's a good idea to just try to keep the drone in flight for a couple of minutes. Once the player has gotten to grips with the control pad, download and print some of the target sheets and try aiming to hit these. This is a good introductory game for competitive play – with both players racing to hit the most targets. More advanced games can involve setting up race tracks, as well as of course having a two player battle.
How does the battle system work?
The kit comes supplied with ten weapons. These can be attached in any combination to the drone, and then the two players compete to knock as many weapons from their opponent as possible. Even better is if they can force their rival out of the sky. The drones come with four different battle modes (ram, tornado, 360 spin and circle) each with their respective button on the control pad. Naturally this means that every battle is going to be different, and it will require skill and imagination to win each bout.
Don't forget to keep score!
Are there online tutorials to help configure and use my Battle Drones?
Yes – a comprehensive tutorial can be found here:
As we've touched upon already this really is a cutting edge toy that is going to intrigue and entertain any kid. The competitive yet fun play is really quite unique, and reassuringly the product has been designed in such a way as to be absolutely safe. It's accessible, easy to use and one of those toys that you can bet adults will enjoy playing too.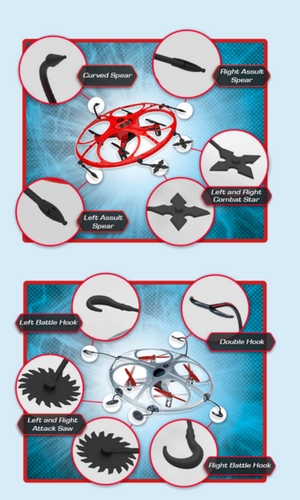 Tech Specifications:
• 4 Attack Moves: Tornado Attack, 360 Spin Attack, Circle Attack, Ram Attack
• Customizable weapons to help take down your rival
• Durable framing and propellers enclosed for safe play
• Includes 2 drones, 2 remotes, 10 weapons, 2-3.7v rechargeable lithium-polymer batteries, charging cables, and 8 replacement propellers
Pros:
* Great design and guaranteed to provide plenty of long lasting fun.
* Easy to use and safe for all ages.
* Suitable for indoor and outdoor play.
* Plenty of games to play – imagination is the only limit
* Ready to play straight from the box.
Cons:
* The battery life is a little short, and the drones will need relatively frequent recharging.
* There's currently no way to purchase new weapons individually, so it's important not to lose them.
* There's no tracking features so it's important to keep the drone in sight for easy recovery.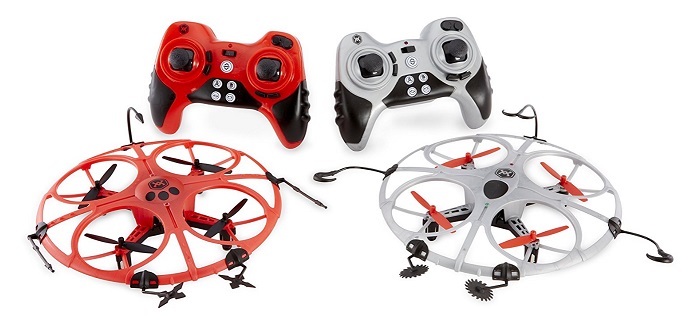 Click To Shop or Read Reviews
Final Thoughts About Air Battle Drones
So there we have it – Battle Drones – the new way to play! There's no doubt that this is an excellent product and one of the most exciting 'next generation' toys currently on the market. While it may have a couple of flaws – mainly the short battery life – the fact is that otherwise this is a fabulous toy that is going to have universal appeal. The Air Wars Battle Drones are very well designed, and while the product is advertised for internal use, the fact is that the Battle Drones toy will work perfectly well outdoors providing it's not very windy. Overall the Air Wars Drones is a perfect introduction to modern day technology that is perfect for kids to enjoy. Highly recommended. Also you can check the new X-Wing drones.
Related Reviews
Other Interesting articles in "
Just For Kids

"