Best Action Cameras For Drones [Updated 2020]- Action Camera Reviews


People buy drones for all kinds of reasons, but the most common is that they want to get involved with aerial photography and videography. A lot of drones now come with built-in cameras, but some still require you to purchase a camera separately, either because it means they can sell the drone for less or because a built-in camera may not have the same range of functionality. A camera that's designed to film an activity – such as flying – while participating in that activity is called an "action camera," and today we'll be looking at the five best action cameras for drones.
TOP 3 ACTION CAMERAS TO USE WITH DRONES
Best Pro Camera
GoPro Hero 4
Still resolution:

12 Megapixel

Video Resolution:

2.7K-4K

Price:

$500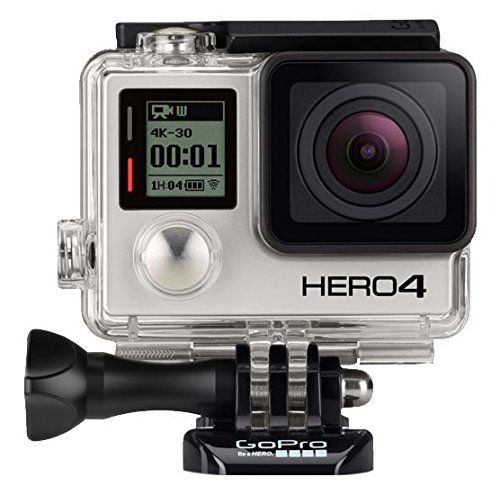 Best Mid-Range Camera
Mobius Action Cam
Still resolution:

1080p

Video Resolution:

1080p

Price:

$70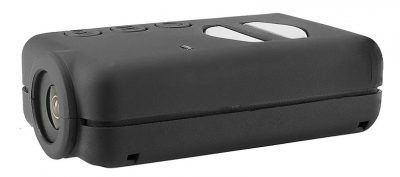 Best Budget Camera
EKEN H9R
Still resolution:

1080p

Video Resolution:

1080p

Price:

$60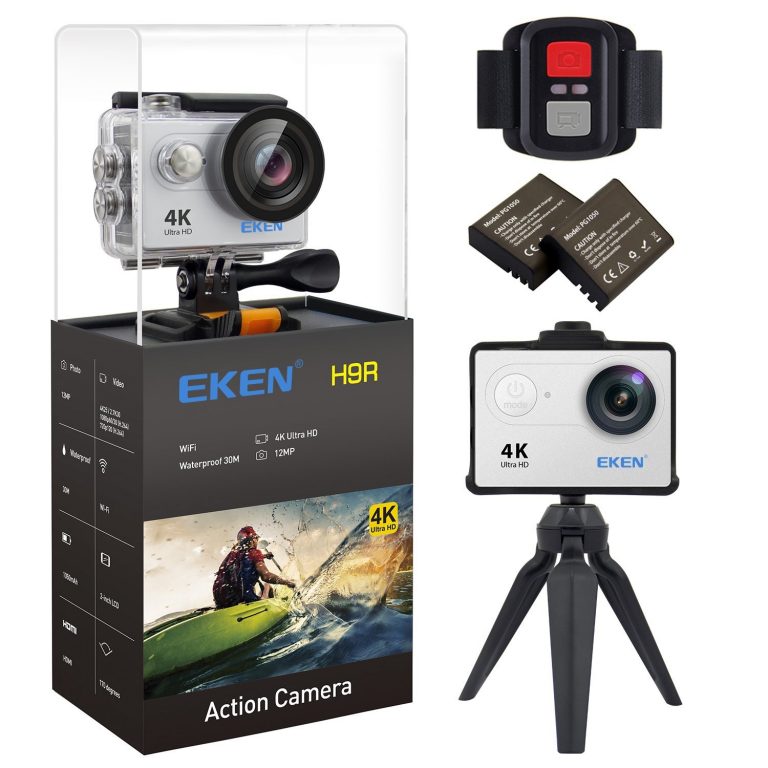 The GoPro brand obviously reigns supreme in the best action camera market, but today we wanted to look beyond that at some other options that may work better for certain drones. And if you look below the reviews in our FAQ section, you can learn more about some of the best action camera drones for sale. With all that in mind, you should soon be well on your way to doing some top-notch aerial action camera photography.
Best Action Cameras For Drones
When evaluating the best action cameras for drones, we looked at a number of features including price, weight, form factor, and mounting, all of which are important when you're attaching this kind of camera to a drone. For more specific instructions on attaching an action camera to a given vehicle, check the manual of the latter.
GoPro Hero 4
We want to shine a spotlight on some new brands in this article, but there's no denying that the GoPro Hero series has been the quintessential action camera for over a decade. The company's newest models are the Hero 5 and 6, but we actually don't recommend those for drones at this time because they're a different size that isn't compatible with a lot of UAV mounts.
The Hero 4 is the latest and greatest model at the old size and one of the best action cameras for drones of all time. 4K resolution at 30 frames per second, 2.7K resolution at 60 frames per second, 12 Megapixel photos and super slow-mo capabilities built right into a compact package.
Throw in built-in video trimming, night vision settings, Wi-Fi and Bluetooth support and you've got what might just be the very best action camera for use with a drone. This is one of the most expensive models on this list at $500, but it's well worth it.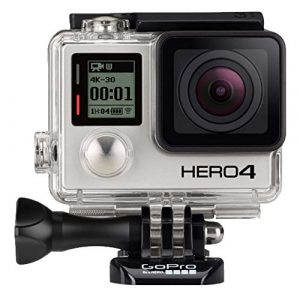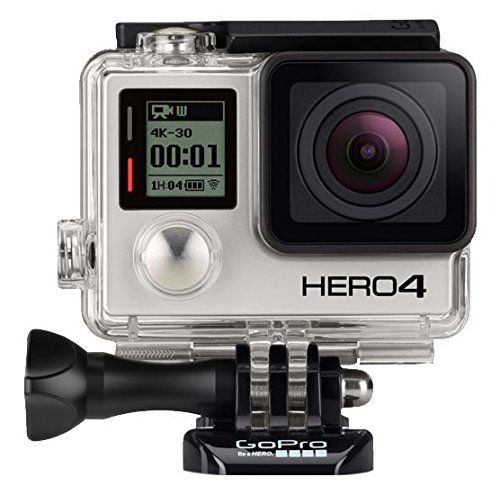 Click To Shop or Read Reviews
Mobius Action Cam
We reviewed the Mobius Action Cam in detail here. Here's the short version: 1080p HD video, clean and crisp audio, and very straightforward beginner-friendly usage. All of this in an incredibly lightweight package that you can even attach to most minidrones and which retails for an extremely reasonable $70.
Sure, it's not the best if you want to film in low light conditions, and it lacks many of the Hero 4's features, but it's the perfect price and feature set for 80 to 90 percent of drone users. Plus, it comes with normal and wide-angle lenses, making it ideal for landscape shots and individual aerial photography alike.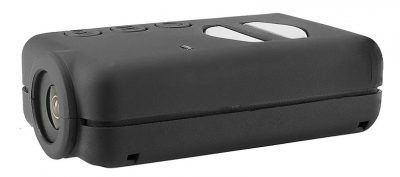 Click To Shop or Read Reviews
EKEN H9R
Looking for an even cheaper option than the Mobius? The EKEN H9 is the cheapest choice on the market, retailing from $45 to $60 depending on promotions. It's the same size as the Hero 4 (which makes it compatible with nearly all drone action camera mounts) and films at a 1080p resolution in 60 frames per second.
It's also 30m waterproof, which is a good safeguard if you're filming in rain or somewhere where you're worried you might land in a lake.
The H9R has a larger battery capacity than the standard H9 and comes with an additional remote control that's essential for operating your action camera remotely while it's flying on a drone.
Since it's not much more expensive, we think it's a much better option if you want the best action camera for use with a drone.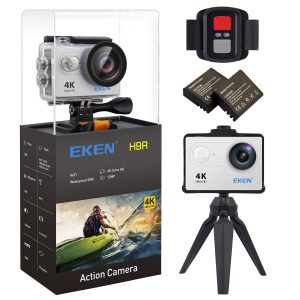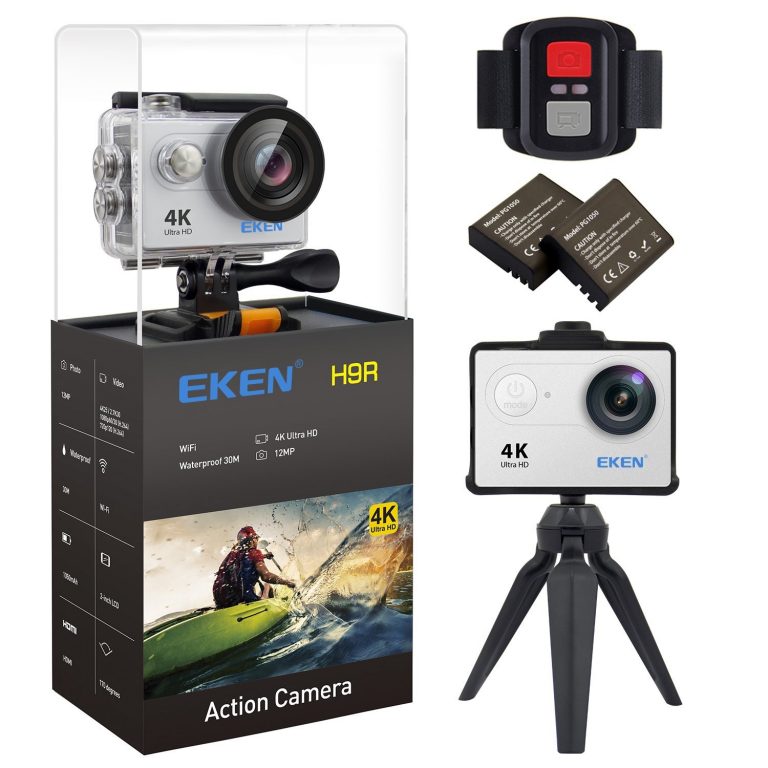 Click To Shop or Read Reviews
Xiaomi Yi
Want a GoPro Hero but can't afford it? Try the Xiaomi Yi instead. The Yi looks very similar to the Hero 4 and is capable of 1080p HD recording at 60 frames per second. It's also WiFi enabled, allows for in-video setting adjustments and massive amounts of customization.
However, the Yi is also quite a bit heavier than the Hero 4 and is a slightly different size, which may require you to seek out a Yi-specific action camera mount. Overall, though, this is still a good inexpensive alternative to the Hero (only $55 at time of writing) and one of the best cheap action camera for drone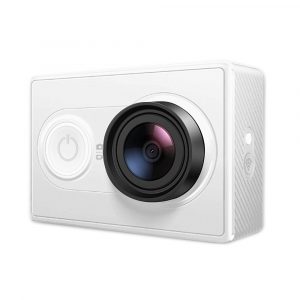 Click To Shop or Read Reviews
RunCam 2
The RunCam 2 was specifically designed for FPV footage, which is the kind of video you stream from a quadcopter. It streams at 1080p resolution at 60 frames per second, like all the rest of these cameras, but it offers especially clear and crisp focus and is highly recommended if you're looking for a simple, entry-level version of the best action camera for drones.
It mounts well on any H-frame or asymmetric X-frame, but it can't be mounted on a true-X frame which means you can't tilt it as well as you can other drone action cameras.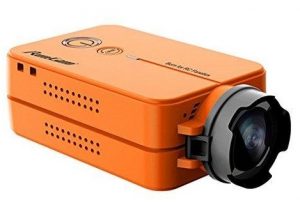 Click To Shop or Read Reviews
Drone Action Camera FAQ
What is the best drone to use with an action camera?
We've actually written a whole article about the best drones to use with an action camera. Our #1 suggestion from that article was the Altair Aerial Blackhawk, which you can purchase from AltairAerial.com for fast and free shipping or from Amazon if you want the best price.
The Blackhawk only costs around $110.00 and is capable of pulling off incredible fast stunts while also being heavy and durable in all weather conditions. The Blackhawk is compatible with the GoPro Hero 4 and similarly sized best action cameras, so you should definitely check it out if you're looking for an action camera drone!
What is an action camera?
An action camera is a camera that is designed to take video footage of an action while being a part of it. In the case of drones, this means a camera that is designed to film flight while flying as part of the vehicle. Action cameras are typically small and have additional stabilization features.
How do you connect an action camera to your drone?
The exact instructions will vary greatly from vehicle to vehicle, so we highly recommend that you consult your drone's manual before installing your action camera. In general, however, it simply involves snapping a cube-sized camera into a mount that will be provided with and attached to your quadcopter.
There are H-frames, true-X-frames, and asymmetric-X-frames which can all fit different types of action cameras, so be sure to check which kind your drone is rocking.
Where can I buy an action camera?
Every action camera on this list is conveniently available at Amazon.com, and we've provided helpful links so that you don't have to go hunting them down yourself.
What is the price of a drone camera?
This varies quite a bit depending on the features the action camera has, but typically you're looking at a $50-$100 range for most action cams. GoPro action cameras tend to be a lot more expensive than other brands at $400+. That's more expensive than most drones!
Conclusion
We hope you've learned a bit about the best action cameras for drones. You are now ready to find a perfect camera pairing for your aerial vehicle. But if you still have questions that weren't covered in our FAQ, or a favorite drone action camera that didn't make a cut, be sure to let us know in the comments so that we can keep this article up-to-date with the latest technology and information.
Futher Reading
Good Beginner Drones – by Dronethusiast
Other Interesting articles in "
Reviews

"