While the GoPro action cams are all the rage among RTF or DIY multicopter enthusiasts, it is important to keep in mind that there are other alternatives on the market. These alternative cameras in some cases have advantages that might not seem obvious, but they simply make the GoPro alternatives feasible in use cases where the market leader does not have a solution in place. An example for a use case where GoPros are not ideal is FPV Racing, specially if you want to fly off the video feed coming from these cameras. In case of FPV Racing, a dedicated camera is the solution, but that's another story you can read about here.
To provide an option for a smaller, durable and much cheaper alternative to the GoPros, here is a review from Oscar on the Mobius Action Cam.  Oscar is great with technology, so if you are into knowing how your gear works, check out his blog.
By Oscar Liang
The Mobius Action Cam is an action camera widely used in sports, or as a spy camera. Since the Mobius camera is so small, it's perfect for RC planes, drones and quadcopters too. In this post I will share my review on this camera, the basic instructions how to use it, simple troubleshooting, and some useful resources and links you can find information from.
The Mobius Action Camera is the successor of the 808 keychain camera series, which has been very popular for recording multicopters aerial videos. The quality has been improved a lot from the previous version, take a look at this comparison video.
The Mobius is very small and light weight for a camera that records high quality 1080p video footage, if not as good as some more expensive cameras like the GoPro Hero3 for example.
Pros
This camera offers great value for $70. The video quality is great, configuration and usage are straightforward.
The firmware is constantly being improved by the manufacturer. Bugs are being fixed and new features are being added. Without having to update the firmware, I am already very happy with the current state of the camera, so far for me this has been totally reliable.
The Mobius 1080P HD Action Camera is easy to carry around due to its light weight and compact size. It can be attached to a keyring, or simply put in the pocket. I also use this camera on my mini quadcopter.
The audio is clean and clear.
Cons
The video quality is great when recording in daylight environment. However I think the ability of keeping its videos quality under low light conditions could still be improved.
Also, I don't like the heat produced when recording videos. There are two pieces of metal heat sinks on the surface of the camera case and they could get quite warm after a few minutes of recording. Not too hot to touch though.
There was no display screen, neither menu nor live video out display. Although it's similar with the GoPro, but they provide a simple menu display and wifi access, so you can still see what is being recorded on your phone. A little LCD screen backpack would be nice to have as an accessory. The only work around at the moment would be using the AV video out cable to see the image on an LCD screen.
I have seen videos taken by the Mobius with lens A (normal angle lens) and the angle of view is quite low. That's why I decided to get the wide angle lens version (lens B). But with the wide angle lens, you will notice the 4 corners appear to be darker than the centre of the image.
Another improvement they could make is water resistance, or an accessory water-proof case like you can get with the GoPro. That would be nice!
Basic Info About the Mobius Action Cam
The dimension of this camera is only 61 x 35 x 18 mm. It comes with a removable "attachment sleeve" that can be connected to a standard tripod screw mount. This allows the Mobius to be attached to various optional mounting brackets, like the helmet mount, bike handle mount and so on.
The Mobius has an option to record 1080p at 30 frame rate per second, and 720p at 60fps. Unfortunately, this setting can only film at very narrow angle I personally don't like very much. It is important to know that the Mobius records video in .MOV format, not AVI nor MP4 which are common in other cameras.
The Mobius Action Cam can also take pictures and time-lapse photos by pressing the shutter button. The photo quality is not the best, but reasonable.
It has a mini USB port that handles data transfer, connection to GUI and it can also be used to supply the Mobius with power (external power source required, not computer USB).
Configuring the camera through the GUI is simple, just connect it to an Android phone or Windows PC and use the configuration software provided by the manufacturer. Pretty much everything is configurable, including the video format, exposure and white balance.
Wide Angle Lense
Check out this video to see the difference it makes with the wide angle lens.
Basic Instructions
Functions & Buttons
No instructions were included with the Mobius Action Cam, so I will explain the most basic functions here. If you need to know more you can check out this thread which includes almost everything about the Mobius Camera.
There is no LCD screen to guide you on the Mobius Camera so you will have to read the manual to find out what the buttons do and what the LED status mean.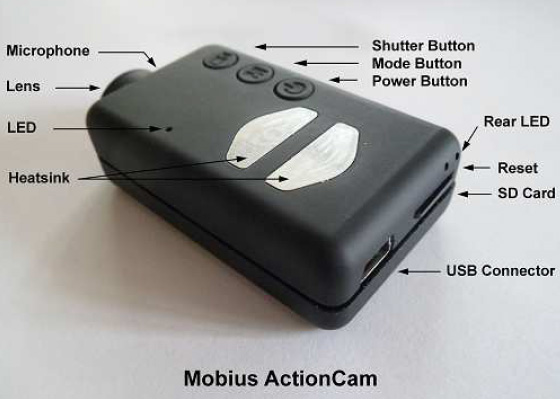 There are 3 buttons, the "M" button (Mode), the shutter button, and power button. The "M" (Mode) button is to change modes (configured in the software). The Shutter Button is to take videos or pictures. By default, Mode 1 is in 1080p at 30fps and Mode 2 is in 720p at 60fps. When pressing the mode button you will notice the LED colour changes as well, here are the meanings.
Yellow LED  remains on –  The camera is in mode 1 and is on standby
Yellow LED flashes –  The camera is in mode 1 and recording video in 1080p 30FPS.
Blue LED remains on –  The camera is in mode 2  and is on standby.
Blue LED flashes – The camera is in mode 2 and recording video in 720p 60FPS.
Red LED remains on – The camera is in photo mode
Red LED flashes once – The camera has taken a picture
Green LED is on – The battery is charging
Mobius Software Configuration GUI settings
Here are some of the most used settings in the configuration software.
Three movie quality settings (Super, Standard, and Low), which will vary the recording bit rates suitable for the user-selected frame size and frame rate. The Super setting (called the "High" setting in the GUI) with 1080p-30 fps video gives an approximate average total bit rate around 18,000 kbps with a high detail and motion scene. The Low setting with 720p-30 fps video gives approximately 5,800 kbps on the low end.
Five video recording cycle time settings will be 3, 5, 10, and 15 min. plus "Max", all of which will stop/save/continue. The Max setting will record until the 4GB files size limit is reached unless the memory card runs out of space or the battery power is removed. The actual Max recording time will vary dramatically accord to the users settings for frame size, frame rate, and movie quality. The 4GB file limit can be reached in less than 30 min. with 1080p-30 fps video set for Super quality.
Loop Recording will continue recording when the card fills up by deleting the oldest clip on the card to make room. This mode requires either a 3 or 5 min. clip length setting to work. Pressing the mode button while a recording is in progress in this mode will tag the file as write protected when it is saved, so it won't be overwritten. The file can be manually deleted, though. Movie Flip (180 deg. rotation) will record a video right-side up when the camera must be mounted up-side down.
Movie Sound allows turning off the sound and eliminating a sound track from a video file to save file space when no sound is wanted.
Photo capture mode with frame sizes of 2304×1536, 1920×1080, or 1280×720 (no up conversion).
Time Lapse photos with delays between images of .25*, .5*, 1, 2, 5, 10, 30 and 60 second intervals. * Note: The settings below 1 sec. require a photo frame size of 1920×1080 or smaller, and they will not have a date stamp even if it is turned on.
Recording LED toggle flashes the recording mode LED on the top and rear of the camera.
Movie/photo time stamp toggle.
Power on button delay (to prevent premature activation while handling).
Auto-record when power to the camera is applied (useful for car recorder use – no button presses needed.)
Charging on/off toggle when plugged into a USB data port (useful for some external USB devices) TV out (PAL or NTSC), which includes a playback mode with audio.
TV display ratio (4:3 or 16:9).
GUI program for Windows OS for easy setting of the parameters as well as updating the firmware and the GUI program itself.
Mobius Camera Troubleshooting
The camera does not record video
The rear LED is solid red instead of blinking. The yellow LED may also flash once when you press the shutter button.
Most likely you are using an SD card which is not compatible with the camera. Some batches of cards don't work properly. A typical example is Sandisk 32GB Ultra (class 10) which did not work on earlier firmware versions. If you are having problems with your card use firmware v1.17 or above, try a different card or try formatting the card.
Cannot take videos or photos, camera not recognized by computer
It's likely that the SD card is full or the file allocation table (FAT) has become corrupt. Format your card using an external card reader or try another card.
The Mobius Camera is not recognized as a removable disk or as a webcam
SD card is formatted and installed, but the camera is still not recognized as a removable device.
The operating system must be XP or greater. The camera must be connected using a standard USB cable. Confirm that the cable is not defective by attaching another USB device using the same cable. Do not use a USB hub. Try using another USB port.
Defective cables are the most common problems when the camera is not correctly recognized by the PC.
If you are sure your USB cable is not defective, then it's possible that the PC USB drivers are not working properly. Try connecting the camera before turning on the PC. After the PC is turned on, the camera should be recognized as a removable disk.
DriveCleanup.exe (freeware) may also be able to fix USB corruption problems.
Files appear as corrupted on SD card
When the camera is connected as an external disk, all the files on the SD card appear as corrupt. There is a problem with your cable or the PC USB drivers are corrupt. DriveCleanup.exe (freeware) may be able to fix USB corruption problems.
Camera is functioning, but not recognized on computer
When the camera is connected to the PC and then turned on, I can take pictures and movies but the camera is not recognized as a removable disk. The USB cable is defective.
Cannot turn on Mobius Camera, self turn off after LED flashes
When I turn the camera on, the blue LED turns on and then off and is followed by a short yellow flash which is immediately followed by 15* red or yellow flashes and then 32* very fast red or yellow flashes. The camera then turns off.
*The flashes are either red or yellow, depending on what firmware version is running. There are 3 red flashes at the end of the sequence which may be visible or not.
There is no SD card inserted or the card is full, not formatted correctly or the card contacts are dirty. Format the card or use another card.
Yellow LED flashes before shutting down
The yellow LED flashes once per second 4 times and then flashes very quickly before turning off.
There is no micro SD card inserted, the card is not properly inserted, the card is full or the card is defective. The card must be inserted with the gold contacts facing upwards, towards the buttons. There should be a distinct spring action when inserting the last 5 mm and there should be no friction whatsoever.
When the card is pushed 1 mm inside the body the card should latch with a distinctive click. Never force the card, and never push the card more than max. 1 mm into the camera body.
Resources
For more problems and solution, check out this post.
Changing Settings on GUI
http://www.mytempfiles.info/mobius/index.html
http://www.rcgroups.com/forums/showpost.php?p=25178932&postcount=6
Firmware Update
http://www.rcgroups.com/forums/showpost.php?p=25170908&postcount=3

Justin is a certified Drone Enthusiast with several years experience piloting as many UAV aircraft as he can get his hands on. While shooting footage as a hobby has now become more of a full time job, Justin still enjoys the peaceful feeling of getting a birds eye view while hiking or on vacation with his family. Reach out to Justin by using the Dronethusiast Contact Page or email at dronethusiast@gmail.com.
Summary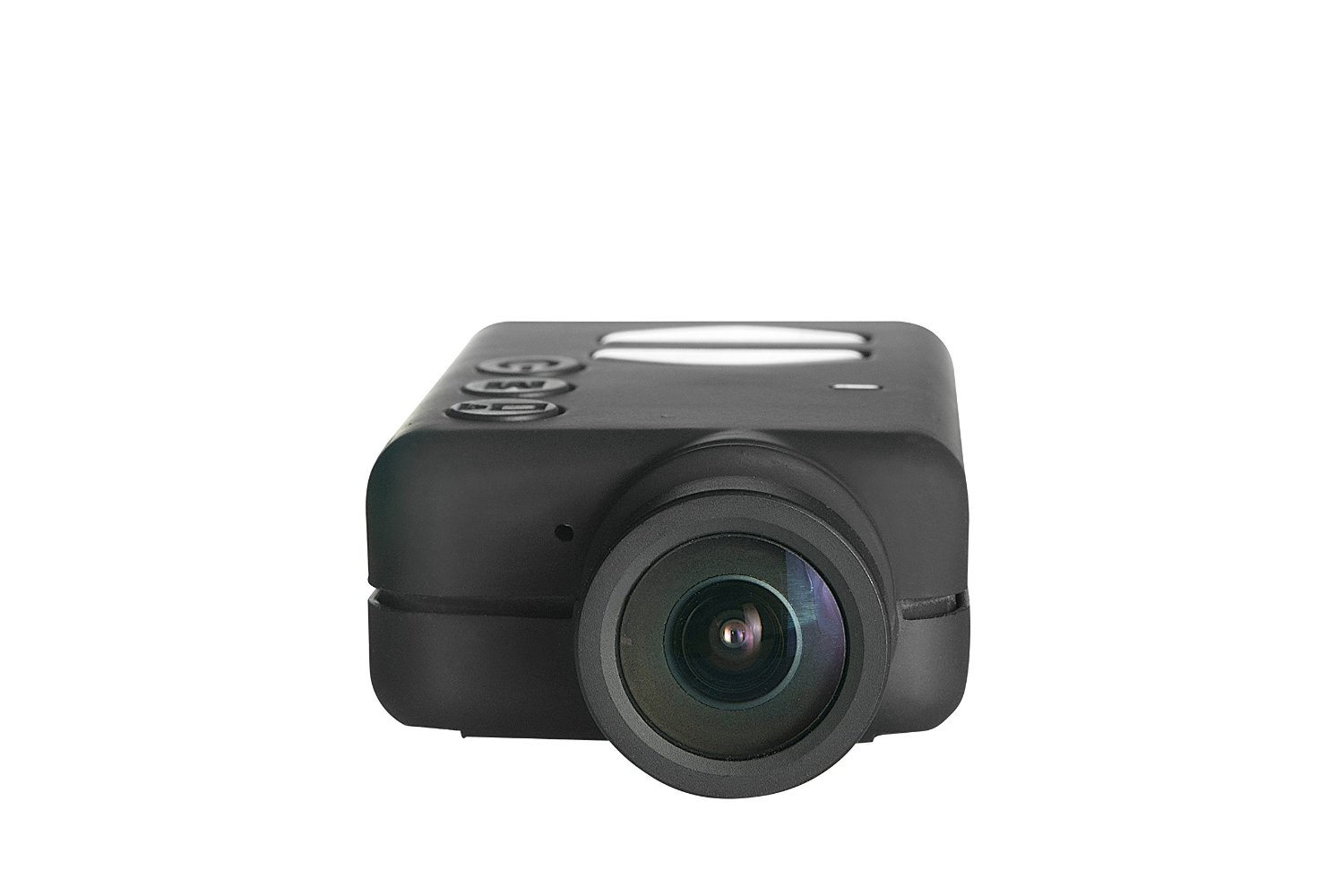 Article Name
Description
To provide an option for a smaller, durable and much cheaper alternative to the GoPros, here is a review from Oscar on the Mobius Action Cam.
Author