Hiking and drone piloting are both growing hobbies, so it makes sense that enthusiasts would start combining them in order to use drones as a hiking tool. Hiking drones can be used to capture breathtaking aerial photos and videos from high in the sky, and the best drones for hiking are small enough to fit in your backpack so you can take them anywhere you go!
But with so many drones available these days with so many different features, it can be hard to decide which hiking drone is best for you. That's why we've compiled this handy guide that will tell you everything you need to know about the features of these drones and will contain reviews of the top seven best drones for hiking.
QUICK GUIDE – BEST HIKING DRONES
Best Beginner Hiking Drone
Altair Aerial AA108
Camera:

720P

Range:

100 Meters

Time:

10 Minutes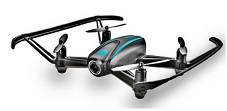 Best GoPro Hiking Drone
Altair Blackhawk
Camera:

N/A

Range:

300-500 Meters

Time:

15-17 Minutes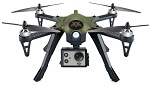 Best Pro Hiking Drone
DJI Mavic Pro
Camera:

HD 4K

Range:

7000 Meters

Time:

27 Minutes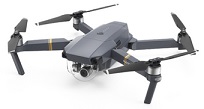 Best Drones For Hiking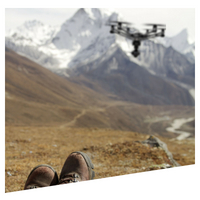 If you take a look at any of our review guides, you'll quickly learn that there's no single answer to the question "What's the best drone for hiking?" Every drone customer has different needs.
Maybe it's really important to you that the drone be portable so you can fit it in a pack with the rest of your hiking gear. Maybe you want the best possible video camera. Or maybe you're looking for something that's cheap but that will still get the job done. With that in mind, we've compiled this short list of the best drones for hiking so that you can find the option that's right for you.
Altair AA108 – Best Beginner Hiking Drone
Get free shipping and amazing customer service by purchasing at Altairaerial.com (click here). Or see the best price on Amazon.com.

The Altair Aerial AA108 doesn't have the most features of the drones on this list, but we think it's the best all around option that will work for beginners and advanced pilots alike! This drone, which retails for only about $110 (at time of writing) grows with you as you get more experienced thanks to multiple speed and control settings that you can turn on or off as you please.
Why is this such a great drone for hiking? Well, for one thing, it's very small at only 183mm x 198mm x 43mm and very light at only 85 grams. This makes it ideal for stowing in a backpack or some other bag (although it should be noted that it doesn't come with a carrying case of its own.)
It takes great HD video and beautiful photos, which makes it perfect for chronicling your outdoor adventures. And perhaps most importantly of all, we've always found it to be highly durable, so you don't need to worry about it getting damaged or scuffed when you're out in the wild (as long as you're flying it with a modicum of common sense.)
Features and specs: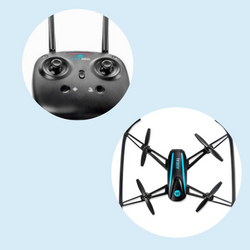 • 10 minute battery life
• 720p HD camera
• 3 speed levels
• Headless mode (great beginner feature!)
• Altitude hold mode
• Real Time First Person View
• 100 meter range
• 4 channels
Pros:
• A drone that's fun for beginners and advanced fliers alike
• Extremely portable
• Durable
Cons:
• Short per-battery flight time
• Other drones on this list have more advanced cameras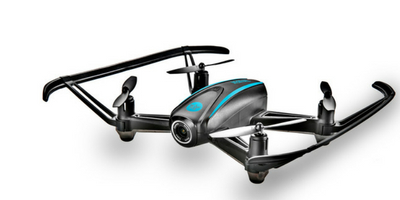 Click To Shop or Read Reviews
Altair Blackhawk – Best GoPro Hiking Drone
Get free shipping and amazing customer service by purchasing at Altairaerial.com (click here). Or see the best price on Amazon.com.
A lot of hikers already work with GoPros and similar action cameras, which allow you to get first-person video of your hiking experience. Well, a lot of drones let you combine your love of piloting with your love of GoPros with an action camera mount instead of a built-in camera.
Our favorite of these drones is another fine Altair Aerial product – the Blackhawk. Now, like most GoPro drones, you will have to buy the camera separately. And the Blackhawk isn't very portable thanks to an unwieldy shape and the fact that it's fairly large.
But the benefits outweigh the costs in this case – for a very cheap price, you get a very long flight range (up to 300 meters) and flight time (up to 15 minutes per battery), a sturdy metal body, and an easy-to-use GoPro setup that will have you capturing great aerial shots in no time at all! Easily one of the best drones for hiking around.
Features and specs: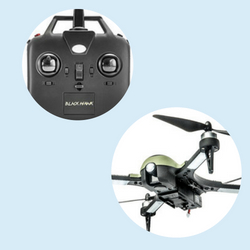 • 15 minute battery life
• action mount compatible with GoPro Hero 3 or 4
• 3 speed levels
• Powerful and silent brushless motors
• 300 meter range
• 6-axis gyro
Pros:
• Long range and flight time for the price
• Best drone for hiking with GoPro
• Durable
Cons:
• Not at all portable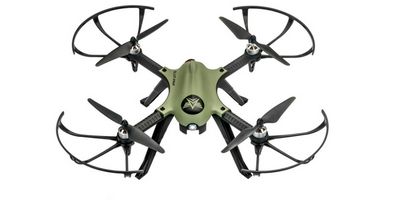 Click To Shop or Read Reviews
DJI Mavic Pro – Best Professional Hiking Drone
What if you want to find the best drone for hiking and you're not a beginner? What if you've got plenty of money to spend on drones and enough experience that you don't feel the need to settle for anything but the best? Well, my friend, then you need to buy yourself a DJI Mavic Pro.
The $900 DJI Mavic Pro is a pretty serious investment, but it's well worth it. Of DJI's three portable drones, the Pro still has the best camera, the most precise controller, and the longest flight time and range. This foldable drone can shrink into an incredibly compact 83x83x198 millimeters and can take incredibly high 4096×2160 video at 24 frames per second, which is a highest resolution available on this list and which is an essential setting for professional filmmakers.
Features and specs: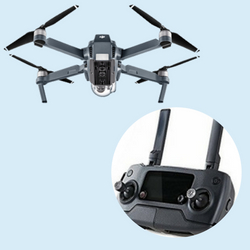 • 27 minute flight time
• Plastic and magnesium body
• super HD camera with Cinema 4K support
• 3-axis gimbal
• 20 channels
• Weighs 1.6 pounds
• 300mm diagonal, but folds into 198mm
Pros:
• Extremely portable
• Professional grade camera
Cons:
• Very expensive
• Has more rudimentary obstacle avoidance when compared to other DJI products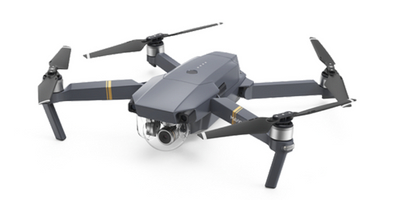 Click To Shop or Read Reviews
DJI Spark
You can't beat the DJI Mavic Pro for the best professional hiking drone around, but it does have a bit of a learning curve and lacks some newer features that would make it more accessible. The DJI Spark is a newer portable drone from the same company that's quite a bit cheaper and comes with some cool high-tech features, though serious hikers may be a bit unimpressed with the camera.
Features and Specs: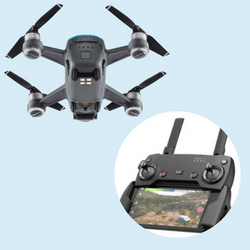 • 16 minute flight time
• maximum video resolution of 1080p at 30 frames per second
• maximum still size of 3968×2976 pixels
• 2-axis gimbal
• advanced obstacle avoidance
• advanced Gesture Mode features
• 170mm diagonal, cannot be folded
Pros:
• Cheaper than the Mavic Pro at only $399 USD
Cons:
• Camera is worse than the Mavic Pro's
• It's small, but it doesn't fold, so it's less portable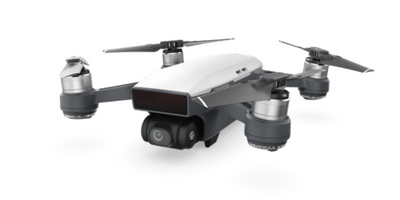 Click To Shop or Read Reviews
GoPro Karma
The Blackhawk may be our favorite GoPro drone, but did you know that the GoPro company itself has actually made a drone? It was previously recalled due to some major issues, but the Karma is back and better than ever, and it makes for a fine high-end drone for hiking if you already own or are interested in buying a GoPro Hero 5.
The Karma costs $697 on its own or can be bought with a Hero 5 camera for 300 dollars more. It offers incredibly smooth aerial photography, naturally, but it can also be used for handheld and body-mounted photography as well.
It also has an impressive 3000 meters of operating range, 20 minutes of flight time, and folds into a lightweight case that comes included with the product. This is definitely one of the best drones for hiking out there, especially if you just can't get enough of the GoPro brand.
Features and Specs: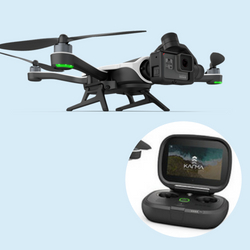 • 20 minute flight time
• 3000 meter flight range
• compatible with GoPro Hero 5
• folds into included case
• Karma Stabilizer captures shake-free video
Pros:
• Combines your aerial and ground photography needs into one product
Cons:
• Expensive
• Only recommended for those who already own a Hero 5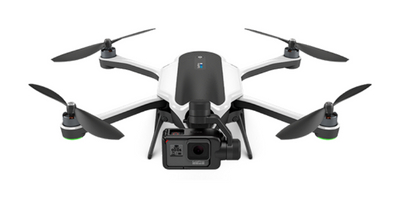 Click To Shop or Read Reviews
Parrot Bebop 2
The Parrot Bebop 2 is a lightweight camera drone that shoots 1080p video and retails for $399 (at time of writing), making it a solid mid-range option for anyone who thinks they're too advanced for the AA108 but not quite ready to take on the DJI line.
We're big fans of the Fisheye Camera, a 14MG device that is able to take 180-degree angle photos without any picture distortion. Another cool feature for hiking is the included Parrot Cockpitglasses (yes, that's meant to be written as one word) which are included with your purchase and which let you experience the hike from the eyes of the drone.
Features and Specs: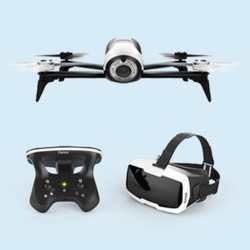 • 1.2 mile range
• 25 minute flight time
• 12.9 inch diagonal
• 3-axis gyro
• 10 channels
• Plastic and carbon fiber body
• Comes with Cockpitglasses
Pros:
• Very stable
• Solid mid-range option for a reasonable price
Cons:
• Few unique features
• Somewhat bulkier than other hiking drones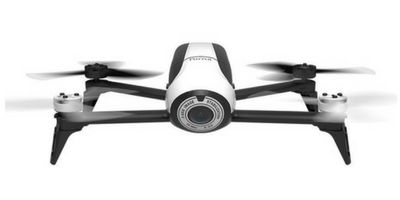 Click To Shop or Read Reviews
FAQ About Best Drones For Hiking
What makes a drone good for hiking?
Drones are becoming popular with hikers because many of us like to take pictures of our outdoor adventures, and drones let you take incredible aerial photos and videos with ease. Durability is another important factor to consider when choosing a hiking drone, since you need it to survive in the outdoors where there's plenty of obstacles and potentially harsh weather conditions. Finally, portability is a high priority for some (but not all) hikers, who want to be able to carry the drone in a backpack.
Do hiking drones come with cameras?
Some do, and some don't. As mentioned above, most hikers want a drone with a camera, but some drones come with an action mount that lets you attach a GoPro or something similar. Since a lot of hikers own GoPros already, you can save money by buying a drone that doesn't make you pay for a built-in camera!
Do I need a GPS drone for hiking?
GPS drones have a small boost in stability, so if you're going hiking with an area with a lot of wind it's probably a good idea. Otherwise, you should be fine with any of the best drones for hiking that we listed above.
Conclusion
Now you know everything you need to know to make a smart choice and purchase one of the best drones for hiking available on the market today. But maybe you're an outdoors person yourself who prefers to use a different drone for hiking, or maybe we failed to answer a burning question you have about how to go hiking with drones. If that's the case, feel free to leave us a comment below and we'll be sure to keep this article updated with the best drones and the best information around.
Further Reading
Dronethusiast Best Drones 2019
Justin is a certified Drone Enthusiast with several years experience piloting as many UAV aircraft as he can get his hands on. While shooting footage as a hobby has now become more of a full time job, Justin still enjoys the peaceful feeling of getting a birds eye view while hiking or on vacation with his family. Reach out to Justin by using the Dronethusiast Contact Page or email at dronethusiast@gmail.com.