Table of Contents
If you're reading this, you're probably interested in purchasing a drone. With so many options out there, it can be tough to decide what the best value is. Well, the best drones for 2019 are all right here.
Seriously consider the five top drones for each category mentioned in this article if you're shopping for the best drone you can get! The top 2019 drones all combine great prices, expert craftmanship, durability and excellent features to offer a drone you can enjoy flying for a very long time.
QUICK OVERVIEW: THE BEST DRONES BY CATEGORY 2019
Best Flight Time Drone
Altair 818 Plus
Camera:

720p HD

Range:

150 Meters

Time:

15 Minutes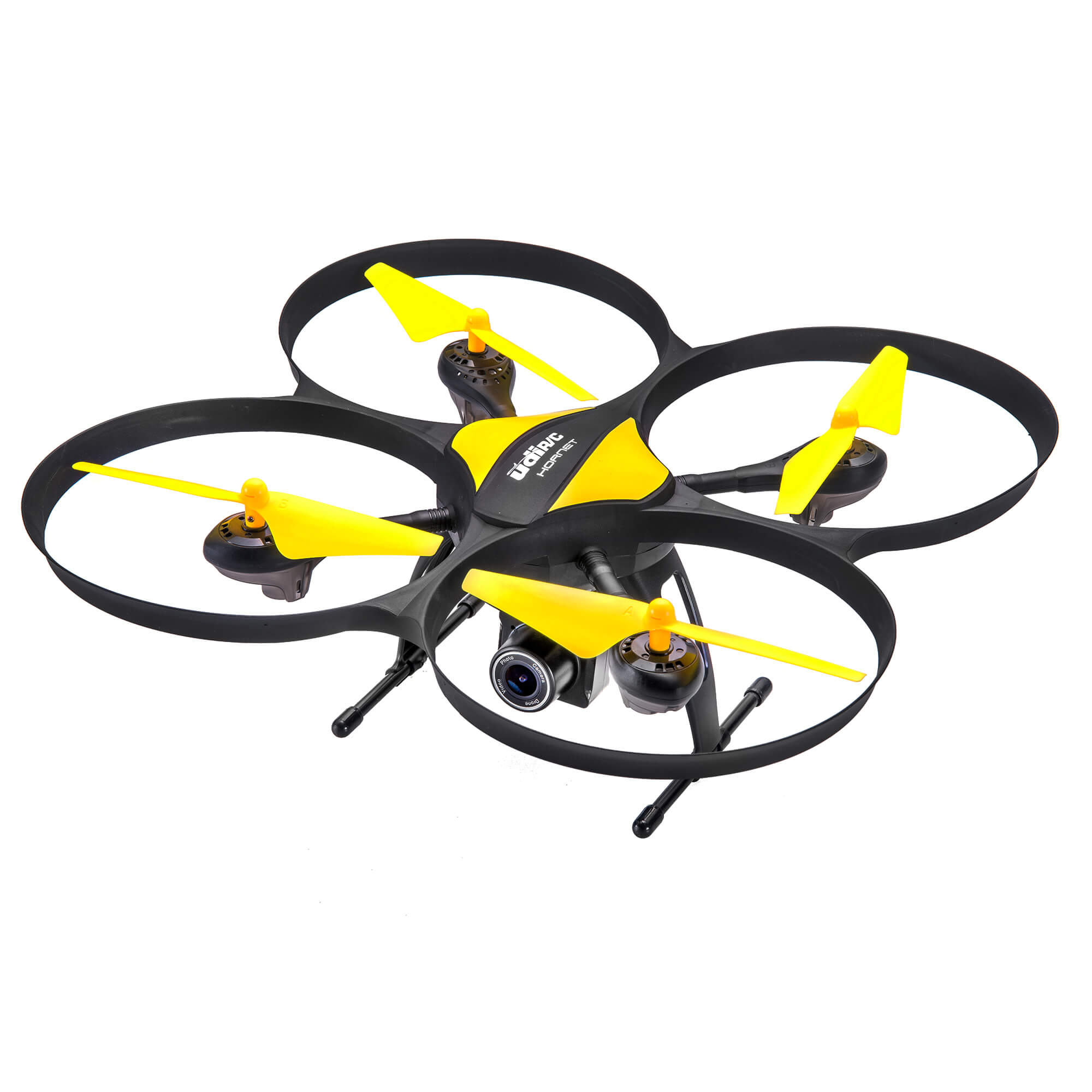 Best Small Drone
Altair Aerial AA108
Camera:

720p HD

Range:

100 Meters

Time:

10 Minutes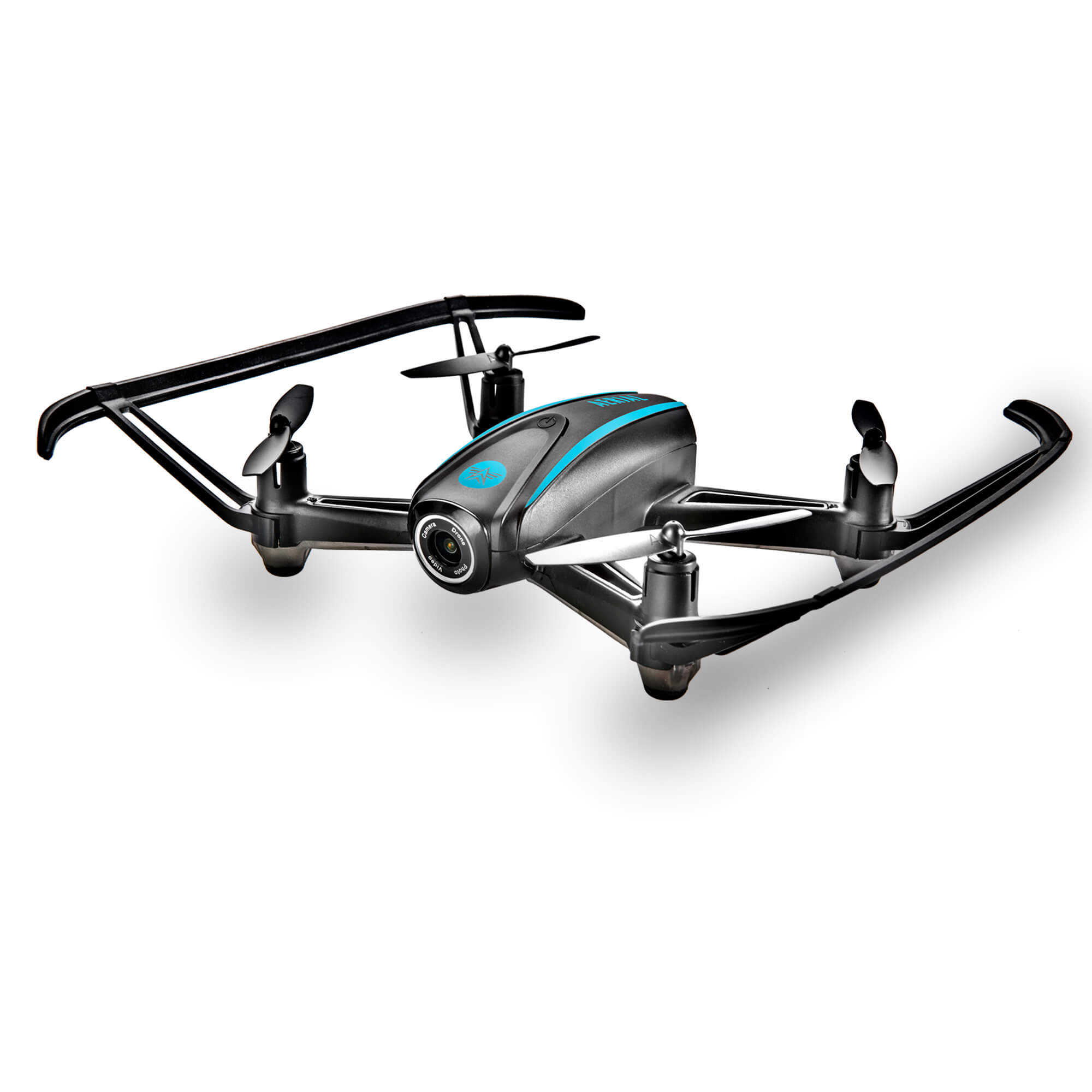 Best Under $200
Tomahawk
Camera:

720p HD camera

Range:

300 Meters

Time:

17 Minutes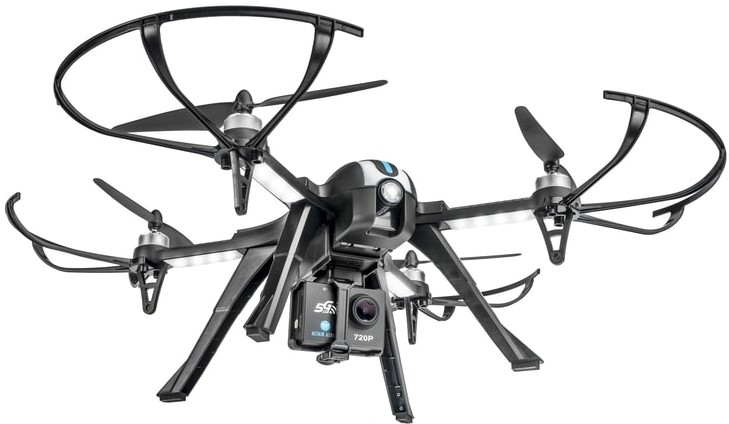 Best Long-Range Drone
Blackhawk Drone
Camera:

1080p HD

Range:

300 – 500 Meters

Time:

12 – 15 Minutes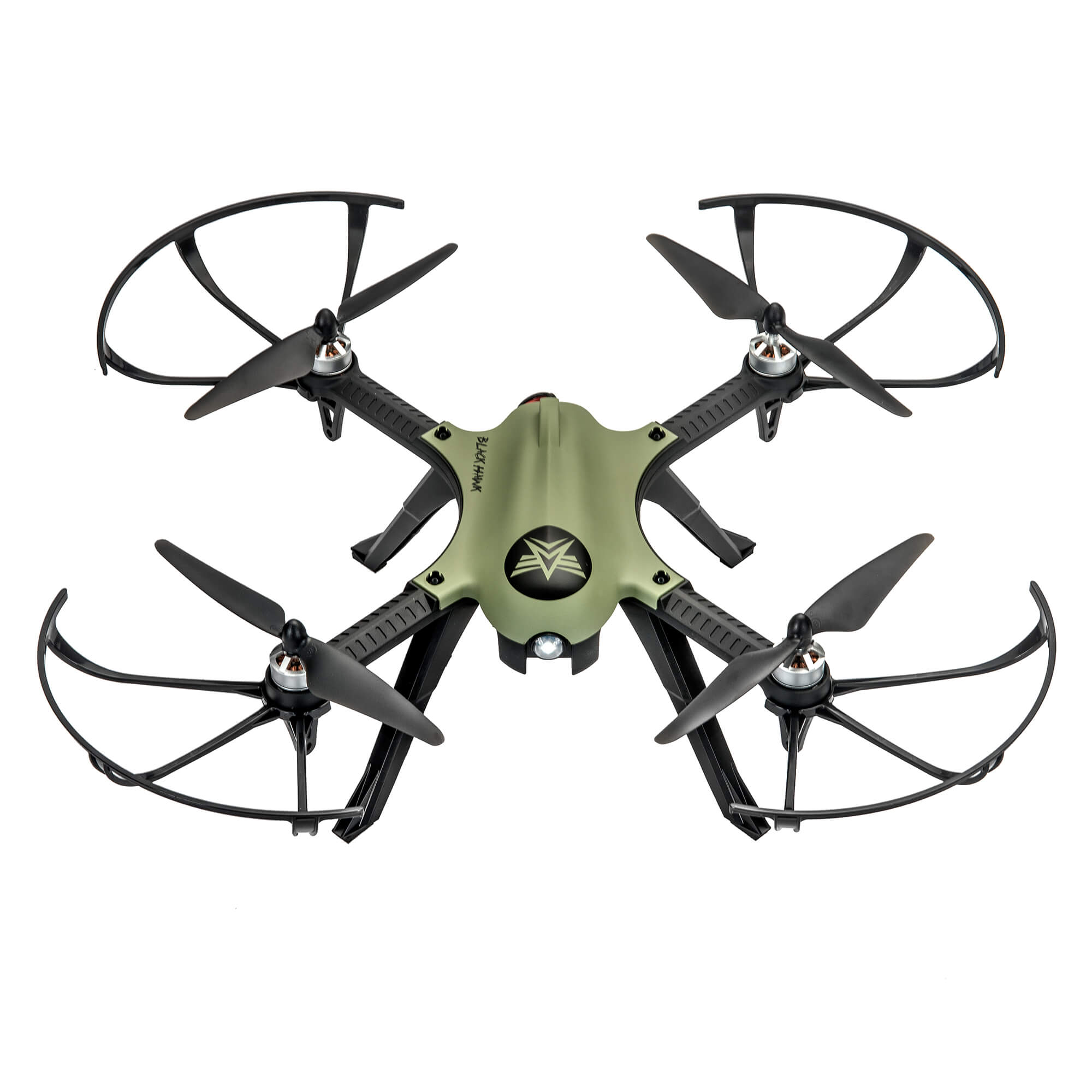 Best Professional Drone
DJI Phantom 4 Pro
Camera:

4K 20 MP

Range:

3.5 – 5 Kilometers

Time:

28 Minutes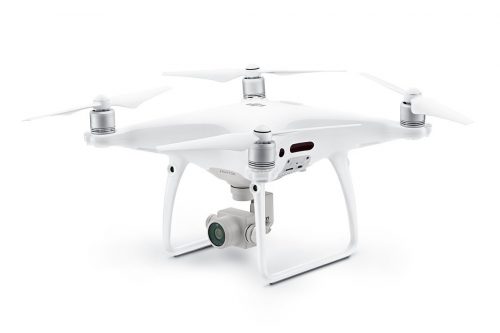 Best Folding Drone
Mavic 2 Pro
Camera:

20 MP photo/4K video camera

Range:

8 miles

Time:

31 minutes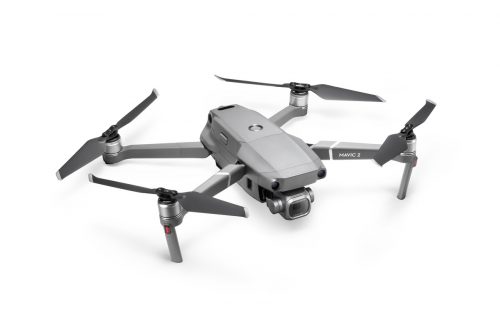 Best Drone Under $200 – Tomahawk Drone
This Altair drone was just released in Sept. 2018 and has all the most recent drone tech upgrades! Read reviews and shop for the Tomahawk Drone or get fast and free shipping from the Altair Aerial Website.
The Tomahawk is the newest contender from Altair Aerial. It's incredibly impressive and will only cost you around $200, at this time of writing, which is a fantastic deal. The C5000 720p HD WiFi camera can be changed out so you can use a number of different action cameras with the action camera mount, including both the GoPro Hero 5 and the GoPro Hero 5.
With brushless motors and high landing gear, the setup is one that won't let you down and only takes around half an hour to set up before you're ready to take it to the skies. It has a maximum flight time of around 17 minutes when you fly on mid throttle, as well as a maximum transmission range of between 300 to 500 meters away.
It also comes with up to 8 GB of onboard storage all ready to go, which means you don't need to have a TF flash card to save your footage unless you want to incorporate one. The Bugs GO app gives you more than enough storage as is.
It holds up in windy conditions, comes with a powerful Altitude Hold feature, and weighs as little as 1.08 pounds, making it easy to carry around with you. Not only that, but it's perfect for both beginners and experts alike.
Click To Shop or Read Reviews
Best 2019 Long Flight Time Toy Drone – Altair Hornet 818 Plus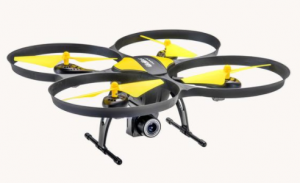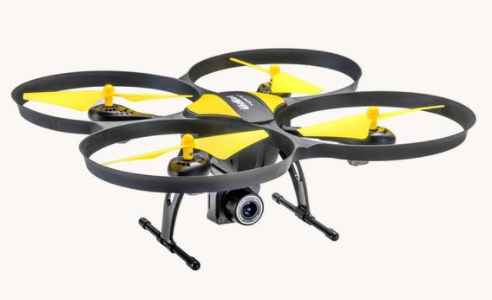 Get super fast shipping and amazing customer service by purchasing at Altairaerial.com (click here). Or you can shop for the 818 Hornet on Amazon.
The Altair 818 Plus quadcopter is a market newcomer, but it's already set itself apart as one of the best. With a 15-minute flight time and an extra battery it you wonder why people buy other drones in its $180 price range that only fly for 5 to 10 minutes.
It has a range of 150 meters and 15 minutes is plenty of time to fly within that distance. It also includes a TF card that means that it can record video right out of the box, as opposed to similarly-priced camera drones (like the AA108.)
The Altair 818 Plus drone has all the features that make a drone flyable for beginners and an absolute breeze for experienced flyers.
There's headless mode, which will prevent many a crash for new flyers, and low-signal and low-battery alarms to warn you before your drone becomes unresponsive to your remote control, or plummets out of the sky, which is one of the worst ways to crash.
It has a low, medium, and high-speed flying setting which allows for more options to suit different flying styles and goals and accommodates varying levels of flying experience.
It also has altitude hold, which is not only convenient for flying but makes for better footage. It comes with a 720P 120-degree wide angle camera and is first-person view enabled. Its rubber-damping camera decreases vibration for even more stable imagery. Combine that with its altitude hold feature and you get amazing footage and photos. Looking through its high-quality camera in FPV might just make you feel like you're the one flying, and not just the drone.
Click To Shop or Read Reviews
Best 2019 GPS Drone – The Outlaw B2W
Get super fast shipping and amazing customer service by purchasing from the manufacturer's website (click here). Or you can shop for the Outlaw on Amazon.
This brand new drone came out just before the year's start and has already cemented itself as a must-have item, offering innovative pro-grade GPS functionality at a fraction of the price.
The Outlaw B2W has a long flight time and range, a GPS flight mode in which it automatically keeps itself stabilized, and a number of features that make it more beginner-friendly. These include one-touch takeoff and landing, automatic return to home, heading hold mode, altitude hold, and more.
So whether you're a first-time flier looking for a drone that practically flies itself, or an aerial photographer who wants the flight time and stability to line up the perfect shot, the Outlaw is an excellent choice and is sure to become one of the most popular GPS drones of 2019.
Click To Shop or Read Reviews
Best Professional Drone 2019
My favorite professional drone for 2019 is the highly advanced DJI Phantom 4 Pro. It has superior flying ability, with obstacle sensing in five directions that make it nearly impossible to crash. It's remote comes with a mobile device holder to assist with its FPV capabilities.
It has a range of about 3 miles (people have flown it even farther), it can fly at up to 45 MPH while still being easy to control, and has a flight time of up to 30 minutes. It weighs just over 3 pounds, a testament to the power of its motors, and an indication of durability. It also has a return home feature that uses GPS, so if you lose track of it, it can find its own way back. And it comes with 8 extra propellers.
The best part of this drone by far is the camera which comes with a 16GB micro SD card. It has 20 megapixels and a massive 1-inch sensor. It has a mechanical shutter to eliminate the rolling shutter distortion that can happen when capturing images of fast moving objects. It has a 4k 60 FPS video camera for high video quality and the ability to capture magnificent slow-motion footage.
And last, but not least, it has a professional-caliber gimbal for guaranteed stable footage. This camera drone is the best drone for 2019 because it can produce beautiful footage and pictures that any professional would be proud of.
DJI Phantom 4 Pro
Click To Shop or Read Reviews
Yuneec Typhoon H
If ever there was a serious contender for Best Professional Drone 2019 it is the brilliant YUNEEC TYPHOON H. For a bit less money than the legendary Phantom 4, you get quite a few extras.
The Typhoon H is 6 rotor drone so if you happen to lose one midflight you can safely fly it back on the remaining 5. Unlike the Phantom that pans up and down, the Typhoon can rotate the camera a full 360-degrees. The landing gear is also easily retractable so you can get it out of the way when necessary.
Another great feature is the controls. The main control is a dedicated, full feature controller with a 7-inch touchscreen. You can also connect an additional controller if you wish.
The Typhoon uses sonar for obstacle avoidance meaning this will work equally well at night. It also has a range of flight modes so you can let the drone do most of the thinking while you focus on shooting.
Click To Shop or Read Reviews
Best Small Drone 2019
Altair Aerial AA108
See the best price on Amazon.com (CURRENTLY ON SALE FOR $109) or get Fast & Free Shipping from their Website at Altairaerial.com
I recommend the Altair AA108, my favorite small drone. It can be purchased for only $109 and has a lot of cool features. It's durable and can withstand repeated minor crashes. It comes with a 120-degree wide angle, 720P HD camera that offers real time first-person viewing during flight.
The Altair AA108 is easy to fly and features headless mode, altitude hold, and a custom route mode, where you can draw a flight path on your smart phone and the drone will follow it!
It also offers three skill levels for flight, from 1 to 3, or beginner to advanced. The first level is very kid friendly, giving the opportunity to pass the passion for flight on to the next generation. It's small enough to be flown indoors, allowing for fun on windy days or just when you want to conveniently fly in the comfort of your own home.
What makes the Altair AA108 one of the best 2019 drones is its long range and flight time. It can fly for up to 10 minutes and has a range of 100 meters. It also comes with a bonus battery so you can fly for even longer! Many drones in this price range offer only half the range and flight time. The Altair AA108 comes with an out of range alarm, an out of battery alarm, and an emergency landing function to prevent simple mistakes from becoming major crashes.
Click To See Best Price
Hubsan X4 H107L
While we love the AA1108, the very popular Hubsan X4 nano drone is a close runner-up in the best small drones 2019 category. To give you an idea of the palm-sized drone, it is a mere 2-inches wide by 1-inch tall. This dynamite little drone has plenty to offer. It has a host of features rarely found in drones in this price range.
Like most small drones, it does not have the greatest flight time at only 7 minutes but you can pack a lot of excitement into that time. On the plus side, it only takes 15 minutes to charge so you will soon be up and running again.
This is a great option for beginners or those on a tight budget. It has two flight modes, normal and expert. Once you have mastered the basics, switch to the expert mode and you will have access to a range of advanced tricks and options. It is a sturdy, durable drone and will handle many a bang or knock when you are flying.
If you are in the market for a budget compact drone, the Hubsan is a top choice.
Click To See Best Price
Best Mini Drone 2019
Rabling Mini FPV RC Drone
Read reviews and show for the Best Mini Drone The Rabling Mini FPV
This well-priced feature rich drone is our pick for Best mini drones 2019. The already small design can be made even more compact as it is a foldable drone.
Flight time is a fair 7 to 10 minutes and it takes only 230 minutes to charge. It supports FPV from your smartphone or tablet which is a great feature for a drone in this price range. It is also compatible with VR Goggles. The Rabling Mini also boasts a 6-axis gyroscope.
Flight modes and features include headless mode, 3D roiling and 360-degree rolls so there is plenty to keep you entertained. It sports a competent HD 720P Camera.
This is a popular and highly rated drone that is well loved by many happy customers. It is a worthy winner of our top mini drone for 2019.
Click To See Best Price
Syma X20 Mini Pocket Drone
The Syma X20 is a worthy runner-up in our mini-drone section. This highly affordable drone will provide hours of entertainment. Being an ultra-small drone, the flight time is only about 5 minutes but while you are up there, you can enjoy headless mode, altitude hold, rolling 360s and a range of other moves.
It also has one-touch takeoff and landing so is ideal for beginners. Another excellent feature is the LEDs for nighttime fun. To top it off, it is a great looking drone.
Click To See Best Price
Best Micro Drone 2019
JJRC H20C Mini Hexacopter
Read reviews and show for the Best Micro Drone JJRC H20C
Our pick for the best Micro Drone of 2019 has to be the JJRC H20C mini hexacopter, one of the newest drones from the extremely well-respected Jianjian Technology Company. It is highly affordable, ultra-small and light and will give you plenty of entertainment.
Despite the diminutive size, it flies remarkably well and responds perfectly to controls. With headless mode and 3D rollover, you can have a lot of fun with this nifty drone.
The 6-Axis gyro gives you exceptional stability and it will hover like a Hummingbird.
Charge your JJRC DHD D1 QUADCOPTER via USB in around 20 minutes for about 6 to 8 minutes in the air. It has two adjustable speeds according to your needs. The range is around 60 meters which quite good for a micro drone.
It is remarkably durable for a drone of this size which is an added bonus and it features LED lights for evening entertainment.
Click To See Best Price
Hubsan Q4 Micro Drone
Possibly the world smallest drone, the Hubsan Q4 is a fast, agile and fun drone. Hubsan is known for quality products so, despite the amazingly small size and low price, this drone is remarkably tough.
It is suitable for beginners but will not bore the more experienced pilot with 3 modes from beginner to advanced. You can charge it via USB for 5 to 20 minutes flying time. It has a 6-axis gyro so is stable indoors and out. It is ultra-responsive and really nimble in the air.
Click To See Best Price
Best 2019 Folding Drone
DJI Mavic 2
Our pick for Best DJI drone 2019 is the brilliant Mavic 2. Could there really be any other option? This drone came out late last year and immediately cemented itself as one of the best high-end drones ever made – while still maintaining the folding wings and emphasis on portability that made the other Mavic drones so great (except the Spark. We don't talk about the Spark.)
The Mavic 2 has a ton of innovative features including the most advanced obstacle avoidance system on the market, all theautonomous flight modes you could possibly ask for, a more efficient propulsion system with noise-reducing propellers, and the most advanced drone camera you can buy. But it doesn't skimp on the small stuff either, with a 31-minute flight time, 8 kilometer range, and 44 mile per hour top speed.
The Mavic Air has 8GB onboard memory and a stylish design. If you are wanting the best pocket / foldable drone of 2019, you will find it in the DJI Mavic 2.
Click To Shop or Read Reviews
Parrot Anafi
Don't have two thousand dollars to drop on a Mavic 2? Don't worry – not far behind for best pocket / foldable drone 2019 is the fun and unique Parrot Anafi. Until the Mavic 2 came along this was arguably the best portable flying camera around, and the Anafi is still a very entertaining and versatile foldable drone with features galore.
With a 4K+ Ultra HDR camera, advanced GPS features, a 25-minute flight time, and a total range of 2.5 miles, this unique foldable drone has all the specs you could ask for at the (relatively) very low price of only $699.
Click To Shop or Read Reviews
Best Camera Drone 2019
DJI Inspire 2
Read reviews and show for Best Camera Drone Inspire 2
While there might be sportier, more compact options available, if you are serious about aerial cinematography, the Inspire 2 is a great choice and our pick for the best camera drones 2019.
It is a sturdy yet agile flying machine that allows you to attach your own camera to your specifications. The Zenmuse is an exceptional camera and you can upgrade it as necessary.
The Inspire 2 is safe and smart, allowing you to focus on flying, aerial photography or both. Apart from the actual camera, it also has an FPV camera so you can see what is going on as you shoot. The obstacle avoidance and features such as active track make it one of the easier drones for a one person pilot to get really good footage only. It is remarkably nimble for such a large, hardworking drone. It will give you professional quality straight out of the box. The 2 batteries will give you additional fly time and help you power all the smart options and equipment.
Click To Shop or Read Reviews
Yuneec H520
Runner-up for best camera drones 2019 is the popular Yuneec H520. With 6 rotors, a 360-degree gimbal mounted camera and a retractable landing gear, the H520 gives DJI a serious run for their money. The H520 has just over half an hour of fly time and has a great controller. The excellent obstacle avoidance and Waypoint technology make it safe and easy to fly, allowing you to concentrate on photography.
This tough drone gives you a range of quality cameras to choose from. It is versatile and a pleasure to fly and operate.
Click To Shop or Read Reviews
Best Drone for GoPro 2019
GoPro Karma
Read reviews and show for Best Drone for GoPro the Gopro Karma
If you are looking for the Best Drone for GoPro 2019, the Karma Quadcopter from GoPro themselves is not a bad choice. They had some initial teething problems when they first launched but these have all been ironed out and it is now a well-priced option for GoPro fans.
The software has caught up with the rest of the market so the Karma now has follow me technology, a range of tricks and a host of other features. It is also incredibly compact, tidy and remarkably tough. It folds up to fit into a neat little protective casing.
It is really easy to setup and start flying. Once in the air, it is sturdy and stable. It might take a bit more input from the pilot than some of the other drones on the market but the Karma is a worthy contender in its price range.
Click To Shop or Read Reviews
Altair Blackhawk
AA Blackhawk
For only $119 you're getting an amazing drone at an amazing price! Get super fast and free shipping when you order the Blackhawk from AltairAerial.com, or you can also see Best Price at Amazon. The Blackhawk is a more advanced level quad with 15-17 Minutes of Flight time and 300-500 Meter Range!
The best 2019 drone for those hobbyists who want to enjoy long range flight is BlackHawk Drone. It has a range of 300 meters. Unbelievably, this is a $119 drone, which means its range blows away the competition in that price range and many that cost more! It also has a 15-minute flight time and comes with two extra batteries, allowing you to fully exploit its range, and enjoy it with friends and family who will all be able to take a turn flying it.
The BlackHawk is an ideal option for action cameras such as the GoPro range. It is a safe an inexpensive way to get your GoPro in the air. Built for power and speed, the Blackhawk connects perfectly and easily to your action camera and you will have full remote control of both the Blackhawk as well as your GoPro.
The controls are easy to learn and feature a high speed and low speed mode to accommodate flyers of all experience levels. The Altair Aerial Blackhawk automatically levels in wind to maintain stability. This drone won't crash often, but it has a sturdy build and consumers report that it holds up incredibly well in crashes, should you make a mistake. It comes with extra propellers too, a must-have because propellers are the most easily damaged part.
Ultimately, the BlackHawk has exquisite handling and highly responsive controls which makes for easy flying and allows you to do tricks like full 360-degree flips with ease. It really is a great value and one of the best drones for 2019.
Click To Shop or Read Reviews
Best Heavy Lifting Drone 2019
Freefly Systems ALTA 8
Read reviews and show for the Best Heavy Lifting Drone Freefly ALTA 8
Sometimes you don't want fancy tricks and features but a professional workhorse. Arguably the Best Heavy Lifting Drone 2019 is the Freefly Systems ALTA 8 UAV. Whether it is heavy camera equipment or a payload, this rugged powerful beast will get the job done. It can carry up to 20 lbs and will fly for around 10 to 20 minutes, depending on the load.
This super-strong carbon fiber drone has SYNAPS Flight Controller for the ultimate in safety, precision and control. It is also fast and easy to setup this octocopter. It has a top and bottom camera mounting for flexibility of view.
Click To Shop or Read Reviews
DJI Spreading Wings S900 Professional Hexacopter
Second prize for Best Heavy Lifting Drone 2019 goes to none other than DJI. Constructed from carbon fiber, the Spreading Wings is strong and light. The 6 powerful motors give it incredible power and keep it agile.
Despite the size and strength, it is still portable and easy to put together. It is a great combination of strength and speed. This reliable drone with good power distribution can carry up to 18 lbs comfortably.
Click To Shop or Read Reviews
Best FPV Drones 2019
Parrot Disco FPV
Read reviews and show for the Best FPV Drones Parrot Disco
This is a widely contested segment and there were a number of options for Best FPV drones 2019. We went for a rather unusual but extremely entertaining first choice. The Parrot Disco FPV is a fixed-wing drone so gives you a totally unique flying experience. The wings also allow it to get great speed and flying time and the Disco has a pretty good range. You need a fair amount of open space but apart from that, it is easy to fly, fits together quickly and easily and is really fun to fly, especially in FPV mode.
Despite the design, it can still hover. The Disco has a 14mp camera and 32GB of onboard memory. The design makes it handle better than most drones in windy conditions.
Click To Shop or Read Reviews
Hubsan H501S X4
Our runner-up for Best FPV drones 2019 goes to the Hubsan H501S X4. This feature-rich drone is well-priced and looks great. It is made from ABS plastic making it light and durable. This drone has 120-degree FOV and dual GPS.
Other outstanding features include follow me, altitude hold, headless mode, one-touch return, auto land and plenty more. You get amazing value for money with this excellent FPV drone.
Click To Shop or Read Reviews
The Altair 818 Hornet
The 818 is our choice for Best drone for the money 2019. It also gets an Honorable Mention for Best FPV drones 2019 due to the features you get for the price. It is the ideal FPV drone having all the necessary features and then some. This durable drone with brushless motors has headless mode and lets you preset a flight path for a divine FPV spin. It is popular, easy to use and fun no matter what your level of flying is.
Click To Shop or Read Reviews
New Drones Coming Out In 2019
Coming soon!
2019 Promises to be another exciting year in the drone world with many tantalizing new models coming out. CES has come and gone and there was lots of exciting drone news for new drones 2019 in all categories. Here's what's on our radar:
The DJI Phantom 5
Always innovating, always leading from the front, DJI has just released some fantastic drones but they show no sign of slowing down. One of the most talked about new drones coming out in 2019 is their faster, more powerful DJI Phantom 5.
You can read everything we know about this exciting new drone by reading our article which covers all the news, leaks, and rumors here.
Yuneec HD Racer
Another much anticipated Upcoming Drones in 2019 is the HD Racer from Yuneec. For less than $200, this fast and nimble drone sports 4 protected blades and shoots 1080 video at 60 fps, perfect for FPV. It is compact and has a beginner mode if you are still learning.
Uvify Oori
One soon to be released drone that impressed many at the recent CES is the Oori by Uvify. This tiny micro drone is capable of speeds of 60 mph. There will be preorder specials thereafter the price will settle at a little under $400.
Conclusion
Drones are evolving and improving rapidly and show no sign of slowing down in 2019. As the technology improves, drones become more intelligent. They are getting smaller, faster, safer and stronger.
One area that is improving significantly is obstacle avoidance technology. This has huge implications for the hobby flyer as well as commercial drone applications. It creates new opportunities for the pilot to focus on other activity without having to worry too much about flying the UAV. Drones are becoming more specialized and more intelligent. Connectivity is also improving.
Regulation is not going away but it is getting faster. Systems are in place to get approvals in seconds that used to take months. We will see more commercial applications and humanitarian drone use. There are drone taxis being successfully tested. Artificial Intelligence or AI will be used with drones opening up even more opportunity. 2019 promises to be an exciting year in the drone business.
Best Drones FAQ section
Are drone batteries allowed on airplanes in 2019?
In terms of domestic flights within the U.S., you are generally allowed to take up to 3 batteries in your carry-on luggage provided they are below 100-watt-hours each. You should always advise them you are carrying drone batteries to avoid complications. For international flights, the rules can vary. It would be best to check the airline's website for specifics.
Are there drone delivery services in 2019?
Drone deliveries have been tested and successful commercial deliveries have been completed. The technology is in place but there are still a few teething problems. Although many companies, including Amazon, Google, UPS, DHL and many others have programs in place, they are not yet running regular drone delivery services yet.
Has there been any changes to drone registration in 2019?
Drone regulation was reinstated at the end of 2017. The good news is that the process is fairly fast, can be done online and costs $5.
Are there new 2019 drone flight regulations that have been added?
Apart from registration, there are a number of regulations. The main points are that the pilot must be more than 16years of age and the drone must be less than 55lbs. You may not fly over people or highways, you must always have line of site with the drone, not faster than 100 mph or more than 400 feet above sea level. There are also regional restrictions which vary from state to state.
What is the future of drones in 2019?
Drones will continue to evolve and develop and become more intelligent. New features will continue to be added. They will become smaller, faster and safer. Obstacle avoidance technology is improving. The greatest growth will be seen in commercial applications including security and agriculture.
Justin is a certified Drone Enthusiast with several years experience piloting as many UAV aircraft as he can get his hands on. While shooting footage as a hobby has now become more of a full time job, Justin still enjoys the peaceful feeling of getting a birds eye view while hiking or on vacation with his family. Reach out to Justin by using the Dronethusiast Contact Page or email at dronethusiast@gmail.com.