Best Drones Under 1000 – [Updated 2020]

Updated:
When shopping for one of the best drones under 1000 dollars, simply looking into a general price range won't do. These days, you have to be very careful when investing good money into a drone. However, did you know you don't have to spend thousands of dollars to get something good? Quality cameras, hi-tech specs, smashing flight times, and a couple extras to boot – we've got them all here!
Best Drones Under 1000
These drones are listed in no particular order, so feel free to take your pick without worrying which one is the best of the best!
DJI Mavic Air
The Mavic Air by DJI in Flame Red will cost you approximately $800. It's the newest model we've seen from DJI lately, so we're pretty excited to introduce you to it! It has a lot of interesting features that make it really stand out. For example, 3-Directional Environment Sensing. This feature ensures that you'll have an extra set of eyes looking out for obstacles, other drones, etc.
The foldable 3D design is also something I'd like to mention. We've seen other foldable drones before, but this one has an interesting design that you absolutely have to see for yourself.
Here are the features and the specs:

• Has a maximum flight time of up to 21 minutes
• Uses a 3-axis mechanical gimbal stabilization system
• Has a 3D foldable design for added portability
• Has a 4K UHD camera with 32 MP Sphere Panoramas, HDR photos and 100 Mbps video
• Features 3-Directional Environment Sensing, Advanced Pilot Assistance System, ActiveTrack, QuickShots, FlightAutonomy 2.0, Intelligent Return to Home, Slow-Motion Video and SmartCapture
• Has a range of 2.5 miles
• Uses a foldable remote controller with detachable control sticks
• Has up to 8 GB of internal storage
• Uses FOC ESCs and propulsion

The Mavic Air by DJI is one of the most impressive quadcopters under 1000, especially when you look at the camera it comes with!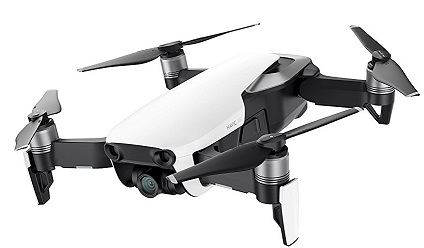 Click To Shop or Read Reviews
Featured Budget Option – Outlaw SE
See the best price on Amazon.com or get Fast & Free Shipping from their Website at Altairaerial.com
We wanted to feature a budget option on this list to help you save even more money. The Outlaw SE is a great drone and costs just $279.80. It's amazing that there's a drone on the market that costs so little yet has so many great features.
The Outlaw SE comes with GPS features for stable flying as well as a 1080p built-in HD camera to capture the coolest aerial photos and videos. Beginners and experienced pilots will be able to find something they love with this drone.
Altair also put together a nice set of how-to videos for the Outlaw SE (click here). If you run into any problems check these out or I've found that they are very responsive at help@altairaerial.com.
Here are the features and specs:
– Has GPS flight mode
– Comes with a 1080p built-in HD camera
– Flies smoothly with headless Mode
– Equipped with Altitude Hold
– Easily flies with one-touch takeoff and landing
– Comes with Follow-me mode
– Has a maximum 20 minutes of flight time
– Can fly up to a 600-meter range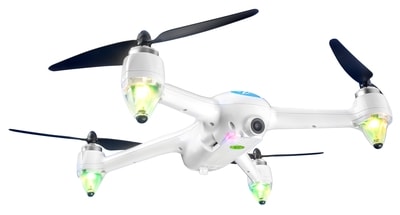 Click To Shop or Read Reviews
Parrot Bebop 2 Adventurer Pack
The Bebop 2 Adventurer Pack by Parrot will cost you a measly $524, which is an insane deal, if we do say so ourselves! Right off the bat, we'd like to mention that to gain access to Custom Route Mode, you will have to make a small purchase in the FreeFlight Pro app – emphasis on "small".
We've chosen the Adventure Pack instead of just the Bebop 2 because of the extra that you get. Finding a suitable bag that will fit everything you need can be a hassle, possibly an expensive one, but this extra makes it that much easier for you.
Here are the features and the specs:

• Comes with the Parrot Skycontroller 2 and Cockpitglasses for a fully immersive flight experience
• Able to shoot videos in full 1080p HD and photos in 14 MPx in RAW, JPEG, and DNG formats
• Takes a high capacity 2700mAh battery
• Has a maximum flight time of up to 25 minutes
• Uses an unmatched 3-axis digital stabilization system
• Features Follow Me and Dronies
• Has a maximum flight range of up to 1.2 miles
• Gives you access to Custom Route Mode with the FreeFlight Pro app

Controller and glasses aside, the Bebop 2 Adventurer Pack by Parrot also includes a free backpack to store everything in, which makes going out into the field a snap. You can also opt for Adobe Photoshop Elements 2019
when checking out!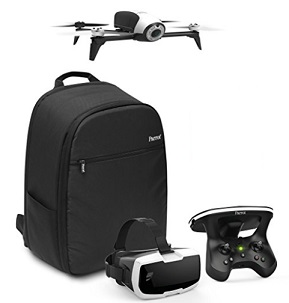 Click To Shop or Read Reviews
Yuneec Q500 4K Typhoon – Best 4k Video Camera Under 1000
The Q500 4K Typhoon by Yuneec is a tremendous drone under 1000, costing only $600! With all that you get with it, it would seem that a $600 price tag is somewhat of a joke. We assure you, however, it's anything but.
The CGO3 camera is an absolute masterpiece. It's an intricate design that offers some of the best specs we've seen thus far. It's a timeless classic camera that is no doubt difficult to beat, and a lot of other drone manufacturers, including DJI, have tried,
Here are the features and the specs:

• Uses the ST10+ Personal Ground Station that has a built-in touchscreen
• Has the CGO3, integrated 3-axis precision gimbal camera that offers 4K UHD at 30 FPS, 1080p/120 FPS in slow-motion video, and 12 MP photos
• Uses a No-Distortion Lens
• Features SteadyGrip
• Comes with a 16 GB microSD memory card
• Has a maximum flight time of up to 25 minutes

The Q500 4K Typhoon by Yuneec is a classic favorite that everyone knows and loves.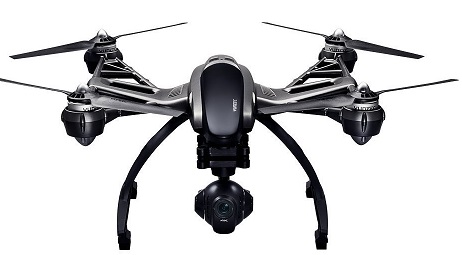 Click To Shop or Read Reviews
Traxxas Aton Plus
The Traxxas Aton Plus by Traxxas is a great drone under 1000 to invest in if you're on a tight budget. It costs as little as $380 and has quite a few interesting surprises in store! For one thing, you get an LED status bar and visible LED lighting, making flying during the darker hours easy.
You're also able to hit 50 mph when you fly in Sport Mode, but be careful should you choose to do so. Make sure that you are well familiar with the drone before you even think of hitting such a high speed.
Here are the features and the specs:

• Able to hit speed of up to 50 mph when in Sport Mode
• Has an ultra-stable camera platform when using Film Mode
• Uses high visibility LED lighting with an easy to read LED status bar
• Features Dual-mode GPS, Return to Home, Air Brakes, Film Mode and Expert Mode and Sport Mode
• Takes a 3S 5000mAh Lipo battery
• Uses a 2-axis gimbal stabilization system
• Made of a tough composite frame
• Includes a 3-amp LiPo balance charger for fast charging
• Works with the Traxxas Flight Link app

If you have one, you can purchase a GoPro mount for the Traxxas Aton Plus as well! It's compatible with GoPro HERO3 and HERO4 models.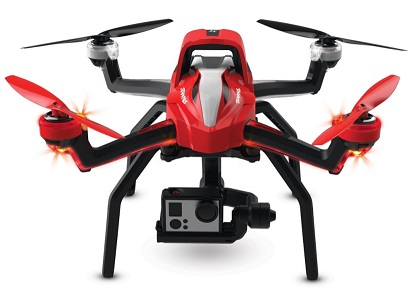 Click To Shop or Read Reviews
What to Look for in a Drone Under 1000
Let's start by looking at some of the key qualities and factors that make a quality drone within this general price range.
If you've ever asked yourself, "what are the best drones under 1000 with camera?", then you're heading in the right direction. A quality camera is always something good to have, whether you want to snap some quick shots or want to record a detailed flight video.
You will also need to look for a stabilization system. Having a gimbal for stability ensures that your aerial photography and flight efforts are as smooth as butter on bread. The last thing you want is shaky flight and even shakier footage, if you use a camera drone.
Last, but not least, look for one that has a good flight time. It'll save you the money on extra batteries and constantly changing them throughout your flight while out in the field.
Always remember that even if the drone isn't the latest and greatest on the market, that doesn't mean you should overlook it. Timeless classics are classics for a very good reason!
The Best Drones Under 1000
Searching for the best drones under 1000 doesn't start with a price. You must look into the quality, gimbal, and overall durability that a drone has to offer. It's important to look into the features and the specs to see what stands out to you and catches your eye.
If you have a more strict, precise budget, we also have the Best Drones Under 300 (here) and the Best Drones Under 100 (here).
Further Reading
Dronethusiast – Best Drones under $100
Best Drone Under $500 With Cameras – Dronethusiast
Other Interesting articles in "
Reviews

"