Best Drone Under $500 | 16 Quadcopters For Less than 500 USD

Updated:
Personal drones under 500 have become really popular in the market these days and you can get yourself a pretty good deal within a reasonable budget but which one of these drones should you go for? Due to the advent of good battery-timing quadcopters and their excellent stability, people generally tend to go for these four-engined drones instead of the plane or chopper-type models that were so popular during the early days of the RC Drone era. According to the recent statistics, more than 2.5 million personal drones were sold in 2016 and the figure is expected to rise exponentially in the coming years.
Best Drones Under 500 Table of Contents
Best Drones Under 500
Now for the best drones under 500, you need to have some kind of comparison and trade-offs to study before you can get the best deal and we are here to help you do that.
Instead of comparing just a few of these products, we have gone for a whole range of these UAVs including First Person View (FPV) as well as simple video drones that people use to record video logs.
Let's take a look at our list of the Best Drones Under $500
1. AA300 GPS DRONE – Best Budget GPS Drone Under 500
Click here to See it On Amazon! or you can get fast and free shipping from the manufacturer's website at AltairAerial.com.
The AA300 is well under $500 but deserves a spot on this list because of all its amazing features and GPS capabilities. It's one of the highest-quality drones at this price point, costing less than $200 and that's why we want to share it with you.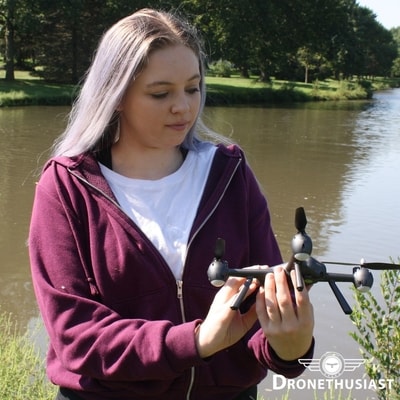 As mentioned, the AA300 is equipped with GPS capabilities (read the full review here). This means pilots can have an easy and stable flight every time when flying this drone. Do note that the drone will need to calibrate each time you turn it on. Despite having to complete this extra step, the AA300 still has a lot to offer.
It comes with a built-in 1080p HD camera that is great for teaching pilots how to use their drones for photography and videography. Users can also try their hand at FPV flying with the camera which makes for exciting flight experience.
While flying the AA300 drone you will get about 15 minutes of flight time. It's kind of a bummer that this drone only comes with one battery, especially when other drones at this price often come with two. However, 15 minutes will still get you a good amount of flying time for you to explore all of the drone's features and flight modes.
Speaking of flight modes, the AA300 has a handful of them, and they're beginner-friendly, too! These include headless mode, altitude hold, one-touch takeoff and landing, and return-to-home. All of these flight modes help you be in control of your drone at all times, so you don't have to worry about damaging it or hurting yourself.
If your drone does take a hit or two, don't worry. The AA300 includes an extra set of propellers and a screwdriver so you can replace your propellers and get back into the air in no time.
This budget GPS drone is a great choice if you're searching for a drone under $500. It's jam-packed with the essentials to get you in the air and having a great time. Check out this video from Altair Aerial about the AA300.
AA300 Tech Specifications
• 1080p HD Camera
• GPS Flight Mode
• 15 Minute Battery Life
• One-touch Takeoff and Landing
• 150 Meter Flight Range
• Return-to-Home system
• Follow-me mode
Pros
• Easy to use
• Beginner-friendly flight modes
• Extra set of propellers
• High-quality Camera
Cons
• Only comes with one battery
• Needs calibrated every time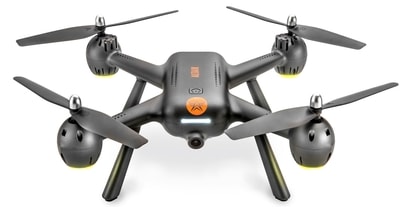 Click To Shop or Read Reviews
2. DJI Spark Portable Mini Drone – Best Professional Drone Under $500
Read Reviews About DJI Spark Portable Mini Drone
That's right – we're putting the Spark about the Phantom 3. Why? Well, you can read our full review for more detail. But mostly, it comes down once again to the fact that the Phantom 3 is the best 500 drone for videographers and budding professionals, while the Spark is a great drone for everyone.
The Spark is newer, which means that it will likely receive support for longer and that it has a newer camera that produces better colors and has more advanced processing algorithms. It also has a longer range and a forward obstacle avoidance system, which makes it a lot more beginner-friendly. It's also easier to use – DJI brags that you can take it from the box to the air in less than a minute, while the Phantom 3 requires you to install the props, connect the remote to a mobile device, and spend multiple minutes waiting for it to pair with the drone.
So, yeah, if you're a hardcore dronethusiast, you're probably gonna stick with the Phantom. But if you're looking for an extremely high-quality option that works for everyone from beginners to advanced pilots, the Spark is an excellent choice at a reasonable price.
Tech Specifications
• Available in 5 different colors
• Features Quick Launch, Face Aware, UltraSmooth technology, Object Avoidance, Return to Home, Dynamic Home Point/Home Point, Auto Exposure Bracketing, Timed Shot, Shallow Focus, and more
• Includes a 12 MP camera with 1080p video resolution at 30 FPS and a live video feed
• Uses a WiFi connection through the DJI GO 4 app
• Includes a range of up to 300 feet
• Able to reach speeds of up to 31 mph when in Sport Mode
• 2-axis mechanical gimbal
• Flight time of approximately 16 minutes
Pros
• Twice the range of the Phantom 3
• Easy-to-use even with all its high-end features
• Small and portable
• Newer camera
• Forward obstacle avoidance
Cons
• Shorter flight time compared to other options in its price range
• Limited range of video options compared to the Phantom 3
• Its size makes it slower and less stable, which might make some videos blurry.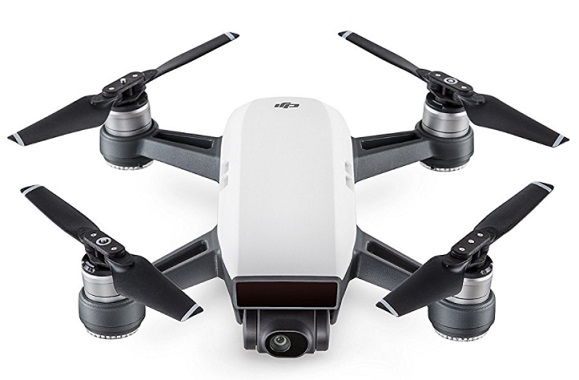 Click To Shop or Read Reviews
Take a look at our Best Drones for Adults review article here.
3. DJI Phantom 3 STANDARD Quadcopter Drone with 2.5 K Camera
Read Reviews About DJI Phantom 3 STANDARD
All right, here's the drone you probably expected to see in the number one spot. The DJI Phantom 3 only costs about $440, but it's still as impressive an achievement as the day it was first revealed. The quality of the product is evident from a noticeable difference in its performance as compared to its competitors.
For instance its maximum range is close to the 1 Km mark that many other drones in this list won't come close to getting. The camera quality is great as well with the option to upgrade to 4K if you have couple of hundred bucks more on the budget. The battery timing of 23-25 minutes is an industry high and you will be hard pushed to find a drone that offers more. So, it is definitely among our best picks in this range. Let's have a more detailed look at it specs-wise and also list down some pros and cons for you so you can make it easier for yourself.
Tech Specifications
• Read-to-fly
• View live image streamed to your phone using the DJI go app
• 25 minutes maximum flight time (may decrease after a certain number of cycles)
• 2.7 K/30 fps video recording capability
• 1 Km maximum range (recommended)
• Simple GPS module
• Follow-me feature
• Intelligent battery that lets you manage effectively
Pros
• Some of the best specs
• Great camera and video recording capability
• Amazing controls and companion app
• Really good for beginners and experts alike
• Generally favorable customer reviews
Cons
• A little expensive compared to competitors
• Poor customer service since the company is relatively new
• Battery cycle numbers are a suspect but it is like that in almost every other drone.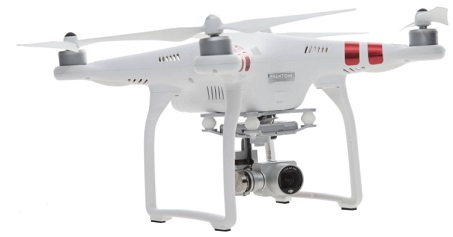 Click To Shop or Read Reviews
4. 818 Plus Hornet Plus – Best Budget Drone Under 500
Click here to See it On Amazon! or you can get fast and free shipping from the manufacturer's website at AltairAerial.com.
The AA818 Plus Hornet is included here as our best budget recreational drone under 500 dollars. Like the HS700 and the Tomahawk, this is a great choice for a beginner or a first-time flier. This is especially true for anyone who wants to get into aerial photography. The AA818 Plus is easy to control, impressively durable, and comes with a lot of ease-of-use features. These include Headless Mode (which makes it much more intuitive to control), Altitude Hold Mode (which keeps it steady in the air), multiple speed settings for different levels of user experience, one-touch take-off and landing, and the ability to control it either from a mobile device or from a videogame-style controller – whatever works best for you.
The most impressive feature here is the 15-minute flight time per battery. With two batteries included in the box, you can fly for 30 minutes at a time, which is perfect if you need practice, if you're flying for fun, or if you want to practice some aerial photography. In fact, this is a great drone for that specifically thanks to its shape and stable hover (not to mention the high-definition built-in camera.) Check out this video of the Altair 818 Hornet:

Tech Specifications
• Built-in 720p HD camera
• Ease-of-use features like Headless Mode, Altitude Hold Mode, three speed settings, one-touch take-off and landing
• Comes with a Low Battery Alarm for safety purposes
• Has a 6-axis gyro for ultimate stability
• Android and iOS wireless FPV streaming
• Takes a 1800mAh LiPo battery
• Has a flight time of up to 15 minutes
Pros
• 15 minutes of flight time off of a single battery charge, two batteries included
• Long range (150 meters!)
• High quality 720p camera
Cons
• Handles poorly in wind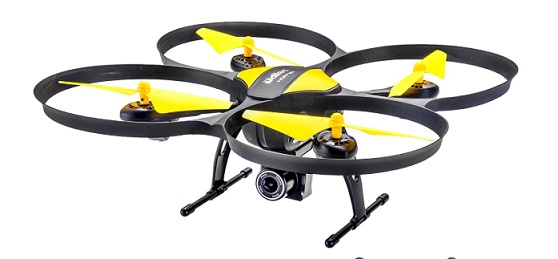 Click To Shop or Read Reviews
5. 3DR Solo Drone Quadcopter
Read Reviews About 3DR Solo Drone
Now everyone doesn't have the deep pockets to purchase a $450 drone and that is where our budget pick comes into play. The 3DR Solo is a decent drone that comes at half the price of our top drone under 500. Let's see what it is capable of.
The first thing you will like about the quadcopter is its gaming-style controls that feels as if you are playing a video game. As a result most of the users were able to adapt to the new drone very easily so it is a big plus point if you are buying a drone for the very first time. Rest of the features are pretty ominous as compared to the drone market like the camera is adjustable, you can pause flight in the mid-air and an HDMI port in the controller that you can use to stream the video on virtually any screen possible. It is a fairly simple drone and it has mostly garnered good reviews on Amazon.
Let's have a closer look at it vis-a-vis specs and pros/cons.
Tech Specifications
• Ready-to-fly
• 18 minutes flight time
• Streams video to smartphone
• HD camera
• Upto 700m range
• 40 mph speed
• GPS navigation
• No inbuilt camera
• Gimbal camera support
• Follow me feature
Pros
• Within a tighter budget
• No inbuilt camera is also a pro for some people as they can customize the camera experience as they want.
• Cool gaming-style controller
• Smart drone
• Smart Shot capability
Cons
• Have to spend extra for camera if you don't have one already so the price difference might be nullified
• Availability issue
• Customer service issue that seems to be associated with literally every drone on Amazon
• Some technical glitches reported by a few customers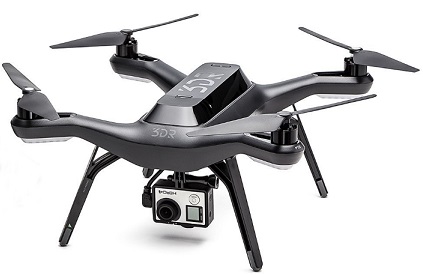 Click To Shop or Read Reviews
7. Parrot Bebop 2 Drone
Read Reviews About Parrot Bebop 2
The Parrot Bebop 2 drone is a good drone under 500 that escapes that radar generally, but it is a really nice product if you look at it overall. Costing a bordering $480, the drone has some exceptionally strong motors that allows it to fly higher altitudes with ease as well as a few other great features.
While the range is its main feature, its flight timing is pretty impressive at all, clocking 25% more than average drones in this price range to the level that take it to 23-25 minutes worth of it. The flight time averages more or less than the DJI Phantom 3. Another great feature is its bright LED light in the rear that allows much improved visibility compared to other drones especially in low-lighting conditions.

Tech Specifications
• It is a ready-to-fly drone
• Up to 25 minutes of flying time
• Streams real-time video to a smartphone companion app
• !4 MP 1080p video recording capability
• 1 Km RC radius, probably even more but video streaming deteriorates after an initial range
• 3-axis digital stabilization capability that offers a fixed angle of view which is revolutionary for a drone so you don't lose its orientation
• Control with the help of smartphone or the sky controller
Pros
• Best range with the Sky controller
• Great for beginners
• Stunning camera that is one of the best in this range
• Highest battery timings in drone under $500
• Fish-eye lens for better navigation
Cons
• No sky controller remote and that is very expensive
• Controls don't work well with smartphone app or other controllers so price has to be jacked
• Near the upper limit of price range
• Wi-Fi signal tends to drop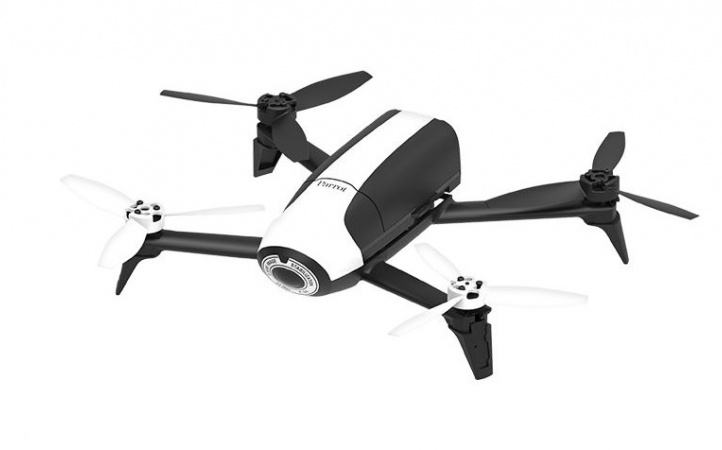 Click To Shop or Read Reviews
8. Force1 UDI U818A WiFi FPV Drone in Black
Read Reviews About Force1 UDI U818A WiFi FPV
Force1 has a way of pushing out powerful drones for insane price tags that almost don't seem fair. The UDI 818A WiFi FPV Drone in Black is set at only $150 and comes with a VR headset and power bank.
This is a great drone for anyone who wants some great features, a decent build, and the VR aspect all wrapped up into one. You get some of the more traditional features, such as Altitude Hold, paired with some of the features that aren't usually present in drones under 500, such as Custom Route Mode.
Tech Specifications
• Ready-to-fly
• Up to 9 minutes of flight time
• Streams real-time video to a smartphone
• 2MP 720p photos and video recording capability
• Up to 120m of range
• Comes with a bonus VR headset
Pros
• Comes with 2 LiPo batteries for double the flight time
• Has Altitude Hold, Custom Route Mode, and Headless Mode
• HD camera with 1280p x 720p at 30 fps
• One Button Take Off and Landing
• Lightweight, easily maneuverable design
• Perfect for beginners
Cons
• Issues with going out of range on its own
• Problems reported with one motor not working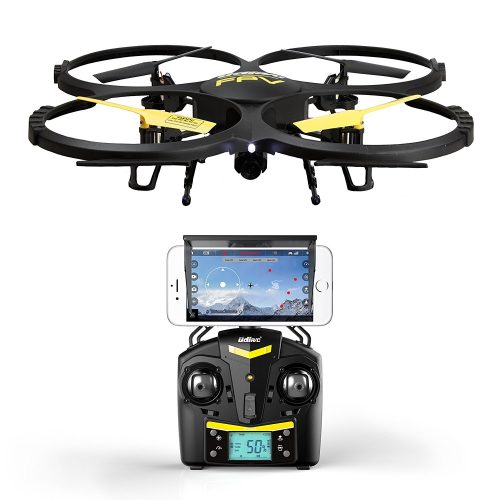 Click To Shop or Read Reviews
9. Force1 F100 Ghost GoPro-Compatible Quadcopter
Read Reviews About Force1 F100 Ghost GoPro-Compatible Quadcopter
The F100 Ghost GoPro-Compatible Quadcopter by Force1 sits in the category of standard drones that are capable of incorporating a GoPro, yet it differs in some very cool ways that make it stand out. With a $200 price tag, it's worth its weight in gold and so much more.
It's an ideal GoPro-compatible drone for those interested in aerial photography and videos, thanks to the quiet High and Low speed settings and the brushless motors. Audio and images are both clear as day even speed control settings are set to High.
Interestingly enough, most camera-compatible drones have a large drop in battery power when a camera is mounted. Although, in this case, without a GoPro you can expect up to 15 minutes of flight time, and only up to 12 minutes of flight with a mounted GoPro.
Tech Specifications
• Ready-to-fly
• Up to 15 minutes of flight time
• Compatible with GoPro Hero 3 and Hero 4 mounted cameras
• Has a 300m distance range
• Powerful brushless motors for better control
Pros
• Comes with a bonus battery to double your flight time
• High and Low speed modes ideal for photos and videos
• Performs 360° stunts and flips
Cons
• Does not come with any distinctive or useful features
• Not very durable
• Controller's start sequence can be iffy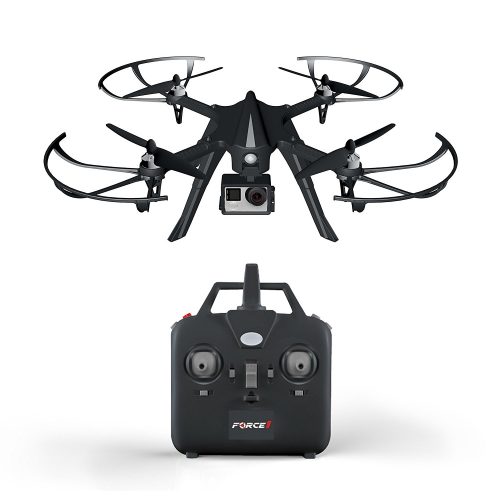 Click To Shop or Read Reviews
10. UPair One Drone with 4K Camera Bundle
Read Reviews About UPair One Drone
4K camera drone!? Now that we have your attention, this is easily one of the best drones under 500 yet! Costing $349 at the moment, it is a mid-range drone price-wise and promises to be a really good one. One of the very noticeable things you will like about the drone is its huge LED screen controller. It is almost like a portable console and feels really good in the hands. It comes bundled with over 11 items in the packaging and it seems really good to see it all together.
While the battery accompanied with the drone is bigger than most, the flight time per charge is not that impressive at all with a maximum 18 minutes time being touted by the supplier which will likely mean around 15 minutes in practice. It has U-shape design that forms its fuselage that is linked to better video shooting capability and GPS features.
Tech Specifications
• Ready-to-fly drone
• Gimbal and camera included
• FPV monitor included
• PVC composite construction
• Up to 18 minutes of flight time
• 800m (2624 feet) maximum flying range
• One-click return feature
• Max live video transmission is 500 meters or 1640 feet
Pros
• Comes packed with accessories that include several items many other manufacturers charge extra
• Great remote control with nice LED display
• FPV capability
• Battery overcharging avoidable
Cons
• No-auto return feature so it can easily fall dead to the ground
• Camera's performance is a big question mark and you cannot change it or tinker with it
• Battery timing really average
• Battery cycles are a suspect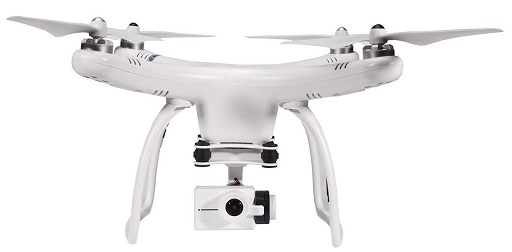 Click To Shop or Read Reviews
11. Yuneec Breeze Flying Camera with 4K video – Best Video Drone Under 500
Read Reviews About Yuneec Breeze
Now the quadcopters under this heading are specifically designed for the best video experience in this price range. While the drone's performance markers could be down in this category of video drones under 500, you will be hard-pushed to find better video quality than these two.Now Yuneec promises a lot of good stuff in its product description.
We are immediately introduced to its stunning 13 MP 4K video recording capability that can shoot some incredible videos and capture some amazing pictures for you as well. This drone has been designed for novice users and thus special focus has been done for the ease of the media capture process. It has several modes for this purpose including automated flying modes like selfie, pilot, orbit, follow me and Journey. So, you can just do your thing and the quadcopter will just go around its business. There is also a nice indoor positioning system as well so that it won't crash into the ceiling or nearby objects while filming or capturing shots. With its companion app, you can share the snaps and videos in one tap as well.

Tech Specifications
• Ready-to-fly RC drone
• 4K stunning camera performance
• Automated flying modes
• 12 minutes flying time
• Streams video through
• Controlled via smartphone app but you can also check out the new controller but that will cost you a little extra
• Connects through Wi-Fi
Pros
• Stunning camera experience
• Well-designed automated features
• Incredibly lightweight so you can hold it around with ease
• Indoor positioning system makes it a good choice for indoor photography and flying experience
• $375 for a great video drone
Cons
• Poor battery timing which is literally half than its competitors that are not classified as video drones
• No controller and has to be controlled via smartphone
• Connectivity issues reported by many customers
• App updates have been an issue with some causing the drone to malfunction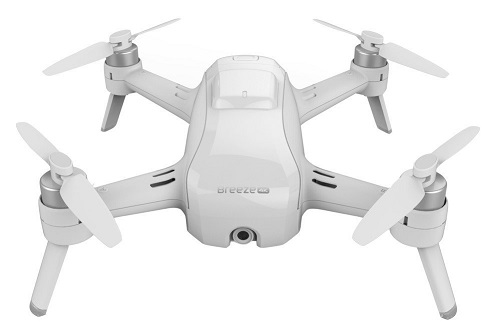 Click To Shop or Read Reviews
12. Yuneec Typhoon G Quadcopter with Go Pro Gimbal and a Steady Grip
Read Reviews About Yuneec Typhoon G
This drone's price is currently quoted at a whopping $780 but it also includes a GoPro Hero and a few other extra items that you might be able to knock off from the price. There is also the condition of its delivery that it can't be delivered anywhere else in the world except the mainland states which shows how much advanced its technology is.
Now it is from the same company as the previous drone in this category and this one too can be classified as a video drone. It comes with a 3-axis gimbal that stabilizes the camera and allows you to get the best snaps and videos. It comes with a familiar watch me and follow me features. There is also a live feed option and the drone's battery lasts around 18 minutes maximum so while it is better than the previous drone by Yuneec, it is still pretty average compared to the best drones in the business.
Tech Specifications
• Ready-to-fly quadcopter
• 3-axis gimbal support for GoPro cameras
• Up to 18 minutes of flight time
• Comes with an ST10 ground station and transmitter that boosts signal strength
• Follow me and watch me features
• GPS assisted location
Pros
• Great gimbal support for GoPro
• Comes with a long-range controller
• Smooth flying experience with minimal interference due to the good transmission signals
• You can attach a GoPro camera of your choice
Cons
• Doesn't come with inbuilt camera support
• Battery timing really average
• Very expensive compared to other competitors
• While the GoPro and hard and waterproof, the drone itself is not so thus taking away the huge advantage of the camera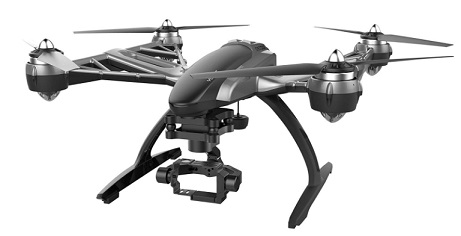 Click To Shop or Read Reviews
If you have limited knowledge of drones and don't know what an FPC drone is, you can see a detailed explanation in the FAQs we presented at the very start of this list. To summarize it, an FPV drone is a quadcopter with the ability to stream live video to the user below to the user's FPV goggles or VR. This gives a first person feeling to the guy piloting the drone and is considered a revolutionary technology when it comes to the development of drones. Now RC drones under the price of $500 may not offer the best FPV experience but we were able to find some decent ones on Amazon. Lets us have a look at them now.
13. Force1 DYS XDR220 FPV Carbon Fiber Racing Drone Kit – Best FPV Drone Under $500
Read Reviews About Force1 DYS XDR220 FPV Carbon Fiber Racing Drone Kit
The Force1 DYS XDR220 FPV Racing Drone goes for approximately $500, if not somewhat less, on the market these days and is one of the best kits to start with if you have an interest in racing drones.
For one, the brushless SE2205-2300K motors are paired with premium propellers to ensure that the overall system is a seriously powerful one. Speed tricks, such as donuts, for example, are incredibly easy. Overall, the speed pairs with the high precision for a fast performance without crashing.
Tech Specifications
• Comes as a kit that you must build yourself
• Uses an FPV racing feature paired with premium 5.8GHz FPV goggles and the onboard camera
• Flight time depends on the battery – for example, 1300mAh 3S 45c LiPo gives 4 minutes
• Uses a 2.5mm HD CCD camera
• 1500m air and 900m ground ranges
• Uses 9 channels with customized switches
• Frame made of carbon fiber for maximum durability
• Equipped with a balance charger
Pros
• Enhanced camera and sensors for higher quality images
• Color LCD screen with an intuitive setup
• Real-time video transmission
• Balance charger for equal battery lifetime and increases the power
• Adjustable camera angle with a hard shell for protection
• Uses a single button to change the channels for an easy integration
Cons
• The kit can take quite a long time to fully put together
• Balance charger may not have the adapter you need
• You will have to obtain your own LiPo battery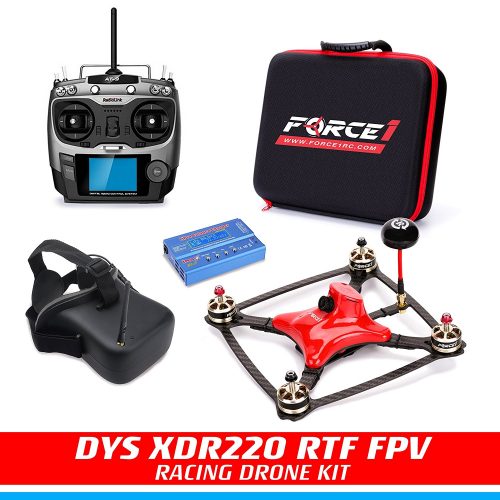 Click To Shop or Read Reviews
14. Walkera F210 3D Edition Racing Drone With Devo 7
Read Reviews About Walkera F210 3D
Currently costing $399, this FPV drone is a good place to start if you are looking for a worthy drone under $500. Normally FPV drones are also associated with drone racing so this one is also designed in part keeping that in mind and also named accordingly. It is a tough little RC plane and it can withstand a considerable number of crashes and failures and still live to tell the tale. Since it is meant for racing purposes, it is very fast as well and accelerates amazingly well.
It goes with many of the famous racing accessories like Headplay goggles and you can experiment with a GoPro slot as well. You can control and alter many of its perimeters with the help of your smartphone and it comes with a Devo 7 controller as well for high speed chase.
Here are its various specs

Tech Specifications
• Ready-to-fly quadcopter
• Comes with a Devo 7 controller for better racing experience
• Lithium Polymer batteries
• Comes with an extra GoPro attachment point that you can use for photography purposes
• Flight controller is adjustable with the help of a smartphone
• Motors are capable of rotating in both directions
• Speed more than 30 mph
• Expected flight time around 15-20 minutes
Pros
• Good racing drone
• Great for both beginners and pros
• Really rugged drone for all kinds of terrain
• Mostly garnered positive reviews from customers around the world
• Mid price range
Cons
• Doesn't have simpler functions like return home and follow the user
• No goggles that come with the drone
• Battery timing suspect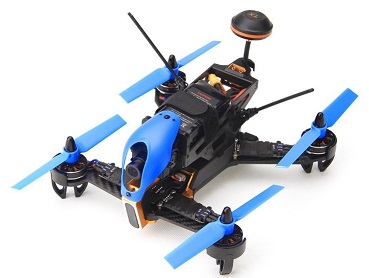 Click To Shop or Read Reviews
15. Walkera QR X350 PRO With Devo 7
Read Reviews About Walkera QR X350
The Walkera QR X350 PRO is pricier than $500 but we have considered it if you don't mind raising another $60 or so extra for your RC drone. It also comes with a Devo 7 controller for your FPV experience its camera has iLook capability. With a 5200- mAh battery that can provide between 20-25 minutes of flying, and advanced gimbal support, this one shapes up to be a great drone.
In some instances it doesn't live up to its price as it is not pre-programmed with no-fly zones like the DJI copters are that don't allow it to take-off in unsuitable places like cramped quarters. But, its range is considerable with the wireless experience ranging 1-2 Km outside and near flawless transmission of signals for big chunks of time.
Here are its specs

Tech Specifications
• Ready-to-fly RC drone
• Devo 7 controller unit comes along
• 5200 mAh Lithium-Polymer battery that makes its flight time last for around 20-25 minutes
• Camera iLook capability
• Gimbal G-2D included as well
• 13 MP camera
Pros
• Long range transmission that is fun to experience
• Really good camera
• Comes with its own controller Devo 7
• Good battery timing 20-25 minutes
Cons
• Average net review by customers
• Unreliable flight pattern
• Battery issues
• Product service issues reported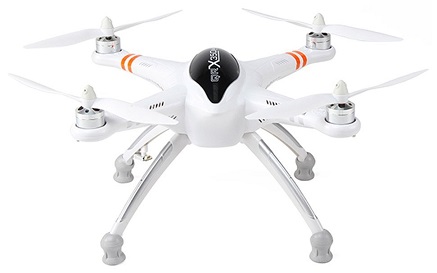 Click To Shop or Read Reviews
16. ARRIS X-Speed 250B 250mm Quadcopter Racer FPV 250
Read Reviews About ARRIS X-Speed 250B
One thing that visibly annoys me is the length of the name some companies have the audacity to associate with their products. We aren't going to use this long name under any circumstances so let's just call it ARRIS drone. It is a ready-to-fly drone that costs around $309 at the moment and comes with an FPV ability, and has a long-range AT9 transmitter and RD9 at the receiving end. You can adjust the angle of the FPV camera as well from 0-30 degrees so it is pretty cool to use and feels like a realy battle drone while we are using it.
Just like other quadcopters in the category, its flight perimeters can be adjusted with the help of a smartphone. It uses a vibration damping plate that according to the manufacturers can provide better media capture performance, stabilize the drone and prolong the life of the electronic parts as well. Plus, this is a very fast drone.
Tech Specifications
• Ready-to-fly quadcopter
• Adjustable FPV camera up to 30 degrees
• Employs vibration dampening mechanism
• Propellers can be replaced as well with tri-bladed ones and bi-bladed ones available
• F3 flight controller
• Flight controller can be adjusted with the help of smartphone
• Very fast flight and quick response so it is good for racing
Pros
• Controller included in the package
• Adjustable FPV camera is an amazing utility
• Fast response and speedy drone flight
• True racing drone and hence the ridiculously long name
• Fast motors and customizable props
Cons
• Flight not that stable due to focus on racing aspect of things
• No view on RC
• No goggles included
• Most customer's reviews were good but there were some issues as well
• Signal loss reported in a few cases but it could easily be due to non-utilization of the right antenna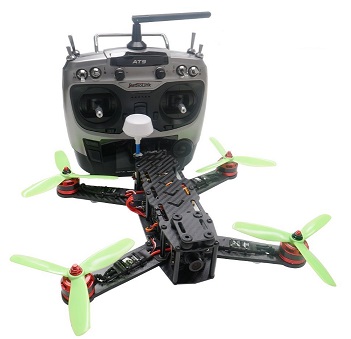 Click To Shop or Read Reviews
17. EACHINE Wizard X220S
Read Reviews About EACHINE Wizard X220S
The EACHINE Wizard X220S is one of the best racing drones under 500 you'll ever hope to find. This is the ARF version of the racing drone, which is an FPV racing drone that is paired with the Omnibus F4 5.8G 72CH 200mw/600mw Switchable VTX 30A Dshot600. In short, you're looking at an incredible amount of power and speed for a price you can't turn down.
The Omnibus F4 V3 flight controller gives you a powerful processor that allows for faster PID loops when compared to the previous board the EACHINE Wizard X220S used. You are able to customize a number of aspects any which way you like. For example, a rubber HD camera mount is included if you want to add a Runcam 3 or even a GoPro Session. You can also add your own propellers if you'd like, as well.
It's recommended that you use a 1500mAh 4S 14.8V 75C LiPo battery, but depending on the way that you customize it yourself if you choose to do so, it'll generally be up to you. Either way, if you want a customized racing drone that gives you the ultimate amount of power for under 500, this is definitely the one you want.
Tech Specifications
• betaflight_3.1.5_OMNIBUSF4SD firmware
• Built-in galvanometer
• LC filter
• Built-in 5V/3A BEC
• 30-degree camera mount
• 800TVL camera
Pros
• Powerful racing drone under 500
• Can be highly customized
Cons
• Does not come with a battery or charger
• Camera must be purchased separately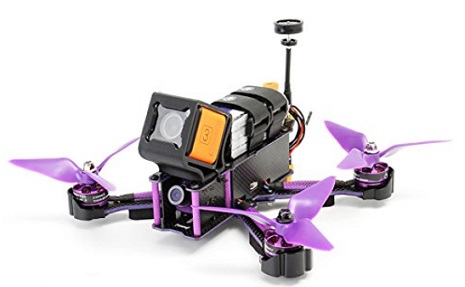 Click To Shop or Read Reviews
Verdict About Drones Under 500
Now the verdict part can be tricky as we had to cover such a large number of drone from various categories but it is fair to say that the DJI Phantom 3 drone is among the best in the business and has some serious background research and practical implications on the back of it. Its price is competitive and simply put there is no better balanced, "well-behaved" drone out in the market than the DJI Phantom one. Other notable picks include Walkera F210 for FPV drone and racing experience while in the video drone category, Yuneec Typhoon G really seems to be the better one.
FAQs About the Best Quadcopters Under $500
What is a drone?
A drone, also known as an unmanned aerial vehicle or UAV, is an RC aircraft designed to fly without a human pilot on board. They are flown using a ground-based controller, or transmitter, but they can also be autonomous, as well.
What is a video drone?
Video drones are exactly what they sound like – drones that are able to record videos! There are a lot of best drone under 500 that are able to record high quality, crystal clear videos that put even some of the more expensive drones to shame.
What is an FPV drone?
An FPV drone is capable of First-Person-View, which gives you a direct seat into the drone without actually being in it. This means that, through a live transmission feed to the transmitter or smart device, you can see exactly what the drone is seeing in real-time!
How long can a drone fly for?
Flight times range based on the LiPo batteries used. The average amount of time a drone can fly is typically around 10 to 15 minutes, so you may want to invest in some extra batteries before you hit the skies.
How far can a drone go?
Every drone has a different range span. Some are only able to go up to 150 meters away, while others can reach a maximum distance of up to 500 meters. The perfect range for you all depends on what you plan on doing with the drone. For example, using FPV transmissions or taking some photos.
What is the average life expectancy of these drones?
This is a complicated question that doesn't really have a straight answer. The life expectancy of your drone depends on whether or not it's crashed, how well you take care of it when you're not flying it, how you fly the drone, etc. Basically, as long as you take care of your drone, you'll be able to get hundreds of flight hours in.
What is a quadcopter gimbal?
The gimbal on a quadcopter is designed as a support system, which is used to stabilize the onboard camera. Having a drone with a gimbal is the best way to ensure your shots come out perfectly. With this in mind, if you're in the market for a new camera drone under 500, we suggest it has a gimbal. You'll thank us later!
What is a 4K drone?
A 4K drone is exactly as it sounds – it's a drone with 4K video quality, which makes it the best of the best.
Is 4K under 500 possible?
Absolutely! The possibilities when it comes to the quality of drones has improved so much these days. You don't have to have thousands of dollars to get the best quality possible, being 4K, anymore.
What is the nominal range and battery timing of the drones under 500?
The range and battery timing of drones vary according to their functionality and the quality of battery present. At maximum, you can get twenty minutes of flying time on your drone and that is more than enough for a good video log and taking breathtaking overhead snaps from a distance. The range of these drones also varies significantly. The maximum range we are looking at is around 400-500 meters.
Are there any other things I need to consider?
One thing that freaks some people out is the kind of assembly required before a drone can take-off in the air. So, if you are wary of any assembly, always buy drone that are marked RTF or Ready-To-Fly. If you enjoy assembling stuff, go for BNF or Bind-and-Fly drones and if you want even more tinkering, opt for a ARF or Almost-Ready to-Fly. These drones come equipped with drone kits and you can modify your drone according to the manual. There may or may not be a standard remote control with the ARF ones so you need to make plans accordingly. This nomenclature is easily available as labels on the packaging of these drones.
Also, not all drones are easy to fly. While quadcopters seem easy, what makes them so simple to fly is their onboard flight controller that stabilizes it. So, you need to look for a drone that customers have termed easy to fly in their reviews.
Tell us what you think and which other drones need to be included on our Best quadcopters under $500 list.
Further Reading
Our rankings of the Best Drones under $100
Other Interesting articles in "
Reviews

"