5 Best Drones Under $400 – [Updated 2021]

Updated:
The demand for flying drones has been steadily rising in the past few years. This is due to the fact that drones can perform most of the tasks that were practically impossible or very expensive a few years ago. Unfortunately, a flying drone tends to be expensive for the average person who may need to use one. The good news is that there are plenty of economically viable drones that are available in the market.
When you go shopping for a drone, you should consider the features that you need. While the more expensive drones are loaded with plenty of features, the key features needed by any drone user can be found in the most basic drones. The cheaper drones may not have as many features but, they give you what you need.
If it is taking aerial photos or surveys, you can perform your task pretty well. If you are on a budget and you are looking for a drone that can give you both value and quality, you may consider these options. Here are the best drones under 400 USD.
Drones not your thing? Maybe a remote control car will excite you. Check out some of the best RC cars on the market.
Best Drones under 400 Review
Altair Aerial Outlaw SE
See the best price on Amazon.com or get Fast & Free Shipping from their Website at Altairaerial.com
The Outlaw SE is an advanced GPS drone that's perfect for beginners and great for experienced pilots, too. In GPS flight mode, the drone automatically keeps itself stable, requiring very little input from the user except to fly it to wherever you want it to go and leave it hovering there. This means you can take great pictures with the onboard 1080p HD photo and video camera, and that beginners can ease themselves into the more advanced flight modes that are available.
Check out this video from Altair Aerial or you can read our full review here!
The drone also has follow-me mode which will allow the drone to follow wherever you go as you walk along and explore. It will also return to a home point with the touch of a single button as long as there's a GPS signal available.
Features
– Comes with a 1080p HD camera
– Has several GPS-enhanced features for stabilization and usability
– Provides 18-20 minutes of battery life
– Provides a 600-meter flight range
– Offers altitude hold and intelligent orientation features that make it easy for beginners to fly
– Has Follow-me mode
– Can take off and land with the push of a single button
– Can return to a "home" point with the touch of a single button
– Great how-to videos available at altairaerial.com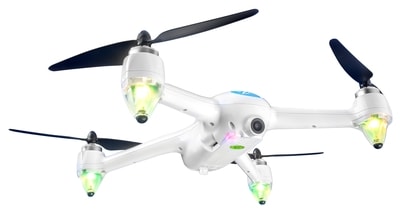 Click Here to See Best Price!
DJI Spark
Read reviews and shop for the DJI Spark
The Spark is a 4 rotor quadcopter made by the biggest drone company in the world: DJI. It's the cheapest of its line of mini drones, which also includes the Mavic family of products. The Spark has a 100 meter range, a 1080p camera, and a flight time of about 15 minutes, but what you're really paying for here are the advanced features. These include a Gesture Mode that lets you take pictures by waving your hands, and a vision positioning system which allows the drone to maintain a stable hover and avoid obstacles indoors.
Features

– Provides speeds of up to 31 miles per hour
– Has a built-in 1080p HD camera
– Provides 15-16 minutes of battery life
– Offers a vision positioning system, Flight Autonomy, altitude hold, and Gesture Mode
– 2-axis gyro stabilization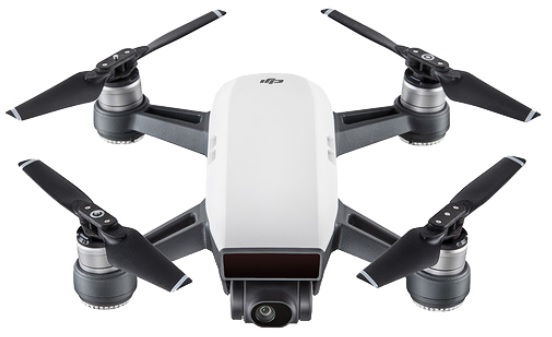 Click Here to See Best Price!
The Parrot Bebop 2
Read reviews and shop for the Bebop 2
This is a small quadcopter with four rotors. It is able to record images and videos flying overhead. It has some great features such as an inbuilt 14MP camera. This drone is sleek in design and light giving it an advantage over the others. One feature that stands out is the ability for propellers to come to a stop in case of a collision. When a collision happens, it is the continuous movement of propellers that causes the most damage. Further, the parrot supports a 3 axis stabilization system even in strong winds, making it a perfect choice for photo and video shooting. This is definitely a good bargain for the best drone under $400.
Key Feature Of The Parrot Bebop 2


– Offers 25 minutes of uninterrupted flight due to its 2700mAh battery.
– Comes with a 14-megapixel fisheye lens that offers high quality 1080p video recording.
– Powerful motors that enhance flying even at high altitudes.
– Powerful flashlight for visibility even at high altitudes or in dark places.
– Requires registration with FAA, you can visit their website for more details.


Click Here to See Best Price!
Hubsan H109S X4 Drone
Read reviews and shop for the Bebop 2
This is a small but very powerful camera drone. It has 1-axis gimbal for rotation and the latest 6-axis stabilization system.This is one of the most stable drones under 400usd. The gimbal can be adjusted from 0 degrees to 170 degrees. This gives you the option to point your camera straightforward or all the way backward. The Hubsan H109S X4 has GPS direction features that allow it to come back home if needed. The other features are 1080p HD camera and a longlasting battery.
Features of the Hubsan Best Drone Under 400


– Supports standard remote control with Android 4.2 operation system
– Has a single axis gimbal rotation and a 6 axis flight control system.
– High definition 1080p cameral with real-time FPV, adjustable to change shooting point of view.
– has a 2.4 GHz receiver and 5.8 GHz transmitter for powerful signal transmission even at high altitudes.
– Has the latest GPS system with a return to home feature and high altitude location capabilities.
– Optimized for low power protection.
– Gyro sensitivity for adjusting the smoothness of the flight.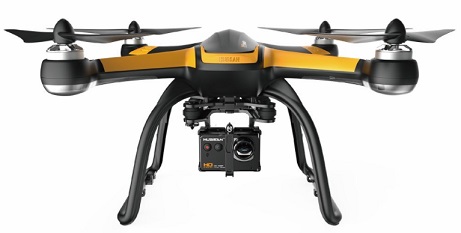 Click Here to See Best Price!
Further Reading
Shop for drones under $100 at Dronethusiast
Best Drones under 500 via Dronethusiast
Other Interesting articles in "
Reviews

"