In the past few years, hoverboards have emerged as an exciting and trendy toy around the world. They are one of the coolest ways to get around and make great gifts for birthdays and Christmas. If you've been considering purchasing one for a child in your life, now is the time. To help you find the right one, we've searched the internet for the best hoverboards for kids and found a variety of styles that you're sure to love. Read through our reviews of the best hoverboards to see which one will fit you best!
The Best Hoverboard For Kids
GOTRAX Hoverfly
Read reviews and shop for the Gotrax Hoverfly
Features:
– Self-Balancing Mode
– LED Lights
– Supports up to 200 lbs.
– Travels up to 7 mph
This is an exciting hoverboard for sale that comes in a variety of vibrant colors to fit any kid's style. IT's self-balancing mode makes it great for kids and helps them ride smoothly on level surfaes. Another feature of this hoverboard that's totally cool are the LED lights on the wheel that light up as someone is riding. This is a basic hoverboard model and priced at $139.99. It's a simple yet super fun hoverboard that kids are sure to enjoy.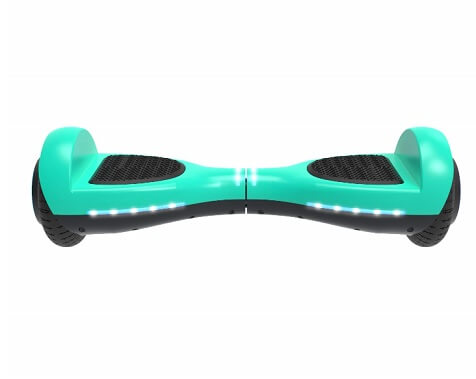 Click To Shop or Read Reviews
SISGAD Hoverboard
Read reviews and shop for the Sisgad Hoverboard
Features:
– Self-Balancing
– Built in Bluetooth speaker
– LED Lights
– Can support up to 200 lbs.
– Travels up to 9 mph
The SISGAD Hoverboard is a real showstopper. Its bluetooth speaker allows for the rider to play music from a mobile device and listen and ride at the same time. It also comes in 13 different colors. Kids are sure to love riding this around the block for a bit of outdoor fun. Priced at $142.99, this hoverboard can reach speeds of 9 mph and has a self-balancing mode to help any child get the hang of riding around.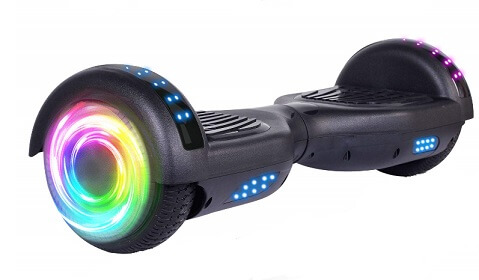 Click To Shop or Read Reviews
EPCTEK Hoverboard
Read reviews and shop for the Epctek Hoverboard
Features:
– Self-balancing
– LED Lights
– Anti-skid wheels
– Can supports up to 264 lbs.
– Travels up to 8 mph
This simple hoverboard can be enjoyed by the whole family! Mom, dad, brothers, and sisters can all have fun riding on this hoverboard. This model comes in a variety of colors as well as metallic options and prints for those who enjoy something more flashy. The wheels light up with LED rainbow lights as riders scoot around. The self-balancing mode and anti-skid wheels add a boost of safety as kids begin learning to ride. Priced at $127.99 it's a number one new release on Amazon, and definitely worth checking out.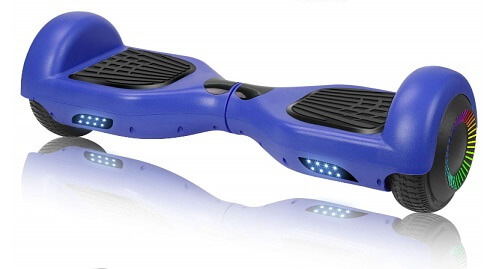 Click To Shop or Read Reviews
XPRIT Hoverboard
Read reviews and shop for the Xprit Hoverboard
Features:
– LED Lights
– Bluetooth Speaker
– Can supports up to 165 lbs.
– Travels up to 6 mph
Another hoveboard option with a bluetooth speaker, this style is priced at $119.99 making it one of our more budget-friendly picks. However, while it costs less, there are still some great features to the XPRIT Hoverboard includeing a range of color options, LED lights, and how easy it is to learn on this board. It is one of the smaller hoverboards and travels only to 6 mph, so if you're looking for something just a little faster, we may suggest one of the boards we've listed above. However, it's a great learner board for children who may be a little aprehensive to learnig how to ride.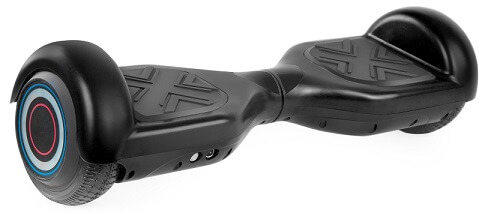 Click To Shop or Read Reviews
Hoverstar Hoverboard
Read reviews and shop for the Hoverstar Hoverboard
Features:
– LED Lights
– Supports up to 180 lbs.
– Travels up to 8 mph
The Hoverstar Hoverboard has a slightly different look than our other choices for best hoverboards for kids. However, this board still comes in a wide array of colors, so your child's favorite is bound to be available. While there aren't as many features on this board as itc costs only $118, you can still reach some great speed on this style of board. This hoverboard will be great for beginners and it really has a sleek look as kids zoom down the driveway or around the block. This is our choice for a cost-friendly option for those looking for a more simple hoverboard.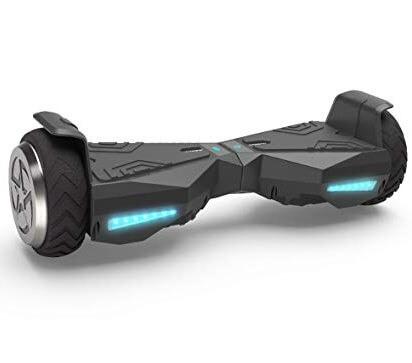 Click To Shop or Read Reviews
Hoverboards for Kids – Frequently Asked Questions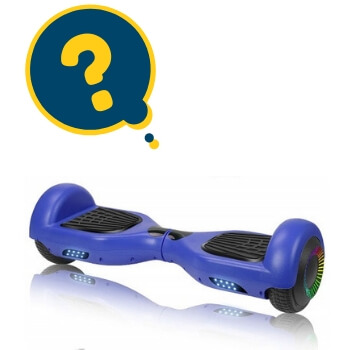 Can kids ride hoverboards?
Yes, with close adult supervision a kid can ride a hoverboard. It's recommended that an adult is present until a child is at least 13 years old and is confident riding on their own.
What age is good for a hoverboard?
Manufacturers recommend that a child is 6 years old before riding a hoverboard. However, a 4 or 5 year old with good motor skills may be able to safely ride on a board.
Are hoverboards hard to ride?
Hoverboards are harder to ride than they look, but many come with self-balancing features that make it easier for kids and other riders to learn the ropes. They are fairly easy to ride once you get the hang of it.
Is a hoverboard safe?
There is always a small safety risk when riding anything electric. However, hoverboards only reach maximum speeds of 10 mph so it's not nearly as dangerous as an electric scooter, for example. It may be difficult for your child to balance, so we recommend taking it slow and wearing protective gear such as helmets, elbow pads, and knee pads.
Dronethusiast.com has several up-to-date reviews and suggestions for kids electronic toys. Take a look at our Electric Cars for Kids article as well as our Best Walkie Talkie for Kids Reviews. You'll be sure to find the next great gift for your child or grandchild this year.
Other Interesting articles in "
Just For Kids

"