What's The Best Outdoor Quadcopter Drone With Camera? -[Updated 2021]

Updated:
Just over the last two years alone, manufacturers have really stepped up their game, by offering many different types of outdoor quadcopter drones with cameras, for fairly low prices. Now the amateur hobbyist can explore areas such as canyons and beaches, take aerial photos of events such as soccer games, and learn the basics of maneuvering around before they make the decision to upgrade to a different model. When you begin to get serious with flying an outdoor quadcopter with a camera, you will be amazed at the perspective of locations you have been going to for years from overhead.
With all of the options out there, sometimes it can be especially helpful for any outdoor drone enthusiast to narrow it down by comparing pros and cons, and looking into details about their performance that will affect your purchase. Whether you want to start in the under $100 range or opt straight for something that is a bit more expensive, this guide can give you an idea of what you can expect before you get behind the controls of each outdoor drone with a camera. Here are 5 of the coolest ones out there with some features and stats to check out to help you locate the best outdoor quadcopter with camera for you.
BEST BUDGET OUTDOOR QUADCOPTERS WITH CAMERA
#1 Long Range Quad
Altair Outlaw SE
Camera:

1080p FPV 500 Meter Range

Range:

600+ Meters

Time:

18-20 Minutes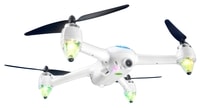 #1 Intermediate Quad
818 Plus
Camera:

720p

Range:

150 Meters

Time:

15 Minutes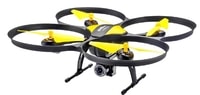 #1 Beginner Quad
AA108
Camera:

720p Realtime FPV

Range:

100 Meters

Time:

10 Minutes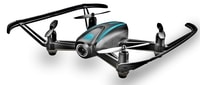 BEST PROFESSIONAL OUTDOOR QUADCOPTERS WITH CAMERA
#1 Pro Outdoor Quad
DJI Phantom 4
Camera:

1080p

Range:

6 Kilometers

Time:

28 Minutes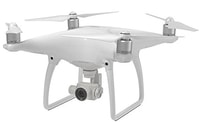 #2 Pro Outdoor Quad
DJI Phantom 3 Professional
Camera:

12 MP 2.7 K

Range:

5 Kilometers

Time:

23 Min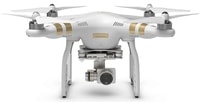 #1 Foldable Quad
DJI Mavic Air
Camera:

4K 12 MP

Range:

10 Kilometer

Time:

21 Minutes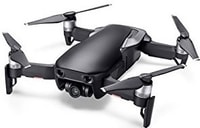 Best Outdoor Quadcopter Drone With Camera:
Altair Outlaw SE Drone – Best Budget Outdoor Quadcopter with Camera
See the best price on Amazon.com or get Fast & Free Shipping from their Website at Altairaerial.com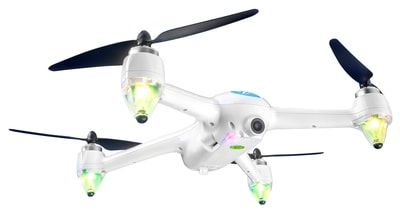 If you are looking to explore the outdoors with an amazing drone, the Outlaw SE is the drone for you. It's great for both the beginner and experienced pilots with a love for adventure. With it's GPS flight mode, the drone flies smoothly through the air without losing control.
This is perfect for beginners just learning to fly outdoors and provides safety for experienced pilots looking to take on a more challenging flight path can use this too.
The Outlaw SE also includes the built-in 1080p camera that gives you the amazing opportunity to take great aerial photos and videos outdoors. It's perfect for exploring new sights and places.
One great safety feature on the Outlaw SE is the Return-to-Home button which allows you to safely land your drone. This button is great for keeping you and your drone safe if it were to lose satellite connection or if the battery is low.
Try out the Outlaw SE's new follow-me mode. This mode allows you to walk around on the ground and have the drone follow you. It's an exciting mode to try out while you're exploring the great outdoors.
The outdoors can be unpredictable, but the features on this drone make the Outlaw SE fun and reliable.
List of specifications:
Built-in 1080p photo and video camera
Features GPS Height Hold
Total flight time of between 18 to 20 minutes
Maximum flight range of between 600 meters
Follow-Me Mode
FPV Video Camera range over 500 meters (loses stability around 500-600 meters)
Uses brushless motors
Return-to-home functionality
Advanced flight modes as well as GPS-assisted stabilization mode
Step-by-step how-to videos from altairaerial.com
Click Here to See Best Price!
Altair 818 Plus – Intermediate Hobby Outdoor Drone With Camera
Get super fast shipping and amazing customer service by purchasing at Altairaerial.com (click here). Or you can shop for the 818 Hornet on Amazon.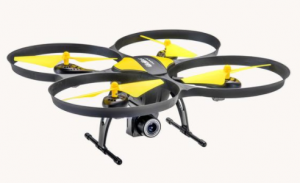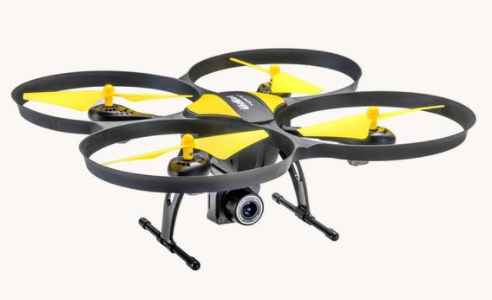 Another great drone by Altair for beginners and intermediate flyers is the 818 Hornet. It has a range of flight modes that will appeal to many drone lovers. These include the always handy headless mode and custom route mode while it also has altitude hold and one button takeoff and landing.
It will work off the transmitter or a smartphone. Added safety features on this quadcopter camera drone include out of range and low battery alerts.
The camera uses rubber damping to give pretty amazing 720p video. There are 3 skill levels to adjust as you become more proficient in flying.
This highly affordable and versatile outdoor drone is extremely durable and built to last. It offers really good value for money and will appeal to a wide range of drone fans and aspiring aerial photographers. In its price range, it is undoubtedly one of the best cheap outdoor drones with camera.
The following is a list of the specifications:
3 Flight Skill Levels – for beginner up to advanced users.
150 meter flight range
Headless Mode for easy beginner flight.
Altitude Hold Function – the drone holds its position in the air even if you let off the controls.
Real Time FPV streaming from up to 60 meters
15 minute battery life
720P HD Camera
TF card included
Click Here to See Best Price!
Altair Aerial AA108 – Beginner Mini Outdoor Drone With Camera
See the best price on Amazon.com or get Fast & Free Shipping from their Website at Altairaerial.com

Fun and easy flying is the name of the game with the Altair #AA108 Camera Drone. It is ideal for beginners and will grow with you as your skills develop. Just because you are learning does not mean you do not still want a host of features and the #AA108 does not disappoint.
This is a tough, well-built drone that is easy to fly, intuitive to control and a real pleasure to fly.
The camera has a 120-degree fov but you can't angle or rotate the camera. It will shoot videos at 720p and you can watch the live action on fpv on your smartphone or even VR goggles (not included).
It is really easy to control and offers a number of flight modes to get you started. The #AA108 has one-touch takeoff and landing, emergency shutdown and headless mode to get your drone where you need it to be no matter what direction it was pointing.
It also has an altitude hold to capture stable footage and you can preselect flight zones. The safety features are outstanding.
What is great about all these safety and learning features is that you are not limited by them and can select a higher skill level as your confidence improves. This is excellent as many beginner type drones soon become boring once you have mastered the basics. The advanced modes will allow you to fly faster and perform a range of stunts.
The app for this outdoor drone is user-friendly and you can expect around 20 minutes fly time from the ALTAIR AA108. It also has prop guards and LEDs at the bottom. Do not be put off by the toy-grade description as it has way more to offer. It is a clear leader as one of the best outdoor drones for beginners while still offering a lot to more experienced drone lovers.
The following is a list of the specifications:
3 Flight Skill Levels – for beginner up to advanced users. GREAT Feature for outdoor flight!!
Headless Mode for easy beginner flight.
Altitude Hold Function – the drone holds its position in the air even if you let off the controls.
Real Time FPV when using the flying see app that is included.
Great Range for the price, both video and flight range.
720P HD Camera Capable
Overall you can't go wrong if you're looking for in the toy drone section with something for a camera to play with. The HD 720p camera takes great video and pictures. The price is right at under $130.00 amazon, and really the customer service is the kicker. No other drone company we've spoken to has displayed such dedication to making sure their customers are happy.
Click Here to See Best Price!
DJI Phantom 4 Advanced Quadcopter Camera Drone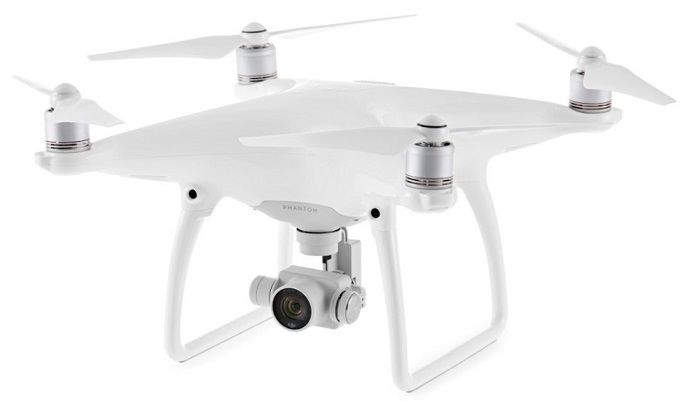 During the search for the best outdoor quadcopter drone with camera, almost every user will eventually come across the DJI Phantom line. This is when you get into the very awesome dimension of durable construction, longer flight times, and a high-quality camera. DJI's Phantom 4 is the undisputed king of the mountain in this area, and it's something that anyone who's serious about professional aerial photography should consider.

Here are some basic features of this device:
• GPS-based automatic takeoff and landing
• 28 minute flight time
• Video stats are UHD 4k/30 fps, 12.0 megapixel resolution
• 5 km transmission distance
• DJI Lightbridge Video Downlink
• DJI GO App allows for live viewing, (phone/tablet sold separately)
• Comes with a 16 GB Micro SD card

When you begin to try your piloting skills with a device like this, you are graduating into the much bigger leagues of modern drone offerings. What many reviewers are saying is the 4k camera really ups the ante on the experience of flying a drone after you have used entry-level models.
Flying over farmland, capturing some images for real estate, and just exploring any area of the city or country is going to offer you a very souped-up experience once you have mastered the basics with a more inexpensive model. This really is one of the absolute best outdoor drones around.
If you are learning to fly this indoors, be careful! you can be prone to crashing just because of the difference in the way it handles compared to others. This is the first very high-tech purchase that many enthusiasts make, and they are thrilled. Once you open this up and take it to a grassy park, area with a river or stream, or other place with diverse scenery, you will be impressed.
The main drawback with this model is the customer service, as many have claimed that they have waited as long as three months if they are unlucky enough to crash it. Just a sign of a very outsourced-and overworked world, this can be unfortunately the case with many devices that are in every other way amazing.
Click Here to See Best Price!
DJI Phantom 3 Professional Quadcopter 4K UHD Video Camera Drone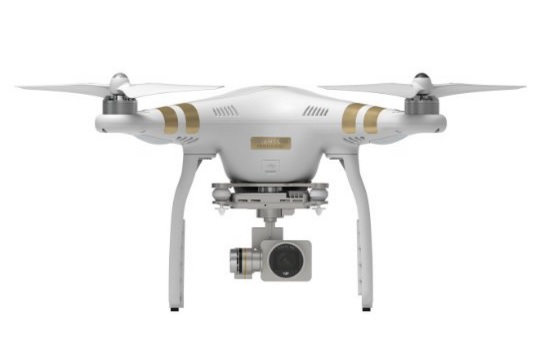 The Phantom 4 is our top outdoor quadcopter with a camera because of its improved speed, higher definition camera, and better battery life. But there's no shame in going for the Phantom 3, which for about 200 to 300 dollars less offers almost as many great high-end features as its big brother.
Here are some basic features of this device:
• 23 minute flight time
• Video stats are UHD 4k/30 fps
• 5 km transmission distance
• DJI WiFi Video Downlink
• DJI Pilot App allows for live viewing, (phone/tablet sold separately)
• Comes with a 16 GB Micro SD card

The Phantom 3 Pro has a fully-stabilized 4K camera that's about as good as the Phantom 4's, perfect for taking smooth video and crisp images that look great on any size screen. You can see some video we took with the Phantom 3 here. And if you have a phone or a tablet to connect to the drone's WiFi, you can stream a 720p HD live view of everything your drone is seeing, giving you a unique perspective while you fly and helping you to line up the perfect shot.
Again, this is not a particularly good indoor drone because it is large and heavy and could scuff your walls or furniture. But it's the perfect choice if you're filming or taking photographs outdoors. The camera is stabilized with dual GLOSNASS and GPS systems so that the video doesn't look shaky, even in strong winds (up to a point, obviously). And the built-in GPS is also used for navigation, including automatic takeoffs and landings.
If you're a first-time user, the Phantom 3 has a Beginner Mode that limits your flight to a safe, limited area. It's also fairly easy to use in general and offers full control from the included remote. That said, if you're a beginner you might want to look at the less expensive and more durable Altair line of offerings just to be sure that you don't lose a lot of money the first time you crash.
As with the Phantom 4, users should be aware that DJI has a bad reputation for customer service and repairs. This is yet another reason that this drone is recommended for experienced UAV pilots.
But hey, if that's you, then the Phantom 3 is still an amazing choice and one of the best outdoor quadcopter camera drones available on the market today.
Click Here to See Best Price!
DJI Mavic Air – Best New Outdoor Quadcopter Camera Drone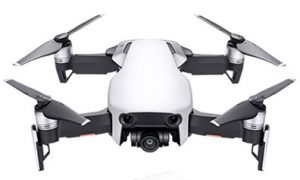 DJI has always been at the forefront of drone development and innovation and the Mavic Air is no exception. They have combined everything that makes DJI drones great into a super compact foldable quadcopter with camera. This is definitely one of the best Mini Drones with camera.
For a drone that can fit in your back pocket, you would expect to make quite a lot of compromise on quality but that is not the case with the Mavic Air. The camera will give you 12 MP images and 4K video at 40 fps. Image stabilization is great with a 3-axis gimbal. The image sensor is a bit smaller than the likes of the Phantom 4 so professional and commercial operators might not go for the Mavic Air.
The only other small compromise if the battery life or fly time but this can be solved by getting an additional battery or two. The specs quote 21 minutes but realistically you will get somewhere between 15 and 21 minutes on this quadcopter with camera.
What makes the quadcopter camera drone so easy to fly is the great obstacle avoidance. This will free you up to concentrate on your filming. This brilliant outdoor drone also has some cool new shot modes including rocket, helix and asteroid. Another handy and fairly unique feature is 8GB of onboard storage.
Top features of the Mavic Air include:
12 MP images and 4K video
8GB onboard memory
Obstacle avoidance
Active tracking mode
3-Axis gimbal
For what you get, the Mavic air offers great value for money. If you get a spare battery you have an ultra-compact drone that competes with the top of the range models. This is undoubtedly one of the best outdoor drones with camera and wins as our best of the best small drones with HD camera as well as best outdoor fpv drone.
Click Here to See Best Price!
Autel Robotics X-Star Premium Drone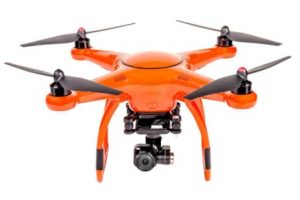 Apart from the high visibility orange color, the X-Star Premium looks remarkably similar to the infamous DJI Phantom. The similarity does not end just with looks and the features and specs compare very well to the Phantom but at a lower price.
You get a lot of bang for your buck on this well-priced drone that has features comparable to the top of the range options. It is the ideal outdoor drone for the amateur and even more seasoned aerial photographers and videographers.
The 4K Ultra HD camera on an integrated 3-axis gimbal will give you great stills at 12 megapixel and 4k video at 30 fps. For amazing slow motion video, you can shoot at 720p at 240 fps. You can also go for 1080p at 120 fps or 2.7K at 60 fps.
Another outstanding feature is the incredible 1.2-mile range with live view. The orange color will help you keep an eye on the outdoor drone over a long distance. This makes is one of the best long-range outdoor drones.
Some of the top features of the X-Star Premium are:
Ultra HD 4K camera
3-Axis quick release gimbal
Range of 1.2 miles with live view
GPS/GLONASS outdoor navigation
The X-Star Premium comes with a 64GB microSD card and a rigid carry case. Customer service is one of Autel Robotics strong points which is always good to know. This drone also offers a range of flight modes and is suitable for beginners while still being advanced enough for more experienced drone enthusiasts.
Click Here to See Best Price!
SYMA X5C Explorer 2.4G 6-Axis RC Quadcopter with HD Camera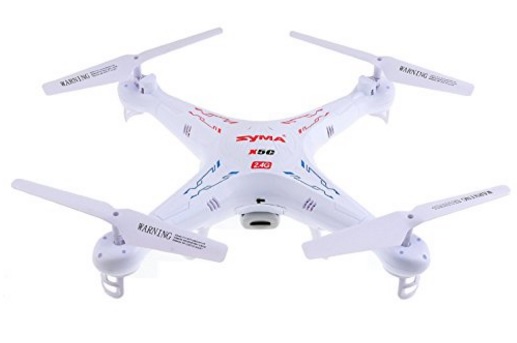 This is a great example of a best outdoor quadcopter camera drone with camera that is in the low end of the price range that some will begin to learn to fly on, and some will use for years.
Some of the basic features you get with the Explorer are as follows:
• equipped with an HD camera and 2 GB Micro SD card
• Can perform flips and 360-degree eversion with a button
• Wind Resistant for indoor or outdoor use
• 7 minute flight time with 100 minute charge time
• Left/right-hand throttle mode can be changeable from transmitter
• 6-axis Gyro stabilization system makes for sound flying experience

This model is really one of the better versions of an entry-level outdoor quadcopter, that provides you with the ability to learn the controls, get a feel for what it takes to manuever in the air, with kind of a short flying time. You are able to charge this outdoor quadcopter by means of USB, and the control distance is around 30 meters.
The things about this that are on the good side are definitely the price. If you have never owned a drone before, you are going to learn how to do quick flips, work with the accelerator, and how to stay within range and (hopefully!) avoid the usual hazards such as trees and power lines.
Generally, the feeling about this model amongst users is that it does a good job of taking a beating, as much as any plastic device can. For the price, most of these models are going to have a pretty short flying time. Even if you are doubling up on batteries, you will still be waiting for over an hour to charge after flying.
But that is fairly normal, and many who are graduating to more expensive models are beginning with ones such as this. The camera is the main drawback here. It is a good medium to learn how to fly something that is recording video, but the format cannot be copied or read by VLC or smartphones.
Some RC enthusiasts say that this drone is one of the easiest to control, and that it is their number one go-to for a quick fly, even among more expensive models.
Click To Shop or Read Reviews
Force1 F100 Ghost GoPro-Compatible Quadcopter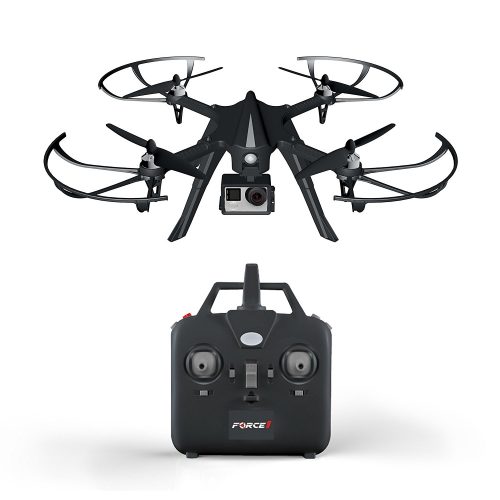 This is a prime example of a fantastic outdoor drone that allows you to customize the camera and the experience that comes with it. It's relatively low in the price range, focuses solely on the drone aspects until a GoPro is attached, and is a great choice.
Some of the basic features you get with the F100 Ghost are as follows:
• Compatible with GoPro Hero 3 and Hero 4 models
• Powerful brushless motors for an enhanced yet very quiet flight
• High and Low speed modes ideal for getting footage at different paces
• A flight time of up to 15 minutes without a GoPro, 12 minutes with a GoPro
• 6-axis gyro stabilization system that makes for a sound flying experience
This quadcopter is perfect for both entry-level and expert outdoor drone pilots, has simple controls that anyone can understand, and gives you a feel of what it takes to be a professional drone photographer even before you mount your GoPro.
You get a maximum transmission range of up to 300m, it has a light on the front that helps you see when you are turning the drone to come back to you, and can support some minor amounts of wind.
Because it's made to be able to hold a GoPro Hero 3 or Hero 4 model, you won't be able to narrow down the exact camera specifics unless you are looking at the ones that relate directly to the model of GoPro you're using. Just remember that the 15 minute flight time will have 3 minutes cut once your GoPro is mounted!
Click To Shop or Read Reviews
UDI U818A HD+ RC Outdoor Quadcopter Drone with HD Camera: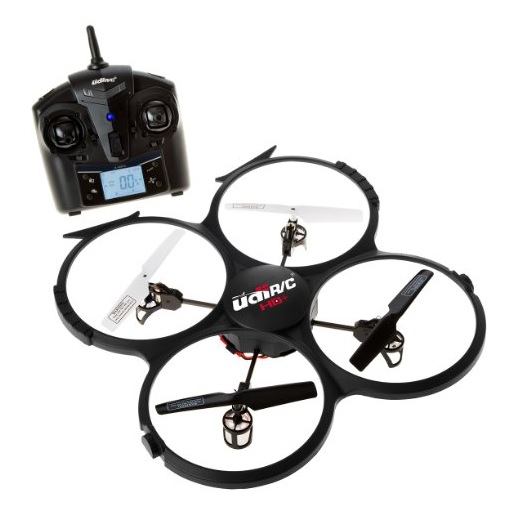 This is the upper end of what may users consider a "toy" quad, and for some it comes down to what shape they like for personal preference. Still in the lower price range, this is a best outdoor quadcopter drone with camera in that you are getting about the same flight time, features, and are just getting used to flying with a machine that is still pretty durable.

Here are some of the basic features:
• Has a forward-facing HD camera
• Batteries are charged by USB
• Bonus accessories are 2 lipo batteries that double flight and a 2200mAh power bank for charging on the go
• One-touch home function that brings the drone back immediately
• 6 Axis Gyro Stability for wind resistance and stunts
• Roll button for instant 360 degree flip
• Transmitter gives you a low-battery alarm
• Flight duration of around 8 minutes
At the current time, this drone is light enough so you don't have to register it. This may change, but it is one definite advantage. On a calm day, the hover capability of this model is said to be excellent, and the pitch and roll capabilities make for it being able to do some far out acrobatics.
Many choose to just start the video rolling right at takeoff, so you don't have to fiddle with it while flying; if you are in an area with no trees at all, this won't matter as much.
One of the biggest drawbacks that users have reported about this is the weight; winds can really carry it quickly. As far as the camera on this model, you are going to want to be flying during a very sunny day for the images to come back with any level of true quality.
This is what it really boils down to with the drones in the lower end of the spectrum: they fly great, teach you the ropes, but you cannot really expect too much from the camera. Some users have also reported a bit of difficulty with the return-to-home feature, but for just flying around and getting used to the feel of a drone, this is the front-running favorite of many.
Click To Shop or Read Reviews
Force1 DYS XDR220 FPV Racing Quadcopter With Camera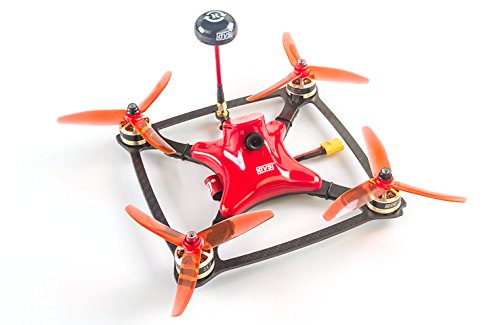 Speed freaks and camera lovers alike are going to drool all over this quadcopter, no doubt. This is where awesome meets speed, durability and some great camera specs. Although, this is definitely not a kit, or a drone in general, for the lighthearted, even though it's one that's made for the outdoors.

Here are some of the basic specs:
• Not ready-to-fly and comes as a kit, must be built yourself
• 2.5mm HD CCD camera with better lighting and color adjustments
• 9 different channels on a 2.4GHz transmission frequency with customized switches and a colored LCD screen
• Premium 5.8GHz FPV with high-quality goggles
• Uses a balance charger for cell balancing to increase the life of the battery and overall power

You will have to supply your own battery, but that's where it gets interesting. You can try a number of different LiPo batteries to gain the speed and overall movement that you want based on your experience, need for speed, and whatever else will make your day. The total amount of flight time will be different depending on the battery you use, as well, so make sure you choose wisely!
The goggles use FPV and an easy channel searching button to ensure that the overall setup is an absolute breeze to do that will only take minutes, if that. The LCD screen allows you to tap into the camera, set everything else up, and gives you readings for all the flight information you're going to need to ensure that everything is smooth sailing from there.
Click To Shop or Read Reviews
Best Mini Outdoor Drone with a Camera
Hubsan X4 Quadcopter with FPV Camera Toy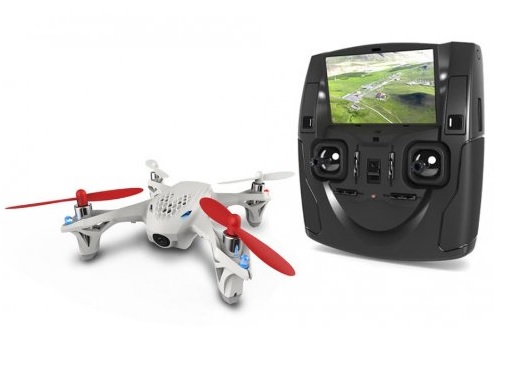 While we were on the hunt for the best quadcopter with a camera, the Hubsan X4 Quadcopter was on our list due to its high appeal for those who like the smaller side of what is available in the drone world. Though of as perhaps more fragile than other models, users are surprised at how much they like this model.


Here are some of its basics at a glance:

• Instant video preview on the transmitter

• Very lightweight airframe that is quite durable

• 6 Axis Gyro Stabilization

• Immersive FPV Flight

• Flight videos record straight to SD card

• Video preview on transmitter

• 50-100 Meter control distance



One of the best features about this is the video preview. Even though this is not going to appear anything like the quality you will get when you step up the game and spend around 700 more dollars, this will help those who are trying to master flips, other stunt moves, and getting a feel for controlling and hovering while recording video.

What many purchase these for is flying indoors, but some users claim that it can even perform well in up to 20 MPH winds.

This is a great toy for outdoors, and doing things like inspecting gutters for leaves, while just getting used to the fun you can have with a drone. Some would consider the very small size a drawback, but it has a unique appeal, and many people will also take it to indoor courts and the like during winter when they get a big craving to fly.

The rotor shield can really help, because it will guard the outdoor copter a bit from the crashes you may have when you are first learning with this one. The best tip we have seen for this one is to simply keep your eye on the copter when you are learning to fly, and not on the screen, this little guy can escape from you in a hurry!

Click To Shop or Read Reviews
Best Micro Outdoor Quadcopter with a Camera
Cheerson CX-10 Mini 29mm 4CH 2.4GHz 6-Axis Gyro LED RC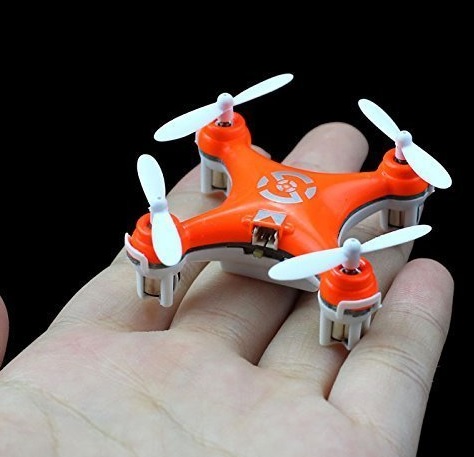 This is an incredibly tiny outdoor toy that some resellers are letting go for under $20. Excellent for indoor & outdoor fun, the power source is a rechargeable 3.7V 100mAH lithium battery, and is literally about the size of a small cookie. You are ready to take off after you just get a set of AAA batteries for the controller, and you can quickly start to learn the ropes.
Here are some of the features at a glance:
• 6-axis design that helps with stability
• 4-8 minute flight time
• 3-level speed flip function
• 30-40 minute charge time
• around a 40-meter control distance
For the price, this is actually a very stable model! even though the flight time is quite short, the charging time is a third of what some others need to be fully powered up.
It does not come with a blade protector, which is a pretty minor detail. It is said that this drone is easy to crash, just because it handles completely different than some of it's counterparts. Some who have piloted other outdoor models will also notice that the controller is a bit small, and the motor can seize up after a few crashes.
What you really have to keep in mind when you test fly this drone is that for the price, you are getting something that will get up and fly around, even with a few glitches. This one is truly a toy, but will prepare the pilots in your family for something bigger. Just that fact that it will perform some flips, and respond fairly well to the controls is a big plus, and episodes of cabin fever are opportune moments to try this one out. When taken outside, one user flew it to its maximum height, and it fell like a rock on the pavement and still flies. Stock up on replacement blades and let the fun begin!
Click To Shop or Read Reviews
Outdoor Camera Drones In Summary
There are many different models to choose from on the market for outdoor drones with a camera.
The Phantom 4 Pro is what you are really looking for if you want high battery life, great images, and a durable model.
From miniatures on up to the SYMA X5C Explorer, there are many other options to have fun with, learn to fly around indoors, and learn the ropes on.
In the years to come, we expect even the ones that are not as pricey to have more features, more stability, and offerings of selection. With spring officially here, Hubsan makes some great products that are in the upper-end of what are considered toy drones, and we are definitely looking towards them for some interesting product lines and upgrades in the near future.
Read our recent post on the comparsion of the Hubsan x4 h107c vs h107L.
Outdoor Quadcopter FAQ's
What outdoor drone do you have to register?
In late 2015 regulations were passed requiring drone operators to register. These were then relaxed for a short while in 2017 only to reinstate them at the end of the same year.
The FFA regulation stipulates that all drones or other remote controlled flying vehicles weighing more than .55 pounds (250 grams) need to be registered. To put that into perspective, this rule would even apply to the extremely light and compact DJI Spark which weighs .66 pounds.
It is actually the individual that registers so you would only need to register once and then you are licensed to fly multiple sUAS – Small Unmanned Aerial Systems. When you register, you also agree to comply with a list of rules. These include:
• Not flying a drone or sUAS at a height in excess of 400 feet
• Maintaining line of site at all times
• No less than 5 miles from an airport
• Not to fly over people, sporting events or stadiums
• Not flying when under the influence of alcohol
• You must be more than 13 years old and this registration only applies to recreational flying, not commercial activities.
• Registration is quick and easy and will cost a nominal $5. You can register here
• The reality is, if people abuse this system the restrictions will only get stricter so it is in everyone's interest to abide by them.
Am I allowed to fly my outdoor drone at night?
This is a hotly debated topic but there is no specific rule on the FFA regulations regarding flying at night. What this means is that provided you have some sort of LED lights or orientation diodes and you keep the drone a reasonable distance from you it should be fine. Some even argue that visibility is actually better at night. The bottom line is to exercise due caution and follow the rest of the rules and you will be ok.
Can I fly my outdoor drone over private property?
Again, there is no specific mention of this in the FAA regulations. Provided you are following the rest of the rules you can, in theory, fly over private property. You can only be in trouble if you fly recklessly, cause a nuisance or are breaking privacy laws.
Once again, you do not want to cause complaints as this could lead to stricter rules being put in place. Respect other people's right to privacy and be considerate.
Can I fly my outdoor drone in bad weather? What is the best drone for high winds?
The weather will have a dramatic effect on your outdoor drone's performance. Cold weather will result in dramatically shorter flight time as the lithium-polymer (LiPo) batteries, common to most drones, do not function at their peak below a certain temperature. Extremely hot conditions will also result in shorter fly times. Most drones have a recommended temperature range so be sure to look at this and be aware of it. When looking for the best drone for wind you will want to find something with dual GLOSNASS and GPS systems.
Sensors will also be a bit sluggish in very cold weather and the drone might not be as responsive. Other weather conditions such as humidity, rain, snow and fog can also make outdoor drone use very challenging. Be aware of the risks and limitations and take the necessary precautions in poor weather.
What kind of outdoor drone is Amazon using for Prime Air deliveries?
Amazon uses their own custom unmanned aerial vehicles for their Prime Air deliveries known as Amazon Prime Air Drones. They are essentially a hybrid of a helicopter and airplane. They are not all identical and there are different options depending on the conditions and the range needed.
What do I do when I can't find my drone?
Most drones have a return to home or hover function if they lose signal or experience any similar issue. They also normally have an autoland function if the battery is critical. It is possible for a strong wind to blow your drone off course or for signal failure to occur and you have a flyaway. There is nothing worse than losing your precious drone.
If this happens you could use the "find my drone" function or check the flight logs, if these are available.
The best way to protect your drone and ensure it is never lost is to purchase a drone tracker. This is a separate third-party device that will attach to your drone and allow you to track it and recover a flyaway drone. For peace of mind to secure your investment, it is a good idea.
Other Interesting articles in "
Reviews

"