Compare Hubsan x4 h107c Vs. Hubsan h107L
Drone Comparison Showdown: The Hubsan X4 H107C vs H107L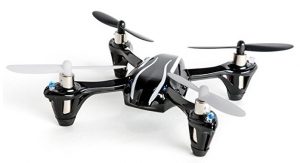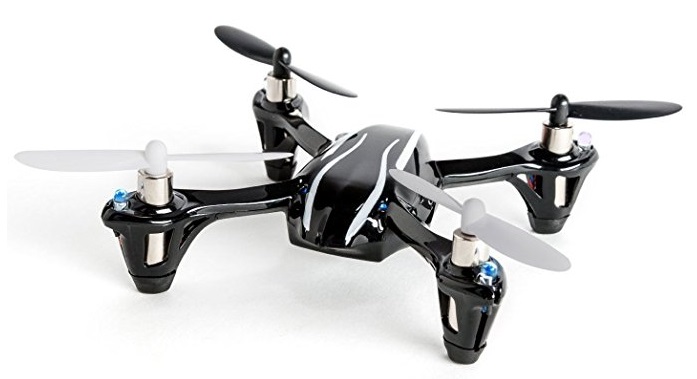 As spring is now officially here and eager pilots are looking to get out in the parks, over the rivers, and even over the buildings nationwide, many are scrambling wondering which drone is best for them.
Looking at what you get at the extreme top of the line, you're going to shell out around $1,000 for anything that captures very high-quality video, is durable in the air, and can have a flight time of over 20 minutes.
The Hubsan brand of drones is what many are choosing as an entry point into the hobby: You get the benefit of seeing how a drone handles, pretty stable flight time, and true 6-axis flight control system on drones that cost around $50-$60. In particular, you may have heard of the "Hubsan X4." People often think that this is the name of a single drone, but it's actually a line of Hubsan drones that use four propellers, hence the name.
Today we'll be comparing two of the most popular models that you will definitely see buzzing around the skies this year: the Hubsan X4 H107c and the Hubsan X4 V2 H107L. These are the perfect quads to begin your interest in the hobby with, and the parts are fairly inexpensive.
Hubsan X4 H107C vs Hubsan X4 H107L
Both drones have beginner and expert modes, which make a big difference in the handling and make for more fun while learning to fly. The beginner mode on both restricts the sensitivity of the input on the transmitter, and gives you a steady flight that does not jump around much, which can make you prone to crashing. The biggest difference between the two is that the H107C, as that last letter implies, is the one with a camera to record your adventures.
Let's do a deep dive into both drones and start comparing them.
The Hubsan X4 H107c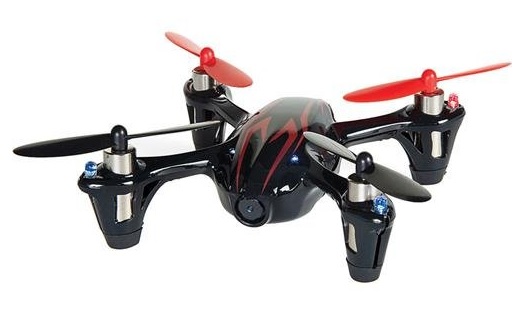 Click To Shop or Read Reviews
The "C" in H107C stands for "camera," which is great if you are wanting to learn how to do some maneuvers, get used to the controls, and perhaps learn to do real estate photography or surveying with drones in the future. Here are some of the main features you'll enjoy:
• Coreless motor and 2.4 GHz frequency for control
• 4-channel operation
• 7V 380 mAh battery power
• 7 minute flight time, with 40 minute charge time
• 6-axis flight control system with adjustable gyro sensitivity
• 4-ways flip feature
• USB charging cable allows for charge by computer
• 3 MP camera
• Micro SCHC memory card (not included)
The 2.4Ghz frequency that this speedy little quad uses allows it to avoid interference from other remote control devices, and the range of transmission is about 100 meters.
For a small quad, this is quite a distance, and you'll really notice the benefits once you get comfortable with the controls in either mode. In expert mode, many reviewers have claimed that the flying is a bit difficult, because the size of this quad is pretty small.
As far as flying in video mode, you just hit one side button to start streaming. While nothing like what you will see on any of the DJI Phantom models, the video is watchable if you just keep your standards low and your mind open. This is a great way to get used to cruising over areas while capturing any kind of live feed.
One of the coolest features of this drone is the altitude hold mode. You can just set the drone to coast at a specific altitude and not have to worry about managing the throttle. You can watch a demo video of this drone in action below:
The Hubsan H107L
Click To Shop or Read Reviews
This is the version without the camera, and many of you are probably wondering why you would want to purchase one without the ability to shoot images. It seems like you're just shorting yourself of one of the most dynamic and modern features of flying one of these super-fun numbers.
After conversing with many pilots that have flown and reviewed this item, we realized they all gave us the same answer: the X4 H107L camera is stronger and more durable. Some pilots have purposefully gone out and crashed both of these models, and also flew them in very strong winds in order to compare the Hubsan X4 H107C VS H107L.
Not having the added duty of carrying a camera really stabilizes the drone, and for that reason it may the one to pick if you are truly wanting to learn to ropes as far as maneuvering around in the skies for some of the first times. You can watch a demo video of the drone in action here.
The best thing about the Hubsan drones is that in all honesty, this is where you begin to fly machines that are not just simple toys. Sure, they don't have the high-tech features that some of the pro drones do, but those also cost ten times the price.
The biggest mistake people make when thinking about product lines like the X4 series is thinking that the short flight time automatically means that you are dealing with a product that is very amateur. To put things in perspective, just think back to about 6 years ago: a consumer pilot couldn't purchase a vehicle this sleek for any amount of money. And the entire industry is just going to keep getting better.
Here are some of the basic features you can enjoy with this model:
• Motor (x4): Coreless Motor
• 4GHZ frequency for remote transmission
• 4-channels
• 7V Battery
• 9 minute flight time, and 30 minute charge time
• 6-axis flight control system and gyro sensitivity
• Lightweight airframe contributes to durability
• 4-ways flip feature
• USB-charging cable to charge by PC
Conclusion
Flying drones is one of the most fun and productive ways to get kids to learn about engineering, technology, and teamwork. Hobbyists enjoy the chance to get outside and take in their surroundings from overhead.
The real difference here between the two really lies in your personal preference. If having a camera is more important, get the Hubsan X4 H107C. If you need a drone that can put up with serious punishment, choose the H107L instead.
We hope this comparison of the two helped in your selection, and that you will be flipping, hovering, and landing soon in a vast open area near you. Thanks for reading our comparison of the Hubsan X4 H107C VS H107L.
Other Interesting articles in "
Reviews

"