18 Best Professional Drones By Category

Updated:
Drones have made a positive impact in different professional industries today. This is attributed to their user controlled capability, their ability to capture high quality videos and even transport huge payloads. As a beginner, it is important to know that there are different types of drones. They include:
• Multi rotor drones – This refers to drones with more than one rotor. They include tricopters, quadcopters and octocopters.
• RTF drones – the ready to fly drones are sold fully assembled providing users with the ability of using them right out of the box.
• Large drones – they are basically the size of a small aircraft. They have a mind boggling and range of 650 km or more and can reach a height of 30,000 feet above sea level. They are divided into two groups – mid range and endurance drones.
• Racing drones – these are built for racing enthusiasts. Users get to race their drones against other opponents through a pre-selected path
• Delivery drones – their purpose is simple – to deliver cargo to customers. They have the capacity of carrying a huge payload.

Featured Option, Easy on Your Budget
If you're looking for pro quality but don't want to spend $1000+, we recommend taking a look at the Altair Outlaw SE GPS Drone. It's got incredible features like follow me, 20 minutes of flight time and it comes in around $250. Check it out on amazon here.
This drone's not going to cut it for real estate photography or something where you need crystal clear and crisp video, but if you're using it for commercial inspections or agricultural or construction work we recommend it. The video quality is 1080p but not as clear and stable as the DJI drones.
If you can afford it then by all means go for a DJI drone, but if you just need to get the job done and you're looking for quality and durability at a solid cost then take a look at the Altair Outlaw SE GPS Drone.
Best Professional Drones – Featured Budget Option
#1 Budget Option
Altair Outlaw SE
Camera:

1080P

Range:

600 M

Time:

18 Min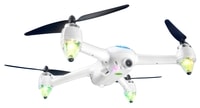 Table of Contents – Professional Drones
Become an FAA Certified Drone Pilot Professional
At Dronethusiast we understand that a lot of you are out there trying to start a business using drones. That's why we recommend you use Drone Pilot Ground School to learn to fly and get your 107 license to fly from the FAA. Drone Pilot Ground School is the best course offered and you can get a special limited time deal because you're a Dronethusiat reader. Click here to get your discount.

Here are the different fields and industries where drones are used Professionally.
Filming and aerial photography
Today, drones have provided filming and aerial photography experts with a new perspective. Multi rotor drones can be fitted with 4K cameras which allow users to take overhead shots great for filming and aerial photography.
Real estate
Realtors have not been left behind when it comes to drones. They use them to conduct aerial photography of sprawling properties. This makes it easier to showcase the property to interested buyers plus it saves time.

Agriculture
In agriculture, drones can be used in soil and field analysis, planting of new crops, crop spraying, crop monitoring, irrigation and health assessment of crops.

Mapping and Surveying
Surveyors and GIS experts are turning to drones to map different sections of the land. The images and video footage collected can be converted into 3D models, contour maps and others.

Surveillance
They can be used by law enforcement agencies to provide risk free aerial surveillance. In wildlife sanctuaries, they provide surveillance of wild animals and present location of poachers.
Best Professional Drones Review
Altair Aerial Outlaw SE – Featured Budget Option
See the best price on Amazon.com or get Fast & Free Shipping from their Website at Altairaerial.com
If you want a professional grade drone, but aren't too keen on spending a lot of money, you'll enjoy the Outlaw SE from affordable drone brand, Altair Aerial.
The Outlaw SE is a fraction of the cost as other professional drones on this list, but doesn't skimp out on any features. At $279.80 we can assure you that you'll be receiving a great drone without breaking your bank.
It comes with amazing professional features such as a 1080p built-in high quality camera that's perfect for anyone who wants to capture stunning aerial photos and videos. It also has GPS features to keep your drone stable and in control at all times.
Altair also put together a series of step-by-step videos that seem to solve almost any troubleshooting question that you come across (find them here). However, if you do need something, I've found Altair to be one of the better customer service operations out there. Reach out to them at help@altairaerial.com.
Tech Specifications
• GPS Flight Mode
• 4 Propellers
• 600-meter flight range
• 20 Minute Flight time
• 1080p built-in HD camera
• 2.8 pounds
• Dimensions: 16.5 x 11.3 x 5.2 inches
Pros:
• Great affordable price
• High-Quality Camera
• Multiple Flight Modes
Cons:
• Shorter battery life of 20 minutes
• Has a range of only 600 meters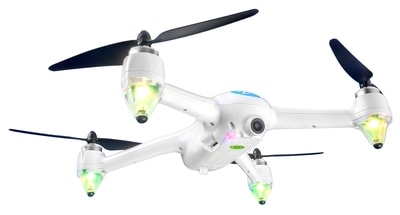 Click To Shop or Read Reviews
Best Professional Drones – Filming & Aerial Photography
Gone are the days where the best drone for aerial photography cost thousands of dollars. These days, you can get professional drones for filming at a fraction, if not half off, of the original price. With so many manufacturers putting out high-tech affordable drones, we're officially getting the best of both worlds. Here are some of the best professional drones for filming and aerial photography that have hit the market to date.
DJI Inspire 2
With a magnesium-aluminum body construction, the DJI Inspire 2 is a powerful cinematic and photographic drone that is able to yield cinema grade images. It is engineered with the all new image processing system which has the ability of recording up to 5.2 k in CinemaDNG Raw, Apple ProRes and much more.
It has the ability of traveling from 0 to 50 MPH in 5 seconds with a maximum speed of 58 MPH and a max descent speed of 9 m/s. The dual battery system helps to prolong flight time up to 27 minutes allowing you to capture video and images. Thanks to the self heating technology, the drone is able to fly in low temperatures.

Tech Specifications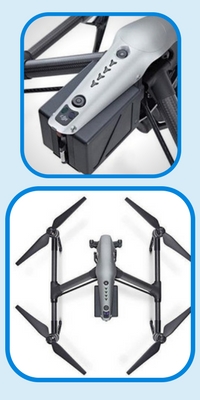 • Has two LiPO batteries onboard
• Has 4 propellers
• Comes with a 2-Axis Stabilized FPV camera
• Recordings are processed by the Inspire 2 CineCore 2.0 image processing engine
Pros
• Can accelerate from 0 to 50 MPH in 5 seconds
• Has a top speed of 58MPH
• A microfiber cleaning cloth is packaged with the unit plus a 5 piece cleaning kit
• A carry case is available to provide proper storage during transportation
• It's clad with magnesium-aluminum material that assures you of durability
Cons
• The 16 GB MicroSD card is limited in terms of storage
• The batteries have a lifetime of 27 minutes of flight time before recharging is needed.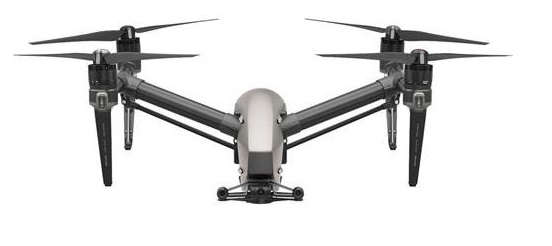 Click To Shop or Read Reviews
DJI Matrice 600
Read Reviews About Matrice 600
The DJI Matrice 600 is easy to set up and can be used within minutes. The dust proof propulsion system helps to protect the internal motor and electrical components. Furthermore, it simplifies maintenance which helps to extend the lifetime of the drone.
The actively cooled motors provide reliable operation in terms of extended flight time which allows you to enjoy flying the drone. It has a maximum payload of 6 kg that enables the unit to fly the Ronin-MX gimbal and other cameras from Micro Four Third systems. It utilizes the sine-wave driven intelligent ESCs that ensures the drone performs safely, efficiently and accurately. The ultra low latency HD image transmission allows for accurate image composition and capture.

Tech Specifications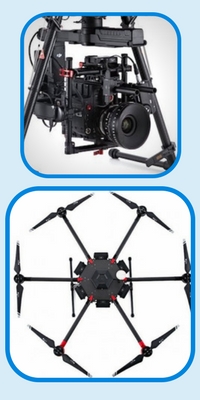 • Has a USB, mini-HDMI and 3G-SDI ports
• Uses six batteries
• Product dimensions – 19.7 by 17.3 by 27.6 inches
• Weighs 8.8 pounds
• 6 propellers with A3 flight controller
Pros
• Its ultra light-weight body ensures the unit is portable and easy to transport
• The 6 propellers ensure the unit is stable during flight time
• Its fitted with 6 intelligent batteries and a battery management system for maximum performance
• Easy to set up
• The ultra-low latency HD image transmission provides accurate image composition
Cons
• The camera is not included
• You have to purchase other components separately
• It's expensive.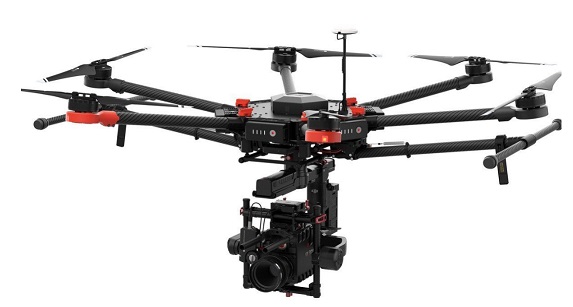 Click To Shop or Read Reviews
Walkera F210 Deluxe Racer
Read Reviews About Walkera F210 Deluxe Racer
The Walkera F210 Deluxe Racer is an incredibly powerful professional drone when you help it to reach its full potential. With the latest F3 flight system already on board and the DEVO7 transmitter, the sky isn't just the limit. You even get a pair of Goggle-4 3D glasses that take your experience to the next level.
This racer includes both brushless and brushed motors, giving you the best of both worlds in one package. It has a flight time of between 8 to 9 minutes, which may seem like a letdown, but we assure you, you can get quite a bit done in just 5 minutes, never mind the rest of the time it has.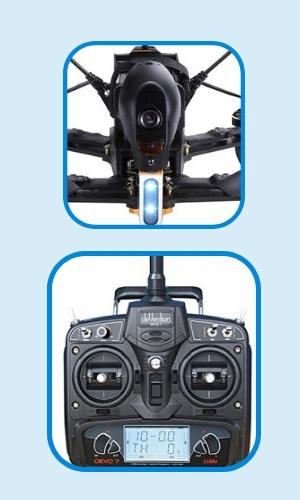 Tech Specifications
• Uses both brushed and brushless motors
• Flight time of between 8 to 9 minutes
• Uses the DEVO 7 controller and DEVO-RX713 receiver
• Product dimensions – 182 by 182 by 103 mm
• Uses the 14.8V 1300mAh 40C 4S LiPo battery
• 5.8G wireless image transmission with the 700TVL Night Vision 5.8G Camera
• Hits speeds of up to 65 km/h
Pros
• Weighs only 370 g with the battery included
• Ready-to-fly
• Comes with the 5.8G Goggle-4 3D glasses
Cons
• Does not include GPS
• Only has a remote range of between 300 to 500 m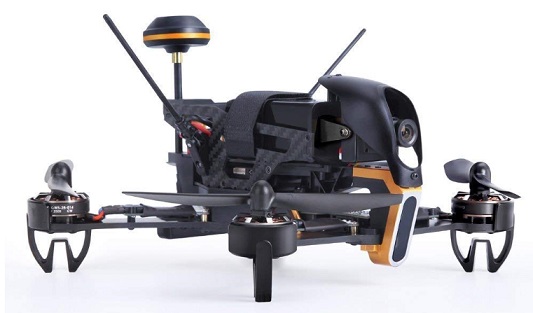 Click To Shop or Read Reviews
Yuneec Drone Tornado H920
Read Reviews About Yuneec Tornado H920
As a six rotor aerial platform, it is optimized for flying a Panasonic GH4 camera and for this to be possible, it works separately with the GB603 gimbal. This serves the purpose of stabilizing the camera which enables it to move independent of the drone. If one of the rotors were to fail during flight time, the unit can land safely ready for repairs. It is engineered with retractable landing gear that provides unfettered 360 degree view of the landscape as the camera pans. The unit is sold ready to fly which eliminates the need of setup.
It is constructed with carbon fiber for durability and rigidity. You can perform live monitoring via the integrated 7 inch Android device and OSD telemetry display.

Tech Specifications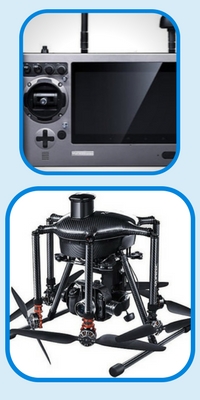 • Two flight batteries
• Dual battery charger
• Pre bound transmitter
• 5.8 GHz SD video downlink system
• Weighs 44.6 pounds
Pros
• The body is constructed with carbon fiber for durability
• Comes with a gimbal which helps to stabilize the camera allowing it to move independently of the aircraft
• The landing gear retracts providing a 360 degree view
• Has six rotors making it suitable to carry the Panasonic GH4 camera
• Includes two flight batteries and dual battery charger
Cons
• The camera is not included
• Very expensive.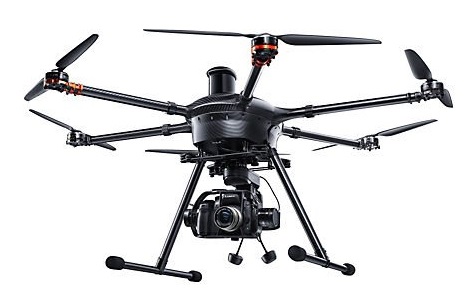 Click To Shop or Read Reviews
Best Professional Drones – Real Estate
Real estate agents and companies are leaning towards using drones, which seems like something that would be totally unheard of in the industry. Thankfully, drones have proven themselves to be more useful within this industry through technological advancements. For example, real estate agents can now hold live open house tours without them or their potential buyers even having to step foot on the property using the best drone for real estate. Take your pick for the best real estate drone in our rankings.
DJI Phantom 4
As one of the best professional drones, it is engineered with intelligent flight support systems which include a dual satellite positioning system and enhanced Vision position system. This provides a safer and more reliable flight experience both indoors and outdoors. It is fitted with a powerful camera capable of capturing 4K video at 30 frames per second. This creates impressive footage.
The visionary intelligence elevated imagination feature makes the unit one of the smartest flying platforms. It is able to fly intelligently over or around obstacles and automatically creates seamless tracking shots. It features a dual compass module and Inertial Measurement Unit that greatly increases reliability.

Tech Specifications
• Features a 3-axis u-frame camera stabilization system
• Built in DJI Lightbridge video downlink
• GPS dual positioning module
• Powerful camera with 4K recording capability
• Weighs 8.82 pounds
Pros
• Has the ability to avoid obstacles thanks to the visionary intelligence elevated imagination
• The intelligent flight support system provides a safer and reliable flight experience
• Has a powerful camera with 4K recording capabilities
• Has a top speed of 45 MPH
• The dual compass module increases reliability
Cons
• Battery life lasts for 28 minutes only
• The camera generates image distortion at the edges.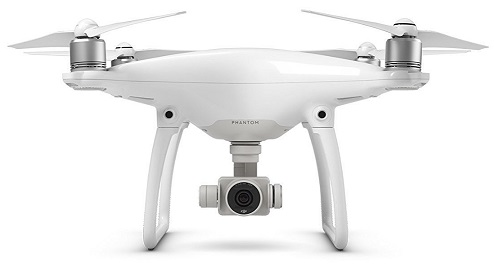 Click To Shop or Read Reviews
DJI Mavic Pro
While the DJI Mavic Pro is a small drone, it is powerful and turns the sky into your creative canvas. It aids by making every moment a great aerial moment. The compact size hides a high degree of complexity. The drone is controlled by a pocket sized remote controller and uses the OcuSync transmission technology that has a range of 4.3 miles. The drone has the capability of viewing obstacles as far as 49 feet in front. It has a top speed of 22 MPH and features the Absolute Precision Flight Autonomy technology which allows the unit to hover in more environments. It can land automatically on the same spot it took off. It has the integrated high precision 3-axis mechanical camera stabilization system providing you with crystal clear photos.

Tech Specifications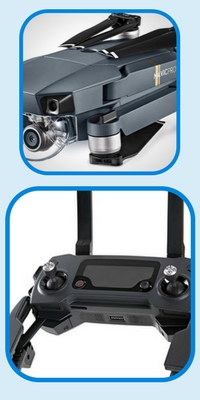 • Features ActiveTrack and TapFly among other smart features
• True 4K recording
• New OcuSync transmission system
• Product dimensions – 11.4 by 7.1 by 9.4 inches
• Weighs 1.6 pounds
• 24 high performance computing cores
Pros
• Utilizes the Flight Autonomy allowing the drone to see obstacles 49 feet away
• Has the ability of avoiding obstacles at 22 MPH
• The OcuSync transmission technology has a range of 4.3 miles
• Features the Absolute Precision Flight Autonomy allowing the unit to hover
• The 4K camera gives you crystal clear photos and smooth videos
Cons
• May seem to be less agile in windy conditions
• Not waterproof.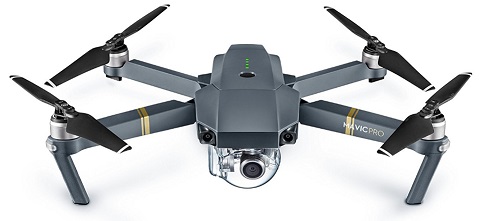 Click To Shop or Read Reviews
3DR Solo Drone
The drone features the new Sony camera that is supported by a custom made gimbal. This allows it to orient the camera in any direction plus it stabilizes it during flight. The camera is perfect for mapping, survey work and inspections. The drone integrates seamless with your Autodesk and GIS tools allowing you to edit and process maps, 3D models and contours. The remote controller provides space for holding your smartphone which connects with your drone allowing you access to video and images transmitted from the camera.

Tech Specifications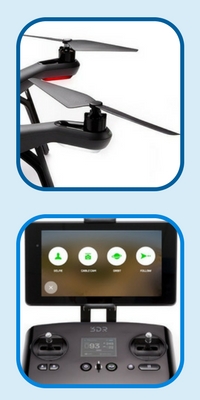 • Has a four rotor system
• Weighs 10 pounds
• Product dimensions – 15.8 by 15.6 by 8.4 inches
• Compatible with GoPro Hero 3, Hero 3+ and Hero4 cameras
• Remote controller
Pros
• Offers real time first person view of the flight
• You can control both drone and camera with 1 remote controller
• Allows you to save video footage to your phone
• Features automated camera control for cinematic shots
Cons
• The drone provides 20 minutes of flight time
• Limited information on connective range.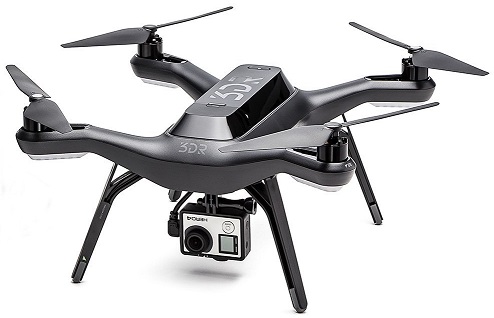 Click To Shop or Read Reviews
Best Professional Drones – Agriculture
If you weren't already aware that there is a category for the best drones for agriculture, be prepared to be blown away. Drones aren't just used for a fun afternoon anymore, that's for sure! Drones are now being used to aid in agriculture, which is something a lot of people never thought they would ever have a foot in the door for. Here are the best drones for agriculture.
DJI Agras MG-1 – Best 8 Rotor Drone
It features a powerful propulsion system that enables the octocopter to carry a payload of 10kg. The payload can be liquid or solid for example pesticides or fertilizer. The 8 rotor drone has the capability of flying at a high speed meaning it can cover 4,000 to 6,000 square meters in 10 minutes. This makes the system to be 40 to 60 times faster than manual spraying. The foldable design allows the motor arm to fold inwards making storage to be easy. Thanks to its intelligent memory, it is able to remember past co-ordinates in case operations are interrupted.

Tech Specifications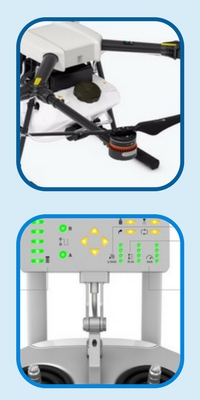 • Empty tank warning
• System data protection
• 8 rotor system
• Dedicated remote controller
• Weighs 50 pounds
Pros
• Remote controller is dust proof and anti-splash
• The motor arms fold inwards making the aircraft compact
• The intelligent memory feature allows the drone to resume from the last point it was interrupted
• Can complete 7 to 10 acres in an hour C
• Can carry 10 kg payload
Cons
• Very expensive.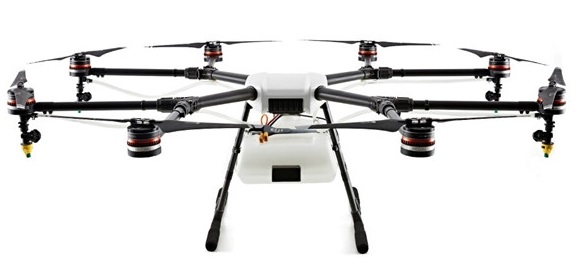 Click To Shop or Read Reviews
Ebee SQ – SenseFly
The unit comes as a complete package with all you need to start mapping. Features include a high-res RGB camera, batteries, radio modem and eMotion software. The drone has an ultra light construction which means it weighs 700 g minimizing impact energy. It has a safety conscious rear facing propeller and senseFly's cutting edge autopilot. This manages a wide range of intelligent failsafe behaviors. It can cover 12 square kilometers in a single automated flight and can acquire images with a ground sampling distance of 1.5 cm.

Tech Specifications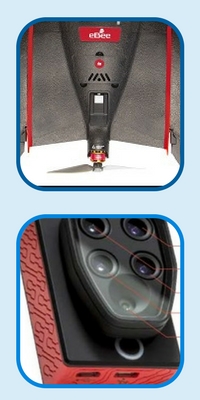 • Utilizes the Flight data manager
• Weighs 1.52 pounds
• Wingspan length 96 cm
• Made with EPP foam, carbon structure and composite parts
• 2150 mAh 11.1 V battery
Pros
• Has a maximum flight time of 50 minutes
• Has a nominal cruise speed of 40 to 90 km/h
• Features automatic 3D flight planning
• Has a radio link range of 3 km
• Built with EPP foam, carbon structure and composite parts
Cons
• The drone cannot hover on one spot.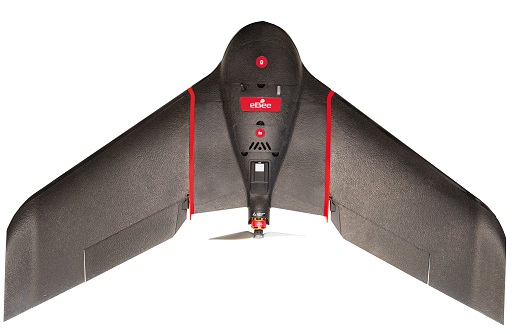 Precision Hawk
It is engineered with strength and reliability. It is built to survive hard landings and unfavorable environmental conditions. It is perfectly suited for challenging multiple fields for example agriculture, energy, mining, insurance, emergency response and environmental monitoring. It is easy to use because all you need is to launch it into the air and automatically optimize the flight path to collect data in the most efficient way.

Tech Specifications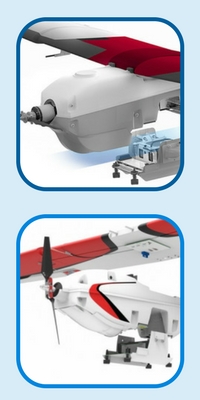 • Plug and play sensors
• Field swappable sensors with no need for configuration
• Suitable for different fields
• Light weight body construction
Pros
• Perfectly suited for challenging applications
• Easy to launch
• Can survive hard landings
• Features smart controls allowing the drone to adjust to different payloads
Cons
• Limited information on extended warranty.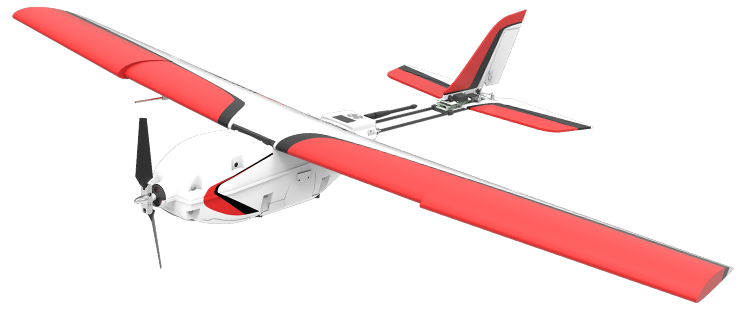 Best Professional Drones – Mapping & Surveying
Using survey drones have saved a lot of people both time and money. Who knew we'd one day be using an aerial mapping drone for something that used to take a ton of manpower and money to do? Check out our category for the best drone for mapping and see which one sticks out to you the most!
Force1 F100 Ghost
Read Reviews About Force1 F100 Ghost
As a GoPro compatible drone all on its own, it's a great quadcopter for all professional use. Stable, well thought out, and for a great price.
Tech Specifications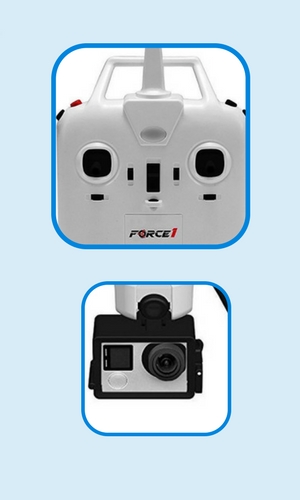 • Compatible with GoPro Hero 3 and 4
• Powerful brushless motors
• 12 minute long flight time
• High and Low speed modes
Pros
• It comes with an extra battery and a power bank
• Comes with extra parts
• Has great photography with GoPro
Cons
• You will have to supply your own GoPro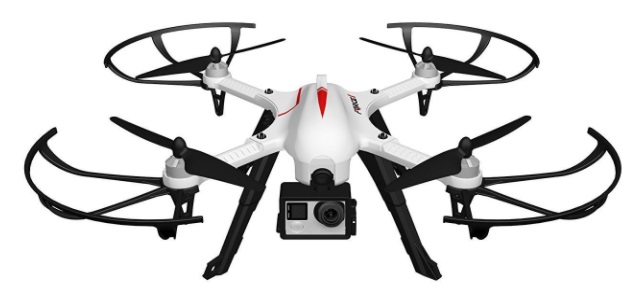 Click To Shop or Read Reviews
Force1 U45W Blue Jay
Read Reviews About Force1 U45W Blue Jay
This quadcopter is a smaller build and, surprisingly, very discreet considering the features and specifications it has. The 2MP stationary camera has a resolution of 1280x720p at 30 fps, for one.
Tech Specifications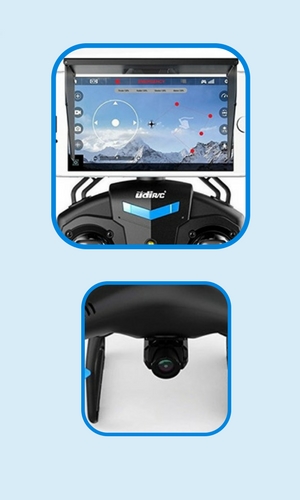 • WiFi FPV and VR compatible
• 500mAh LiPo battery
• Flight time of up to 8 minutes
• Custom Route Mode feature
• Live video transmission
• 2.4GHz transmission frequency
Pros
• Comes with a power bank and an extra battery
• Uses an SD card reader for photos and videos taken in flight
• Comes with spare propellers
• Includes Altitude Hold and Headless Mode for additional features
Cons
• It's a learning curve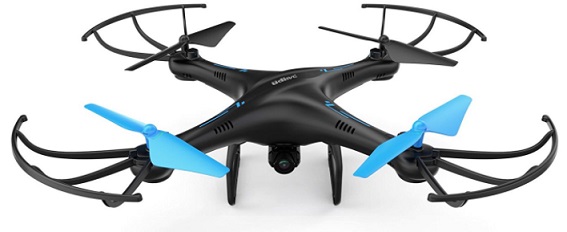 Click To Shop or Read Reviews
3DR Solo Drone Quadcopter Site Scan
Read Reviews About 3DR Solo Site Scan
It is the only drone to be powered by twin computers and can stream wireless HD video content from GoPro directly to your Android/iOS device. Features the powerful smart shot technology that makes capturing incredible video footage easy and automatic. The controller features pushbutton flight and computer assisted Smart shots which allows users to get professional aerial photos and video.

Tech Specifications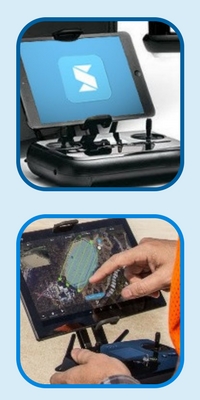 • 3D Robotics gimbal
• 3D Robotics propeller set
• Transmitter remote control
• Flight battery and charger
Pros
• Powered by twin computers
• Streams HD video via wireless technology to smart devices
• Smart Shot technology allows automatic and easy footage recording
• Users can adjust camera settings from the ground
Cons
• Battery has 13 minutes of life.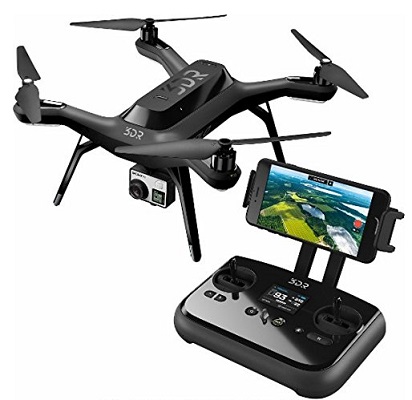 Click To Shop or Read Reviews
Novadrone Nomad
The product is easy to use because all you need is to select the area you want to survey, make a plan and simulate your mapping mission and tasks. It is built with an ultra light airframe that promotes aerodynamics. The type of material used is composed of 100% advanced composites, Kevlar and carbon fiber.

Tech Specifications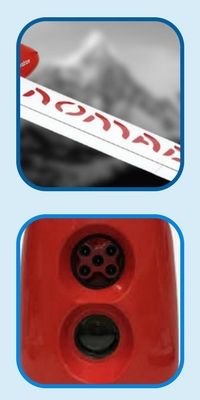 • Interchangeable POD
• Full flaps and airbrakes
• Carbon fiber body material
• Wingspan 300 cm
Pros
• Aerodynamic efficiency
• Feature airbrakes that ensure safe landing
• Great in-flight stability
Cons
• Reduces efficiency
• Take off safety issue.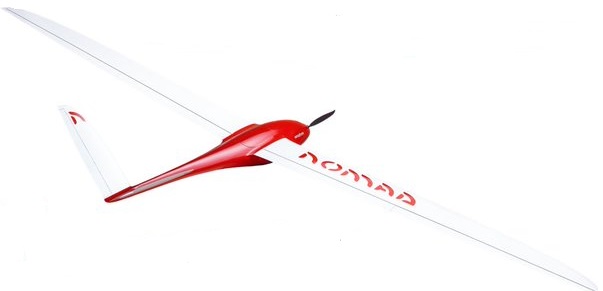 Best Professional Drones – Surveillance
Before we get into the reviews, we feel the need to make an important note. Just because you have small drones for surveillance, that does not mean you should be breaking the law. Surveillance drones for sale must not be abused. Don't spy on your neighbor, don't do anything you shouldn't be doing with them, and always remember to stay within the law.
Yuneec Q500 Typhoon
Read Reviews About Yuneec Q500
It is available with a personal ground station with built-in touch screen allowing the user to monitor video footage. Features 4K video with ultra high definition video recording at 30 frames per second. Can capture 12 MP photos with No Distortion Lens.

Tech Specifications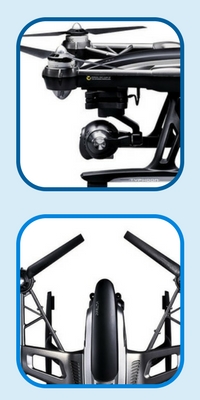 • Integrated 3 axis precision gimbal camera
• One battery
• Weighs 2.5 pounds
Cons
• A carry case is not included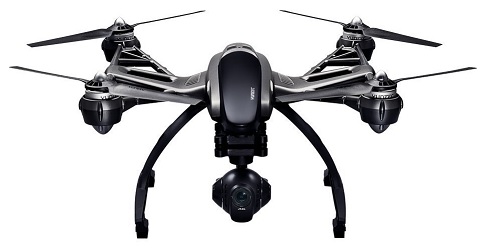 Click To Shop or Read Reviews
Parrot Bebop 2
Read Reviews About Parrot Bebop 2
The drone is fitted with a high capacity 2700 mAh battery with 25 minutes of battery life. The unmatched 3 axis digital stabilization system ensures smooth and stable videos are captured despite the movements of the drone.

Tech Specifications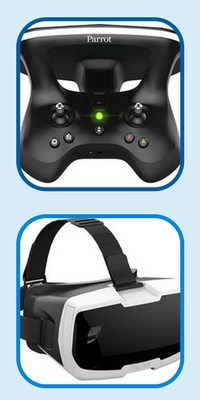 • Has seven sensors
• 3 axis digital stabilization system
• High capacity battery
• New Parrot Sky controller
Pros
• Comes with Cockpit VR glasses that offer captivating flight experiences
• Features a full HD 1080p camera
• Works with the FreeFlight Pro app
Cons
• The body is constructed with plastic.


Click To Shop or Read Reviews
DJI Matrice M100 with Thermal Camera Zenmuse
Read Reviews About Matrice M100
It is available as a complete flight platform allowing you to start flying quickly and enjoy a stable reliable flight. Has all the easy to fly technology which includes a flight controller, propulsion system, GPS, DJI Lightbridge and a dedicated remote controller.

Tech Specifications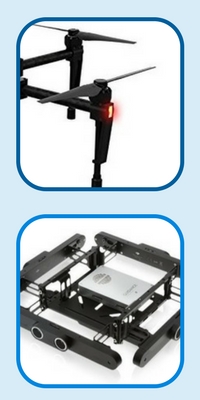 • High powered battery
• DJI guidance system
• Four rotator system
• Dual battery compartments
Pros
• Has a light weight frame and efficient motor
• The high capacity battery gives you up to 40 minutes of flight time
• It's fully programmable
• Features high precision vision positioning
Cons
• It's expensive.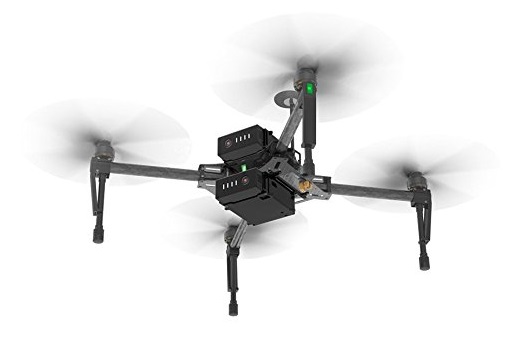 Click To Shop or Read Reviews
Best Professional Drones – Racing Drones
Professional racing drones are an incredible rush, especially when you add VR into the mix! Racing drones are gaining popularity because of their speed, sometimes low feature count, and their overall awesome handling. Which racing drone will be your favorite?
Force1 DYS XDR220
Read Reviews About Force1 DYS XDR220
Patience is definitely an important virtue with this drone. Putting it together aside, this racing drone is beneficial in multiple professional industries, is incredibly quick, and can definitely get the job done.
Tech Specifications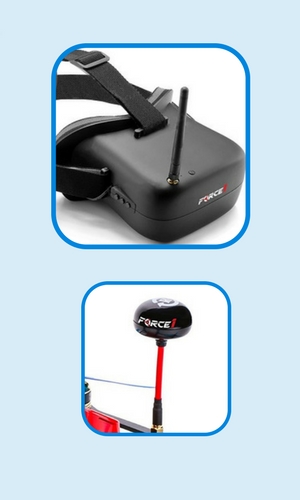 • 9 channels on a 2.4GHz transmission frequency
• Colored LCD screen with an intuitive, full setup
• 5.8GHz FPV transmission
• 2.5mm HD CCD camera
Pros
• The design is one of the lightest ones ever engineered
• It's made out of carbon fiber for added durability
• High-quality VR goggles make a very smooth, clear difference
• It uses a balance charger to create an equal amount of power between battery and the life
Cons
• It does not come with a battery, so you will have to supply your own
• The battery you choose will have positive or negative effects, so it can go either way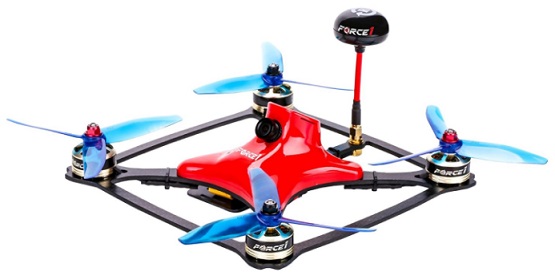 Click To Shop or Read Reviews
Final Thoughts About Professional Drones
Shopping for the best professional drones can be a daunting task especially today where several brands are available. To make them competitive, they are engineered with amazing features like retractable landing, gimbal, 4K camera, 8 rotor drone systems (multirotor system), intelligent guidance systems, lightweight materials for the body and long lasting batteries. Are you shopping for professional drones to use in your organization? I highly recommend the drones reviewed above.
Also, you can read about Silent drones wich are designed for use in many cases where a drone has to work without making lots of noise. They can work for surveillance purposes as a means of monitoring something without giving one's location away.
FAQ about Professional Drones with Cameras
If you don't see your question, or an answer to it, listed below in our FAQ section, feel free to get in touch with us and we'll do our best to help you out!
What is a drone?
A drone is an unmanned aerial vehicle, or UAV, that can be controlled with a transmitter/remote control or a smart device. They can fly autonomously using certain features, or be remotely piloted by the user.
Where can I learn to be a professional drone pilot?
There are companies that specialize in providing drone professional pilot training courses. The courses are not geared towards people who want drones for fun but for people engaged in surveillance, aerial photography, mapping and agriculture.
What's the difference between a professional and a non-professional drone?
Professional drones are engineered with features useful in a wide variety of activities. It is common to find the best professional drones fitted with 4K video processing engines and cameras. They are engineered with lightweight materials, can carry heavy payloads and have a longer range. Non professional drones are designed with basic features.
What permissions do I need to fly a drone?
In the US, you are required to register your drone with the FAA. Once you are registered, you may not fly the drone within 5 miles of an airport or a height of more than 400 feet.
How do I know if I need to register my drone?
To ensure that you are staying both within local law and the rules and regulations set forth by the FAA, you can click here for all of the information you will need to make sure that you are not illegally flying your drone that must be registered.
What happens if I face battery discharge mid flight?
Professional drones for sale are fitted with the capability of automatically landing themselves back to the original position in case of battery failure. It is important for the pilot to keep tabs on the battery status of the drone.
What is the maximum payload of a drone?
This depends with the frame construction and the number of rotors available. Check the user manual accompanying the drone.
What should I know before flying a drone?
Before you take your drone out into the field, always make sure you have a full battery. If you choose to do so, investing in a couple of extra batteries is never a bad idea. Some drones have less than 10 minutes of flight on a single charge, which is a short amount of flight time to work with.
In addition, always ensure that you are flying away from the general population, not flying over anyone, and not trespassing with your drone. For example, make sure that you do not fly your drone onto someone's property unless you have permission.
Never fly your drone if you are under the influence, always keep your drone within your line of sight, and don't fly it when the weather calls for rain, snow, etc.
Are drones hard to fly?
Not necessarily, no! All it takes is a bit of practice, a full battery, and an afternoon to learn how to fly your drone properly.
How do I choose a camera drone?
Choosing a camera drone doesn't have to be a headache and a half. If you want to take HD videos and photos, go for a camera drone that offers 1080p or 720p HD at the very least.
Are professional camera drones expensive?
Not all the time, no. There are plenty of amazing cheap camera drones out there that won't burn a hole in your wallet. Thanks to today's technology, we're able to get our hands on quality camera drones at reasonable prices.
What does transmission range mean?
A drone's transmission range is the distance of signal between the transmitter and the drone. For example, if a drone has a maximum transmission range of 150 feet, that is how far you can fly it before the transmission range will begin to drop.
Can I push my drone to go out of range?
No, pushing your drone to go out of range, no matter what the reason is, is never a good idea. You should also always make sure that you don't have anything, such as trees, for example, obstructing your line of sight and transmission between the drone and yourself. That's how crashes and broken drones happen.
Where can I get a cheap camera drone?
Getting a cheap camera drone is very simple, all you have to do is scroll up and look at the selection we have for you in our review! As you've probably noticed by now, there are a lot of drones on our list that are more than reasonably priced.
How much flight time does a drone have?
The amount of flight time a drone has will depend on the drone and the LiPo battery themselves. Every drone is different, so there is no single answer to this question. The amount of flight time a drone has also depends on how you fly it, as well. For example, flying fast or during a windy day will cause the drone to push itself, draining the battery faster.
Further Reading
Best Drone Under $200 at Dronethusiast.com
Other Interesting articles in "
Reviews

"