Can You Take a Drone on a Plane? – Flying With Your Drone

"Can you take a drone on a plane?" is a question that a lot of people have. We've already covered traveling with LiPo batteries and the best drones for travel, but there are still answers left to go over.
When it comes to traveling on a plane with a drone, it's important to know the rules, policies, and overall regulations that are held by the major airline companies. Doing so will ensure that your trip goes off without a snag.
Delta Airlines
At this time of writing, there are no policies or rules in regard to having a drone on any of Delta's planes in regard to their Restricted Items list.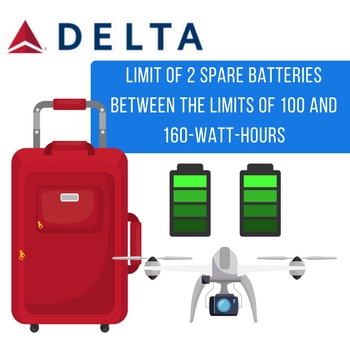 However, to be completely sure that you will be permitted to have your drone on your flight with you, you can submit an email to Delta's Dangerous Goods Department, which must be done at least 10 days before your flight.
In regard to lithium-ion batteries, Delta drone policy permits passengers to travel with singular batteries up to 160-watt-hours in their carry on. If said battery exceeds 160-watt-hours, however, the passenger will be barred from doing so.
In addition, lithium-ion batteries that are installed within a personal electronic device are able to be transported, checked, and carried on in baggage, while spares that are not installed in said devices must be in a carry-on. There is, however, a limit of 2 spare batteries between the limits of 100 and 160-watt-hours
Any devices that contain either lithium metal and/or lithium-ion batteries, regardless of what the device is, must be transported using a carry-on bag and never placed in checked baggage.
However, if this is not possible, said devices should be powered down completely in the OFF position, protected from any potential accidental damage, and packaged in a way they are protected from overall damage.
American Airlines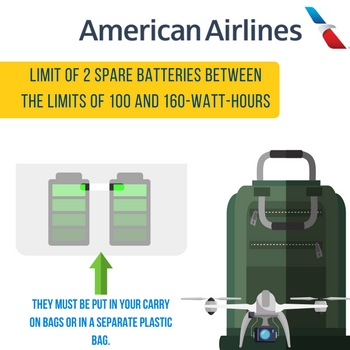 Unlike Delta Airlines, American Airlines has a crystal clear policy on flying with drones.
American Airlines allow a passenger to travel with a drone as long as the battery does not exceed 160-watt-hours. The drone can be carried onto the plane, but only if the box is less than 22"x14"x9" or 56x36x23 in centimeters.
Their battery policy, however, is a bit different. You must remove the batteries from any devices, including your drone, from your checked bags. They must be put in your carry on bags or in a separate plastic bag.
You can have unlimited lithium-ion batteries on board if they are under 100-watt-hours, 2 spares in your carry on bags if they are between 100 and 160-watt-hours, and you will need to contact Special Assistance if you are bringing a battery larger than 160-watt-hours up to 300-watt-hours.
Southwest Airlines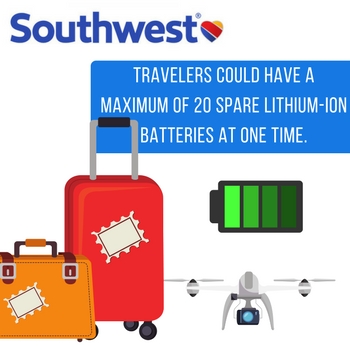 Southwest Airlines allows international travel with drone, but only if certain requirements are met where the size of batteries used are concerned. Their new policy, which came into effect January 15th, 2018, permits travelers to have a maximum of 20 spare lithium-ion batteries at one time.
However, spare or loose batteries, including batteries, cells, and power banks, are required to be protected from any possible short circuiting. They are to be transported only in carry on baggage.
Should a battery exceed 100-watt-hours, only 2 that do not exceed up to 160-watt-hours are permitted. Any that exceed the 160-watt-hour limit are not allowed as either carry on or checked baggage.
JetBlue Airlines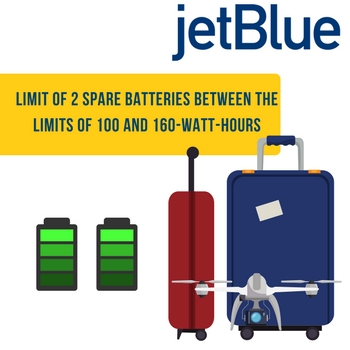 JetBlue Airlines has a policy where drones may be accepted as a carry on item or with checked baggage. However, the drone must fit in the overhead bin or underneath your seat, with the battery fully installed. The drone must remain in the OFF position for the entire duration of the flight.
Where batteries are concerned, any 2 spare lithium-ion batteries between 100 and 160-watt-hours are allowed to be carried as carry on items as long as they are within the terminal protected with tape, or inside of a plastic bag.
Should the battery be lower than 100-watt-hours, there are currently no quantity restrictions in place.
Can You Take a Drone on a Plane?
Making sure that you get a clear answer to today's important question, "can you take a drone on a plane", will ensure that you don't run into any problems before your flight. In the near or distant future, we may be adding additional major airlines to this list.