Cyber Monday RC Truck Deals 2019
Updated:
Three weeks from today, we'll all be heading back to work after the long Thanksgiving holiday to take part in another yearly tradition; shopping for Christmas presents while we pretend to work. Our team at Dronethusiast is already using company time to search out the best Cyber Monday RC Truck deals... and we're getting paid to do it!
Take a look at what we are seeing as the best deals so far in 2019
Bookmark this page and we will continue to update the best deals and discounts available right up to Cyber Monday (December 2, 2019).
Jump to
Table of Contents
Cyber Monday is a huge shopping event that takes place online the Monday after Thanksgiving. This year, it falls on December 2nd. It's a great way to save some money shopping for holiday gifts.
RC toys are popular items that tend to go on sale during Cyber Monday. One RC toy that makes a great gift is an RC truck. They come in many different sizes and price points and can be used by kids and adults.
At dronethusiast, we spend a lot of our time driving and testing different RC trucks so we know which ones are best. Plus, we're plugged into the RC industry and are some of the first to know about Cyber Monday sales for RC trucks.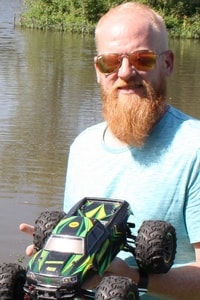 Our staff at Dronethusiast is plugged into the RC hobby industry and we are going to be keeping you up-to-date on all the best deals this coming Cyber Monday.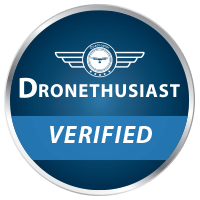 This year, we are devoting a portion of our reviews to a companies reputation. When you're buying an RC hobby product, one of the hardest thing to know is how a company is going to take care of you. A lot of hobby specifications are pretty similar, but you want to choose a company that is there for you after the purchase.
You can trust that our editorial staff stands behind these reviews 100%. If you have a comment or question, please reach out to me at justin@dronethusiast.com or leave a comment below.
Be sure to check back on this article regularly because we'll be releasing Cyber Monday deals as we learn them and give you an idea of what RC trucks to look for this year.
1
Traxxas Bigfoot Special Edition - Cyber Monday Traxxas Deal!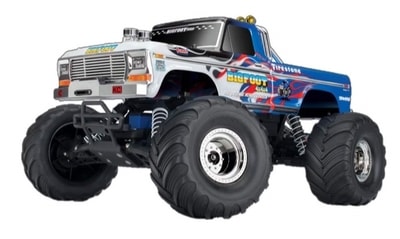 SPEED

30 MPH

RANGE

100+ Meters

BATTERY

Sold Separately
Back to Top
If you're an experienced RC truck hobbyist looking for something new, you will love the Traxxas Bigfoot. This is a special edition model that is definitely worth checking out for Cyber Monday.
This is a very durable truck that is great for both on and off road driving. It can withstand a couple crashes and hits and is easy to control.
It has a battery life that lasts about 15 minutes but it's easily upgradeable by buying an extra battery and other parts to help it run longer.
This iconic model is extremely detailed and is one of the only Traxxas RC trucks that comes ready to race right out of the box. Most other trucks from this well-known brand require some assembly. This means you can get to experiencing your Bigfoot truck even faster.
The Bigfoot truck doesn't go the fastest, but it is great for rock-crawling, clearing ramps, and other tricks. You can always upgrade the motor as well if you're wanting a faster RC truck experience.
2
Altair Power Pro 4x4 - Best Deal for Cyber Monday 2019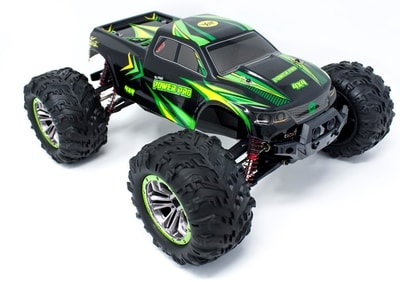 SPEED

30 MPH

RANGE

80 Meters

BATTERY

15 Minutes
Back to Top
Click here to See it On Amazon! or you can get fast and free shipping from the manufacturer's website at AltairAerial.com.
The Altair Power Pro RC Truck is our top overall pick for an RC truck this Cyber Monday. It will be on sale all of November too, so you don't have to wait for savings!
This is the best overall truck because it has all the features that beginners need to get started, but will entertain an experienced driver as well. It has two speed modes for new users to start out slow before reaching faster speeds.
Speaking of speed, the Power Pro can reach speeds up to 45 mph which is pretty impressive for a truck of this size and price.
It also comes with 4-wheel drive and independent suspension so if you're hoping to take it off roading, it will definitely hold up. Plus it's durable plastic shell and rubber wheels will help prevent damage if it crashes or runs into anything.
Altair's customer service is fantastic and based right in the United States. You will always be taken care of if you have a question about your truck with an American level of customer service and care.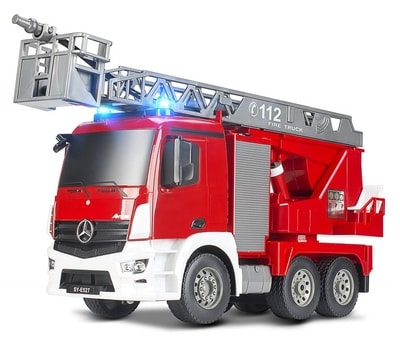 Back to Top
An RC fire truck can make a unique driving experience for kids and adults. The Double E RC Fire Truck is a mercedes-benz authorized model and comes with all the works. Check it out on sale this Cyber Monday, it makes a great gift.
You can use the remote controller to spray the hose, life the ladder up and down, and stretch it in and out. It also drives the truck around too. You can set off sirens and lights just like a real fire truck with the push of a button.
It has a max 100 meter control range and a battery life of 30 minutes. This is great for a unique RC truck at this price and will give kids or whoever is driving tons of fun.
Have fun on pretend rescue missions with this RC fire truck and it is so easy to control so even your youngest child will be able to have fun with it.
4
SZJJX RC Off-Road Truck for Kids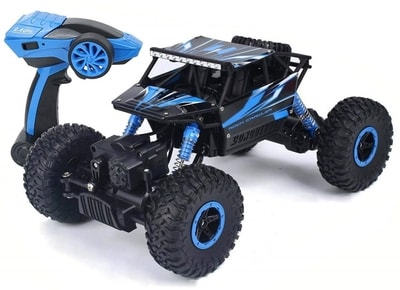 Back to Top
If you need a present for your child, consider buying the SZJJX truck on Cyber Monday. It's easy to use and will be fun for any kid on your shopping list.
It comes with two batteries which is great for an RC truck of this price. With both batteries charged, you'll be able to drive the truck for up to 20 minutes, giving kids plenty of play time outside!
This RC truck also has some rock crawling abilities that allow it to ride through difficult terrains and climb obstacles. Have fun setting up your own track in the backyard or at the park and watch the RC truck complete them.
It's a smaller model which is why it's a great option for kids and easy to control, too. If you are buying this truck for a younger child, note that it's best that an adult is present while driving it to ensure everyone's safety.
5
NQD RC Monster Truck - Monster Truck & Monster Deal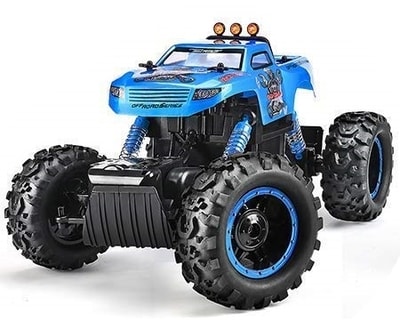 SPEED

15 MPH

RANGE

80 Meters

BATTERY

20 Minutes
Back to Top
The NQD RC Monster Truck is a great option if you're shopping for a gift for a beginner. This RC Monster Truck will be available at a discounted price during Cyber Monday, so don't miss out on it.
It's a 1/12 scale RC monster truck made of durable ABS plastic to help it withstand crashes. It even has some rock climbing abilities and can scale obstacles up to a 45 degree angle.
This Monster Truck has a great battery life of about 20-30 minutes and can even be driven by kids as long as there is an adult present. The driving time is pretty great when you consider the size and price of this RC monster truck.
It can reach great speeds and has 4-wheel drive to help it drive across tricky terrains including sand, mud, rocks, and dirt.
6
DEERC DE32 RC Toy Truck for Kids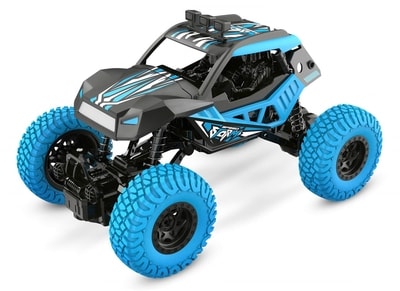 Back to Top
Another great toy RC truck is the DEERC DE32 truck. THis affordable toy will be on sale for Cyber Monday, too.
It has a long battery life of approximately 25 minutes and that's impressive for an RC truck in this price range. The truck is also extremely easy to control with a 2.4Ghz anti-interference transmitter. This makes it great for kids and beginner drivers alike.
The durable plastic shell and PVC rubber tires make it durable and provide a realistic off-road experience if you choose to take the truck off the pavement and drive it in dirt, sand, rocks, or other types of terrains.
It's not 4-wheel drive so it may struggle in the more difficult terrains but will still ride well enough to give you a good off-roading experience. Kids will especially learn a lot about how to drive an RC truck when using the DEERC DE32.
What to look for in RC trucks for Cyber Monday
There are a lot of options for RC trucks that you can buy online. If you've never bought one before, you may be wondering about which truck is best and what to look for. Here are Dronethusiast's top tips for what to look for this Cyber Monday when shopping for an RC truck.
Battery Life
Battery life is a huge part of any RC toy. You want to make sure that you are getting a good amount of driving time for the amount of money you're spending. The average battery life of an RC truck is around 15 minutes so keep this is mind when shopping. You may want to consider buying an extra battery life or two if the RC truck you want has a shorter driving time.
Speed
Speed is another thing shoppers should definitely consider when looking for RC trucks. If you are hoping to drive your truck on pavement, you probably want an RC truck that goes pretty fast, at least 30 mph. However, if off-roading and rock-crawling are more your style you won't need an RC truck to reach high speeds. This will help you control it as you are using it.
Motor
An RC truck's motor and speed go hand in hand. RC trucks will either have a brushed or brushless motor. A brushed motor is best if you're not needing to go as fast and want a truck that can climb through rocks and obstacles and drive on difficult terrains. However, if you're hoping to be the fastest RC driver out there you will want an RC truck with a brushless motor for the best and fastest speeds.
Price
Always set a budget when buying an RC truck. There are many different categories of RC trucks that range in price. If you're a beginner or buying for someone who is, sticking to a more affordable RC truck is probably the way to go. However, more experienced drivers may enjoy having a more expensive RC truck.
Additional Cyber Monday Deals
Cyber Monday RC Rock Crawler Deals by Dronethusiast.com