Flybrix Review, the Coolest Toy Drone & Octocopter
Hello Drone Friends!
If you decide you're going to order a flybrix kit, you can get a special $10 off the Flybrix Octocopter kit by using our unique coupon code: "Drone Enthusiast" put it in at checkout. This code expires on May 1, 2016, so order soon if you're buying! Orders made now will not ship til September
Today we have a great interview with the people behind Flybrix! Their product is a LEGO® Drone Kit that gives you a great way to build your own drone at home. They are currently accepting email signups for news about their next product run.
According to what I found out during my Interview they are currently working on their 2nd production run. They will be offering their first products for sale to members of their email list and fundraising campaign members. If you want to get on this list so you can be one of the first allowed to purchase these fun products sign up here.
I was an early sign up on the email list while they were sold out and was pleasantly surprised to be given special notification that the kits were again available with an early shipment date, before kits were offered to the general public. Last time they had a production run it ran out very quickly so if you're interested it's worth it to sign up for their email list. Kits are now available for sale online, ship date is September 1. They gave me a special tip that it's likely they'll ship earlier.
Here's an Image of one of the lego drones put together by a member of the Flybrix team.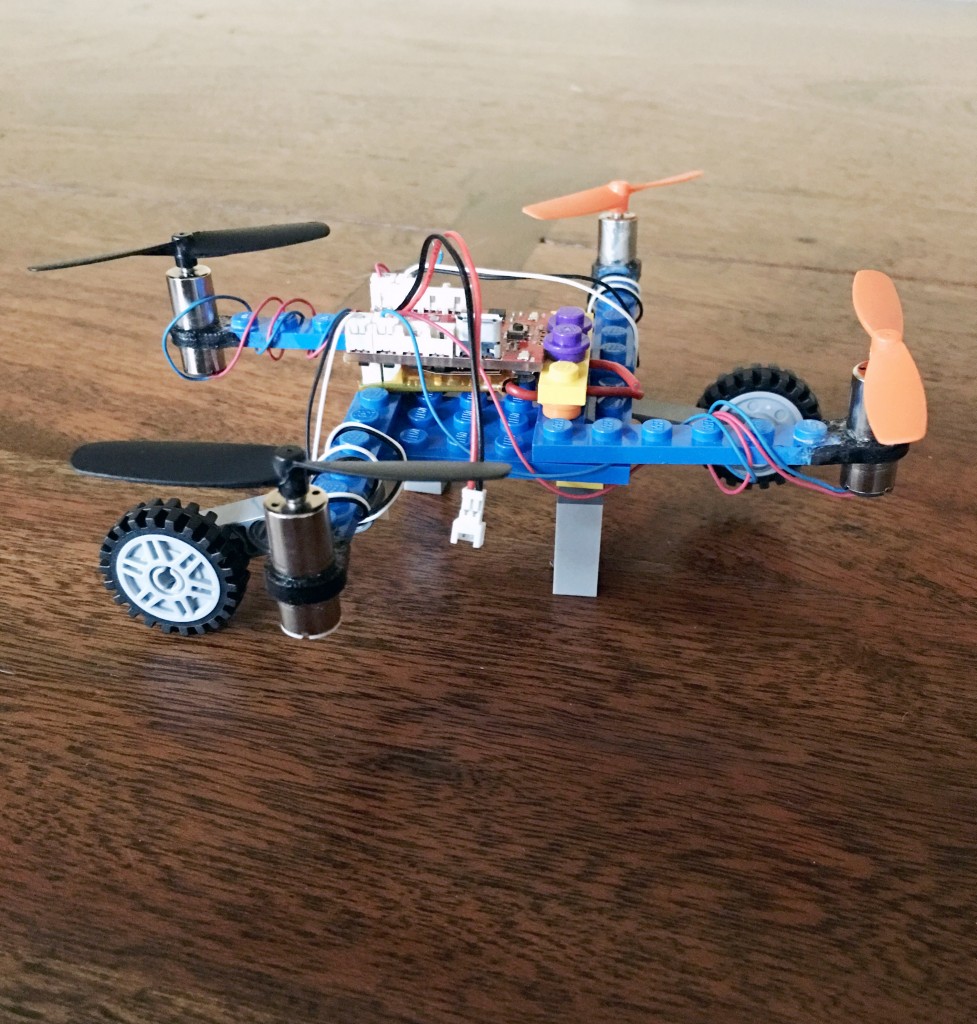 Check out one of their product videos!
Flybrix Interview
I spoke with Holly Kasun, co-founder and CMO of Flybrix for this interview.
Question: Just so I know who I'm talking to, how are you related to the product and it's origins?
Holly: I'm Holly Kasun the CMO and I'm a co-founder of the company.
Question: How many employees are at the company?
Holly: We're an early stage startup. The founders are Amir Hirsch CEO, Robb Walters CTO and myself. Amir has his Masters in Electrical Engineering from MIT and Robb has his Phd in Physics from Cal Tech. I have my MA from UW Madison.
Question: Whats the history of the company and the product, feel free to give as much as you want in this question, I think people will definitely be interested in how you came about and your company.
Holly: Flybrix actually fell out of an R&D project. Amir, Robb and I were working together for about a year prior to Flybrix being "born" on a much more advanced product that is not in the Ed Tech / drone space. Once the flight control board was developed we started getting requests for it as a stand-alone product. From the feedback on the board, we quickly came to understand that there was a need in the world of edtech to make this board more widely available if we kept it open source especially since it offered a new way into being able to learn about drones, flight controls, the engineering and mechanics behind how drones work. At that point we worked with a number of educators to shape Flybrix to work in both formal classroom settings as well as in informal instructional situations like maker spaces, for example. There is just a tremendous appetite to get younger students into drones. The challenge is making them safer and approachable overall. What I mean by this is right now there are toy drones on the market that are small and light. they're fun to fly and people do enjoy those toys. However the toys are limited in terms of what can be done with them beyond simply flying them, especially when we think about programming. On the other end of the spectrum are of course the DIY drone kits geared toward hobbyists and enthusiasts. As most of your readers know, it takes a fair amount of skill and background knowledge to be able to build drones from "scratch". So there is this middle ground where people want to get into drones and explore further, but the gap between toys and hobbyist kits makes it difficult for the average person to get involved. Filling that gap is what Flybrix aims to do.
Question: How did u decide to do it, who's involved? whats the future hold for flybrix? Where are you located? How many production runs have you done, how many units have you sold, do you have projections for upcoming production runs / years? (things like this)
Holly: Flybrix is located in San Francisco. We are a startup that has been incubating at Lemnos Labs, by far one of the best hardware incubators around. We also are supported by Lab 360 and Idea Bulb. Both are Chinese VCs.
We've sold around 100 alpha units, and those have been in the field for a few months. In the early days, we needed to get real-world feedback from early enthusiasts so we could get a good idea of how our product worked as well as understand what else people wanted from this product. We're happy to say that we haven't had any returns or major problems with that first round of product. With those first units, we were testing the components of each one and flight testing them in-house to make sure we were sending out great product. There were some really long days and lots of flying! I personally am a terrible pilot. (haha) but I got a lot better, quickly with so much practice!
Again, based on that alpha run, we are going to add bluetooth to our board. We're in early production of those flight control boards. Once we've tested a small run of our new boards, we'll be back in production with our betas very soon. Our challenge right now, as with all hardware startups is getting to a volume where we can produce at scale to meet the demand. This may be too much information, but making hardware has a unique set of challenges that pure software companies don't face. In our case, getting components at small scale and lead times takes quite a bit of planning and adjusting to get the supply chain worked out.
What is coming next most importantly is bluetooth integration. That will allow us to integrate with block coding apps like Tickle and Scratch. In order for us to do that we also need to get cameras onboard. I don't want to disclose too much about what is coming next, but it's pretty exciting!
Question: What about using legos, does that create a problem with selling the product? How do you sell something that is branded like that, are you somehow partnered with legos?
Holly: We are not partnered with LEGO® right now. LEGO has a very cool approach to how LEGO allows companies like ours to leverage their product. It all comes down to how the brand name is used and making sure that we're not crossing the line by claiming we're the actual LEGO company. We pay very close attention to this and respect their guidelines. We would love to be partnered more formally with LEGO in the future. Maybe it will happen!
Question: Tell me about the products, how have they been received? Do you have any feedback from customers? Are there any fun uses you're seeing for these products that you didn't imagine?
Holly: Our first product was the quadcopter kit, which is the 4-motor design. Our flight control boards had ports for more motors from the start, but we needed to make sure our minimum viable product worked, so we started with the simplest version of the product. We sold out of those alpha kits in less than 2 weeks with very minimal advertising. Customers who bought those first units absolutely love them. We asked for feedback from them, the good, bad and ugly. Yes, we had some issues with a motor failure here and there plus our instructions in that first round had some pretty obvious gaps, but those issues were easily remedied. Now that we have worked out the kinks on that initial product offering, we have gone into the octocopter kits. This has been the most exciting for us, since this is the true vision for the product. The octocopter kits are unique because there is nothing else on the market like it – meaning a mini octocopter with the ability to rebuild as a quad, hex or octo design. It offers so many more options for exploration and design creativity.
Recently, I personally played with the quadcopter designs with a 5th grader and a 1st grader. I hadn't actually had a hands on experience with kids on what we thought was the youngest age of person who would want this product. What I was most fascinated with is how quickly the kids picked up on how to work within the design constraints of the 4 motor design. The quads lift 65 grams, so with the battery that starts limiting how many LEGO can be used in the airframe designs. The kids were incredibly creative in how to strip down designs to the fundamentals to achieve the look they wanted, without many bricks at all. I anticipated this would be difficult for them, turns out it was opposite. They had wildly innovative designs. Maybe my surprise came from the fact that I've been looking at our basic quad design for months and haven't thought much about what else can be done, especially because we don't have a trove of unique lego pieces laying around to try. Some of the things they added were wheels to make a flying car, big wings to get more of a glider shape, and the funniest was this LEGO teradactyl that they had from some old Lego set. We clicked on the board, motor arms and the battery and got it to fly!
What I learned from that play session was that this product can take on the personality of the person who is teaching or playing with it. What I'm getting at is, I'm not crazy technical and I'm certainly not an engineer, I'm more of a design person who enjoys creative problem solving. As I was playing with the kids, what we talked about most was design constraints, how to eliminate extraneous pieces yet still achieve the desired look and feel of the airframe. It was a really fun back and forth having the kids show me their airframes and them asking, "will this one fly?" and then coaching them through a series of questions to optimize for getting it in the air. They were able to optimize their designs quickly without my help. They loved working through how to "get it to work" and that was a compelling enough mission to keep the kids occupied for hours playing with the kits.
I was also surprised at how Flybrix appealed to girls and boys. So many times technical toys girls find underwhelming when boys go bananas over them. In this case, the boy and the girl approached the toy differently but equally found it fun and engaging.
Question: What are the most surprising things you've seen happen with the product/company since it started?
Holly: As I mentioned earlier, we did sell out of our first production run really quickly. I didn't know what to expect.
We had a guy buy an alpha unit in that first batch of customers. At that time we had no idea who the people were who bought them, why and what they wanted to do with them. Turns out this guy named "Jang" was a LEGO fanatic with a huge following on Youtube. His twitter handle is @Jangbricks and so is his Youtube Channel. He did an unboxing video of Flybrix and got over 50(k) views in about 2 weeks? We saw a spike in our site traffic but had no idea where it was coming from. After we investigated, we found the unboxing video. It was amazing! Jang is a total pro and the content he produced was A+ quality for user generated content.
Question: What have been your biggest problems in developing this project and getting it moving?
Holly: The biggest questions we had and have had getting this off the ground were with our production volume and supply chain. When you're starting out as a hardware developer, it's incredibly difficult to find the components you need and get things produced at low quantities for a reasonable cost. To overcome some of these issues, it turned out that we had to do so much of it ourselves, in house. Things like assembling some PCB components, soldering, testing, and other assembly. I went from CMO to chief flight tester working on an assembly line! Luckily, my first job in 7th grade was working in a factory and I loved it. So it was fun to go back to that type of work. Robb, Amir and I spent lots of time together assembling the first kits. It was fun, chaotic and rewarding.
The best part by far is seeing educators and parents go nuts over this product and hearing about the creative ways they plan on using the kits. Wait, I should actually say seeing kids, parents and educators all going nuts over this product. Hopefully it will bring many more people into the world of drones in a fun, safer way so the overall industry grows and more creative uses for drones explodes. There's so much potential out there!
Conclusion
The Flybrix product appears to be a great way to get into drones and building your own! Personally I'm very interested to get one and try it out with my son (He's 5). I think it could be a great way to get your kids into drone technology!
Does anyone have any experience with Flybrix products or do you have any questions or comments? Leave them here!
Check out our recent post on the Best Unmanned Systems Universities!
Other Interesting articles in "
Reviews

"