Flytrex Live 3G Hands On Review
I am sure you agree that flying a hobby quadcopter that costs well over a thousand dollars or in some cases more than $3000 is lots of fun, but at the same time I personally also get a little nervous when I fly. Even after well over a hundred flights, this sensation is still there. Even though it's a small level of anxiety is natural and it's just a part of the hobby, I have always been looking for ways to make my flights a bit more relaxed. At least to make sure that in the event of an unfortunate flyaway – which could even be my fault -, I know that I can at least locate the quadcopter and have chance to repair it if it's damaged.
Another thing that made me wondering when I was a newbie is how cool it would be to have an application for multirotors that is similar to the apps that map your run and automatically post it on your Facebook feed. You know, the kinds of Nike Running or MapMyRun, there are many applications that do that and I always liked seeing other people's running stats. It even inspired me to try to top their records or just to head out and run.
Flytrex Live 3G
So I decided to do some research if applications like these existed and found a company called Flytrex in Israel that manufactures gadgets custom designed for actually both of these purposes in one device. The latest model they have is the Flytrex Live 3G which uses the cellular network to track your quad in real time and has a cloud application plus an online community of pilots. It is great because you can track your device real time while it's in the air and locate it if it gets lost. Plus a few minutes after your flight, map details, telemetry and other cool data appears on your Flytrex profile page. If you connect your Facebook account and allow automatic posting, the application will also share the flight on your timeline. Just like the running applications, but there is more data of course.
Finding Your Drone Using Flytrex Live 3G
Should you lose track of your quad, all you have to do is to log into the Flytrex smartphone app and hit the "Last Seen" button to find out where the quad lost GPS signal which should be the location it landed.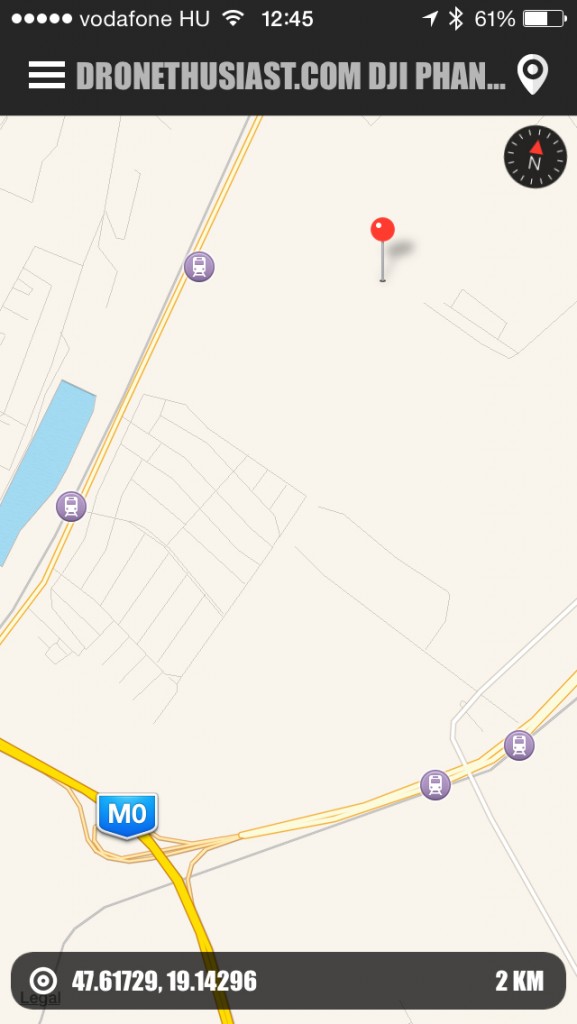 As you can see, the last time I was flying at a nearby airport (yeah, this is one where we get to fly drones) which is about 2 kilometers away from where I am right now. So if it would have been a crash landing out of my line of site, I could just go back and locate it. The only situation when you could not find your quad this way is if someone would find it and steal it. But compared to the proximity trackers that have to be within around a 100 to maximum 200 feet radius of your device, this is much better. Actually, if your quad is close enough for a proximity tracker to find, you could probably just find it based on line of site, but could still be useful if you crash land in a corn field.
Flytrex still produces the old, non-connected version of their tracker which is called Flytrex Core. It is considerably cheaper than the live unit, but of course a lot less fun and practical also since you have to retrieve the data from an SD card after flight. It could still be useful of course if you don't lose the quad, just the gimbal which actually does happen.
Hands On With the Flytrex Live 3G
So I reached out to the Flytrex guys and they were kind enough to send me a review unit. I guess this is one of the perks of running a drone site :). It was just around the time when the Live 3G was actually announced, but I still got the unit very quickly, within just a few days. I did not get charged for any customs duty or anything, but of course I can't guarantee that yours will also slip under the radar too in your country.
When my brand new Flytrex Live 3G arrived, I was a little surprised by the simple packaging, but it does the job. It came in bubble wrap envelope that's similar to a simple letter in size, so I guess that is one of the reasons for not putting it in a fancy box. After all, would you pay extra shipping fees just to have a box that you will throw away right after you receive your tracker? Probably not.
Anyhow, this is what the unit looks like after unpacking: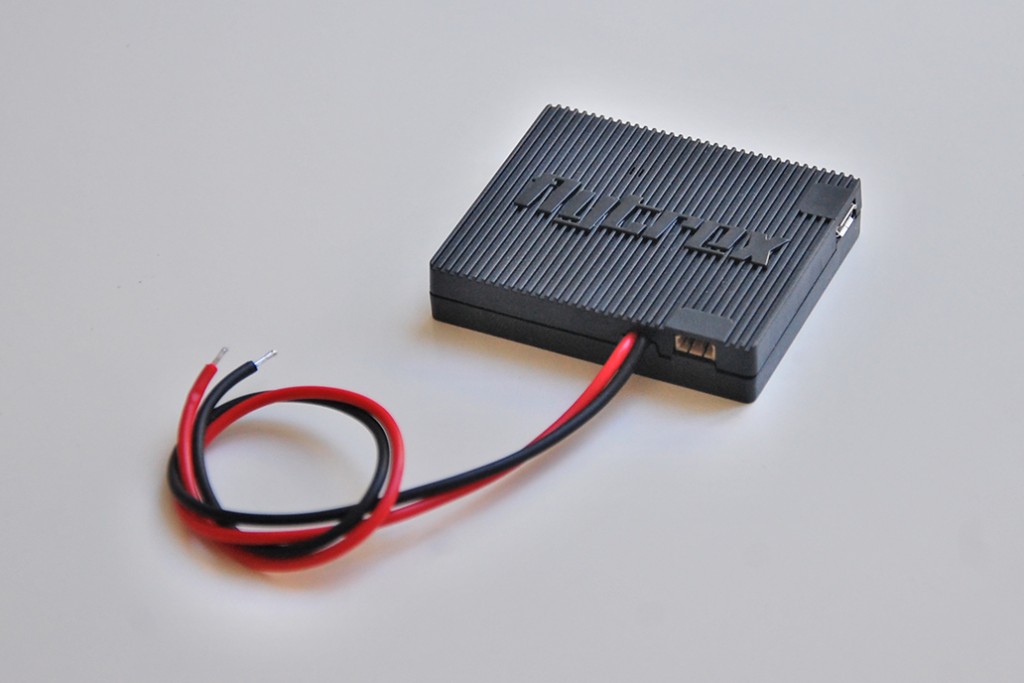 Flytrex Live 3G Installation
Ok, so you have unpacked your device and ready to install it. You have a couple of options. There is a plug-and-play option for a little extra cost if you are reluctant to do just a little bit of soldering. I have written an entire post on the plug-and-play installation of the Flytrex Live 3G using the recently added CAN-BUS adapter, so if you prefer that option, you can head over to that post. CAN-BUS adapters are available for different platforms such as the entire DJI Phantom 2 series and different flight controllers like the A2, Wooing, Naza, etc. If you enter the site and click on "Buy Now", you land on a screen where you can select your platform or controller:
 If you are happy to do a little soldering (it's just 2 cables, about 3 minutes) and not worried about the chance of maybe losing warranty, than here is a quick overview of what you will have to do:
Disconnect your GPS from your flight controller.
Connect the GPS to the Flytrex Cable female socket – the only one available in the cable.
Connect the male socket on the same side of the cable back to your flight controller GPS slot, where you just disconnected the GPS from.
Connect the other side of the Flytrex Cable to the Flytrex Live GPS slot.
Solder the two power wires (black and red) to your aircraft main distribution board.
Flytrex Live includes an LED indicator that provides feedback about the status of its connection at all times. I recommend mounting Live at the bottom of your aircraft, with the LED pointing downwards, so you could easily see it at takeoff. However, mounting it differently should be OK as well. Although the Live shouldn't cause any interference at all, I recommend to avoid mounting it directly on the GPS antenna.
If you need a more detailed, step-by-step installation guide, you can find one here, I'd hate this article to scroll down to China :), so after signing up or logging in with your Facebook account, you can just find the link "Installation Guides" in the top left part of the site and you can select your particular model there.
Registering the Flytrex Live 3G
After installation, you will need to register your device online, so it is linked to your account. The easiest way to do that is through your smartphone. On the back side of the unit, there is a QR code which is unique to the particular unit that you have. Find any QR code reader for your phone and scan code that is on the back side of the Flytrex Live 3G.
After registration, all you will need to do is to insert a micro SIM card into the device. It goes into the slot that is impossible to miss and can only go in the right direction, so it is really foolproof. Try to get either a prepaid data SIM or one with a very low monthly data plan because the Flytrex Live 3G generates very little data traffic while you fly. If you would be flying all the time (which would be lovely, but not many of us get to do that actually), it would still only use something like 100 megabytes of traffic per month, so there is no way you run out of even the smallest package available. I bought a 1G monthly package, but you also have the option to just use your phone's SIM card while you fly so you don't need an extra subscription really. As a matter of fact, you don't want to take calls while you fly anyway, so consider using your own SIM. If your SIM is a nano, you can still use a SIM card adapter that costs around $5.
Flying With The Flytrex Live 3G
 Ok, so now you are all set to go out and enjoy using your new black box. The one thing I realized is that it was really comforting to know that I can always find my quad in case it landed unexpectedly. In fact, I had a small emergency landing just a few days before I started using the Live 3G. I already had it installed and it was working, but I had no data SIM in the unit yet at that point. What happened is I was using an old battery which was still on something like 60% charge, but all the sudden I was receiving a low battery alert on my app. It was surprise and as the bird was out exploring at around 1500 feet away from me, the poor thing had no chance to head home. So what it did is it landed gently and was sitting there waiting for me to pick it up. The lucky part was that I was at my favorite airport (the on the map above) and could still see the Phantom sitting in the grass. It was just a white spot, but I still had line of sight, so I could just walk there and pick it up. If I would have done the flight towards another direction, I would have lost her. You can imagine I headed over to the cell phone carrier to buy the card right away. It will now cost me around $10 per month for 3 Gigabytes per month, but as the data traffic generated by the tracker is so little, I decided to buy it together with a pocket WiFi "router" so I can take advantage of the remainder of the data plan. I work out of cafe's or even outdoors a lot, so it's handy to always have my own WiFi with me.
Posting Your Flytrex Live 3G Flights on Social Platforms
Now you are airborne and your tracker is feeding your telemetry data live to the Flytrex cloud platform. One thing I did is I took my laptop with me, set it up to see my own account and checked how much lag there is compared to my live flight as I see the Phantom moving. It was surprisingly little actually. Anyhow, if you set the Live 3G up to automatically post your flights, they will appear on the social platform within the Flytrex site and your Facebook feed also. I just checked right now as I am writing this article and found a live flight in the UK. Here is what you can see based on Google maps: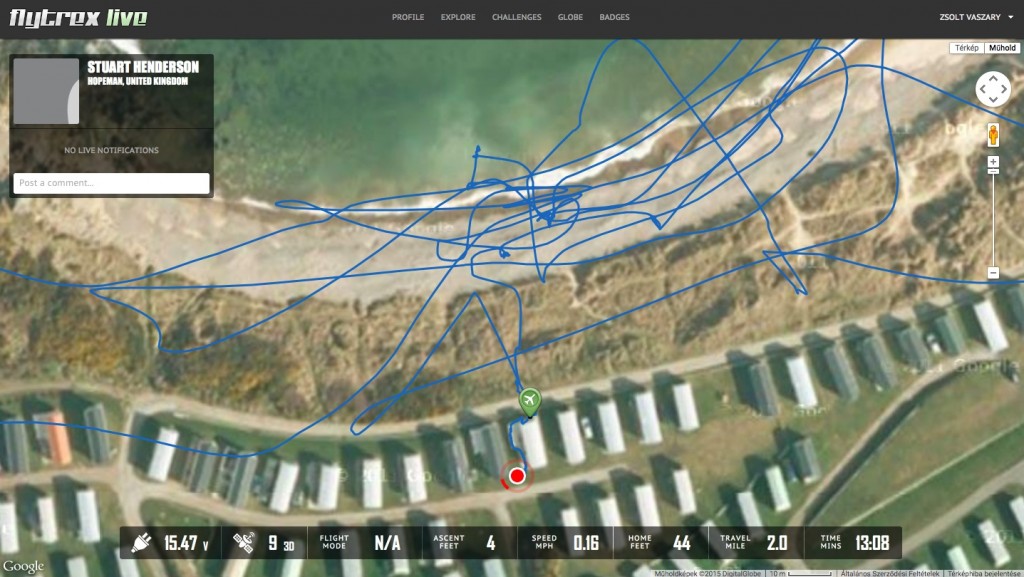 This is how others will see your live flight path and telemetry. Pretty nifty, right? After a flight is complete, they will still be available in your feed like this: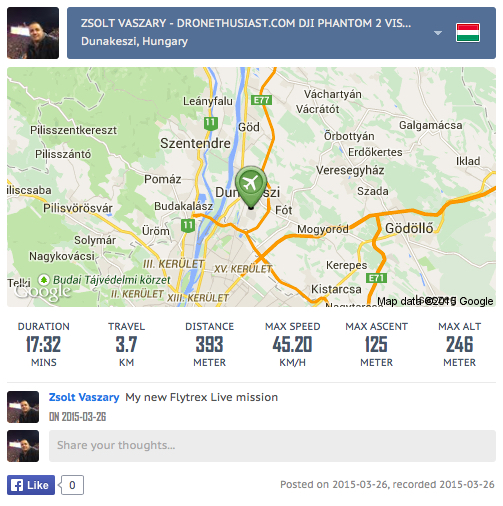 One thing you have to keep in mind that although your missions can be seen real time, the above post needs a little time to appear on your profile. In my case it was something like 10 to 15 minutes, so do not worry if you don't see your flight appearing right away.
I am planning to write a full post for you guys on showing off your flight in social media, so I will not go into more detail on it here in this one. As you can imagine, there are badges for certain achievements and you can also share your flights in groups, etc. but more on that in the next post.
I hope you like this review and it provided you some useful insights into tracking and showing off your flights. If you would also like to get a Flytrex Live 3G, I have great news for you. Dronethusiast readers can now get a special $38 discount on the Live 3G! This way you can grab the black box for $151.99 instead of the regular $189.99 price tag.
Summary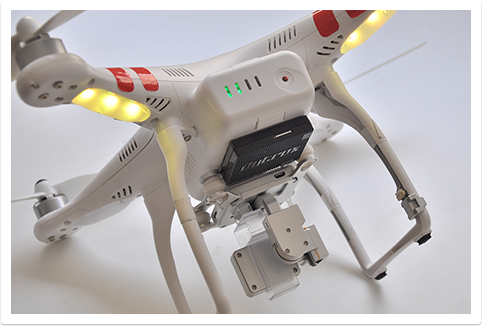 Article Name
Flytrex Live 3G Hands On Review - Dronethusiast
Description
Hands on review of the Flytrex Live 3G tracker for your multirotor. Installation, tracking, posting in social media. All you need to know.
Author
Other Interesting articles in "
Reviews

"