Top Gas Powered Drones – 3 Best Gasoline Drones For Sale [Updated 2021]

Updated:
Most drones are powered by electric batteries, but sometimes you need something a little more heavy duty. That's where gas powered drones come in. These aerial behemoths can fly farther and last longer than their electric counterparts and are perfect for serious filmmakers and for industrial heavy lifting. Today we'll be looking at the 3 best gas powered flying drones for sale and helping you find all the information you need on their features and specs.
These drones are not recommended for beginners and will be priced far out of most consumers' ability, so this article is mostly for people who need some serious drone lifting power. And if you want to know more about non-gas powered drones, we have a whole article on the best drones for sale.
Best Gas Powered Drones
Gas powered drones are still pretty rare to find in the ready-to-fly market, which is why people will often build or modify their own as we will discuss later in the article.
The Nitro Stingray is a gas powered flying drone with a two-stroke Scorpion motor and a unique flight controller that gives you full control over all the moving parts of the drone thanks to a "variable pitch" method of flight. It's designed for aerial photographers and is known for remaining stable in windy conditions. It's also capable of full 3D flight and a number of cool stunts.
The Incredible HLQ (Heavy Lifting Quadcopter) is a gasoline powered quadcopter model designed by students from San Jose, California and funded through a very successful Kickstarter campaign. It can lift an incredible 50 pounds thanks to two 12 and a half horsepower engines – the kind of power you can only get from gasoline. It also has four helicopter-quality 435mm blades.
Finally, the Yeair is a gas powered drone that's currently only in the concept stage of design but which is expected to be sold sometime in the next year or so. It can reach speeds greater than 60 miles per hour, which is much more than most other quadcopters are able to manage. It can also carry a respectable twelve pounds of weight and stays in the air for a full hours before you have to refill the tank. There's no doubt that once the Yeair is widely available it will be one of the best – if not the best – gas powered drones for sale.
None of these drones are commercially available at time of writing, so in the next section we will discuss good alternatives to these products.
3 Best Gas Powered Drone Alternatives
Since gas powered drones are hard to find and often too expensive for practical use we've found three of the best partially or potentially gas powered flying drones that you can buy on the market today. These drones can perform all the same tasks as the best gas powered drones and can be modified to use different fuel sources. Better yet, they're all conveniently available on Amazon and can be used for a variety of heavy lifting purposes.
DJI S1000+
This is one of the cheapest RC drones for sale and it also might just be the best. This lightweight octacopter has eight powerful motors which can fold up to save space. But that portability doesn't come at the expense of convenience – the S1000+ can be set up in only a few minutes.
Beyond that, you're getting a durable carbon fiber body, a 4 pound weight limit (most professional cameras come in at about 2.5 pounds including the lens) and a 25 minute flight time, all at a cost of only $1,500. If you're looking for an all-around good gas powered drone backed by the DJI reputation for quality, look no further.
Features: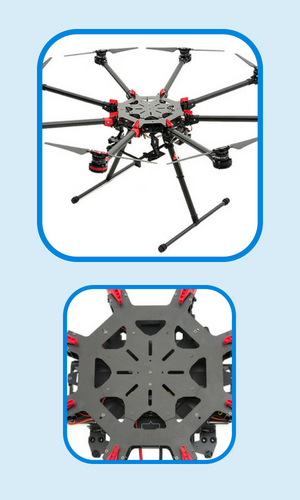 • Low cost of $1500 USD
• Can carry 4 pounds of weight
• 25 minute flight time
• Most portable gas powered drone
• Removable central board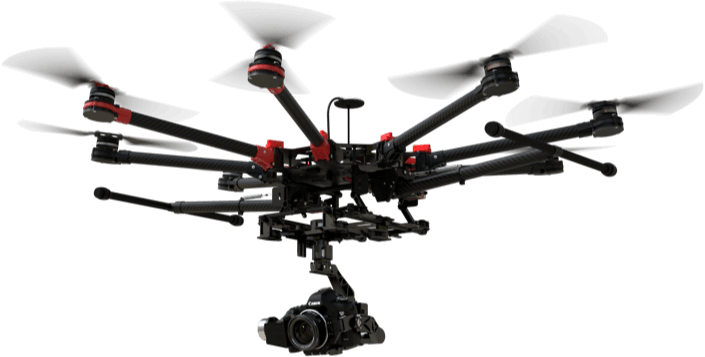 Click To Shop or Read Reviews
DJI Matrice 600 Pro
If you're looking for a step up from the S1000, DJI's Matrice line offers heavy lifting gas powered drones for sale that are even more powerful. The latest and greatest model, the 600 Pro, can hold a 5.5 pound payload, reach speeds of 40 miles per hour, and fly for a maximum of 35 minutes depending on the weight of the payload. It also has one of the most stable hovers out there and a modular design that will let you add any DJI gimbal and other add-ons if you so choose.
Like the S1000, the Matrice 600 Pro is a great gas powered drone for aerial photography – in fact, thanks to the longer flight time and the quality of the hover, it's probably even better for that purpose. But the higher weight limit means this drone is also good for industrial purposes and transportation.
Features: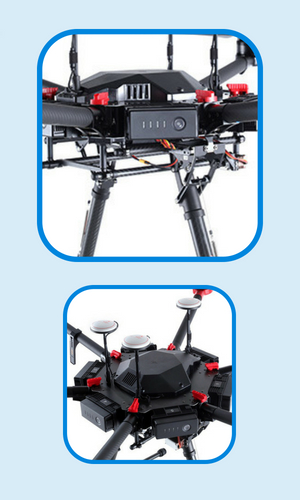 • Mid-range cost of $5,449 USD
• Can carry 5.5 pounds of weight
• 35 minute flight time
• 40 mph speed
• Modular design lets you attach extra gimbals and other add-ons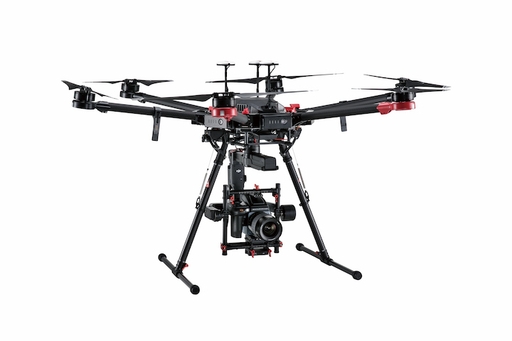 Click To Shop or Read Reviews
Freefly Systems Alta UAV
The Freefly Systems Alta UAV is a 40 pound monster of a gas powered drone that costs more than $10,000 but is well worth the price if you can afford it. This drone can carry 15 pounds of weight and sets up in only 5 minutes, while its world-renowned SYNAPSE controller gives you a very thorough range of motion for your photography or videography shots. If you want the biggest, toughest (partially) gas powered drone for sale, the Alta is a great choice that won't let you or your payload down.
Features: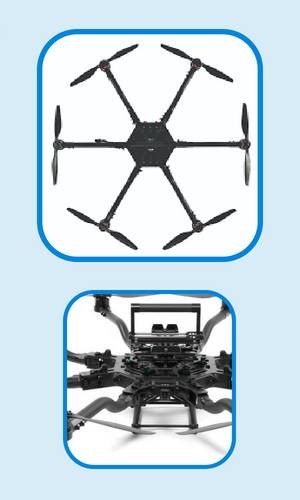 • High cost of $11,995 USD
• Can carry 15 pounds of weight
• Sky view and ground view configurations
• 5 minute setup
• Guided by the world renowned SYNAPSE controller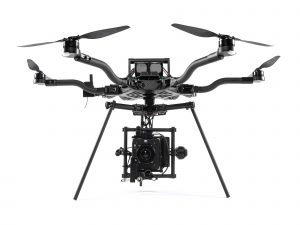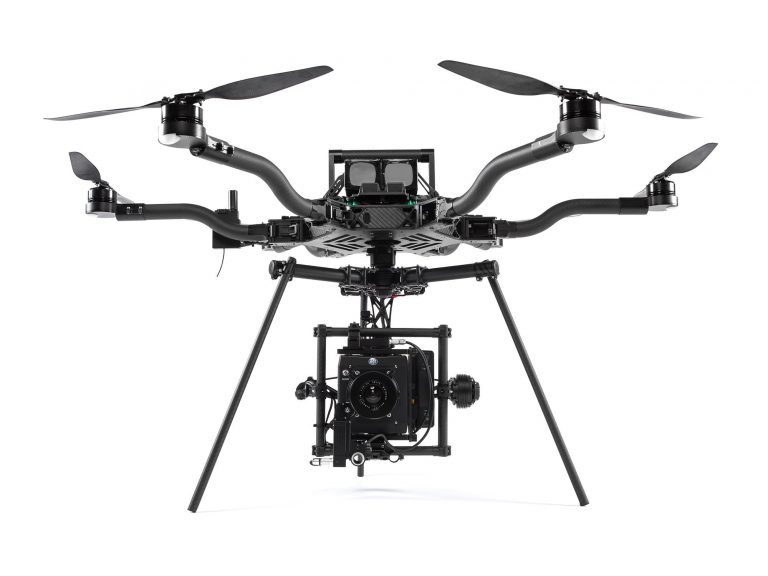 Click To Shop or Read Reviews
Gas Powered Drones FAQ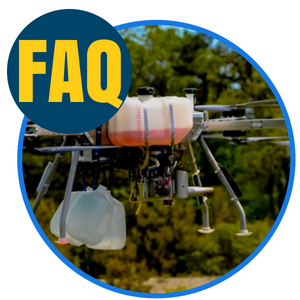 Are there gas powered drones?
There are indeed! It's true that gasoline is less preferable for drones than it is for other types of vehicles. This is partially because electricity is cleaner and more readily available to most consumers, and partially because gasoline engines are too heavy for most drones to lift into the air. But there are a few gasoline powered drones for sale, mostly for industrial lifting purposes.
Are gas powered drones legal?
Provided they meet the other FAA requirements for a commercial UAV, absolutely! The law is largely concerned with the transmission frequencies, weight, and capabilities of a drone – there's no restrictions on a power source.
Are military drones gas powered?
Most military drones, such as the famous Predator drone, are powered by aircraft engine fuel which is indeed derived from petroleum just like gasoline is. Since these drones are much, much larger than anything that is available commercially, they don't have to worry about the extra weight of a gas powered drone engine.
What are the advantages of gas powered drones?
Gas powered drones last much longer than their battery powered cousins – often longer than 30 minutes on a single tank of fuel. And because said tank adds so much extra weight, a gas powered drone will have more stability in windy weather, which makes them good for aerial photography.
Are there gas powered drones with cameras?
Gas powered drones are usually designed to lift large video cameras and other heavy loads, so while it's theoretically possible, none of the major gas powered drones for sale on the current market come with built-in cameras. If you're looking for a great drone with a camera, we have a whole article on the topic to help you out.

Conclusion
Hopefully you've learned a bit about the gas powered drones for sale. Maybe you've found the perfect gas powered drone for you, or maybe you've just learned more about this very unique and specialized category of unmanned aerial vehicle. Either way, if there's a drone we've missed or a question we neglected to answer in our FAQ, please be sure to leave us a comment so that we can keep this article up-to-date with the best information available.
Other Interesting articles in "
Reviews

"