Top 2 GPS Drone Trackers of 2020 – GPS Drone Tracking Devices

Ok, so let's admit, we love our little birds and trust them enough to fly over the lake next door or out of our line of site at times via FPV. But the chance of one of those dreaded flyaways is always there and we need to be prepared ahead of time by using a drone tracker, or a drone tracker app.
This type of thing is going to happen to everyone sooner or later, no matter how much DJI tells you that their drones are invincible! Do you want to take that kind of risk with your thousand dollar investment, without first reading our best drone tracker reviews?
Let's get to it and talk a bit about the best drone tracker, and drone tracker apps available now. Don't need a tracker but instead looking for drones with gps? Dronethusiast has guides for all the best drones including the best house drones or if you're looking for a budget drone check out the best drone under 100.
Best Drone Trackers We've Found
For quick reference here's a link to the #1 choice: Trackimo, and here's a link to the cheapest choice.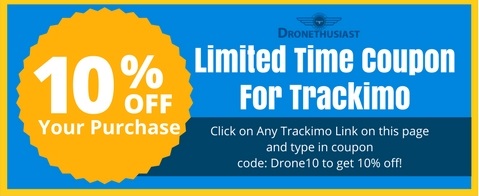 1. Trackimo GPS Tracker
The Trackimo GPS tracker is a great product. If you're worried about losing your costly investment then this is the product for you.
This drone tracker only costs $139.99 a special discounted price.  This gps tracker for drones does include free software to help you find your drone and an incredible connection so you will almost never lose it!
It only weighs about 40 grams, and can be easily attached to any quadcopter (well I suppose not mini quads).

The benefits of this quadcopter drone tracker are:
First year free – low monthly service cost 5$ per month after 1st year.
Real Time GPS Tracking
Worldwide Coverage via Web or Smartphone APP
Weighs only 42 grams
Cost Approximately $140 Slightly Less Than the Flytrex 3G
App useable for Android and Iphone
The limiting factor I don't necessarily like about the quadcopter tracker Trackimo is the limited battery life of it's on board battery. This also means it's another battery you have to keep charged up constantly to be ready for whenever you want to fly.
However, aside from that the Trackimo GPS tracker is a high quality product that is definitely going to pay for itself if you ever have a lost drone!


Only $139.99 click here for this special price!

Check out the product demo video at Trackimo.
2. Marco Polo Drone Tracking UAVfind Field System
Tracking your drone has never been easier or this inexpensive. The Marco Polo UAVfind is an accurate reliable system. It is a user-friendly, low-cost and accurate way to locate your drone at all times. Do not take chances with drone location. This tracking system will find your UAV up to 2 miles away and locate it within inches.
Battery life is amazing thanks to the point-to-point technology that requires no cellular services and works on RF technology.
That's right; it is totally independent of any other service or technology. It transmits bearings and location every 5 seconds, becoming more accurate as you get closer. Within a close range, you can track your drone or UAV down to a few inches.
The benefits of this Tracking-UAVfind-System are:
Ultra-light – only 46g
2 Mile radius
Up to 30 days battery
racks location within inches
One button tracking
No ongoing costs or subscriptions
Drawbacks:
Will not take you to last FPV location like other systems

The location and bearing is sent directly to your display. The 2-mile radius should be more than sufficient but if not, simply travel in the general direction of flight until it is located and you start to receive data.
The transceiver causes no interference with any other equipment or communications of you UAV and the tracking system can be turned on and off as required.
The tracking system is small and light at a mere 46g including the casing and battery. This means it can be installed without any negative effect on the drone. This is by far one of the smallest drone tracking devices on the market.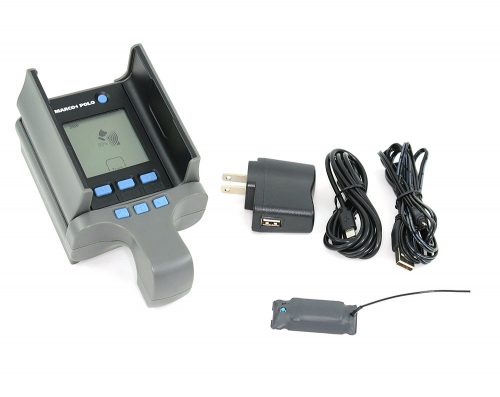 Considering the value of the drone equipment, the cost of the Marco Polo UAVfind is negligible and a worthy investment. It will give you peace of mind at a nominal cost.
Battery life is exceptional at around 90 days. The tracker is easy to use and one button is all that is need to initiate tracking when needed.
Having your drone crash or flyaway on you is a terrible experience; make sure you're protected by using one of these quadcopter trackers.
Of course a crash landing and a flyaway is not the same thing. After crash landing, most of the time it is easy to find your drone even if it is out of sight since the FPV unit or the phone application will show the last recorded GPS tracker location.
In that case, your bird will be right there or in close vicinity.
In case of a flyaway, your drone will likely lose satellite lock. This can be the result of interference or some other reason such a main power line being near by that messes up your control, this is why it's important to have a secondary uav tracking device.
A sudden change in the weight balance of your drone like the gimbal coming lose for some reason will also cause a flyaway, because your quad will realize it is not in horizontal position and will try to push against the tilt thinking it is caused by wind.
The result: she is flying horizontally, out of control and will fly until the battery dies or it hits something.
You can find lots of stories like this on the internet but it is important to point out that most popular quads are pretty dependable and there are thousands of happy users with no problems to each horror story about drones breaking lose and never coming back.
Never the less, it if happens, you want to avoid having to roam corn fields or borrowing your friends quad for recon flights to recover it.
Make sure you cover yourself by using the TrackR drone tracking system, the Trackimo uav tracker or the Marco Polo Tracking-UAVfind-System.
In most of the cases, the drones are fully repairable even after a fairly serious crash.
The Find My Phantom function on DJI drones is also designed for this problem, but will again be of no use if the drone itself has no idea where it is.
Hopefully you take the time to examine your options for drone tracking and pick the right choice for your needs.
What uav tracker do you use? Let us know by dropping a comment below so we can chat about the best uav trackers on the market!
Summary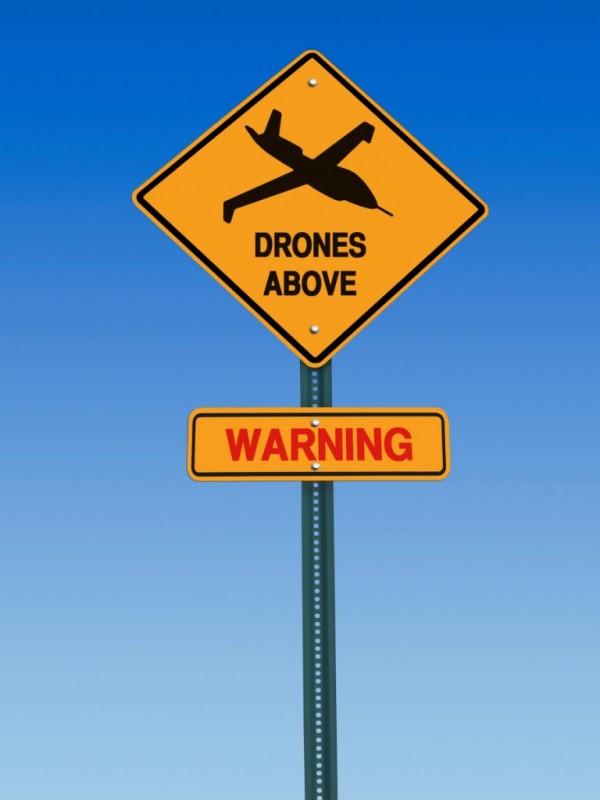 Article Name
How to track your Drone - Dronethusiast
Description
How to Track Your Drone After that Dreaded Flyaway. Find your drone, the FPV unit or the phone app will show the last recorded GPS location.
Author
Other Interesting articles in "
Awesome Drone Tricks & Tips to Maximize Your Enjoyment

"