Drone Real Estate Photography: 6 Tips to Getting the Shot

Posting pictures online doesn't always do justice when you are trying to sell a house. The small individual snapshots leave holes in the viewer's mental image of the home they're looking at, and it may hinder them from grasping the overall looks and features.
If a potential buyer becomes unsure about a house because of a lack of detailed pictures or because of poor quality pictures, they will be less likely to look at it in person. Aerial photography can help create a more immersive online experience.
Aerial photography is a type of photography or videography that is done by flying a drone that has a camera attached to the bottom of it. Using a drone will allow you to get a larger picture of the outside of a house and if you are taking a video, you can fly it directly into the front door for a tour. You will be able to do one continuous viewing of the house and it is much more effective for real estate marketing.
Whether you know how to fly a drone well or not, it takes some knowledge of photography to know how to get great looking shots. Regardless, the following tips will help you get the best aerial photos possible.
Practice Before Taking Birds-Eye-View Shots
One of the pictures you will most likely include for potential buyers on your real estate posting is an overlooking shot of the entire property from high up in the air. These shots taken from a birds-eye-view are harder to capture than you think because you must be able to figure out exactly how high up the aerial drone needs to fly before snapping a picture. Most aerial photography drones have a camera with a wide-angle lens which can make it hard to judge the distance on your phone or controller screen.
To avoid mistakes when taking these types of shots, try practicing in an open area until you get the hang of it. It's also a good idea to take multiple pictures at different distances so that you can pick the best shot later without having to land the drone and relaunch it multiple times. Aerial photography drones only have about 25 minutes of flight time, so it's important to make the most of your time for drone aerial photography.
Check the Weather Forecast
Bad weather can have detrimental effects on a lot of crucial factors that contribute to the way your real estate photos turn out.
The first problem that can come about is if the sky is cloudy or overcast, the lighting will be affected. Real estate photos usually have bright or warm-colored lighting to display a nice welcoming feeling to the viewer. They should be able to easily imagine themselves living or working there, depending on what type of real estate that is being sold. An overcast of clouds would create a dim and dreary tone which will ultimately produce boring looking photos.
Secondly, an excess of high winds can be very hard to deal with and even harder to fly your drone in. Even if you are an experienced flyer, high-speed winds will throw the drone off course and make it exceedingly difficult to get a decent picture. Thankfully, most newer drones have a gimbal that helps to stabilize the camera in harsher weather, but even that won't help if the weather is too extreme.
Use a High-Quality Drone Camera
The type of drone camera you use is important, just as it would be when using any other camera for ground-level shots. Find a drone that comes with a high-resolution 4K camera and no less. Here is a suggestion for a popular aerial photography drone with a great camera: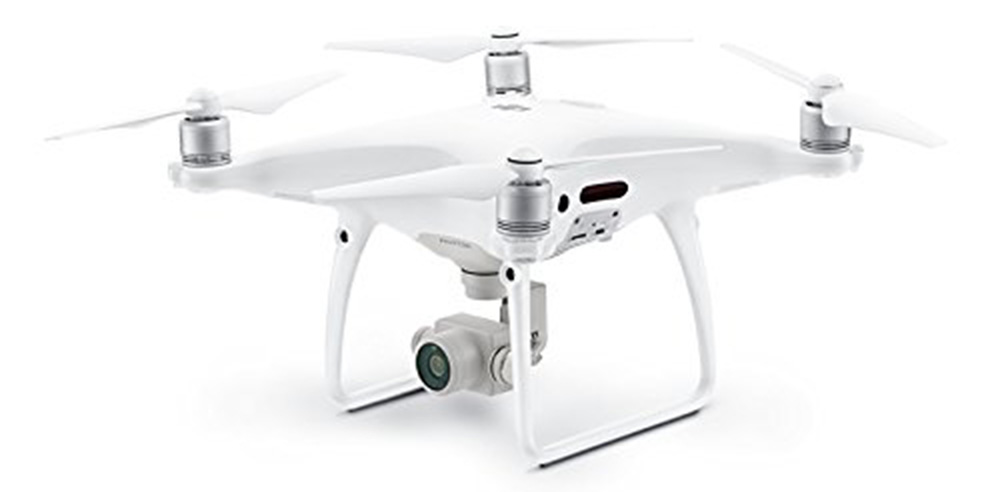 It's called the DJI Phantom 4 Pro (Check out Amazon prices here). It has a 4K camera with a 1-inch 20-megapixel CMOS sensor and a custom lens with a mechanical shutter. It also takes 4K videos at 60fps and Burst Mode stills at 14 fps.
Use a Drone Flying App
DJI and other drone brands make apps that connect to your drone and help you get nice looking photos while flying. It makes it a bit easier to switch camera modes.  They also make social media posting much simpler and faster.
Consider using either the DJI Go app or Litchi. Some apps aren't compatible with certain drones; it depends on what type of drone you're using. Look at the manufacturing information online to see what apps are recommended for your drone or that are compatible.
Lower Your ISO Setting
The ISO setting on your drone camera has to do with the light sensitivity. Most of the time, the small sensors that are on drone cameras don't do well with the level the ISO setting is at, and it causes pictures to come out with a lot of grain or noise in them. Once you manually lower the ISO, more light will be let in, and the problem should go away.
Take a Drone Piloting Course Online
Most newer drones, especially ones meant for aerial photography, are simple to use as soon as you take it out of the box and don't require much flying experience. However, if you want to get more dramatic and unique pictures with it, you might have to take a little risk. Building your drone piloting skill will help you take that risk.
For example, if you want to get an angled shot that is from behind the leaves of a tree because you want the greenery in the edge of the photo, you will have to have the required skills to get the drone in that spot before hovering.
All Things Said, Get Creative
In the end, taking great photos and videos comes down to creativity. Even with a drone, you have to be able to follow your instincts and know what type of pictures will be the most appealing to the people buying your house. The first photos they should see are the desirable assets the house has to offer. Combine still drone shots along with video tours to give the viewer plenty to look at.
Other Interesting articles in "
Awesome Drone Tricks & Tips to Maximize Your Enjoyment

"