Parrot Anafi Review [Parrot Drone Anafi Price & Specs 2020]

Parrot SA is a fairly new player in the drone industry space, but they've very quickly made their mark with a number of great products. The Parrot Bebop and Bebop 2 were highly advanced prosumer photography quadcopters that were able to compete with all but the best of the DJI line, while last year's Parrot Mambo is a solid competitor in the beginner minidrone space.
Now the company has released their newest drone: the Parrot Anafi, designed to serve as a direct competitor to the DJI Mavic Air. The Anafi is certainly a highly-anticipated piece of tech – there's even rumors that DJI is delaying their release of the Mavic 2 because they're concerned it won't be able to compete. But how does it perform when you cut through all the hype and hyperbole and just look at it as a drone on its own?
That's the question we'll be answering in today's Parrot Anafi review.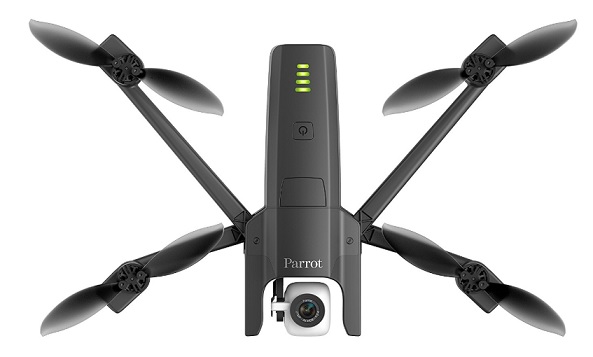 Click To Shop or Read Reviews
Parrot Anafi Features And Specs
When you buy the Parrot Anafi (available here on Amazon), here's what you're getting in the box:
What You're Buying:
– 1 Parrot Anafi drone
– 1 carrying case
– 1 Parrot Skycontroller 3 radio transmitter
– 1 USB Type-C battery charger
– 1 USB Type-C smart battery
– 16 GB Micro SD card
– 1 Instruction manual
– 8 extra propeller blades
– 1 mounting tool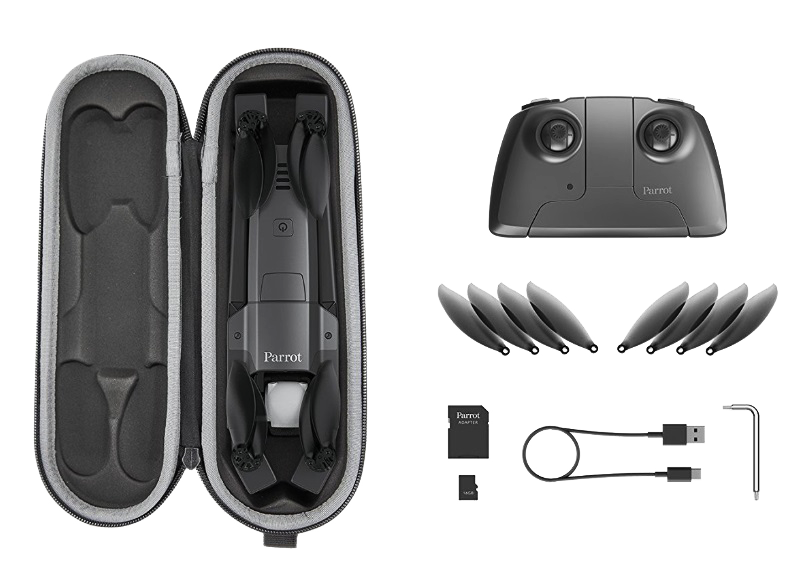 Parrot Anafi Drone Specs:
– 11.3oz weight
– 9.6" x 2.6" x 2.5" folded size, 6.9" x 9.4" x 2.5" unfolded size
– 4K HDR video
– 21 Megapixel still images
– 180 degree tiltable gimbal
– 3-axis gyro
– 2.8x lossless zoom
– Videos and photos can be edited right in the phone app
– 25 minute flight time
– 2.5 mile transmission range
– Can be flown in wind speeds up to 31 miles per hour (50 km/h)
– Top speed of 33 miles per hour
– Return to home feature
– "Find my drone" drone tracker feature
– Geofence safety perimeter feature
– Follow Me flight mode
– GPS & GLONASS satellite positioning systems

In the next sections we'll cover some of the most important features of the Parrot Anafi in more detail.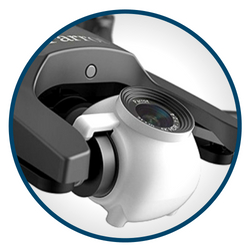 Parrot Anafi Camera
The Parrot Anafi is equipped with an HD camera that captures video in 4K HDR at a bitrate of 100Mbps and captures still images at a 21 Megapixel resolution. Videos are captured in a 17:9 aspect ratio with a wide-angle aspherical lens.
Unlike the Mavic Air, the Parrot Anafi camera has a built-in HDR video option, which provides a better image by making the exposure between bright and dark areas more balanced than standard HD video. HDR footage also captures the sky in better detail, which is obviously very important for drone photography!
The Parrot Anafi camera is mounted on a 3-axis gimbal with a 180 degree vertical tilt, so it can point straight up into the air or straight down at the ground. Most drones can only capture video straight-on or from a bird's eye view, so the fact that the Anafi can film low-angle video (and take low-angle photos) is a big deal, especially for a consumer-grade quadcopter.
Photos and video are taken using the Freeflight 6 app, which has four built-in cinematography filters that make it easy to take high-quality drone shots regardless of your level of experience. You can also edit your photos and videos in the application, making editing a breeze.
Parrot Anafi Battery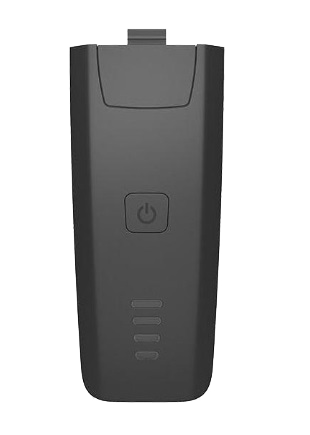 The Parrot Anafi battery is a 2700mAh high-density Lithium Polymer battery that the company claims lasts for 25 minutes of flight time. In our experience the number is usually closer to 21 minutes or so, but that's still a very competitive number among drones of this type.
The Parrot Anafi battery has a USB-C charging port and a charger is included with the drone itself. The charger can be plugged into any standard phone charger, laptop, or power bank for charging on the go.
Parrot Anafi Price
The Parrot Anafi costs $699.99 USD. This means it's about $90 cheaper than its closest competition (the DJI Mavic Air) but significantly more expensive than the other two Parrot drones currently on the market.
Flying The Parrot Anafi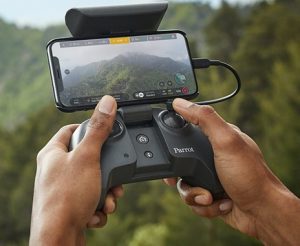 Like any other drone, the Parrot Anafi has its pros and its cons. The camera really is something special – we love the wide-angle lens, the HDR capabilities, the overall image quality, and the zoom. And perhaps the best thing about the camera is the way that it turns even the most inexperienced pilot into a cinematographer because of how easy it is to use and edit right in the application. It's not quite professional quality, but especially considering the price of the drone the Parrot Anafi camera is definitely one of the best flying cameras you can buy at the prosumer level.
As far as the actual piloting goes, the Anafi mostly handles quite well. It has a very solid battery life (although 21 minutes or so is starting to be the norm for a consumer drone at this price point) and an incredible 2.5 mile range that most people will have no troubles staying inside of. It controls well (high-quality radio transmitters have always been a specialty of the Parrot brand) and we imagine that even beginners would be able to control the Anafi without much difficulty.

Having said that, there have been a number of bugs reported with the software in the Parrot Anafi drone. We didn't experience all or even most of these, but users have reported:

– The drone moving on its own when put in hover mode
– No response to changing certain settings in the app
– HDR mode not working in 4K mode or appearing to be turned off when it's actually on
– The Freeflight app crashing
– Certain camera modes not being applied to images
– Poor connectivity
– Corrupted image and/or video files
– Testing the proximity sensor causes the drone to "freak out" and fly in circles until it crashes

Among other issues. It should be noted that Parrot seems to be working hard to fix most of these issues (which is probably why we, after getting our drone a week late, didn't experience as many bugs as other people.) However, these problems present a strong case for waiting a month or so to buy the Parrot, or simply sticking with the tried-and-tested DJI Mavic Air.
The Parrot Anafi is a foldable drone, so portability is a high priority. It should be noted that the Anafi is a little bigger than the Mavic Air even when folded up, and is also made of cheaper materials and is just overall less durable. It can also be a little confusing to figure out how to fold up all those legs at first, although you get used to it eventually and we didn't have nearly as many troubles with this issue as other reviewers seemed to.

However, the durability and size concerns are mitigated a lot by the fact that the drone comes with its own carrying case, which is very durable and does a good job of keeping your drone safe in most situations. The case makes it easier to carry around, too, so our reviewer didn't really mind the fact that it was a little bulkier than the Mavic Air.
Conclusion – Should You Buy A Parrot Anafi Drone?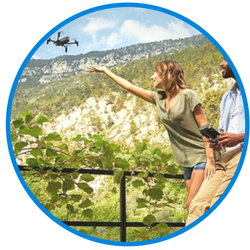 If your main interest in drones comes from a desire to find the best flying camera at an affordable price, the Parrot Anafi drone is definitely the best option around for under $700 USD. The quality of image, ease of use, and HDR features are simply unmatched at this point in time (though we'll see if that's still true once DJI has released the Mavic 2.)
Speaking of DJI, there's no denying that this drone is similar to the Air in many ways, and many of our readers will no doubt be wondering which one to buy if they have to choose between the two vehicles. Well, the Anafi is a lot cheaper, its camera is better, and the carrying case that comes standard with every package is a really nice accessory that a lot of users will get much use out of.
However, the sheer number of bugs that are currently present (as of July 2018) means that inexperienced users or pilots who want to make the safest investment they can with their money might want to stick with the more reliable DJI Air over the Parrot Anafi. DJI's app features are still unparalleled (the Parrot app doesn't even show current battery life) and their customer support is a lot better if that's a primary concern of yours.
But for tech-savvy early adopters, the Parrot Anafi is still an exciting drone that FINALLY presents a real challenger to the DJI Mavic line. If you've got a Parrot Anafi of your own, we'd love to hear what you think of this new drone in the comments, so drop us a line!
Other Interesting articles in "
Reviews

"