Parrot SA only got into the drone business three years ago, but they made a big splash with the Bebop and its later upgrade: the Parrot Bebop 2. Then, in October of last year, they released a new mini drone: the Parrot Mambo FPV, a fast, lightweight, and all-ages drone. Rather than doing a full review of this exciting new product, we thought we'd pit it against its big brother to see who will win in the battle of Parrot Mambo vs Parrot Bebop 2.
We'll be comparing the features, design, flight time, camera, controllers, batteries, and price of the two drones, then selecting an ultimate winner at the end based on which drone won the most categories. We did something similar with the DJI mini drone line which you can read here. Also, for this article we will be discussing the most recent version of the Bebop, the Bebop 2 Power, which will vary slightly from the specifications of the regular Bebop 2.
May the best quadcopter win!
Features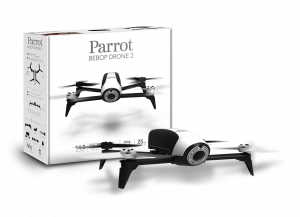 In this section, we will discuss the high-tech features of each drone that go beyond basic specifications.
The Bebop 2 is an advanced consumer quadcopter designed for FPV photography and videography, while the Parrot Mambo is a much simpler and smaller mini drone that's being sold with the tagline "My first FPV drone." Both drones are equipped with dual GPS/GLOSNASS positioning to calculate their position with precision. Neither of the Parrot drones are equipped with obstacle avoidance features.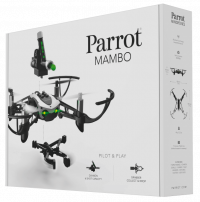 The Bebop 2 Power has five flight modes, including "Follow Me" modes that allow the drone to operate autonomously. The Parrot Mambo has three different modes, which are just different levels of stabilization assistance. The Bebop's design and intelligent flight assistance lets it fly in winds of up to 24 mph, while the Parrot Mambo – being a mini drone – shouldn't fly in wind at all. However, the Mambo drone does have better stabilizations sensors, making it easier for beginners to fly.
Unsurprisingly, the Parrot Bebop 2 has more and better features, although the Mambo Drone has more tricks up its sleeve than you might expect.
Design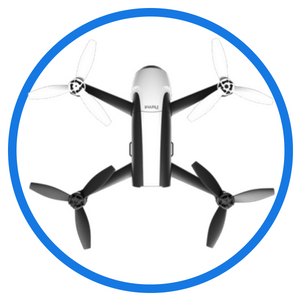 When looking at design, there's two main points we want to consider. The first is style – how aesthetically pleasing the drone appears. And the second is portability, a more practical concern for the drone enthusiast on the go.
All of the Parrot drones have a great sense of style, but the Bebop 2 Power is a simple, aerodynamic cylinder design with a basic matte-black finish. It's nice, but it's nowhere near as nice as the Parrot Mambo, which looks like something straight out of a spy movie. Curved prop guards, black-and-white detailing, a top-mounted camera and those green LEDs on the front? There's nothing else on the market that looks quite like the Mambo drone.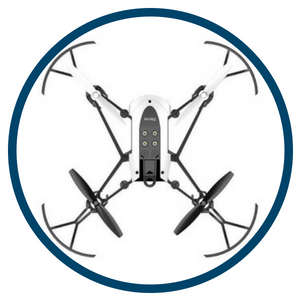 As for portability, well, you can't beat a mini drone. The Bebop 2 weighs 400 grams and has 200x180x110mm dimensions. The Parrot Mambo minidrone weighs 73 grams and measures at 18 x 18 cm with the bumpers, which can be easily removed. The Mambo can fit in a pocket while the Bebop 2 needs at least a backpack.
So overall, the Parrot Mambo wins in every design category.
Flight Time
The Parrot Mambo flies for 10 minutes at a top speed of 18 miles per hour, which isn't awful for the price. The Bebop 2 Power, however, has a max flight time of 30 minutes at a top speed of 40 miles per hour, making it the clear winner in this category.

Camera Capabilities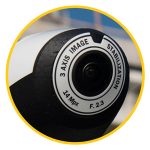 A lot of people use drones for photography and videography, which makes the quality of the built-in camera super important for any Parrot drone.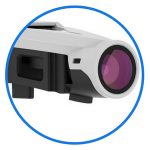 The Parrot Mambo has an 0.3 megapixel FPV camera that records video in 30 frames per second at 720p. The Bebop 2 Power has a 14 megapixel FPV camera that also records video in 30 FPS, but does so at 1080p. The Mambo minidrone's camera is mostly used to stream FPV video to the pilot, while the Bebop 2 Power is an actually capable aerial photography drone.
It's not a huge difference overall, but the Bebop 2 takes this category.
Controllers
The Bebop uses the Parrot Skycontroller 2. This is a portable and ergonomic radio transmitter that's designed to look and feel like a videogame controller, making it a lot easier for beginners to use. It also has a 2 kilometer flight range (about 1.24 miles) and a mount to attach a smartphone or tablet.
The Mambo drone, conversely, uses the Parrot Flypad controller. It's smaller and more portable – a big plus – and has the same basic videogame controller design. It has a smartphone mount, but not one which also works for a tablet. And in terms of range, the Flypad only has a 100 meter flight range. That's really good for the price, but it means that the Bebop 2 narrowly wins in this category.

Battery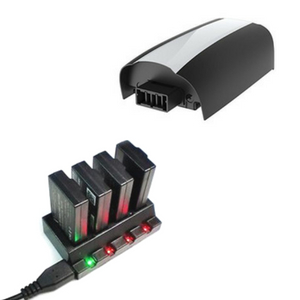 The Bebop 2 uses a 3350 mAh battery which it claims can last for 30 minutes on a single charge (in practice we've found it's usually closer to 25-27, but whatever.) The Mambo drone uses a 660mAh LiPo battery that lasts closer to 10 minutes, although it does charge in only 30 (which is a lot better than its competition. Looks like the Bebop 2 wins again.
Price
The Parrot Bebop 2 is priced more competitively than you might expect – it's $450 for the base model and $550 for the Bebop 2 Power variant we've discussed in this article. However, the Parrot Mambo minidrone only costs $100 USD in most markets. Not only is that better than the Bebop 2, it's a really shockingly good price considering the quality of the drone and the number of features on offer.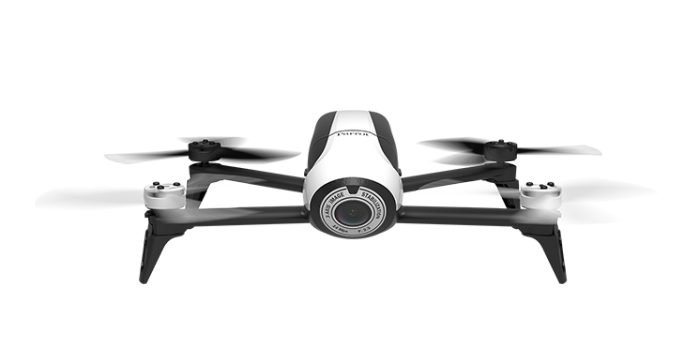 Click To Shop or Read Reviews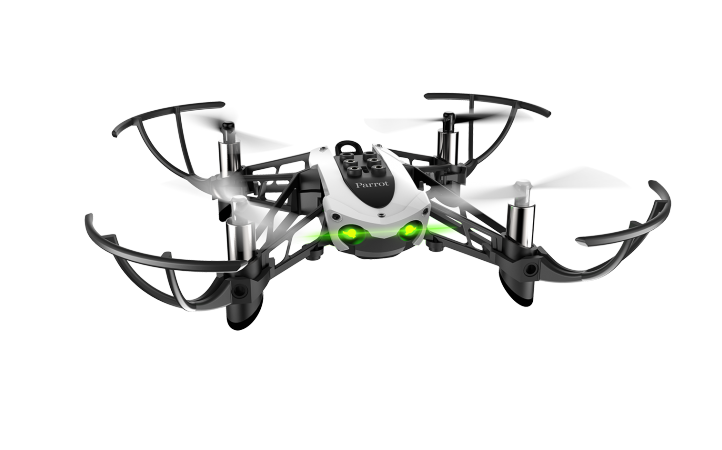 Click To Shop or Read Reviews
Parrot Mambo VS Bebop 2 – The Ultimate Winner
Both of these Parrot drones are good for different purposes, and depending on what you as a consumer want from your quadcopter experience you can't go wrong with either of these products. However, when it comes to a head-to-head matchup, the Bebop 2 Power took 5 categories, while the Parrot Mambo minidrone only took 2. If you're looking for a high-quality beginner quadcopter, the Mambo drone is an excellent cheap choice. But if you want the most features, the best camera, and the most powerful controller and battery, you want the Bebop 2.
We hope you've enjoyed this rundown of the Parrot Mambo vs the Bebop 2. If you disagree with our verdict or you think there's something else we should have mentioned, be sure to let us know in the comments! And be sure to check out our guide to the best Parrot drone accessories here.

Justin is a certified Drone Enthusiast with several years experience piloting as many UAV aircraft as he can get his hands on. While shooting footage as a hobby has now become more of a full time job, Justin still enjoys the peaceful feeling of getting a birds eye view while hiking or on vacation with his family. Reach out to Justin by using the Dronethusiast Contact Page or email at dronethusiast@gmail.com.