Table of Contents
Quick Review: Click here to Jump to Top 3 List
If you have yet to see a remote control drone, then expect to spot one very soon. They are literally everywhere. They are incredibly popular right now and certainly the hottest gift for birthdays or Christmas. If you have been thinking about getting your own, you'll find this article to be a comprehensive remote control drone review – including different types, what to look for, and even specific reviews on individual models currently out on the market.
There are different types of remote control drones, and they all suit different purposes. Within this guide, we will go over multiple different types of drones to see what they are, what they offer, etc.
Type Of Remote Control Drones
Remote Control Drones With Cameras
This category of drone has a camera attached that allows you to take both still images and video footage of the flight. They can sometimes be accessed directly through a mobile app so you can stream the feed in real time.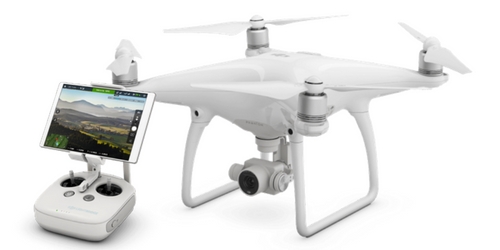 Budget or Cheap Remote Control Drones
This category is usually light on features but still fun to fly. These types of models aren't designed to be fancy or have the latest technology, but they do pretty good as a beginner drone to practice.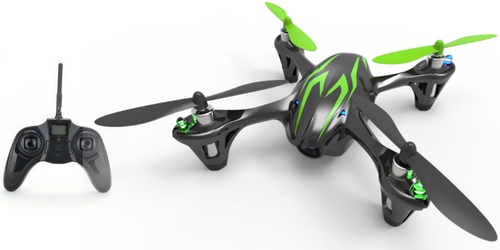 Remote Control FPV Drones
FPV stands for First Person View, which is exactly what it sounds like. The footage streamed would be what you would see if you were in the cockpit of the drone, compared to other cameras that can hang below the drone to look straight down or show the horizon, but not from that level. This is an important feature in racing drones, which is a sport gaining in popularity over a short period of time.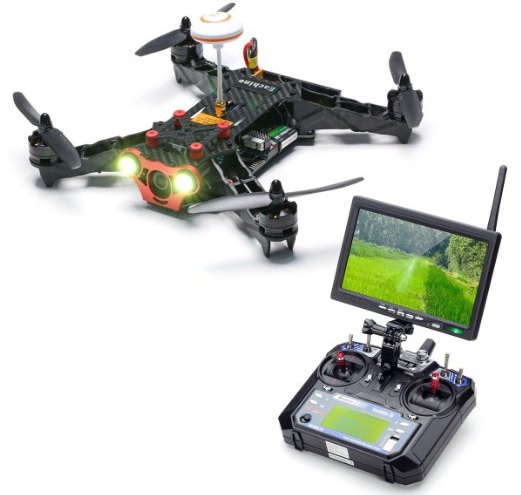 Mini Remote Control Drones
Same fun experience, but just in miniature form. Due to space and weight constraints, they can be light on technology but are another great option for beginners or those not quite ready to invest in a more expensive, feature-heavy drone.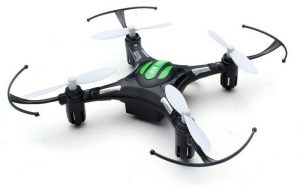 FAQs – Remote Control Drones
A lot of people have questions surrounding drones. If you don't see an answer to your question below, get in touch with us and we can give you a straight answer.
What is a remote control drone?
A remote control drone is an unmanned battery powered flying device that is controlled by an operator on the ground. Often they are fitted with cameras to record images and video of the flight.
How do remote control drones work?
A drone works on the same principles of a helicopter – you can see the similarities when they take off as it is a more vertical flight compared to an airplane.
How difficult are they to use?
Remote control drones are easy to use for the most part. Each model will have a unique way of controlling the drone, whether that is a physical remote that came with the drone or an app that is downloaded to your smartphone or tablet. It is always recommended to read the instructions thoroughly before flying a new drone even if you have flown them before. This is because one wrong move could cause the drone to crash unexpectedly and potentially break without the hope of repair.
What is the range of remote control drones?
The range that a drone will fly will vary depending on the model chosen, but as a guide the smaller models can be as low as 200m and the higher quality (and higher priced) models can be around 2km – with the exception of the DJI Phantom 4 which has an impressive 6km range (the review for this drone is below).
What is the battery life?
This, again, will change between models, but you can expect a flight time of 20-25 minutes on a full battery for the higher end models and as little as 5 minutes on the entry-level, cheaper drones.
Are there any laws or licenses involved?
It is very important that when you first get your remote control drone that you check with your local authorities as there are some regulations that you need to follow. While there are no licenses at this time, you may need to register your model – even if it is just for recreational purposes.
Remote Control Drones With Cameras
It's safe to say that a remote control drone with a camera is the most common type of drone you will see, as well as the most popular. Flying a drone is fun for sure, but it's made even more so by being able to see what the drone sees – a bird's eye view that we don't often get to see for ourselves. There are large commercial drones that can be used to get new perspectives for movies or TV shows, but even the smaller drones with cameras have good uses – like finding that frisbee that you lost on the roof!
Accessing the footage depends on the model, but most have an app that will stream the images live directly to your phone or tablet. The quality of the camera will also differ, so if you want to use it for a specific purpose definitely check what resolution you need.
Here are some of the remote control drones with cameras that were found for sale online.
DJI Phantom P3-STANDARD Quadcopter Drone with 2.7K HD Video Camera
Read reviews and show for the Original DJI Phantom 3
This is a robust remote control drone with four rotating blades and various settings designed to assist you in flying the drone and watching the footage at the same time.
Features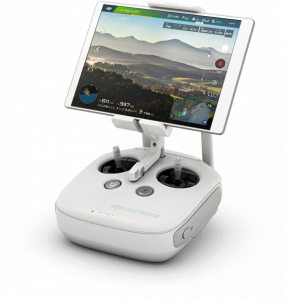 The following is a list of features that you can expect with the Phantom P3-STANDARD:
• 2.7K HD camera
• 12MP photos
• Multiple photo angles with the Point of Interest, Follow Me and Waypoint modes
• The flight is GPS assisted – so if you need the drone to return to you it can at the touch of one button
• All footage can be live streamed through a mobile app
• The remote control is designed with easy to use controls and a phone holder for hands-free flight monitoring
Pros and Cons
• The quality of images that are possible on this model are fantastic – both the 2.7K HD video and 12 MP photos are great quality for the price of the drone
• Being able to take multiple photo angles on the one unit will greatly enhance your ability to capture the flight experience
• There were issues with the drone flying near metal objects as it did interfere with the signal – be careful if flying near areas that you may not have access to retrieve it if something goes wrong.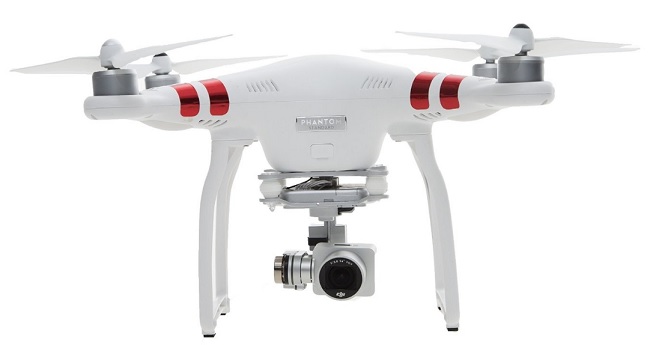 Click To Shop or Read Reviews
DJI Phantom 4 Quadcopter
Read reviews and show for the Original DJI Phantom 4
Another drone in the DJI brand, the Phantom 4 is a step up in quality. The 4K HD camera is a big feature, as well as the stabilization technology that makes for a more sophisticated drone.
Features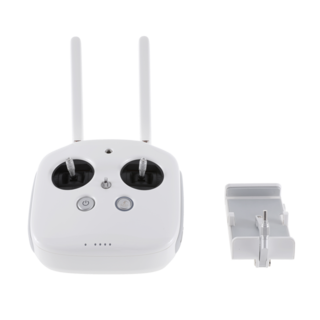 • 4K HD camera
• 12MP photos
• Stabilization technology and a hover function for smoother, more stable footage
• GPS, auto take-off and auto-return function
• Long range of 6km
Pros and Cons
• The camera quality here is excellent. Being able to film in 4K HD is amazing – the photos are the same megapixel size as the previous model
• Improved intelligence and sensors means the remote controlled drone is better equipped to avoid any obstacles and provide a safer and more intelligent flying experience
• The stabilization feature is fantastic – no more blurry photos or wobbly videos.
• It has a 6km range for the remote, which is one of the longest ranges at this level of drones
• One issue was that the range for the video feed was not as much as the remote control feature of the drone, so the video would cut off as the drone was flying. If you are keeping the range close this won't be an issue.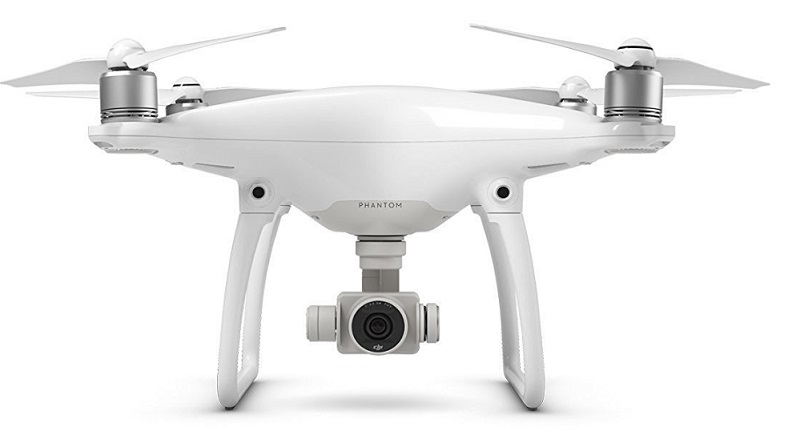 Click To Shop or Read Reviews
Yuneec Typhoon H UHD 4K Collision Avoidance Hexacopter Drone with Battery and ST16 Controller
Read reviews and show for the Original Yuneec Typhoon H
The Yuneec Typhoon H remote control drone is called a Hexacopter, which is indicative of the six rotator blades featured on this device. While it is a more compact model than some others, it is a powerful drone with high level features.
Features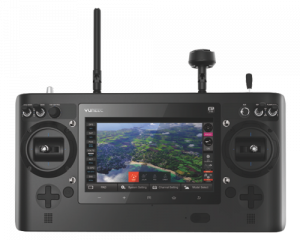 • Ready straight out of the box – no assembly required
• 4K Ultra HD camera and 12MP photos with the ability for 360-degree filming
• Compact size for easy transportation
• Easy to control with 8 'smart flight' modes and an auto-return function
Pros and Cons
• The controller is an Android touchscreen which was enjoyable to use
• The six rotator blades already gave a much smoother experience than the quadcopters, but it also has stabilization features to make it even easier
• It was very easy to fly this drone – the control is very straightforward and the 8 different 'smart flight' modes were very intuitive
• The 'Orbit Me' mode was fun – you can set it to rotate around you and always have the camera pointing at you
• Occasionally there were some bugs in the software that caused some glitches, but it seemed to rectify itself quickly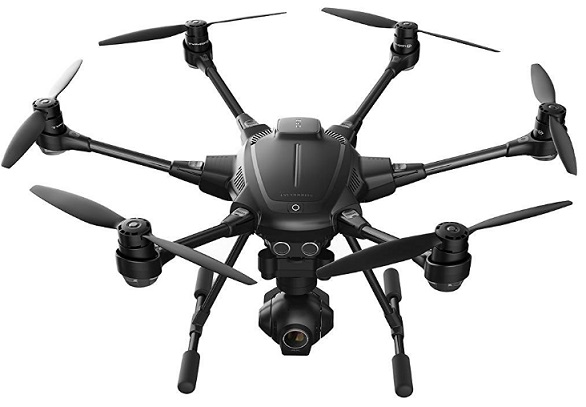 Click To Shop or Read Reviews
Yuneec Breeze Flying Camera – Compact Smart Drone
Read reviews and show for the Original Yuneec Breeze
This is a lower priced remote controlled drone that still features a camera, but it is still a solid machine. With 5 automated modes it is simple to pick up and fly with no experience and can still provide quality images.
Features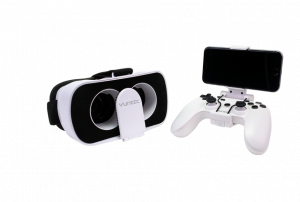 • 4K Ultra HD video
• 13MP images
• Specifically designed for ease of use with no previous experience
• Indoor Positioning System is built-in and can hold its position whether it is indoors or outdoors
• All footage is stored in a mobile app for easy access
Pros and Cons
• For the price, the fact that it still has a 4K Ultra HD camera is impressive
• It's very light and comfortable to transport and use
• The biggest drawback is that there are many surfaces that the Yuneec Breeze is not recommended to fly over – including sparse spaces, reflective surfaces, and water – which are very common
• There have been concerns with the drone dropping signal and dropping from the sky
• It is not as easy to pick up and use out of the box without some practice and reading the manual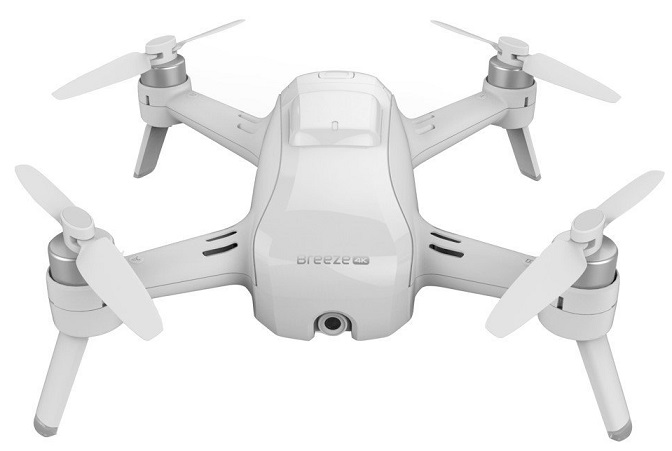 Click To Shop or Read Reviews
Hubsan X4 (H107L) 4 Channel 2.4GHz RC Quadcopter
Read reviews and show for the Original Hubsan X4 H107L
If you're looking for a more budget-friendly remote control drone, this could be the one for you! More of a mini drone, this is still incredibly agile and fun to drive.
Features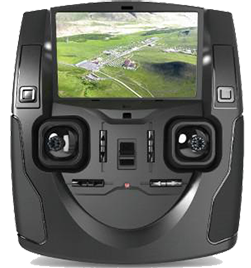 • Durable and sturdy frame
• LiPO battery (high capacity)
• Great for both indoors and outdoors
Pros and Cons
• This little drone is really fun to use! Very agile when flying and has decent speed, especially when in Acrobatic mode
• Easy to learn controls fast – even children can give this one a go (under supervision, of course)
• Keep in mind that it has a significantly reduced flight time of only 5-6 minutes
• Due to its small size can be easily blown away in a strong breeze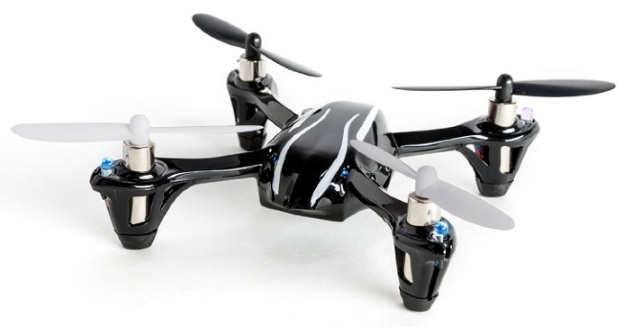 Click To Shop or Read Reviews
Hubsan X4 Quadcopter with FPV Camera Toy
Read reviews and show for the Original Hubsan X4
This is a remote control camera drone on the lower end of the price scale, but still has robust features that you will enjoy – especially the stabilization function, which is impressive to have at this price point.
Features: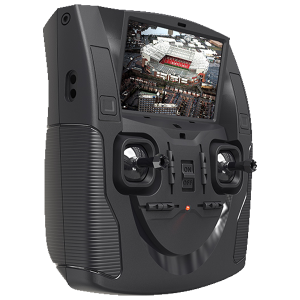 * 6 axis gyro stabilized flight control system
* Live stream is instantly transmitted to the remote control for viewing
* Flight footage is saved to an SD card
* Gives a FPV (First Person View) perspective
Pros and Cons
* The live feed into the remote is fantastic and surprisingly good quality – great if you lose sight of such a compact drone to help you navigate home
* Flight time is only around 7 minutes, so prepare to recharge the battery often
* The images are saved onto an SD card, but that means that if you lose the drone you lose your images too! There is no mobile app that you can download them from.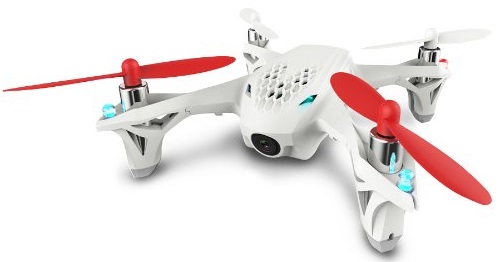 Click To Shop or Read Reviews
3DR Solo Drone Quadcopter
Read reviews and show for the Original 3DR Solo Drone
The Solo remote control drone caused quite a stir when it was released as it was a companion to the very popular GoPro camera and was the first to offer live HD wireless streaming during the flight.
Features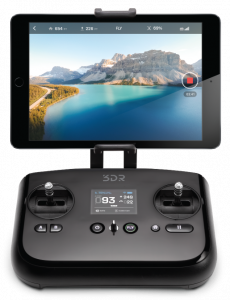 • Video game-style controller for ease of use
• Smart Shots will help you take high-quality images
• When using GPS mode it will automatically return home when range limit is reached
• Includes a mobile app for iOS and Android
Pros and Cons
• The big point to note is that this drone does not have a camera included – it needs to be purchased separately, but if you already have a GoPro you can attach it easily
• Flight time was around 20 minutes, which was plenty of time to get some good shots
• The controller was very easy to use, especially if you have experience playing video games!
• The customer service is now live chat or email only, so there is no phone support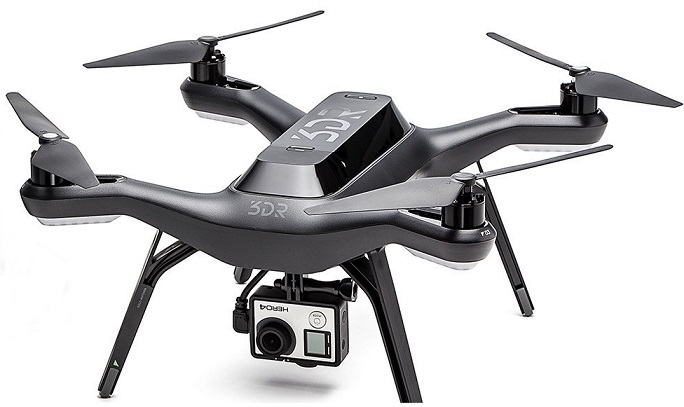 Click To Shop or Read Reviews
Budget or Cheap Remote Control Drones
Though there are drones that excel in most categories but cost a very pretty penny, these drones have some exceptional features for a budget-friendly price tag. You will actually be pleasantly surprised at the performance of some of these drones.
You'd think that, based on their price, they would be good for 5 minutes of flying and nothing else, but some of them have awesome features, high-quality cameras, and a lot to offer.
Here are some of our top picks where a remote control drone that's cheap is concerned.
BLADE Pico QX Quadcopter
Read reviews and show for the Original Blade Pico QX
This budget drone is a compact, 8-gram micro quadcopter that is more powerful than you'd initially think when looking at it.
Features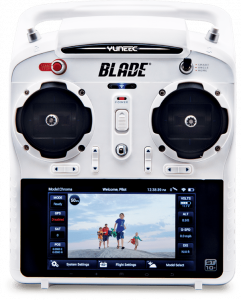 • SAFE technology
• Charge cables worth with any USB port
• 2.4GHz transmitter
• Single or double flip in-flight action with included flip mode functionality
• Internal LiPO battery
• LED lights for visibility
Pros and Cons
• The propeller guards protect against damage from collision, but should one happen there are replacement blades included with the drone
• You can use virtually any USB port to charge the battery, be it an iPhone charger block or a USB port in your laptop, which is very handy if you're on the field – the transmitter can also be charged this way, as well
• This drone, because of its size, can be somewhat difficult to control if you have little experience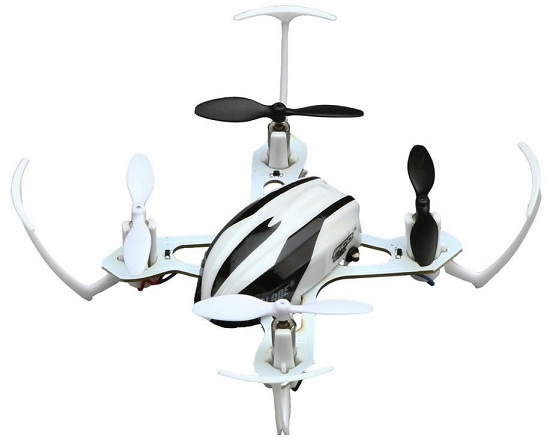 Click To Shop or Read Reviews
Syma X5C Quadcopter
Read reviews and show for the Original Syma X5C
This small yet incredibly impressive quadcopter has some features that may surprise you, and is actually quite extensive for the size and price.
Features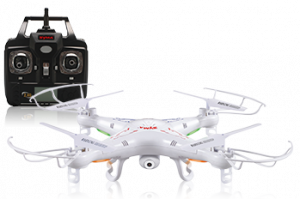 • 360-degree aversion and one-touch aerial flips
• Equipped with an onboard HD camera
• 6-axis gyro stabilization system for maximum stability when flying, taking pictures, etc.
Pros and Cons
• It's a superb beginner drone because of its resistance to wind, it's able to be flown both indoors and outside, and has a very stable way of flying.
• Great for flying at night, thanks to the flashing, colorful light that keeps the drone in your sight.
• The HD camera onboard is the equivalent of a 2MP camera, so the images aren't exactly topnotch quality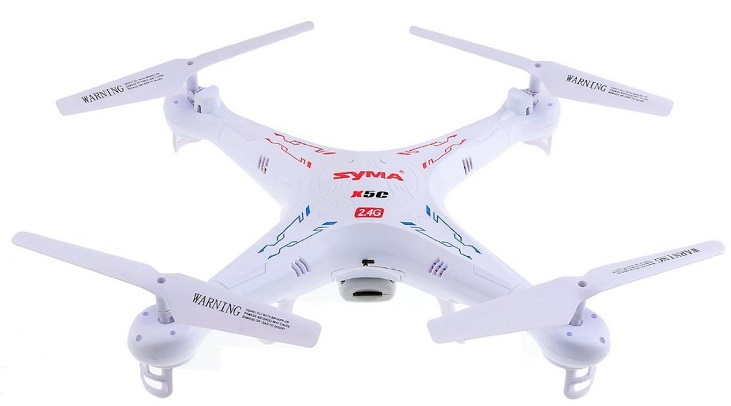 Click To Shop or Read Reviews
BLADE Nano XQ BNF Quadcopter
Read reviews and show for the Original Blade Nano XQ
Even though this mini quadcopter has such a small size, it's geared toward professional fliers who really know their stuff. With brushless motors and a powerful liftoff, it's surprising that it's such a cheap remote control drone!
Features
• Includes agility and stability modes
• 4-in-1 ESCs, DSMX, mixer, and SAFE sensor unit
Pros and Cons
• The SAFE technology allows you to let go of the joysticks if you run into trouble and cannot control it, which will stop the drone and bring it to a hovering position
• The different modes allow for different levels of flying skill to go faster, slower, and even choose to fly with more maneuverability
• The transmitter is not included with the drone, so you will need to provide your own 4+ channel DSMX or DSM2 transmitter
• This drone is more for those who are already skilled in flying quads because the controls can be tricky and are definitely not geared toward entry-level fliers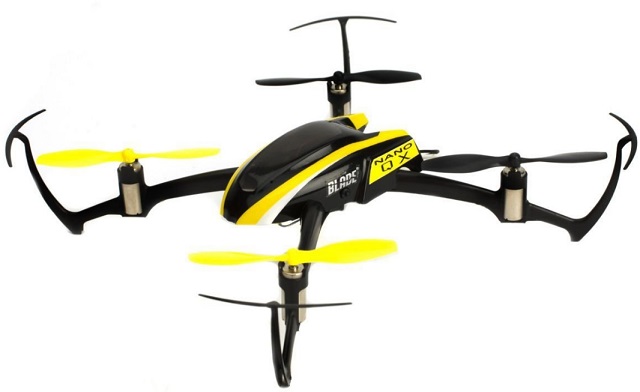 Click To Shop or Read Reviews
Syma X11C RC Quadcopter
Read reviews and show for the Original Syma X11C
This is one of our serious best cheap remote control drones for a multitude of reasons, but mostly because it packs so much into such a small, budget-friendly drone.
Features
• Onboard HD camera
• LED light for added visibility
• Ably to fly up, down, left, right, forward, backward, and has 360-degree aversion
• 6-axis gyro stabilization system for a more stable, smoother flight
Pros and Cons
• This drone includes a very strong resistance to wind and can be flown both indoors and outside without trouble
• Has a decent camera and includes a 2GB card for storing your videos and photos
• Though it has a high resistance to wind, if the winds are strong enough it will be carried away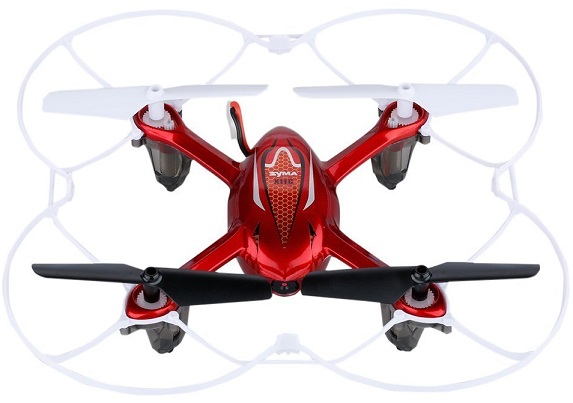 Click To Shop or Read Reviews
Remote Control FPV Drones
A remote control FPV drone is perfect for those looking to get into the driver's seat and really become immersed in all that drones have to offer. A prime example of this category would be a remote control racing drone.
Walkera F210 FPV Racing Drone
Read reviews and show for the Original Walkera F210
Racing drones are a lot of fun, and this one is definitely no exception. It's fast, awesome, and pretty affordable.
Features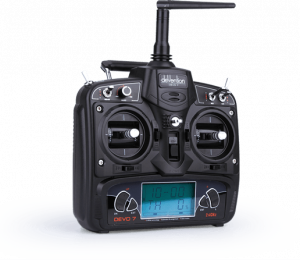 • Onboard HD camera with a real-time video feed and night vision
• Devo 7 transmitter with 2.4GHz and a 2.8" LCD display
• Anti-drop and anti-collision bow design
Pros and Cons
• The Devo 7 transmitter comes with a specialized mushroom antennae that allows for a transmission distance of more than 800 meters even while the flight is in FPV mode
• You can personalize your settings in accordance with your needs where the flight control parameters are concerned
• The controls are extremely sensitive, so to avoid losing the drone completely ensure that you don't press the north stick forward all the way, or it could fly away on its own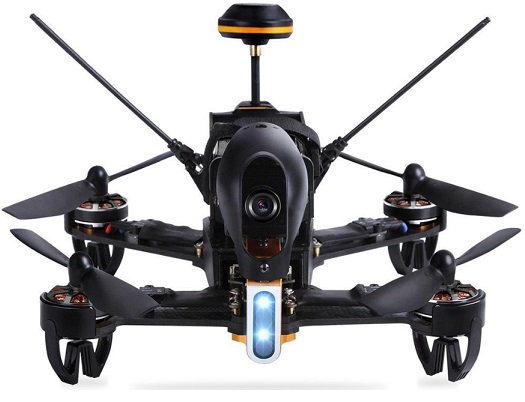 Click To Shop or Read Reviews
ARRIS FPV 250 Mini RC Racing Drone
Read reviews and show for the Original ARRIS FPV 250
This is a great drone for those looking to build their own FPV and/or racing quad with a couple of their own components.
Features
• Includes a great 700TVL camera
• Has a high-quality S2205 2300KV motor for pushing maximum speed limits
Pros and Cons
• This drone can reach some pretty high speeds after a bit of modifications – for example, replacing the propellers you get with 6" ones instead
• The 700TVL camera ensures that the quality of videos is pretty decent, plus you can expect very little delay, as well
• You will need to have your own radio set and battery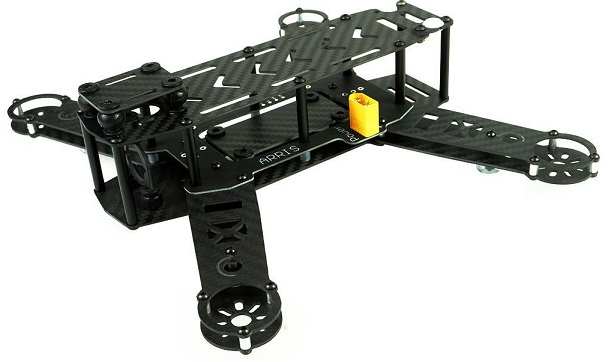 Click To Shop or Read Reviews
HobbyKing TBS Vendetta 240 Racing Quad
This little guy is built to be one of the best racing quads imaginable, thanks to the design and the few features that are offered.
Features
• Quick-swap arms and soldier-free repairs
• Able to be configured with little trouble through RC sticks
Pros and Cons
• Able to be synced with FPV goggles, where you can tune to BOSCAM A CH1 for the best racing experience possible
• Has a design that decreases as much weight as possible to ensure it's at maximum flight and speed performance
• Can require a lot of tuning and re-calibrating if you mess with anything too much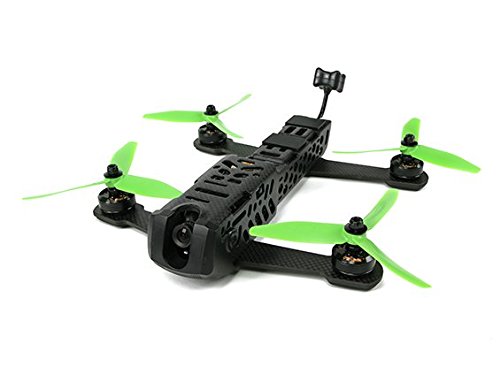 The Wonder of Remote Control Drones
There are so many different categories and types of drones out there. Finding the remote control drone that will suit you best is fairly easy and even fun. This is especially true when the extensive types, such as a remote control drone with camera, come into play.
Knowing the best brands, models, and which are considered a cheap remote control drone will ensure that you have the ultimate pick of the litter.
Also, The U818A drone has a basic controller that introduces you to the world of drones