Replacements for Your Dazzling New Drone: DJI Phantom 4 Parts

From propeller guards and cleaning sets to even antennae boosters, don't be alarmed when you realize that after the very incredible DJI Phantom 4 arrives at your house, you eventually will need a bit more than just the machine to have the thriving and diverse experience you were meant to have flying it.
Just as it happened decades ago with model rocketry, it was always nice to know that you were showing up more than prepared, and that you would be able to solve any problems that occurred dealing with minor malfunctions. Don't be discouraged when you realize that there is definitely a pretty large array of DJI Phantom 4 Parts to choose from; you'll be excited when you know that you are more prepared then ever to grab some great aerial footage over your favorite location.
We wanted to show you the variety of spare parts available so you could think about which are going to be the most vital for you to pack in your bag when you are ready to experience the awesomeness that is the Phantom 4. When you arrive at your flight location, you hopefully will have selected some of the awesome DJI Phantom 4 Parts from our review, and be ready to take to the skies with full confidence.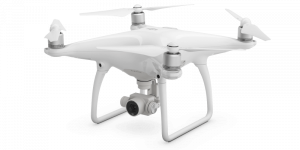 Click To Shop or Read Reviews
DJI Phantom Prop Guards (Set of 4)
This package includes 4 propeller protectors, that are truly a must if you are flying in an area crowded with many people, or many objects. This is a very well-made product, and pilots everywhere are claiming that they are very easy to install and worth the purchase.
A common warning among experienced pilots is regarding the screws included: the prop guard screws included are longer than the stock ones, and may cause damage to the motor. Some users have claimed that these add a lot of unwanted weight and make the drone much less maneuverable, but we spoke with beta-testers that claimed they did not notice any difference.
These also make the drone easier to spot at high altitudes, and are a pretty necessary investment for a beginner flyer. Some were so appreciative at how much they helped that they wish they were included with every drone, but as this is not the case, is a replacement part that's at the top of the list for sure.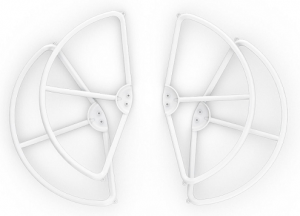 Click To Shop or Read Reviews
Filter Set Phantom 4
The Polarizing filter in this set helps to reduce glare, and it improves color saturation. The included Polarizer reduces the amount of glare that is bouncing off the ground, and is very useful for slowing down the camera's shutter speed by reducing light up to 1.6 stops.
Another great element of these DJI Phantom 4 Parts is that the ND filters cut light by 2 stops, and the ND8 cuts light by 3 stops. The ND filters reduce light that actually hits the sensor, which effectively slows down the shutter speed as well.
When you are filming from a quadcopter, there is a very large amount of light that is reflected right back up towards the camera. What you are obtaining here is a medium to create a more natural-looking motion blur, that ultimately reduces the appearance of what are known as "jello" effects from the actively rolling shutter. They are also a big help with reducing lens flare while shooting directly into the sun.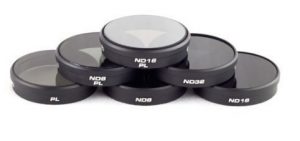 Click To Shop or Read Reviews
Aboom Adjustable Remote Controller Strap and Cleaning Cloths for DJI Phantom 4
These are perfect for letting you use your remote control hands-free, and the package you receive includes 1 DJI Phantom 2cm remote controller strap, and a cleaning cloth for the lens and the screen.
Some users don't like to take their hands off the controller completely, because it could tend to flip down and come out, but this is still a great way to be able to hold with one hand, leaving the other free. When you are flying for any extended period of time, you can get a bit worn out while using your strength to hold the remote the entire time, and letting it be supported by your neck works well and gives you some peace of mind.
You can adjust it to hang high, or low around your waist a bit like a modified guitar strap would behave, and knowing that if you want to take a hand or two off of the controller is reassuring as well. Sometimes when you are out flying, instant distractions could cause a gut reaction with the user wanting to use their hands, and this prevents you from dropping the control outright.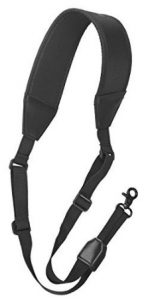 Click To Shop or Read Reviews
DJI Phantom 4 9450S Quick Release Propellers
It is very important to note that these are compatible with the Phantom 4 only, and there is 1 clockwise and 1 counter-clockwise propeller in the DJI Phantom 4 parts package you receive. The weight of each propeller is 11g, and the diameter and screw pitch is 24 x 12/7 cm.
Much like spare batteries for any flying object, these could be the absolute most necessary backup part that you have in your pack, because of anything happens to your other propellers during flight, you simply won't be able to keep it up. Even when you have learned to fly quite well, elements such as wind may guide your drone into a tree or other object, and having spare propellers will make you sure not to miss any flying action if you do somehow mangle the current set.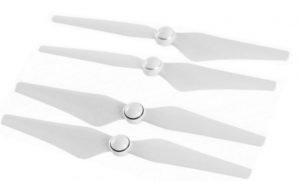 Click To Shop or Read Reviews
SKYREAT Copper Parabolic Antenna Range Booster for DJI Phantom 4
This super-cool parabolic curved booster completes the task of reflecting the remote signal to the antenna, and has no bump or deformation on the reflecting plane. It's an exciting device that improves remote control and Wi-Fi video connection performance, and the actual measurement distance is more than 2.8 KM.
Many reviewers said that this add-on was "worth every penny", and claimed that it increased the range in very noisy flying environments by almost half. One very experienced pilot stated that he traveled over 7,000 ft by using it, and was very amazed at what this DJI Phantom 4 parts option was able to do.
Once you start to get really great at flying, improving your distance is going to cross your mind frequently, and this is the best way to boost it. The price is pretty reasonable for what you get, and in the years to come, these boosters are probably going to get even more fantastic and durable.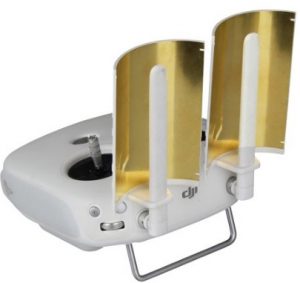 Click To Shop or Read Reviews
PolarPro DJI Phantom 4 / Phantom 3 Filter 3-Pack
Here you get a very light 3-pack that offers Polarizer filter-glare reduction, and drastically improves contrast and saturation. The 2-stop ND filter does the job of reducing highlights, smooths out the videos overall, and protects the lens.
The 3-stop ND filter is great for filming on very bright days, as many users in California, Arizona, and locations like New Mexico will appreciate, as well as those shooting at ski resorts. You do remove the stock UV filter which comes with the quad, and these filters weigh approximately 1/3 of what this one does.
They are covered by a lifetime warranty, and when you use these, you will notice a definite difference in the appearance of your video. Products such as this is where you really are able to accomplish a much more cinematic look and feel, and they can maintain a fast shutter speed for the situations you encounter with boats, athletes, cars, and anything else with an exciting throttle level.
One user in Vermont reported that after using these over the same location that he flew with the stock filter, was completely amazed. The real difference is with the flaring issues and clarity, and after using these many feel as if they are really transitioning to a very pro level of imaging and video.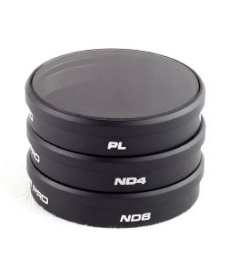 Click To Shop or Read Reviews
DJI CP.PT.000342 Phantom 4 Intelligent Flight Battery
Specifically designed for the brand-new Phantom 4, this is the 5350 mAh, 15.2v LiPo Battery. These have 81.3 watts, which is quite a bit better than the average 68 on the Phantom 3.
A few have reported some defects and occasional times where they received completely defective parts, and have been a bit upset that at this point, there is not too much of a choice with brands. But overall, the response is that they do have a great lifespan, and are needed to assure that you don't run out of juice on any occasion from mountaintop on down to seaside. The weight comes in at 1.1 lbs, and when you have these in your bag to assist you, you'll have the peace of knowing your powered flight time will have some intelligent back-up.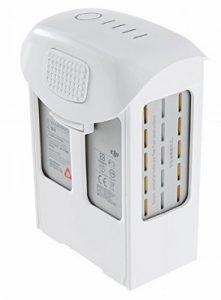 Click To Shop or Read Reviews
Other Interesting articles in "
Reviews

"