DJI Phantom 4 Details And Description – Dronethusiast
DJI Phantom 4 – Our Take on The New Phantom 4
So far this post has been centered on the leaks and rumors about the DJI p4, and all it's pre release hype! However, now that the DJI Phantom 4 details have been released I want to go through it all and explain each of the differences between the new product and it's previous versions.
Shop or view the DJI Phantom 4 at DJI Here.
There was a broad hope that DJI would really make a splash with their design and give us a new design to allow for better mobility and transport, but the new dji p4 holds on to the same basic design as earlier versions.
As you can see the main difference at first glass is the glossy coat used to make the DJI Phantom 4 shine.
Phantom 4 Photos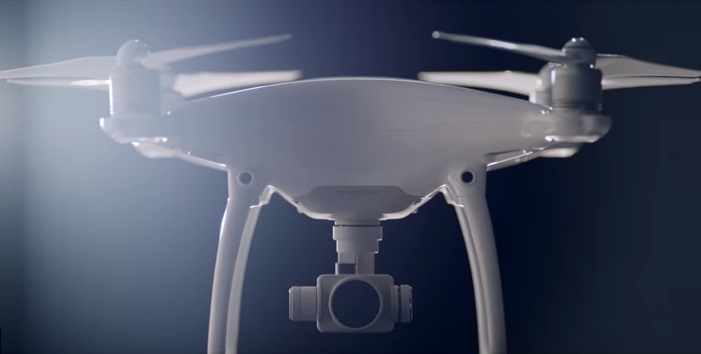 The underside of the dji p4 however is another story, as the Camera is mounted on a 3-axis gimbal, which anchors the camera on both sides and uses two motors to control pitch.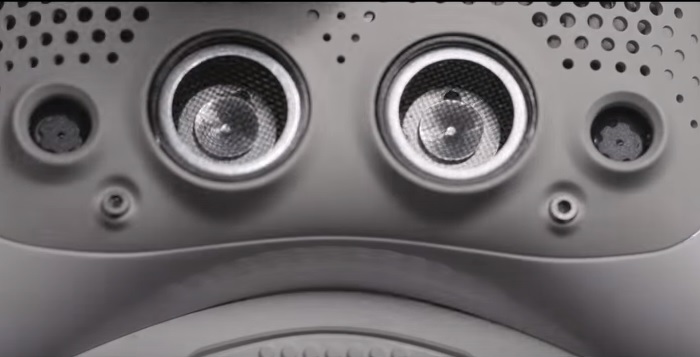 The sensor inside the camera is the same as used in the P3 professional, but features a new glass lens that is supposed to give us sharper images and better colors.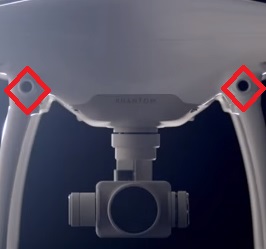 The front of the Phantom 4 has a set of stereo vision cameras, that have been quietly integrated into the body at the top of the landing gear.
This is the system that is used to track objects in 3-dimensional space. The Phantom 4, according to official DJI released information uses this stereo vision camera system to successfully detect and avoid obstacles, as well as track and follow subjects chosen by the operator.
DJI has released full specs for the drone that you can find pretty much anywhere online so let's just look at the primary new technical differences DJI gives us with the p4.
1. We've already spoken about the stereo vision system used to track objects and avoid obstacles. This is the most revolutionary new change in the Phantom 4 from previous models.
2. Reinforced, 3 axis gimbal with two motors for control.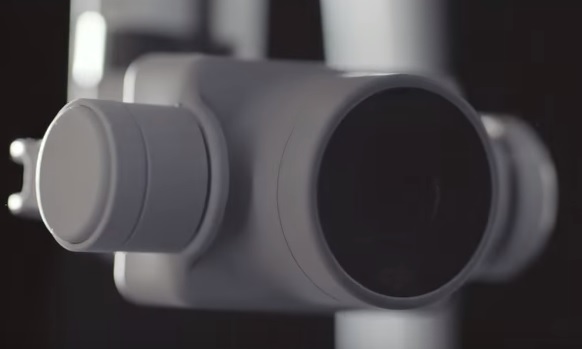 3. New Battery – 5350 Mah, 15.2V battery (rated at 28 min flight time). Some flights from prototypes have been 30 minutes or more.
4. A few new Flight Modes including:
Sport Option: which increases match pitch to 45 degrees, increases max speed from 16 to 20 m/s (35.8 to 44.7 MPH), increases max ascent and descent speed and disables the stereo vision system.
TapFly: Tap on the live FPV screen and the DJI Phantom 4 flies in that direction.
ActiveTrack: Follows an object you select in DJI GO.
Smart: Follow me, POI, Waypoints, Home Lock, Course Lock.
5. New quick release propellers on the DJI P4.
6. There are latches at the end of each arm for snap on prop guards, however these can obstruct the stereo vision system so beware when using these and fully read the directions of your P4 to understand better it's limitations.
7. Added grills for cooling vents on bottom of arms.
8. Dual IMUs and dual magnetometers for redundancy and protection.
9. Better cooling due to the motors being pushed out from the mounts. Although they are left with the same propulsion specs.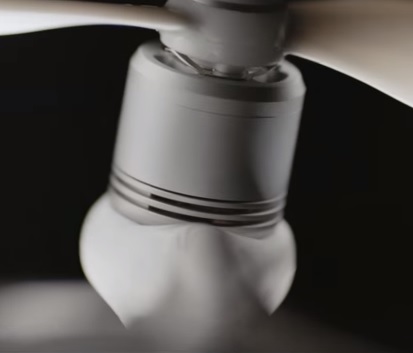 The Phantom 4 is being released at $1399.00 which is just slightly more expensive than the Phantom 3 Pro was when it was released a year ago. This is a drone that is definitely worth that price, previous leaks had lead us to believe that it would be in the $1700 range, so this is great news!
So you can see there are some major changes from the Phantom 3 to the Phantom 4, and it is an exciting time to see what new videos and uses are going to come from this model. DJI has always been a leader in the field and their new obstacle avoidance system and subject tracking design, if it lives up to it's description is going to allow for many new and interesting uses for the drone.
Well that's it for our take on the NEW DJI Phantom 4. Hope we've helped you make a decision about if it's for you or not!
Remember if you're looking to purchase you can help us out by shopping here.
Check out our new post of Phantom 4 Accessories.
Official Videos
Updated:
You can find more videos like this on the DJI Youtube channel.
Here's a video release this morning.
Here's another video from "The Verge" Leaked a few minutes prior.
Previously Our Speculations On The DJI P4 Were Here
Photo UPDATE 2/27/16 0830 US Central Time.
Check out these newly released photos of the Phantom 4!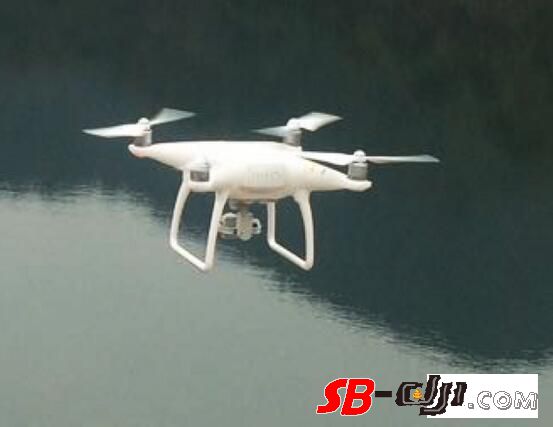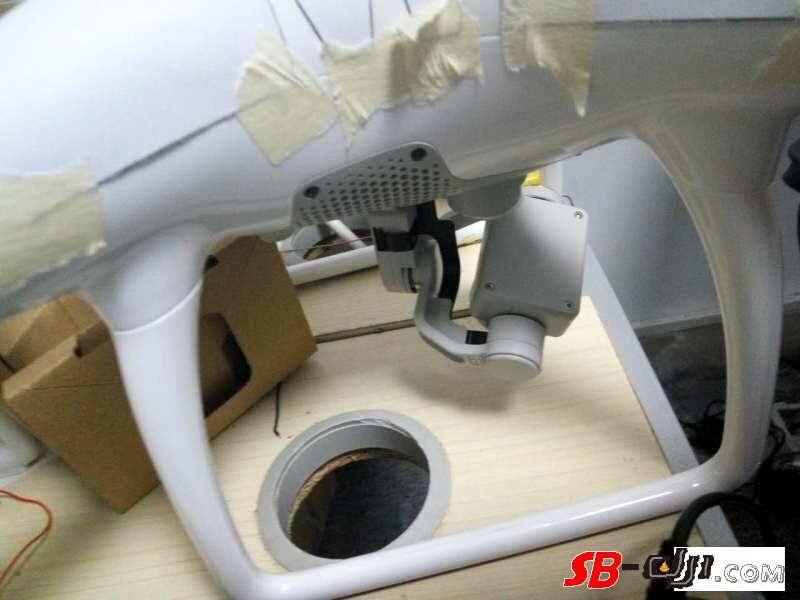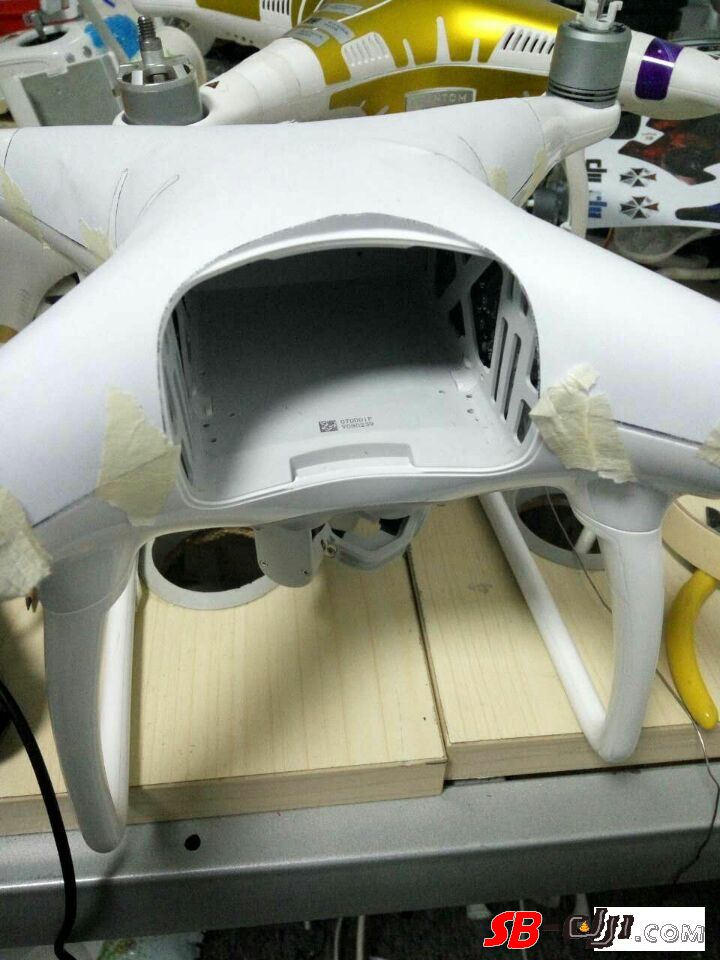 Image credit: sb-dji.com (chinese language website)
UPDATE: 02/25/16
Check out the new Official DJI P4 Video release:
original article begins here:
DJI Phantom 4 leaks, where it started, what we know, what we expect, what we don't and what we want to find out!
This started out with a snapshot of an email showing that there is going to be a major announcement march 1, 2016. This email went out and was leaked to sources all over the media, you can see a screenshot below. The DJI Phantom 4 is the most highly anticipated piece of equipment coming out from DJI, everyone assumes this has to be what they're going to be announcing on March 1, 2016 coming up in just a few days.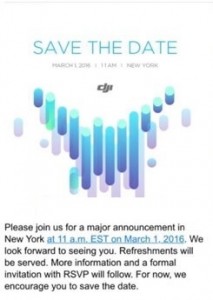 DJI Phantom 4 Leaks
Multiple sources have announced that there will be a major announcement on March 1, that is not in question, there's just a little doubt about what it will be about, the DJI's next Phantom model. This machine is going to be beautiful to use with FPV glasses and you should take a look at our ultimate FPV goggles guide here if that's what you're into, (after you read these leaks of course).
The Inspire was just upgraded, so it's unlikely Phantom is pulling out all the PR stops to give us an announcement on anything to do with upgrading the Inspire, forget about it, March 1 is all about the Phantom….4, X, whatever they're gonna call it.
We've seen it in the past, DJI wants to pre-promote and really hit the drone community hard with something big on March 1, so there's information out there being leaked and we're going to cover it here.
The folks over at Phantom are definitely under pressure to produce something amazing because there have been some major releases lately from other drone design firms, such as Yuneec, which released the Typhoon H recently which has some awesome functions like retractable landing gear and a folding design that makes the drone backpack ready.
It also has a kickass monitor built into the remote, and finally a collision avoidance system which is something that is going to need to be a major future function of all drones to stay competitive in the market. DJI Better bring their A-Game with the Phantom 4.
So Let's get right to it!
What Might The DJI Phantom 4 Give US?
1. Collision avoidance. Help us keep those multi thousand dollar drones from running into trees, mountains, power lines, etc, if the computing power can be found inside those tiny silicon chips that manage these drones, then why not help out the end user and give them a little assistance protecting their investments? The Typhoon H has Intel's sensor set for this purpose and since Intel is an investor in Yuneec, it's unlikely that they would share this technology with DJI. Especially if you want to stay at the cutting edge of the market like DJI does.
2. We might see another feature that involves the software of the enables live camera tracking, tap at an object in the monitor and it moves the camera around and tracks that object, this is a rumor.
What Should We Expect In General?
Some sort of follow me mode, this is the becoming more common in drones as well and Phantom is not going to want to fall behind the crowd on this one. To do this Phantom could use a smartphone related function, or, since GPS is becoming so small yet so powerful, it could be in the form of a wristband, or some other tech wearable.
What Can We See In The Leaked Photos?
The Body looks very similar to other phantom drones, which was to be expected as it is one of the most popular drones on the market, changing the design a lot isn't going to be a risk that DJI will want to take.
Metal Plate, Gimbal And U Shaped Bracket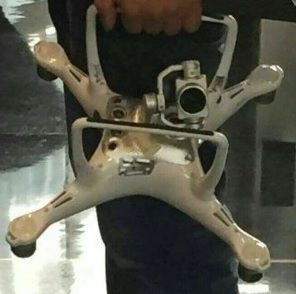 What we can see is that there is a metal plate built into the copter, if I were to speculate I would say this is going to allow us to add accessories and mount cameras into a solid metal plate for better durability.
Something important we can see is that the gimbal is hidden mostly inside the body which will give it extraordinary protection. This is something drone users are always in need of due to the various ways drones can be crashed and damaged. This improves the chances that during a collision or loss of control the Gimbal will be damaged.
Along with this it appears as though the camera will be securely mounted on both sides utilizing a U shaped bracket, that can be seen in this image. Perhaps we'll see a solution to the tilting horizon problems as a result of this. There is also a leaked image of a camera that is supposedly for the Phantom 4 with a 6k label on the side, but it seems highly unlikely that this is a real image and we're not even going to post it here.
Durability
It's also reasonably clear that the arms are strengthened because as we all know there was a fiasco with the Phantom 3 and its arm weakness leading to cracks that disappointed buyers.
Durability and protection are something that drone producers in general are focusing on in order to incite new buyers into purchasing their high value niche products.
A lot of consumers are interested in drones, but nervous about spending that kind of money because of the delicate parts and electronics that can be damaged during a collision, loss of control or any sort of moisture problems.
Efficiency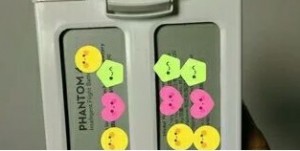 Please take these DJI Phantom 4 leaks images with a grain of salt (as you can see the emojis everywhere do decrease credibility), but we're here to show you what we see. The batteries will hopefully bring better efficiency, due to their larger size. It would be great if this could bring up the flying time to like 35 minutes. But then again, being able to use our Phantom 3 batteries as well.
All users want to see longer flight times due to better, more durable, and smarter batteries (for lipo battery care check out our article here.. Although with some sort of anti-collision system eating up battery juice, the flight time might end up about the same.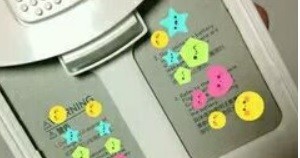 When you add features, even if you add better batteries, you're going to end up using the same juice. The batteries also come with a wider more ergonomic grip for releasing them from the body of the drone.
Aesthetic Changes We Can See
Finally, and less important or more important to you depending on your interest in form vs. function; it appears that the Phantom 4 will be given a glossy coat instead of the previous more dull white outer coating.
The leaked images allow us to see light reflecting off the exterior of the drone that does appear much more reflective than previous Phantoms. Also, the LED lights do appear to be different from the P3, but it's difficult to see how.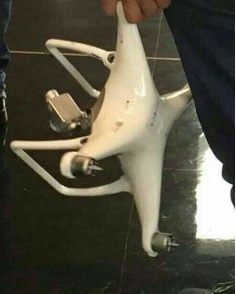 What The Images Show That Disappoints…
The landing gear of the DJI Phantom 4 is clearly not going to be retractable, and in this aspect the DJI drone is going to be lagging the market since we showed you earlier the Typhoon H3 with its sweet fold ability, for better storage and travel-ability.
Remember, these are leaks and nothing has been confirmed for sure by DJI about the Phantom 4, but we're providing the most up to date information that can be found.
What Do We Expect Not To See
Here are some common ideas of what we will probably not see with the Phantom 4.

– No Waterproof housing *Although perhaps they sealed the motor capsules to keep moisture out?
– No Retractable landing gear
– No Parachute System
– No Zoom Function on the camera.

What Don't We Know That We Want To Know?
We don't know what the Phantom 4 transmitter looks like, is it going to have an inbuilt monitor like the Typhoons?
We don't know, what will it look like, who knows?
These are simply things that as far as we here at Dronethusiast are concerned, people outside of the Phantom internal circle do not know.
DJI Roadmap And DJI Phantom 4 Costs
We can clearly see here in this leaked image of the 2016 DJI Phanton Series Roadmap that dealers were informed that there would be a new model (we expect the DJI Phantom 4) this year, and it's going to be considered "enthusiast" and at a price around $1700USD.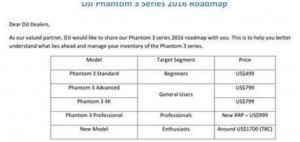 Let's get this conversation started, please comment below with your thoughts on the DJI Phantom 4, criticisms or compliments, or send me a message on twitter at @dronethusiast, and check us out on facebook where we will be promoting a shorter version of this post as well.
Looking forward to hearing your thoughts!
Other Interesting articles in "
DJI Phantom 4

"