Sharper Image Drone DX-4 with Camera


A number of drone companies in the market are seeking to meet the different needs and preferences of the various industries. Attracting these industries are drone companies that make budget priced drones. These include companies such as Sharper Image, Hubsan and Udirc.
Their drone models deliver on light functions. The Sharper Image drone aims at boosting a user-friendly experience for users. Hubsan designs drones to suit different objectives with four brands (Flying High, Night Walker, Take Flight, and Angry Swarm).
These are themed to meet their different objectives and camouflage into the current environment. Udric on the other hand focusses on the capability and performance of their drones while minimizing on the overall size.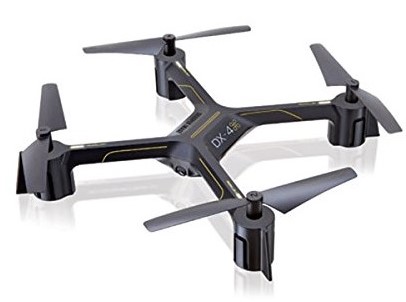 Click To Shop or Read Reviews
Sharper Image is outdoing itself. With a series of outstanding budget friendly models such as the DX-1, DX-2, DX-3, and the DX-4, with each successor leaving a better drone with improved features. Improved features translate to better vision with better range coverage.
Even at this, they have upheld their objective of designing affordable drones. All the model offer drone Sharper images that are clear and detailed whether you need to take a video or capture photo. Just as the name suggests, they capture sharp images and videos.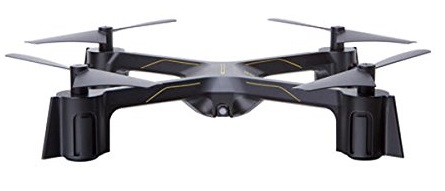 From Sharper Image, the Sharper Image Drone DX-4 is not only affordable but also delivers excellent functionality. Its overall design is outstanding making it easy to transport as well as store away when it is not in use. It allows you to take shots, videos, as well as audio that are clear and precise.
Other than recording and opting to view the content later, you can also stream live HD video to your smart device or any other Wi-Fi connected device thus having fun moments with your friends and family.
With this Sharper Image camera drone you and take shots over heights that would be rather dangerous to obtain. This model is sturdy with ease in maneuverability thanks to automation features.
Dronethusiast does reviews on all sorts of drones to help people find the best cyber Monday drone deals for 2019, you can read more about it now!
Frequently Asked Questions (FAQs) about Sharper Image DX-4
What's the resolution of its camera?
It has a 3MP camera.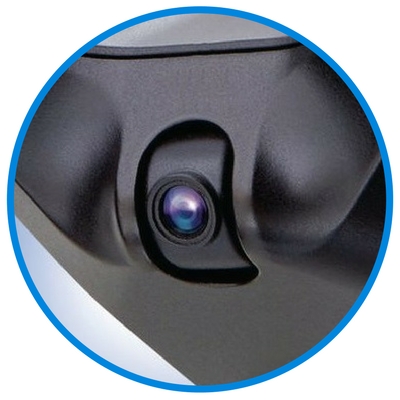 What is the battery life?
This drone is powered by a rechargeable 3.7V 800Mah Li-Po battery. Once it is fully charged, it will operate for about 10 minutes before the need to recharge it.
What are the battery's volts and/or mAh?
It has 3.7V and 800mAh battery capacity.
Where can I get extra parts?
The recommended place to get extra parts is the official website of the company. This is because they will help you to identify the right parts for your drone.
Could you fly 2 DX-4 drones at the same time?
If you have two controllers, you can fly two DX-4 drones. All you have to do is pair them.
What is the range for the device?
It has a range coverage of about 450 feet in either direction. Simply watch out for any barriers.
Can I use it with my tablet?
Yes, you can. It should be able to able to connect with Wi-Fi enabled devices such as your smartphone as well as tablet.
What operating systems can support this device's app?
It is supported by both Android as well as IOS.
Does it require any assembly?
Yes it does. However, it is not complicated as some parts are pre-assembled.
Sharper Image Drone DX-4 HD Video Streaming Drone Review
The Sharper Image Drone DX-4 delivers on both performance, functionality, as well as service in the long-term. It allows for shooting of shots, videos, as well as audio with clear and precise results. Other than record and view content later, you can also stream live HD video to your smart device be it a smartphone, tablet, or any other Wi-Fi connected device. You no longer have to climb trees or risk accidents with this drone. Below is the Sharper Image Drone review to help you better understand its capabilities and strengths.
The package comes complete with the drone parts that require assembly, a USB charging cable, as well as replacement props to help deliver on functionality. With time, you may need to replace some parts for one reason or another and these are made easily available on the company's official site.

Key Features of the Sharper Image Drone DX-4 HD Video Streaming Drone
It comes with outstanding features to meet its functions. The following are key features that make this Sharper Image Drone stand out amongst its direct competitors.
• Auto take off, landing, as well as auto hover capability
In an effort to boost ease of use, this drone comes with some automated capabilities. It features auto take off which enables you to have a smooth lift off preventing possible accidents as it takes off. It also features auto hover when it is in use to ease the process so you gain stability as you enjoy the view of the surrounding. With stability come better and clear videos, as you will not keep shaking.
After use, you can use the auto-landing feature that will help you with flight as well as in landing it smoothly. This will ensure that even after it captures the footage you want, you will not destroy it. The automation makes this a key feature as it allows you to use it even as a beginner. All you have to do is understand what each button on the control is responsible for.
• Multi-directional remote with 360-degree stunt rolls
It comes complete with a remote control just like every other drone. However, this remote is multi-directional which is responsible for a smooth hover when it is in use. In addition, it allows for 360-degree stunt rolls to capture images as well as videos just as you like it. You do not need some special effect button to alter your content tanks to this feature. With a single button, you will be able to perform a 360-degree barrel roll, which is easy, convenient, as well as efficient.
• Features streaming HD video as well as still shots
This Sharper Image drone with camera has the ability to take photos as well as capture videos and audio. All you need are the right settings on the remote and you can make the best of the moment. It does not stop at this as you can also stream LIVE HD video straight to your Wi-Fi enabled device such as your smartphone or tablet. With this, you can share the videos as well as photos you take with your drone. Your loved ones will always be up to date on what is happening around you.
• 3-speed control
In an effort to boost maneuverability as well as ensure that you capture your desired content, you have the ability switch between 3 speeds. Beginners are advised to work with slow speeds as they learn how to control the drone. As they perfect their flying skills, they can work with either speeds to meet your ideal preference.
• Long lasting Li-poly rechargeable battery
Rather than constantly replacing batteries and work with the hassle of finding batteries that fit, this Sharper Image Drone model a long lasting li-poly rechargeable battery. It takes around an hour to fully recharge it. This means you can use it repeatedly without the worry of running out as long as it is within its lifespan. All you need is a power outlet to recharge it for your next shot.
• 2.4 Ghz transmitter
It features a 2.4Ghz transmitter that includes 4 replacement blades. This transmitter ensures that the content you view is up to standard to meet your desired expectation on results.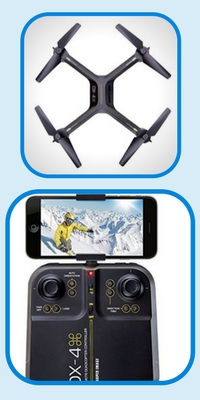 Tech specifications
• 21 x 14 x 4 inches of product dimensions
• Has 6 axis gyro stabilization
• 360-degree stunt rolls
• 2.4 Ghz transmitter
• 4 LED lights for better viewing
• 3-speed control
• Auto take off, auto hover, as well as auto land
• Li-poly rechargeable battery
Pros
• Easy to maneuver with automated features
• Ability to change speed for better follow-up
• You can share live videos with Wi-Fi enabled devices
• Smaller dimensions for easy storage and transportation making it reliable
• Allows for a 360-degree view with the use of just one button
• Long-lasting rechargeable battery
• The device remains stable when capturing content
Cons
• It can only capture content for about 10 minutes before the need to recharge it. This only allows for short videos.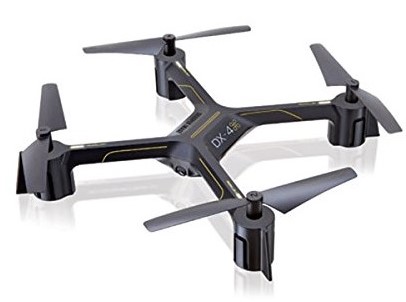 Click To Shop or Read Reviews
Conclusion About Sharper Image Drone DX 4
The above Sharper Image Drone Review highlights the strengths that with the help of advanced technology have helped the Sharper Image camera drone stand out in the market. In addition, you will be able to point out a few companies that aim at designing budget-friendly drones for different markets. While the DX-4 is taking the market by storm, it comes from a brand that has released other models. The key objective is to understand the Sharper Image Drone DX-4 strengths and capabilities. While some people have raised queries about the drone, solutions and answers are provided to help guide users on how to obtain the best experience when using it. Sharper Image drone with camera lives to its promise.
Other Interesting articles in "
Reviews

"