Yuneec Skyview Review – First Look At New Goggles in 2020

For years, virtual reality and video games were just itching to push the envelope with a device that people wore to have the ultimate experience become even more intense. Watching movies, playing video games, and operating an on board camera are all possible with the Skyview headset, recently released from Yuneec, known to be a dominator in the field of electric aviation.
Click To Shop or Read Reviews
If you are so anxious to hit the skies that you choose an FPV viewer not quite right for you, you may immediately encounter dizzying sensations or nausea, and it could even cause you to crash your flight in the worst cases. The best advice from experienced pilots is to use an FPV viewer with a field of view higher than 35%, and the Skyview's is at a very high 75%. Here is a great example of the way this unit behaves during flight, and the 4k video you are sampling:

The reason why the release of this is so exciting is that this is the first major consumer manufacturer to offer its own personal brand of FPV headset that opens the doors for users to have such diverse options of entertainment, at still a fairly reasonable price tag. What you get is an enclosed headset that boasts a built-in 5 inch HD screen that provides a 16:9 aspect ratio for a very rich and life-like viewing experience.
Another unique quality of the SkyView is the way in which you can quickly shift to other activities: when your exciting flight plan is over, it is the perfect device to use on a long flight or commute to another city to entertain yourself. Consumers for years were anxious about goggles to use while flying drones, and other activities such as video games will render the device useful enough for any gamer or film buff as well.
How easy is it to enjoy the awesome Features of the Skyview?
Once you have this ultra-cool device out of the box, you just have to plug the HDMI in and enjoy distraction free viewing of whatever you choose. The possibilities will be endless: imagine being on a long flight, and wanting to enjoy a movie. There may be a small child next to you, and viewing a movie with any type of adult language or content will not be appropriate on a laptop screen.
When it comes to flying a drone, you see just what the drone is seeing as you operate the camera, and the headband behind the device is very easily adjustable.
This video
shows a review of the Yuneec Skyview being used with X-star and an Inspire 1, and the reviewer appreciates the lightweight construction as well as the easy placement of the USB charging port. You are able to wear glasses if you need to, thanks to the open areas in the top, and the area where your nose presses forward is designed to fit as comfortably as possible.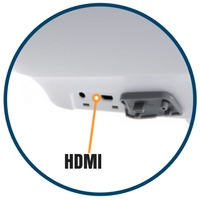 The cable that comes with the Skyview is a micro HDMI on one side, and the full HDMI on the other. The user in this video had a great idea of using some homemade pads cut out of bubble wrap to make the fitting on the nose just a bit more bearable. One of the most important things to note about this product is that you CAN use it with the Dji Phantom 4: you just need to acquire the HDMI module for the back of the radio for around $100.
Here is another video that depicts the brightness and resolution of the Skyview quite well: you can really imagine how fun it would be to wear these while flying over just about any type of terrain. While wearing a device like this, you could hone your skills to the next level and prepare for a career as a drone pilot, or simply enjoy the dazzling landscape that you chose to fly over in a much more enthralling way then just glancing at a tablet while you fly.

Is this device compatible with the Typhoon H?
Yes. By using the supplied HDMI, it plugs right in like a charm.
Is there any adjustment for eyesight on this device?
No, there is not. But by providing the ability to wear glasses, you are at least able to have some leeway to enjoy the images at proper focus level.
Is this device compatible with both USA and Europe Typhoon H versions?
As long as your Europe device has HDMI output potential, you will be fine.
Can you use the Skyview with the Parrot Skycontroller for Bebop 2?
Yes, with use of HDMI, this match-up of equipment will work just fine.
Is this device compatible with the Q500 + Quadcopter?
Generally speaking, it is not. If you happen to have a tablet or phone with an HDMI output port, you can put to use the CGO2 or CGO3 app to be able to stream video from the camera to the tablet, and then hook up the Skyview HDMI cable directly to your phone/or tablet for viewing.
Are the parameters for flight and battery viewed the same as they are on the controller?
Yes, the display is perfectly duplicated onto the skyview controllers from the ST16 controller, and you see everything exactly the same.
What is the power source?
Inside is an internal rechargeable battery that charges with use of a USB cable.
Will these goggles be compatible with the "Breeze" device?
Since the breeze uses a tablet or phone as a controller, you just need to make sure that that device has an HDMI output. Any device that can output HDMI should be able to correctly input to the SkyView HDMI micro HDMI port.
Can you use the Skyview with 3rd party wireless video transmission devices?
The Skyview headset itself does not transmit or receive via wireless, but you can just connect your HDMI to the headset with any standard HDMI cable. Other HDMI devices such as laptops and Xbox machines should be good to go without a problem.
The Yunnec Typhoon Q500 is a quadcopter drone that stands out as a choice that is easy to fly and pilot anywhere with the remote control