Best FPV Goggles & Gadgets (Updated Holidays 2019) Killer FPV Drones & Systems Guide!

Updated:
An FPV system (First Person View) is a unique addictive and almost surreal flying experience! After years of dreaming about being able to do this, we can finally fly from a pilot's perspective!
Looking for great drone deals in 2019? Check out our recently updated Black Friday 2019 Drone Sale article!
Quick Review: Click here to Jump to Top 3 List
Introduction to FPV Systems
Table of Contents
Affordable FPV systems have appeared within the last decade. FPV system flying is a rapidly growing trend in the various RC hobbies, and for good reason; it takes the beauty and energy of flying, driving, piloting a boat, and packages it in a relatively safe and less costly package. For many, this is the draw of flying rc models.
Until recently, however, setting up an FPV system has been very time consuming and required a lot of technical skills. Now we have companies such as DJI bringing a ready to fly, FPV multirotor to the masses, requiring no prior knowledge. While it may be more convenient to buy a phantom, plug in your tablet, and fly, it is still crucial that you know how these FPV systems work.
The current technology boom keeps this subject alive and forever interesting! Screens, goggles and glasses continue to evolve. Video transmitters and receivers have improved and become more reliable. Antennas and antenna tracking systems have improved. GPS accuracy has improved.
There are heads-up display systems, head tracking capability and return-to-home features. There are apps that work in conjunction with your equipment to view video and GPS information.
It's the holiday season once again this year so I want to take a minute to point out our recent article on Cyber Monday Drones deals, check it out!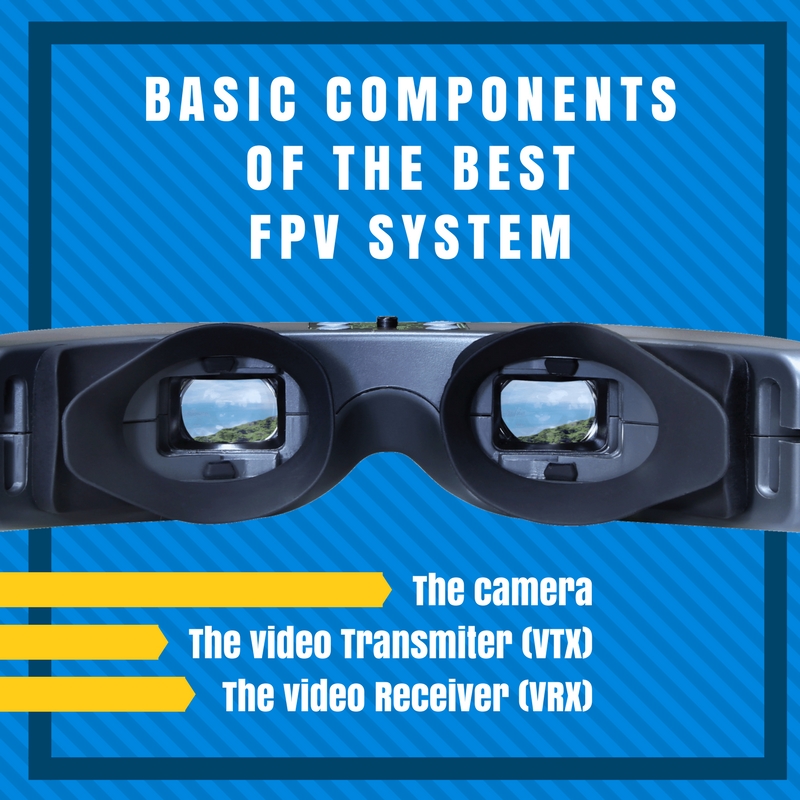 No matter what FPV system you get, they all have the same basic components. Even the DJI phantom with its completely self-contained setup has these components, you just won't be able to see them or fix them.
The three basic components of the best fpv system are, in no particular order, the camera, the video transmitter (VTX), and the video receiver (VRX). The camera connects to the transmitter, which sends the signal on a radio wavelength determined by either the manufacturer or you, which is then picked up on the receiver.
How you then view it is based on your setup. Sometimes it'll be through goggles, others it'll be on your phone. While most of the times, this signal is analogue, in the case of the DJI phantom or other similar setups, its actually done using a digital WiFi link. There are various pros and cons to this, which we'll get to later.
Now that you know roughly how FPV goggles work, and have decided that you want to try flying in first person, you need to know where you want to start. Really, you need to start not flying with FPV glasses at all. Flying Line of Sight (LoS) is a crucial skill.
Before even buying a Phantom or building yourself a plane, you need to know how to safely fly without goggles on.
First Person View signals can fail, and if they do you need to know how to fly without them. Not only that, but LoS flying helps you learn how to fly and control your aircraft while seeing everything, not just what's in front of it. Once you can fly Line of Sight you can start looking into the best FPV drone goggles setup.
Figuring out what you want to fly using FPV goggles, after you can fly line of sight is actually fairly simple. When reading through FPV goggle reviews, pretty much anything with a nice camera on it that uses a tablet for a screen (like the DJI phantom line) will be fairly laid back and easy fpv setup while anything with a thin carbon fiber body and racing plastered on it will be agile for an fpv setup.
And if you're looking for VR goggles (a consumer-level category for a similar product) we have a separate article for that.
Looking for help finding a kids drone as a gift this holiday season? Let Dronethusiast guide you by reading our top drones for kids article today!
#1 BEST FPV GOGGLE BRANDS
Flysight 40CH FPV Goggles
Resolution:

169 x 70 x 42 mm

Size:

169 x 70 x 42 mm

Weight:

160 g

Crazepony Eachine FPV Goggles
Resolution:

6.73 x 5.94 x 4.06 in

Size:

6.73 x 5.94 x 4.06 in

Weight:

217 g

DJI Goggles HD Immersive
Resolution:

195×155×110 mm

Size:

195×155×110 mm

Weight:

495 g

How To Fly FPV Drones
Here are some helpful definitions that will leave you with a bit more understanding of the terms that may be thrown around quickly when people are referring to FPV racing.
FPV(First Person View): Incorporating the use of a screen, monitor, or goggles to visually experience what the camera on the uav is gleaning in real time.
Line of Sight: The term referring to being able to see your drone the same time you are piloting it.
FPV Racing: The quickly growing recreational activity during which pilots select a pre-defined track, and race their small quads around it for sport.
RTF (ready to fly) racing drones: These are the drones made for FPV racing that you can race right out of the box, without worrying about assembly.
DIY racing drones: A drone made from scratch that is modified to the user's personal taste.
FPV camera: Special kind of drone camera used for first-person view racing, photography, piloting, or the capturing of videography.
Racing drone camera: any camera on a drone that is built for fast FPV racing. Usually built into the drone and these days they're almost always available in high definition.
FPV goggles: A special set of goggles used to views exactly what the uav's camera is seeing in real time.
Head tracking: An FPV goggle modification that allows you to adjust the angle of the camera mid-flight when the pilot tilts their head up or down.
Interpupillary distance: This is the term for the distance from the center of the pupils to the lens of the goggles being worn.
LCD monitor: A screen, usually attached to the controller, used to view what the drone's camera is seeing; in most cases an alternative to goggles.
Transmitter: Relays the racing drone camera's feed to the receiver.
Receiver: Accepts the camera's feed and sends it to the other screen or viewing device of pilot's choice.
Frequency: The radio frequency FPV equipment runs on. Usually allows for multiple channels, so pilots do not cross signals with each other.
FPV system: The all-inclusive and entire drone setup. This usually includes the multirotor itself, the controller, connecting parts, and the video display.
On Screen Display: Gives you specifics such as altitude, battery life, current speed, and other necessary elements to assure smooth flight.
TVL (Resolution): The resolution of the camera which helps determine the clarity and overall feed quality of the video.
CCD camera type: This is the camera that uses a specific image sensor that is charged by a coupling device, and is typically more suitable for FPV.
CMOS camera type: This is a camera that uses a complementary metal-oxide-semiconductor image sensor. These usually cost less then CCD cameras, but are not as suitable for the job.
Video Latency: This is the lag involved into what your camera sees, and when it transmits to your screen or viewing goggles. It can lead to problems with flight, the maneuvers you want to accomplish, and trouble with aerial shots.
Jello: This is the vibration that occurs in the video that is caused by the running of the multirotor inside the uav.
How FPV Racing Works:
The quads that are flown during these races are able to hit 50 MPH, and sometimes even faster. They may fly through obstacles such as hoops, around trees, and others like brightly lit bars. Some of the biggest and baddest races are so challenging, that you may have to know how to do some pretty fluid maneuvers just to get through the track.
Understandably, spectators can get very excited during these races, as they look a bit like what would happen if slot car racing was set up in mid-air. When you take a look at a very professional track, you realize that a beginning drone pilot would simply not stand a chance.
Looking for a fast rc car for kids? Click the link to read our reviews!
The different types of FPV Drone Races:
For the most part, there are 3 major types of races that you'll find when you begin to engage in or watch this sport:
1. Time Trial: This is the test where competition is had to see how fast each drone can make it through a specific course.
2. Drag Race: Race that is held on a very straight line, and takes place over a short distance. Not geared to obstacle handling, this has much more to do with acceleration, and how a pilot handles a drone at top speed.
3. Rotorcross: This is a traditional competition during which the drones race through an obstacle course, and see who can cross the finish line first.
How do you go about joining a racing team?
Much like the racing that takes place in the automobile realm, pilots are broken up into different teams, and there are different criteria for the teams that are out there. Some teams are all about flaunting a specific design that they may have had a hand in creating, and some are more focused on gaining attention for their ability to complete difficult maneuvers and stunts.
To check out a variety of teams that are out there, you can look at this link to see some specifics from all around the nation.
The Various Leagues and Championships Available
You can use the search engine of your choice to find out where the leagues and championships in your area are: the popularity of the sport is rising all of the time, and we guarantee that you will see many different types of leagues popping up this year alone.
The Drone Racing League: The season for this action-packed league has various races, where pilots accumulate points for standing. The pilots who are skilled enough to get the highest number of points eventually qualify for the very thrilling World Championship.
The MultiGP Drone Racing League: This one has chapters worldwide, and is known for having classes and events for many different categories of racer. Considered a leader in the drone industry for sure, they are considered at the front of the pack as far as high-profile events and races in the drone world.
The World Drone Racing Championship: Last year the star-studded finals were held in beautiful Hawaii for this league, which had pilots from over 30 nations trying their luck on four different courses. There was $100,000 in cash, prizes, and trophies, and they did a great job of creating a very high-profile and action-packed event.
FPV System for the DJI Phantom
The Phantom is by far the most popular quadcopter available today. If someone mentions aerial photography, it wouldn't be unusual to think of the DJI Phantom. There's no denying that DJI have done a great job designing a plug and play system, which requires little understanding of the technology, capable of capturing pictures and videos, and all with minimal training! They are leading the way in making this technology accessible to everybody.

The original Phantom was good, but the new improved Phantom 2, 3 and now the P4 series are even better, with better flying characteristics, significantly longer flight times as well as an optional additional racing drone camera and Phantom 4 FPV features.

To use FPV goggles with the DJI Phantom 3 pro or advanced or Phantom 4, you need to adjust your setup a little bit. One of the best ways to do this is with the adapter released by DJI that connects to your remote and allows you to push the video out to your goggles or another screen. Here's an image of this adapter. This can be used to connect your Phantom 3 pro or advanced easily to your fpv drone goggles.

Click To Shop or Read Reviews

To use this setup you simply connect it to your Phantom 3 pro or advanced remote and then connect the hdmi cable out to the fpv goggles of your choice. This long range fpv system supports a double-screen display, and uses 720p video via HDMI and USB connections. The adapter has mini-hdmi output, micro usb, usb and CAN expansion ports. The video export includes flight information such as battery levels, flight controls, level and return home direction all into your fpv goggles or screen. The module can be attached directly onto the remote of the DJI Phantom 3 and will connect via HDMI to your drone racing goggles.

A great option for connecting your DJI Phantom 2 with fpv drone goggles is to use this adapter. The setup is relatively easy to follow and is your best bet for fpv goggles for the dji Phantom 2.

Click To Shop or Read Reviews

This setup allows you to add wireless the fpv experience to older models of DJI Phantoms, powered directly from the DJI quadcopter and outputs into composite SD analog video. This fpv setup comes with two antennae, a transmitter and a receiver. No additional energy sources are needed, and it is manufactured by DJI so that makes it a no brainer for the choice of best fpv setup for the Phantom 2.

The included antennae do work fine at average ranges, but it is recommended to look into specialty "long range fpv antannae" if you're in search of longer distance FPV flight. The included antennae and fpv feed started breaking up around 100 feet altitude or 900 ft distance. Use existing documentation that comes with the fpv kit for installation instructions, but I can vouch for the fact that it is an easy fpv headset setup.

These drones are probably the most iconic models in the current hobby scene, and for good reason; you can take them out of the box, charge them, and be flying within an hour without even touching a screwdriver. This of course does have its drawbacks. Repairs are a pain and if anything needs replacing, even a motor, it'll cost you quite a bit. Most of the individual components are all on the mainboard, so you can't replace a receiver if it fails either.

Get your 2019 holiday shopping done fast by reading our drone deals article for Cyber Monday.
Best FPV Drones
Arris FPV 250 Drone
The Arris FPV 250 Mini RC Racing Drone is a very tough contender for nearly any kind of punishing competition that you put it through. It comes completely assembled, and one thing that racers love about it most is the included CC3D flight controller: it is a top-notch means of piloting, and is very customizable to assure the best means of control during a tough race.
You do need your own radio set and battery for this drone, and the frame is made of carbon/glass fiber composited material, not pure carbon fiber. It's appearance is pretty awesome: some of the exposed electronics on the top give it a custom vibe, and it appears as though it is ready to dip, flip, zip and race its way to immediate victory.
The customer needs to buy the radio set and battery to have it fly: this is not an all-inclusive package in that aspect. Flight time is right at ten minutes, and the 700TVL racing drone camera is known to be a high-quality number without too much delay.
Here are some important stats about this zippy and mean contender, that will help you make up your mind if you are somewhere in the pit stop or on the fence about purchasing it.
• Drone is assembled BNF, customer needs to have own transmitter and battery to make it fly after delivery.
• Uses High quality 2300KV motor and BL Heli 20A ESC; this assures the user can attain a very high speed.
• Frame is constructed of carbon/glass fiber composited material
• Runs on 1500Mah Battery
• Comes with 4 5045 3-blade propellers
• Camera is 700TVL, at 2.8 mm
• Weight is 395g without battery
• Flying time is 10 min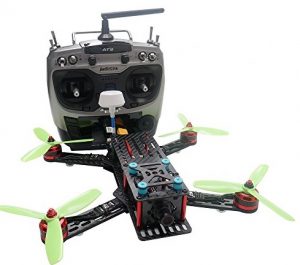 Click To Shop or Read Reviews
EACHINE Wizard X220S FPV Racing Drone
What's better than a powerful racing drone that boasts speed, stability, and durability? A racing drone that supports FPV, of course! The EACHINE Wizard X220S FPV Racing Drone is a definite force to reckoned with. Paired with the BF3.1.5 Omnibus F4 V2 flight controller and you've got an unstoppable combination.
Even though you're going to need to provide a couple of things yourself, like a battery, for example, it's actually a good thing for those who want a powerful FPV racing drone starter kit that lets you customize most of the rig yourself.
We recommend, based on the recommendation by EACHINE, that you pick up a 1500mAh 4S 14.8V 75C LiPo battery to start with.
Here are the important bits that you will need to know in order to help you make your decision:
• Comes with a built-in 5V/3A BEC as well as an LC filter and a built-in galvanometer
• Uses a 30-degree camera mount with an 800TVL camera
• Comes with the betaflight_3.1.5 OMNIBUSF4SD firmware and controller
• Gives you the ability to customize it however you like and add your own propellers
• Comes with the offer for a full refund if you're not satisfied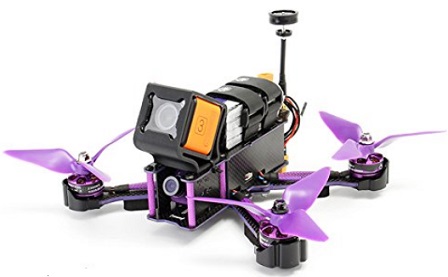 Click To Shop or Read Reviews
XDR220- RTF FPV Racing Drone
This FPV Drone Racing Kit W/DVS DCR220 RTF FPV drone is a great choice for the racer who wants to get everything in one fell swoop, transmitter and all. The drone is built with top racing spec motors that allow you to reach very high speeds, without having equipment safety as a concern.
There is a range of nearly 3000 feet on the ground, and 5000 feet in the air with the unit, and its brushless motors make for a very powerful propulsion system. Those who have used it for many hours claim that it is one of the lightest on the market, and the adjustable camera angle hard shell protects the equipment while allowing customization in camera angle.
The fact that you get the goggles with this setup as well is a big plus for those that are seeking to obtain everything in one package, and want to be ready to hit the track immediately.
Here are some vital stats on this drone for you to look over: you'll be pretty impressed by the punch it packs.
• Light, extra durable and bend-resistant carbon fiber frame results in weight reduction, and precision control
• The top racing spec motors included allow you to reach very high speeds without fearing equipment damage
• The 9-ch 2.4Ghz controller is easy to use, and holds well even during long flights
• High-quality goggles included have a very large, crisp screen for maximum viewing experience, and they provide smooth real-time video transmission
• Included charger is cell balancing, and increases power along with battery lifetime
• Uses integrated electronics, powerful motors, and low profile frame to keep you in the air for optimum lengths of time
• The 2.5mm HD CCD camera is very lightweight, and offers better color and lighting adjustments than other racing drone cameras
• Item weight is 7.5 lbs
• 9-channel functionality and customizable switches makes for a very powerful and above-average controller
• Many hobbyists have claimed it is hands-down the best all inclusive package they have seen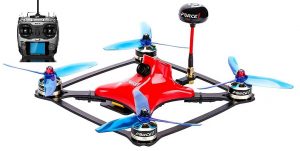 Click To Shop or Read Reviews
Vortex 285 Racing Quadcopter
The ImmersionRC Vortex Race Quad 5.8 Ghz 350mW drone has been touted by a few big players in the industry as truly "the fastest yet" when it comes to a racing drone. The foldable mini quad frame is a plus feature when it comes to being easily accessible, and this unit comes with a 5.8 GHz video transmitter that feeds the signal to FPV units without interfering with standard 2.4 GHz signals.
The pilot can also have added fun controlling the LED's sitting on the tail of the Vortex, and the camera mount on this one supports an HD camera and a flight cam. If you opt to use a flight cam, it is protected well from impacts and is suspended from a carbon-fiber plate.
Battery size that is recommended for the ImmersionRC Vortex Race Quad is the Lumineers 1300 mah, 60c, and fatshark goggles have given users the best results. Some users have been just a little disappointed with the video quality, but the speed and maneuverability still have this one ranking pretty high on any racer's list.
Here are some vital stats on this drone, which may encourage you to make this one your next purchase.
• This is a one-of a kind foldable mini quad frame, which is designed this way for easy access
• Comes complete with a full graphic on screen display, and a custom 5.8 Ghz video transmitter
• The joined flight controller is already programmed with CleanFlight, and will allow for supporting future updates with a USB port on the back of the quad
• Bendable Vortex camera mount supports both a flight cam, as well as HD camera
• Built-in NexWave 5.8 GHz video transmitter ensures compatibility with an 5.8 Ghz A/V receiver
• Item weight: 14.4 Ounces
• Exclusive RaceBand allows 8 pilots to fly together
• Camera can be tilted to ensure a good forward view during high-speed racing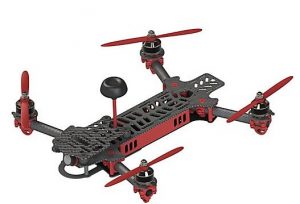 Click To Shop or Read Reviews
Hubsan H107D FPV X4 Mini RTF Quadcopter
Hubsan is a major micro drone producer and has a major following. Hubsan offers a few off the shelf, drone racing goggles ready options. How about a mini FPV quadcopter for less than $140.00?

The Hubsan fpv drone offers a control distance of up to 100 meters, but I can attest that you can push that limit. I have flown my Hubsan VR drone over 100 meters without trouble, however the fpv system is more limited in terms of range, I often have the video link cut out well before I lose control of the actual quadcopter.

The Hubsan vr drone comes with a screen built into the remote control, for quick and easy to use straight out of the box FPV goggles fun. Be careful to always keep extra batteries with you because I've found the LCD screen drains the controller batteries faster than normal. This is the best fpv system setup for beginners as you have to do no customization and can just plug and play your goggles directly into the controller. This is, for the price one of the best fpv drones on the market.

Click To Shop or Read Reviews

The Hubsan H107D FPV X4 Mini FPV drone is a complete FPV system, coming with a reasonably sized LCD screen built in to the transmitter! A great, inexpensive introduction to quadcopters and VR drones.
Eachine Racer 250 FPV Quadcopter
Another option is the Eachine Racer 250 FPV Quadcopter. This out of the box fpv solution is a great opportunity to purchase a faster, longer range fpv drone without going through the hassle of building your own setup. The flight time is also longer than the Hubsan, at 10-14 minutes, this is a fantastic choice for an fpv drone.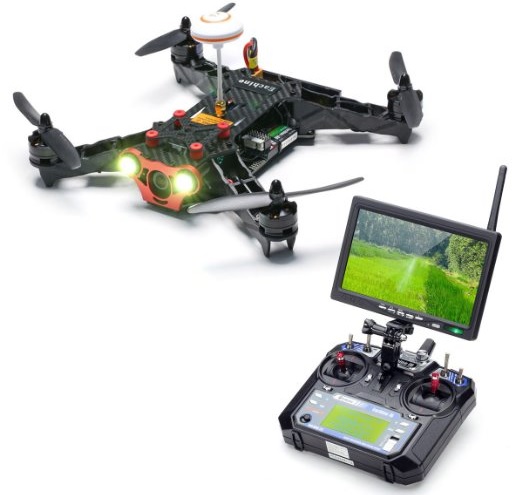 Click To Shop or Read Reviews

This fpv goggles ready drone is setup and easy to use. The benefits of this over the Hubsan fpv drone are longer distance range, more detailed controller with higher sensitivity and with a built in monitor (larger screen size than the Hubsan). The max range of this fpv setup is around 250-300 meters which is 2-3 times more distance than the Hubsan.

The downside is that you're going to pay $360.00 for the Eachine drone with FPV compared to $130.00 for the Hubsan. This is actually one of the best fpv drone racers built today and you can't go wrong if you're looking for a higher end version of the Hubsan fpv drone with greater capacity for distance and flight time.
Altair Aerial 818 Hornet
If you're just getting started with FPV drones, the 818 Hornet is a great choice for beginners. It's cheap (only about $160 at time of writing) and is incredibly easy to fly thanks to ease-of-use features like Heading Hold Mode, multiple speed settings, and a controller with a very simple design.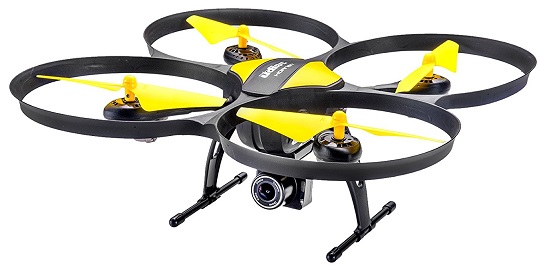 Click To Shop or Read Reviews

If you're interested in the FPV features, the Hornet can stream live first-person footage from up to 60 meters away to a phone, tablet, or other mobile device using the UDIRc app. We've flown this drone several times and the picture's always remained clear and steady at 720p high definition. You can see some examples of this here. And the Hornet is also designed to be used with virtual reality goggles instead of a screen, if that's your preference.

It may not have all the features of some of the other options on this list, but this is a near-perfect FPV drone for beginners and a drone that's just really fun to fly in general!
FPV Racing Drones With Goggles
Most FPV drones let you stream video to a screen but require you to buy goggles seperately. But there's a few that come with goggles right out of the box! Here's a couple of our favorite FPV racing drones with goggles: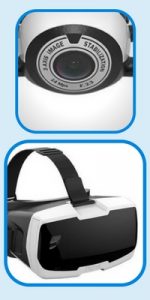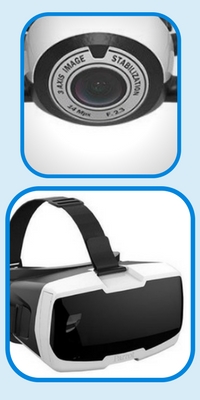 Parrot Bebop 2 FPV
The Bebop 2 adventurer pack currently only costs about $400 and usually fluctuates somewhere between that and $600 USD. This is easily the best racing drone with goggles available. It can shoot videos in full 1080p HD and photos in 14 MPx in RAW, JPEG, and DNG formats, has a 25-minute battery life, and comes with a headset and a backpack to carry everything in.
The goggles aren't as good as the goggles we'll talk about below – they're really just a head sleeve for you to put your phone into. But they're comfortable, sturdy, and a good option for anyone who just wants to make one purchase and have everything work right out of the box. Plus the drone itself is phenomenal – we wrote about it in more detail here.
Click To Shop or Read Reviews
Sky Viper FPV
V2400 HD Streaming Drone
This beginner racing drone with goggles lacks many of the Bebop 2's features. The camera only streams HD FPV video in 720p, it only has about 5 minutes of flight time per battery, and it's not very durable if you get into too many crashes. However, all of this is reasonable when you consider the fact that the drone only costs $125 USD.
It's no powerhouse, but this is the cheapest drone with goggles available that's actually worth your time. It's surprisingly fast, quite fun (with several built-in stunt modes), and is overall a fine if not spectacular choice for a racing drone with goggles. It's especially good for kids or beginners who are just learning how to fly and don't want to spend a bunch of money on a brand new high-end drone!
Click To Shop or Read Reviews
Goggles, Glasses or Screen?
When you first start out looking into this hobby, I'm sure you're asking yourself "What are the best FPV goggles on the market?" We're going to go over the top options available today.
Another question you may have is whether to choose FPV glasses vs goggles? For me personally, I like to be fully immersed and therefore have always flown with goggles. For some, being fully immersed makes them feel uncomfortable and they would rather have a screen, giving them the ability to be able to switch between 'line of sight' and camera view, quickly.
Now there are glasses available, giving you a screen and line of sight, simultaneously which I can see as a great alternative for many. It all depends on your application and comfort level.
Characteristics Of Great Drone Goggles
Let's go over some technical advice about purchasing FPV drone goggles before we get in to reviewing the different goggles on the market.
It's important to choose goggles that are going to give you an adjustable level of IPD. IPD is the inter pupil distance. This is the distance between the center of the pupils in each eye. This type of tech is very important because if your pupils are not centered properly in each goggle you're going to have a diminished experience with your goggles. There are fixed and adjustable IPD goggles, make sure yours are adjustable.
Another important concern is to choose fpv drone goggles that have VGA or SVGA resolution as that gives the best (reasonbly priced) resolution available for sale today. SVGA is 800 x 600 pixels and VGA is 640 x 480 pixels. You can get FWGA as well but you're really going to pay for it, it comes in at 854 x 480 pixels. If you can afford it definitely go with this resolution.
Make sure the optics that the goggles use are glass and make sure they have digital head tracking.
Digital Head Tracking is the tech that keeps track of how your head is moving and passes those signals through to your drone. The camera on your drone is tied to these movements of your head. Swivel your head side to side or up to down and the racing drone camera is going to move in the same direction as your head does.
Finally another important characteristic of good drone goggles is the range of Field of View they have the (FOV). Typically these fpv glasses will have a range of Field of View between 25% and 45%. The more expensive goggles are going to give you a higher range of view.
Keep these important things in mind when comparing the reviews of different models of drone glasses.
Best FPV Goggles & Gadgets Additions
Goggles have been around for a while. For a long, time there have been systems offering 320×240 QVGA & 640-480 VGA resolution. I'll start with the lowest resolution with Fat Shark's Spektrum Teleporter V4 FPV Goggles.
Flysight 40CH FPV Goggles
Click To Shop or Read Reviews

The Flysight FPV goggles come with a 5.8 GHz receiver, 40 channels, a RP-SMA antenna and is able to support HDMI 1.3 digital input. The maximum input it can support is 1920×1080 with 60 channels.

It's decently priced right now for about $289.99, especially because you're getting a wide-angle front camera on top of everything else.

You can select larger or smaller screen sizes at 200×150 and 320×240 using the button. You can also switch the secondary image's position using the same button, as well.

It comes with the HDMI cable, but make sure that your drone is able to support an HDMI connection. Otherwise, you're wasting your time with these FPV goggles. Some drones are able to be modded to have to be HDMI compatible but be careful all the same.

It's been said that these are a good alternative to Fat Shark FPV goggles, so if you like what they have but want something different these are a good choice. Bright lights and using them on sunny days can be a problem, however.
EACHINE Crazepony FPV Goggles
Click To Shop or Read Reviews

These FPV goggles come in super cheap at about $59.99, but they are not cheaply made or have garbage quality. They have an upgraded receiver with frequency display and a power indicator.

It comes with a built-in 5.8 GHz automatic search receiver with 40 channels. Anyone with myopia below 400° don't have to worry about their glasses not fitting underneath them because it has customized eyeglass.

They also reduce the amount of pressure to your head when you wear them for longer periods of time because of the settled three-point fillet. It's made of environmental sponge that fits your face, making it an affordable, comfortable option for FPV goggles.

It has a decent 480×272 resolution, making it a decent option for racing drones. The quality isn't all that great but they are a good entry pair of FPV goggles for anyone who wants to try it out. I don't recommend them for those experienced with FPV goggles, you won't like them right away.
DJI FPV Goggles
Click To Shop or Read Reviews

The DJI FPV Goggles will set you back wallet wise, but for anyone who wants to spend extra on something they know will have good quality, this is what you're going to want to buy. It's compatible with the Mavic Pro, Phantom 4 series, and the Inspire series.

It's good for up to 6 hours and has a great frame rate of 720p at 60 FPS or 1080p at 30 FPS. The HD screens have a head tracking feature and a resolution of 1920×1080. It also has 110ms of least latency and the built-in antennas make sure you get 360° of coverage all around for around $450.00.

It does work with the Spark but you need a Micro USB OTG cable to be able to use it. The Inspire 1 series needs a Type A Female HDMI to a Type C Male HDMI adapter, so keep that in mind if you have either drones before you make your purchase.

Some of the features it has don't work with anything other than the Mavic, so if you have anything else and want the full features you may want to avoid it. Some users have said that some of the software causes problems, especially when the drone's battery is low.
Fat Shark FSV1104 Transformer FPV Bundle
Click To Shop or Read Reviews

This bundle is great for someone who's into FPV and set it up how they want. You get the FPV goggles, an HD full panel viewer, battery holder, and a power extension cable. You don't get the battery, the antenna, or the charger though.

It costs about $249.00 and we don't recommend it for people who are just getting into FPV, don't have their own spare parts they can add, or don't know much about FPV in general because you'll need some extra parts that don't come with it.

You get 720p resolution with a screen that isn't too big or too small. They're not all that uncomfortable to wear but they could definitely be upgraded from the stock foam that they have in them at this time.
Fat Shark Spektrum Teleporter V4 FPV Goggles
Click To Shop or Read Reviews

Fat Shark started with their Base model giving a wide 35º angle field of vision. What this means is that when wearing your goggles, the edge of the screens are at a 35º angle from the center point of your eyes, this is a fairly wide viewing angle especially at an entry level price of $199.00.

These have been around for a while and are still not a bad option. People say they offer a good immersive experience despite the quality not being quite as good as some of the more modern models.

They work fine, except the lower resolution 320×240 QVGA is disappointing by today's standards. They come with a 5.8 GHz wireless receiver, the Spironet RHCP antenna and digital head tracking for Spektrum FPV cameras.

Make sure if you're purchasing FPV goggles you read through this entire post to understand the different receiver and transmitter connections.
Fat Shark Predator V2 FPV Headset
Click To Shop or Read Reviews

One of the most popular FPV drone goggles start-up kits from Fat Shark is the Predator V2 system. The goggles come with a built-in 5.8 GHz receiver.

You get a 25mW or 250mW transmitter, a camera, and a plug and play system. It's still my current system and it works very well. Still 640×480 VGA resolution, but with a narrower 25° field of vision.

This package is a great buy because it comes with everything you'll need at a price of $359.00.

The image from these drone goggles is going to be more clear and sharp compared to the Spektrum model. The batteries will last a long time before they need charging and there is a warning alarm that sounds when the charge is running low. This kit includes everything you need to set up a customized drone FPV system.
Fat Shark Attitude and Dominator V3 FPV Models
Click To Shop or Read Reviews

The next step up offers better screen size and field of vision, which are the Fat Shark Attitude and Dominator goggles. Again, offering the 640×480 VGA resolution, but with bigger and better quality screens. Both variants of these models are very popular.

The Fat Shark Dominator model has great HDMI connectivity which supports 720p video at 16:9 WVGA image format. They don't weigh very much and are very comfortable. The adjustable lens width is fantastic and the fan will keep you cool while you wear them. You will need a separate charger for the LiPo batteries, but that should be something you already have if you're into drones.

The receiver for these goggles is not included, so be aware that you will need to source a Fat Shark receiver, as well. The Fat Shark Dominator goggles are for those fliers who already have experience using FPV goggles and want an upgraded better quality image wise. I wouldn't recommend this level and expense for someone new to FPV. Instead, try the Predator or Spektrum models.
Zeiss Cinemizer 1909-127 OLED Multimedia Video Glasses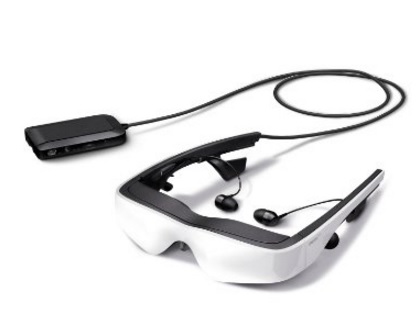 High-end goggles like the Zeiss Cinemizer 1909-127 OLED will set you back a fair amount of money. This particular model has been out for a while. The OLED screens offer clear 800×600 SVGA resolution. I've yet to get my hands on a pair and try them, but they've received good reviews!
Here's a video of the Zeiss Cinemizer glasses with details to help you get an introduction on these glasses.
FPV Goggles Comparison Table
FPV Glasses Systems
If immersion isn't important to you and you want to maintain line of sight of your model and see a screen, than combine the two! Glasses such as Epson's Moverio BT-200 overlay streaming video into your field of vision and allow you to maintain line of sight of your model.
It's cool idea that will no doubt appeal to many. Unlike other systems that stream video directly to your glasses, the Moverio glasses use an Android app installed on the glasses to view the video. I have now have personal experience with the Moverio and have to say that I would not recommend it at this point. The video experience is not stunning at all, but could say is decent. At the same time, navigating in apps and manipulating the device via the trackpad is really cumbersome.
From a form factor point of view, the trackpad itself has a sort of indented knurled surface which is not pleasant at all to tap around on. I admire Epson's effort trying to create the device and there surely will be an appeal for this approach, but I believe we will have to wait for the next generation to arrive before we can opt for this product. The current price of more than $550 is also discouraging.
Here is the Moverio BT-200 product video:
Screens For FPV
Flying with a screen can be pretty good, too. Maybe not as immersive as goggles, but to have the ability to look up and see where your model is when flying, is useful. With any of these options, it comes down to personal preference and application.
There are a number of easy to use and cheap tablets out there you can find to use as a screen for your fpv system. It's almost impossible to go over them all because of how many cheap options are available now for LCD screens so let's talk a little about what type of screen you'll want to use.
The smaller the screen you use it'll be a less immersive experience. Screens really are going to provide less of an in the moment feel no matter what you do and are always going to have a problem with sunlight. You can use a screen hood to block out the light and that will help a little. A lot of folks already have tablets or ipads lying around and if so I suggest giving that a try before you purchase anything dedicated to use for fpv.
I was reading a forum the other day and someone mentioned buying an old 20 inch lcd monitor from a local neighbor and using it to share the fpv experience with people around you, so they don't have to look over your shoulder while you fly. The problem I see with using a giant screen for fpv like that is going to be powering it, perhaps a long extension cord?
You can get some great LCD monitors from Ready Made RC, check them out here.
Some great options include the RMRC Black Pearl 7 inch, which uses 32 channel 5.8GHz diversity receiving, it comes with all the connection cables you need, including a build in battery and tripod mount. The 7 inch screen size isn't that great for the price but it's ready to use out of the box. This retails for around $200.
Another great option is the RMRC Pro-1200 5inch with DVR (digital video recording) which allows you to easily record your flight videos. This is a smaller screen, it's going to be somewhat similar to just using your phone. The recording feature is great though and the price starts at $150.00.
ReadyMadeRC basically has you covered for easy to use screens for FPV. These are not affiliate links, I just think these guys do a great job at providing what you need if you're looking for an FPV screen.
FPV Transmitters and Receivers
Where do you start? There are now so many options available. The most common you'll come across today are 5.8GHz systems. There are other frequency bands used but it is important to be aware of the legalities when using them. Laws vary from country to country. I'll use the UK as an example for each band.
900 MHz
Offers brilliant range and great penetration. Unfortunately, shares the band used by mobile phones making it illegal in the UK. Being the lowest frequency, wavelength is longest and therefore the antennas can be quite large! Legal in the USA only if you have the proper permits, you have to pass a test to get a license to use this band. More info here.
1.2 GHz
Offers great range and good penetration. Band is used by other sources in the UK and therefore illegal. In the USA it is possible to use this frequency and is becoming more popular especially for video feeds.
Click To Shop or Read Reviews
1.3 GHz
Offers great range and good penetration. In the UK, this is a clear band. Unfortunately still illegal to use. In the United States you can use 1.3 similar to 1.2, this is used a lot by FPV flyers. It does require filtering though so make sure you look into the exact setup.
Click To Shop or Read Reviews
2.4 GHz
Offers good range and equipment is cheap. Unfortunately, most RC systems now operate on the 2.4Ghz band, along Wi-Fi equipment, Bluetooth, etc. This can be a difficult band to use for FPV it doesn't stand up to distance, there's too much noise on this band in the United States, be careful trying to use this for FPV.
Click To Shop or Read Reviews
5.8 GHz
Offers good range if setup correctly. Equipment is cheap and compact. The band is free of other interference but suffers from low penetration. 5.8 is great for FPV racing especially. It is used a lot by FPV pilots, it is the easiest to use and setup of all the bands. This is getting noisier in the USA all the time due to use in and around the home by tech like baby monitors.
Please be aware of the systems you choose and consider the legalities. Power limitations apply! I know that in the UK you're limited to only 25mW! Other countries aren't quite so strict.
Click To Shop or Read Reviews
Click To Shop or Read Reviews
Click To Shop or Read Reviews
FPV Transmitter Comparison Table
Frequency
900MHz
1.2GHz
2.4GHz
5.8GHz
Pros
1. Excellent Range and Penetration
1. Great Range and Penetration
1. Good Range

2. Inexpensive

3. Manageable Antenna
1. Good Range

2. Compact Equipment
Cons
1. Same Frequency as Mobile.

2. Illegal in some countries, (The UK) requires license in the USA.

3. Large Antenna
1. Shared Frequency

2. Illegal in some countries (The UK) License required in USA.
1. Most RC equipment already uses 2.4GHz.

2. WIFI and Bluetooth also use 2.4GHz.
1. Poor range compared to others.

2. Low Penetration.
Other Notes
Great choice except for antenna. The license is easy to get, but does create a hurdle.
Lots of potential interference. Also do not use it if your drone already runs on a 2.4GHz transmitter.
Most common for FPV racing, even with lower range and lower penetration, most people find this to be the best bet.

Best FPV Camera
Back To Top
If you own a GoPro than you already have a seriously good FPV camera. However, for some applications, a GoPro simply isn't practical. It's just too big. Instead you may want to purchase one of the many smaller CMOS or CCD cameras, of which there a many to choose from. Some perform better than others and prices vary.
Types of FPV cameras
CCD (Charge-Coupled Device)
When digital cameras first appeared they used CCD sensors. They're made through a special manufacturing process. The process creates a high quality sensor, which can produce excellent images. Thanks to the high quality manufacturing process, they also produce less noise than their CMOS counterparts. The downside to CCD sensors is that require far more power than a CMOS sensor.
CMOS (Complimentary Metal Oxide Semiconductor)
These sensors are less expensive than CCD sensors because they're much cheaper to manufacture. They do have their main advantages is considerably less power consumption.
Much like everything else in your setup, do your research. Buy once and buy right!
NTSC or PAL
NTSC (National Television Systems Committee)
NTSC is the analogue television system used throughout the American continent and parts of Asia. NTSC video is lower resolution than PAL but appears smoother due to the slightly higher frame rate (29.97 vs. 25 frames per second).
PAL (Phase Alternating Line)
Used throughout Europe and many other parts of the world. Higher resolution than NTSC but with a lower frame rate.
Some people prefer the smoothness of NTSC and some prefer the resolution of PAL. Once again, all down to personal preference.
Click To Shop or Read Reviews
Click To Shop or Read Reviews
Cameras – Dedicated Or Integrated?
An important decision to make when flying is whether to run off a dedicated FPV racing drone camera, or to use the live video out functionality available with many common cameras like the GoPro and Mobius Actioncam.
Debate still rages about this, but it comes down to budget and intent in the end.
When I started out, I used my Hero2's video out to fly FPV for quite some time. All I used to do was hover up high and fly about carefully, so it wasn't ever a problem. The video filled my goggles quite nicely too.
Once I got into mini quads and higher speed, close proximity flight, I tried a dedicated FPV racing drone camera, and since then I haven't been able to switch back. The main problem is that there is a noticeable amount of lag (delay) on the video feed from the integrated solutions, because their internal circuitry has to resize and process the digital video from the sensor into an analogue signal.
This processing can also introduce problems – the Hero3 suffers from a fairly low frame rate and variable quality in most modes when you use the video output, and the Mobius video has a black border around it, preventing it from filling your vision, as well as severe lag.
Dedicated cameras are generally designed specifically for FPV – so they can compensate for rapid changes in brightness very quickly, which is essential for fast flying in variable light conditions. You can also fly in very dark conditions with them, much moreso than with a GoPro feed.
So basically, if you're on a budget, and don't want to fly fast, you can get away with using your video recorder output, but if you want to race, a dedicated camera is the go.
FPV System Frequencies and Transmitter Compatibility
Back To Top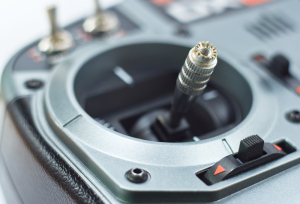 Obviously you need your transmitter and receiver to match in frequency, but you also need to make sure the two are compatible.
For example, Fatshark and Boscam both support 5.8ghz, but use different frequencies and are generally incompatible (some newer receivers, and goggles like the Skyzones can pick up both types).
The next big thing to note is that you can't use the same frequency bands for RC control and video. RC control is all digital, and can tolerate a lot of interference, but it can't deal with a whopping big analogue video transmitter sitting right next to the sensitive receiver on the copter itself. Think of a sensitive microphone listening for a gentle bird song far away, sitting right next to a big stereo belting out Iron Maiden. The noise floor is just too high, so you have to choose differing RC and video frequencies.
Why choose one or the other? Well, lower frequencies penetrate solid objects better, but require physically larger antennas, and external receivers (higher frequencies are said to have a slightly sharper picture too, but in reality the difference is often negligible).
If your goal is to trundle around the park, or fly up high within visual range of your craft, 5.8ghz is fine, and will provide the easiest setup.
Lower frequency bands like 900mhz and 1.2ghz are much better for flights where object penetration is important. Your 5.8 system will go through a few trees, but stick a big one in between you and the transmitter, and your video will fuzz out badly. On 1.2ghz you can comfortably cruise around your entire local area, well below the tree line. Think of the difference between AM and FM radio when you drive through a tunnel; the principle is the same.
You might have noticed that I skipped over 2.4ghz. There are a few things to talk about. First of all, the signal penetrates better than 5.8ghz, but not as well as 1.2ghz. This means that your radio control can potentially drop out before your video feed does, and this is Bad. 2.4ghz is also a harmonic of 1.2ghz, and so is more prone to interference. For this reason, many people who use 1.2ghz or 2.4ghz also use UHF control systems for their RC control (typically around 400mhz). As you can see, things get complicated quickly.
The DJI Phantom Vision is a special case. They use 5.8ghz for RC control. Why? Because they wanted to use the 2.4ghz band to send back video from the quad via Wi-fi. So, be very aware of this when flying around people who are using the reverse frequency combination. Always check your frequency bands before flying! Also be aware of the increased lag you'll get with Wi-fi transmission, and the fact that your RC control can drop out suddenly if you fly behind something solid.
FPV Antennas
Back To Top
If you've done any research into FPV, you'll have seen some funny looking antenna designs, with lobes like clover leaves.

Click To Shop or Read Reviews

Because FPV video is generally sent as an analogue signal, any interference is immediately obvious. Digital RC controls, on the other hand, don't need to worry about interference so much. It's like the difference between digital TV, and the older analogue system that is now a distant (bad) memory for many of us.

Cloverleaf antennas are much better at rejecting certain types of interference, generally caused by the signal reflecting off solid objects (radio waves bounce around just like light does when it hits the right surface).

Because lower frequencies have a physically larger wavelength, antennas designed for 1.2ghz are physically much larger than those tuned for 5.8ghz. This makes them much more fragile, and so if high speed, fast proximity racing is your goal, you're much better off with 5.8ghz, even if you get some interference from the trees.
FPV Receivers
The popular FPV goggles (Fatshark, Boscam and Skyzone) have built in receivers, but if you want the very best reception, or you prefer to use a screen or other goggles, you'll need a standalone receiver. This will require its own battery and cabling to the goggles or screen.

Click To Shop or Read Reviews

Many people use cheap tripods to mount their ground station gear.
Ready To Fly FPV Drones & Quadcopters for Photography
The racing of drones is a very fun sport, and many young ones interested in science and engineering will benefit from participating. Every once in awhile, you may want a drone that will capture beyond awesome images for you, but not necessarily be a full-blown racer.
You can still enjoy the view from goggles on these two drones, known for their superior cameras and image-gathering ability. As you watch the terrain that you are flying over, you can eventually become a better pilot, and learn how to position your craft as well as capture images.
Having an alternative to all-out racing is the choice that many make: they may not have the ultra-competitive edge, or simply just may want to enjoy their aerial trip in "solo mode".
Phantom 4 FPV Ready To Fly
The Dji Phantom 4 is the powerhouse drone that has quickly become the standard for many who are looking for a high-quality image gathering and altitude-cruising machine. It is fairly easy to fly, but heralded by many experts as revolutionary, due to the advancements in gimbal stabilization technology, and its ability to capture 4k video.
The flight time is approximately 28 minutes, and the maximum speed is 44mpg. Real estate pros, surveyors, and many others who have the need for a drone from the "big leagues" that flies reliably praise the Phantom 4 for its f/2.8 lens, auto takeoff and auto return home features, and intelligent power management system. Known as the easiest Phantom to navigate, and the one loaded with the most features, it will be quite popular for some time to come.
Here are some stats and features on the Phantom 4: this has always been one of our top pics for ease of use and quality of performance.
• Auto takeoff and return home with GPS technology, makes control very easy
• You have the ability to capture 4k ultra HD video at 30 fps, and still shots at 12,0 MP
• Dji director software has a built-in video editor to add text, music, and other rich elements to your finished videos
• Drone has a 28 minute flight time, with a maximum control range of 3.1 miles
• When capturing 12MP still photos, they are in either DNG RAW or JPEG, and you can choose from single shot, HDR, burst, and time-lapse modes
• Item weight is 14.7 lbs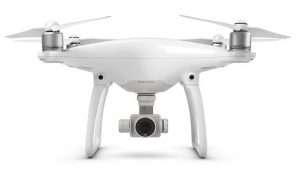 Click To Shop or Read Reviews
Yuneec Thyphoon H UDH 4k
The Yuneec Typhoon UDH 4k Hexacopter drone is very high-powered, ready out of the box contender, complete with collision avoidance and 4k video quality. This drone was the winner of the 2016 Consumer Electronics Show for "Best in Class", and has 8 smart flight modes including auto takeoff and landing.
You can even select a subject and the Typhoon will orbit around it, while also keeping the camera fixated on a point of interest of your choice. This makes it an awesome drone for filming anyone participating in action sports, or soaring above many different types of landscapes. This drone comes with the Android-based ST16 controller, which has a large 7-inch integrated display, and 720p video downlink for reception.
Here are some stats on the Yuneec Typhoon H UDH Hexacopter: this is one Uav that has definitely turned our heads, and would be a great choice for anyone needing a high-quality image-gathering drone.
• This drone is easy and safe to fly, with stunning 4k video capability
• 360-degree anti-vibration gimbal allows for unlimited panning while image gathering from above
• In Team Mode, one person can fly while the other films to capture choice shots
• 6-rotor safety with 5-rotor fail-safe keeps the drone in the air even if you experience motor failure
• Innovative new "Safe to Fly" feature includes ultrasonic proximity detection to assist in avoiding very large obstacles
• Quick disconnect propellers allow for speedy removal: each individual arm easily folds down from its flight position to an optimum resting position against the drone
• Carbon Fiber is used extensively in design to decrease weight while increasing longevity and durability of the craft
• Android-based ST16 Controller has a large 7-inch integrated display, and HD 720P video downlink for real-time video reception
• Item weight is 12 pounds
• Top speed is approx. 43 MPH
• Unit has retractable landing gear
• Has flight modes such as Point of Interest, Orbit, Curved Cable, Journey, and more
• 1 lithium polymer batteries required.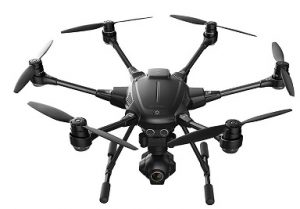 Click To Shop or Read Reviews
FPV System Installation tips
Back To Top
Some systems, like DJI's Lightbridge, are designed to be plug and play. Others will require basic soldering skills.

Click To Shop or Read Reviews

A typical installation will always require power for the transmitter. Similarly, dedicated FPV system racing drone cameras need power – and you need to be careful about what voltage you feed them. Some run off of 5v or 12v only, and some can handle a wider range. You may wish to power your FPV subsystem with a secondary, smaller battery as well, to make sure it keeps on tracking if your main battery fails (at least you get to see where you crash).

Standalone cameras like the GoPro can run off their internal power – but make sure they're charged up before flying as the last thing you want is to lose your feed mid-flight.

Ready to fly FPV packages are becoming more and more common with DJI being one of the pioneers of this trend. With their Inspire One, they offer a completely integrated FPV system using their own proprietary video transmission system. With a system like this, all you need to do is download an app on your ios or android phone and plug it in to your controller.

Unlike other video systems out there, the video signal you receive is digital rather than analogue. This has a few pros as well as cons, the higher resolution video is a major plus for framing a shot, but being a digital signal being transmitted after the video is processed leads to there being quite a bit of latency (a delay between when something happens, and when you can see it on the screen). For flying in the air with nothing to hit, its fine, but if you were flying a miniquad 4ft above the ground, it'd be disastrous.

More specific installation instructions are beyond the scope of this article – but tons of help is available from web forums like RC Groups, and often a simple Google image search is all that's required to find a diagram showing how to hook up a given system.
The Future Of FPV
The elusive goal of FPV fliers is the ability to receive 1080p or even 720p video without latency. While this isnt anywhere near practical for the average consumer or enthusiast with lots of money to burn, Connex has released an HD transmitter which claims to be able to push 1080p, uncompressed, video at 60 frames per second with 1ms delay. The catch is that you have to sacrifice your first born it costs $1600, and that doesn't include goggles, camera, or anything else you may need.
Its impressive that this is even available but until the price goes down, it is only an option for the exceptionally wealthy. What this does show, and why I'm so excited for it, is that it shows that hd FPV is possible.
Only 10 years ago a modern smartphone would have outperformed a full sized computer costing thousands of dollars. Technology gets less expensive as time goes on and perhaps someday soon, we'll be able to fly in full hd for a reasonable price.
Click To Shop or Read Reviews
Fly safely
It cannot be stressed enough that we need to fly responsibly, or this hobby will quickly get shut down.
FPV drone racing system based flying presents some unique new risks over traditional RC aircraft, because you can fly a long way away very easily.
If there is any chance of people coming into your flying space, having a second person acting as a spotter is a very good idea. This is especially important if you are flying with immersive goggles. Remember that you can't see behind yourself, and the cameras give you severe tunnel vision.
Remember also that many systems have a bit of lag in them. In particular, anything that involves digital processing will be delayed. This can include RC control in the case of tablet-controlled drones. So maintain an appropriate distance at all times!
Hopefully this article has helped clear up some of the basic details of FPV video. As always, there is a lot of information available out there, and I've just skimmed the surface. Do your research, don't rush, and make an informed decision when you pick your gear.
Thanks for reading our FPV post and hopefully we've been able to help you find FPV drone racing details for whatever drone you're working with from Parrot Bebop FPV to Phantom 4 FPV drone racing kits.
FPV Racing Drone FAQ
Here's some questions we get asked a lot about FPV racing drones and goggles:
What is FPV drone racing?
Drone racing is exactly what it sounds like – a competition where pilots see whose drone can fly around a set course the fastest. Almost all drone races involve First Person View systems, or FPV. FPV footage is filmed from the perspective of the drone and streamed to a monitor, screen, or goggles so that the pilot can feel like they're flying from the cockpit of the vehicle.

Where can I buy an FPV racing drone?
Like most things, drones can usually be purchased at a good price from Amazon. However, sometimes the drone manufacturer will have a better deal on their own website (you can buy a Parrot Bebop 2 from the Parrot Store Official, for example.) It's usually good to check both places and see which has a better price.

How can I build an FPV racing drone?
The best racing drones are usually built or at least modified for extra speed. That's not really the focus of THIS article, which is a buyer's guide, but we have more information on this subject available here.

Do I need to purchase a receiver/transmitter for an FPV quadcopter?
It depends on the quadcopter. Most of the vehicles we list here come with a transmitter but you might have to buy goggles or a larger monitor seperately. The two Ready Made quadcopters we list are ready to connect directly to goggles, but you'll have to buy a receiver seperately to use them. In addition, a few FPV drones can only be controlled with a mobile device, which you'll obviously have to buy seperately (but which you probably own at least one of anyway!)

What is the range of these FPV drones?
It varies wildly depending on the vehicle. A beginner FPV drone like the Altair Aerial Hornet probably has about 60-100 feet of range, while the $500 Parrot Bebop 2 has 1.24 MILES of flight range. We list the range of every drone along with its mini-review in this article.

What type of camera is best for an FPV racing drone?
Seperate action cameras, like the GoPro line, usually produce the best footage but are bad for FPV flying because they have lag. Racers usually prefer built-in FPV cameras even though they have worse quality. High-end drones with an FPV system like the Phantom 4 and  Parrot Bebop 2 try to combine most of the best of both worlds by having built-in cameras that are also very high quality, but those come at a steep price. Usually you have to choose which camera is right for you specifically.
Further Reading
Beginner Drone Reviews at Dronethusiast.com
Summary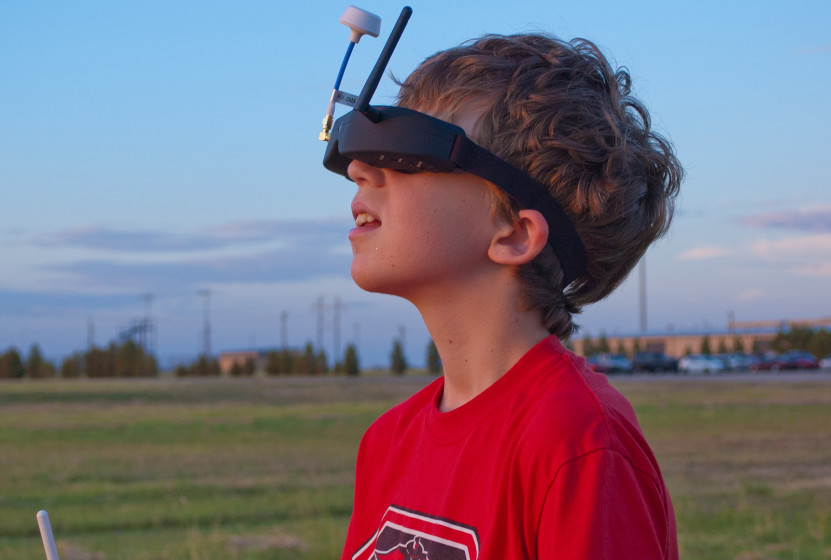 Article Name
The Ultimate FPV System Guide
Description
The Ultimate FPV System Guide that attempts to bring you all the details you need to know. Goggle, glasses, frequencies, etc.
Author
Mark Cocquio, Chris Dorling and Zsolt Vaszary
Other Interesting articles in "
FPV

"